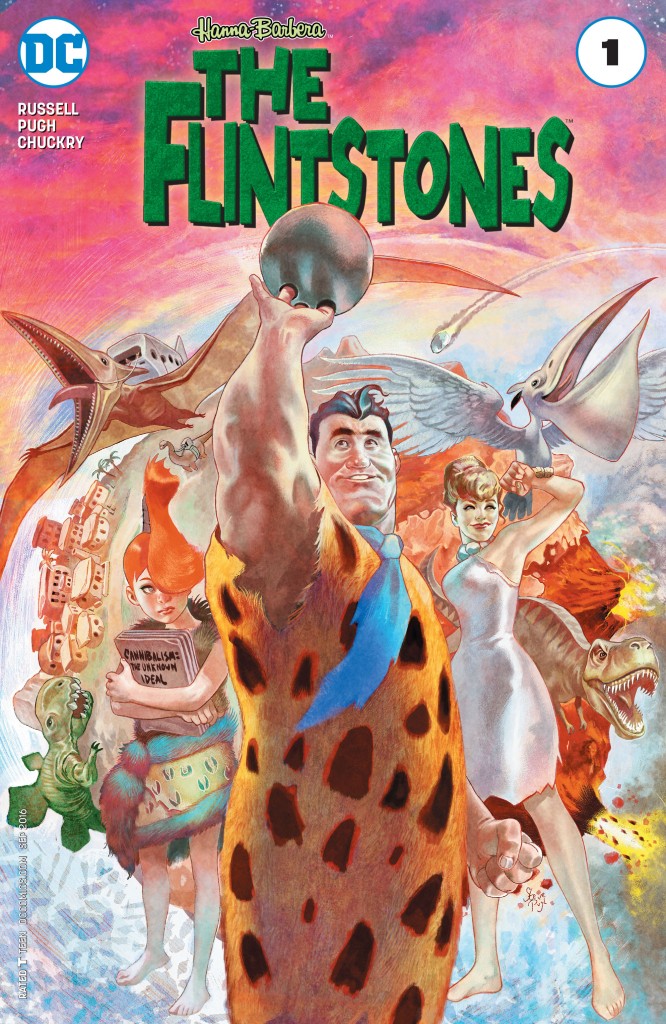 By Glenn Walker
When the news first broke of DC Comics' new takes on the Hanna-Barbera characters, there was some excitement but much trepidation as well. Merging the worlds of Jonny Quest, Birdman, Space Ghost, and the Herculoids, among others, is a great idea, has been done well before, and is being done well this time as well. Some of the other ideas however were iffy - like the Wacky Racers going the Road Warrior route, or a Jim Lee-designed Scooby-Doo and the gang in a post-apocalyptic world, but the oddest and perhaps the most pedestrian of them all was the concept for the Flinstones.
Writer Mark Russell (God Is Disappointed in You, Prez) and artist Steve Pugh (Animal Man, Preacher) might be the last folks one might expect on a project such as this, but they bring new life to the characters. This spin on the Flintstones is an updating with a more realistic yet still recognizably cartoony look. Just a glance through the issue assures the reader the success of the concept. Just one of the alternate covers with Fred and Wilma taking a 'selfie' together works wonders.
This is a wonderfully adult story, safe for kids, but aimed at adults that could easily be an episode of the cartoon series had it been made in 2016. Russell and Pugh have an excellent sense of parody, the same sort that made the original animated series so popular. Thought is put into translating new technology and culture into stone age sensibilities. Speaking of culture, it's a bit more diversified, and the gals have more of a life than just shopping and housework. I like this take quite a bit, very entertaining.
The Flintstones #1 is available at All Things Fun! and any local comics shop, but we all know ATF! is the best. Also out this week is Future Quest #2, another home run, check them out!