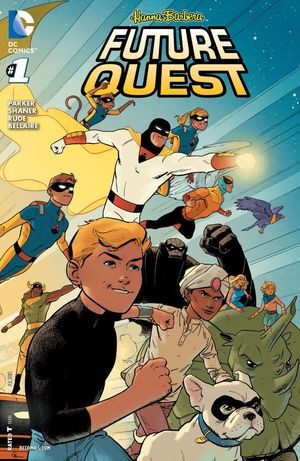 Everyone remembers "Jonny Quest," whether it's the reruns that ran forever, or at least four decades on Saturday mornings, or when it originally aired in network prime time (yeah, betcha didn't know that). The series only lasted a season, was the first of the Hanna-Barbera action shows, was written and designed by Doug Wildey, and was based in part of Jack Armstrong All-American Boy. There have been more than a few attempts to revive the series, none of them (in my opinion) coming close to the original, but still it lives on to this day, it even stands as the inspiration and is even part of the continuity of cult-favorite animated series "The Venture Bros."
Part of the series charm was that it never aimed at kids, it was always an adult show about kids. Then, as today, merely by being animated made it seem like fodder for kids. The shows that Hanna-Barbera followed it with, most of them with original super-heroes, were somewhat aimed at the kids, but still had that mature vibe. Among them were "The Herculoids," "Birdman," and the legendary "Space Ghost." Over the years it has been intimated that all of these shows shared the same continuity, but now, with a new comic book series from DC Comics, that notion is given a new spin. Welcome to Future Quest.
This wouldn't be the first time Jonny Quest has been in comic books. There have been series by Comico and Gold Key, and creator Doug Wildey himself came from the comics. This new series, the first of several adapting Hanna-Barbera characters by DC Comics, will revolve around the Quests and company racing across the world in search of cosmic anomalies. These anomalies are gateways to Earth for some of the spaceborn H-B creations like Space Ghost and the Herculoids among others. In this first issue alone we also get to see Birdman, and Quest enemy Dr. Zin as well.
Creators Jeff Parker, Evan 'Doc' Shaner, and Steve Rude are perfect for this book. Jeff Parker has made his mark turning properties seemingly meant for kids like Batman '66 and Avengers Assemble into entertaining classics for all ages with an adult edginess. Steve Rude, as a co-creator of Nexus, is one of my favorite artists, and even did a Space Ghost comic of his own back in the day. And Evan 'Doc' Shaner has a perfect style for the book, and as my friend JP Fallavollita put it, he even has a Jonny Quest name.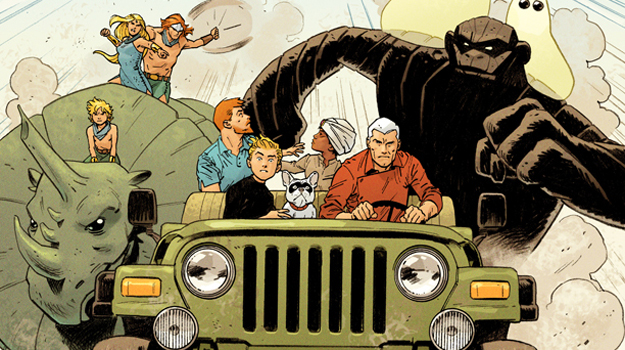 I loved this book, and as someone who doesn't read many new comics these days, that's one of the highest compliments I can give. Get to your local comics store, especially All Things Fun!, and pick this one up!