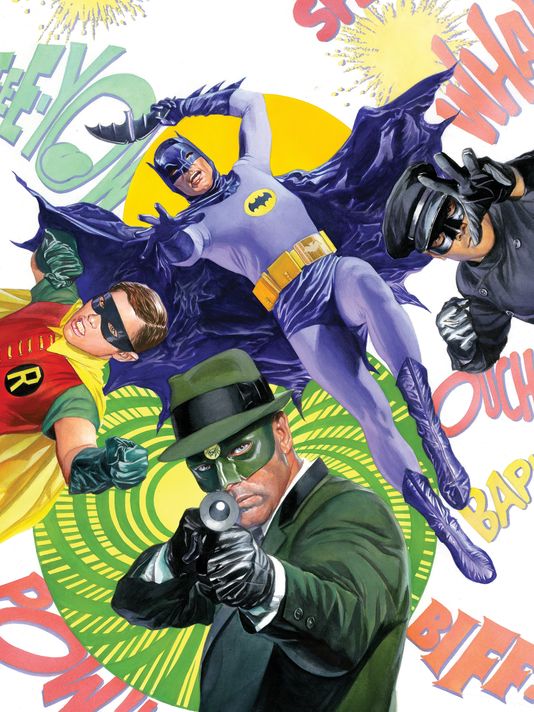 By Glenn Walker
I've talked about Batman '66 here before, and in the dark dreary world of the New 52, Futures End, and Marvel NOW!, it is something singular. It's a fun comic book. Based on the 1966-68 "Batman" TV series, full of camp, color, and yes, fun, it is always a joy to read. I loved the TV series (yes, I'm that old) and I love the comic, hardcopy and digital. And if you haven't experienced digital comics, I full suggest Batman '66 as the one to try.
Now what could be better than Batman '66? How about a comic book sequel to one of the absolute best and fanboy-explosive stories of the show - the two-parter where Batman and Robin face off against the Green Hornet and Kato? "A Piece of the Action" and "Batman's Satisfaction," episodes 85 and 86, along with the Londinium adventure, and anything with Batgirl or the Julie Newmar Catwoman were always my favorites - but I loved the Green Hornet. When I was able to track down his TV show later in life, and then collect all the radio series and comics, the Hornet became a major favorite. With successful Green Hornet comics over at Dynamite, what better time to cross over once again? Another clash between TV's caped crusaders and masked vigilantes? Oh yeah, baby, that's just filled with all kinds of awesome, bring it on.
A little background might be needed. Everyone knows where Batman comes from, and slightly later, Robin, tragically bereft of their parents and pledging to avenge them by warring on criminals, but you might not know about the Green Hornet. Here would be a good place to start. The folks behind "Batman" on TV wanted to do something a bit different, more serious in 1967, and created a show for the Green Hornet. When ratings sagged, they did the obvious, teamed them up… or as reputation would have it, the Green Hornet fronting as a criminal, set the two duos against each other.
The Green Hornet and his masked companion came to Gotham, on the trail of an insidious stamp counterfeiter called Colonel Gumm, and eventually clash with the Dynamic Duo. There was lots of fun in the episodes, which featured Adam West's Bruce Wayne and Van Williams' Britt Reid as old competitive friends. The second episode ended with the two teams fighting to a draw, much to the dismay of the fans. There is much myth to the confrontation between Bruce Lee's Kato and Burt Ward's Robin, but I'll leave that to Hollywood legend and your Googling fingers.
The new comic, Batman '66 Meets the Green Hornet, out this week in comics form (hardcopy, just two weeks after digital release), and available at All Things Fun!, is everything I could have wished for. Written by Kevin Smith and Ralph Garman, and illustrated by Ty Templeton, this is a terrific book. The cadence, the pacing, even the action of the TV series is alive in this comic, and it feels every bit of the sequel to the two-parter that it could be, even Gumm is back, in a more sinister form.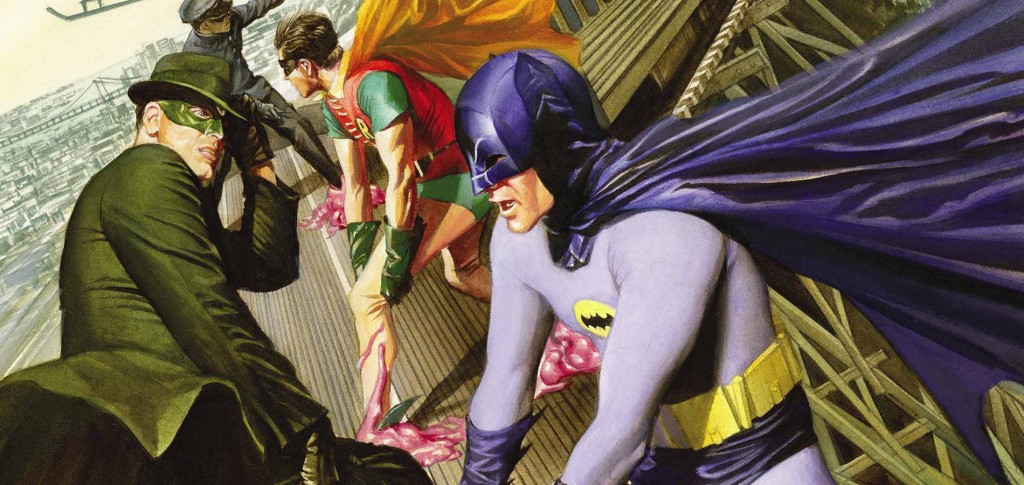 Definitely pick up Batman '66 Meets the Green Hornet, one of the best comics out this week, maybe this month. You won't be disappointed.