By Glenn Walker
Those of you who don't know might be asking, What is nerdcore? The phenomenon probably dates back to filking at science fiction conventions back in the sixties and seventies, and it probably caught real fire with the wizard rock that accompanied the Harry Potter books and movies this century, but nerdcore is a music trend not likely to go away any time soon. Now nerdcore bands and performers sometimes headline comics and scifi conventions.
What is it though? It's music for nerds by nerds. It is usually hip-hop, rap and/or rock, with lyrics that would be meaningless to most folks, but genre relevant to fanboys and fangirls alike. What follows is just a sampling of some of my favorites, as well the leaders in the nerdcore field.
One of the originals on the scene was MC Frontalot. His first album from 2005 pretty much coined the term nerdcore with its title, Nerdcore Rising, and he's been the official rapper of the Penny Arcade webcomic website since 2002. Here's my favorite Frontalot tune, "Spoiler Alert."
Oh, and this video, as well as the other videos and songs in this blog entry, is probably not work or family safe. You've been warned.
Schaffer The Dark Lord is another favorite of mine. He performed at the New York Comic Con last week, hope you got to see him if you were there. My favorite STD tunes are "Supervillain" and "Nerd Lust," but there are no videos for them, so here is his "The Rappist."
Then there's Beefy. I love this guy. Now I have a soft spot for the sweet romance of "Game Store Girl," but again no real video, so here's the videogame and comic book centric "Sidekick."
And just don't you think that all nerdcore is about rap and hip hop, there's nerd rockers Kirby Krackle. Here's "Ring Capacity," which I think if it was included in a certain movie from a couple years ago, that flick would've been a huge hit.
They also do a killer song all about the "Great Lakes Avengers" and also the women of the Marvel Universe in "Marvelous Girls."
My absolute favorite nerdcore artist I saved for last. Adam WarRock is the man. I first discovered him a couple years back when he was giving tracks away free on his blog/website (which he still does from time to time). He put out a free EP about the West Coast Avengers, and from that moment, I was irrevocably hooked. He's done songs about Chew, "Game of Thrones," "Doctor Who," the whole Marvel Universe, and even entire EPs about "Firefly," "The New Warriors," and X-Factor. His output is incredible, here follows just a sampling…
"When the Winter Comes..."
"F.451," a tribute to Ray Bradbury...
...and his first official music video, "This Song."
Welcome to the Nerdcore.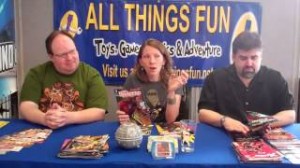 By Glenn Walker
Just a note at the beginning of this blog entry, please note that the folks here at the All Things Fun! Blog, Vidcast or Store do not advocate drinking or overdrinking. The following is to be considered only for entertainment purposes. If you want to play, coffee or diet soda is suggested, but not required.
For the uninitiated, The All Things Fun! New Comics Vidcast is shot live every week at All Things Fun! - the South Jersey/Philadelphia area's best comics and gaming store, located in West Berlin, NJ.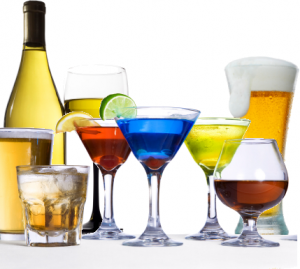 Co-hosts Ed Evans, Allison Eckel and Glenn Walker discuss the new comics out every week in wicked high definition video, and also available on the YouTube. You can see it here.
In the almost two years we've been doing The All Things Fun! New Comics Vidcast, certain occurrences and coincidences in our performances have been pointed out. Things that we do in each episode that would play well in drinking game form have emerged. What follows is a partial list.
Every time Allison says the word "rejigger," take a drink.
Whenever someone makes a pirate reference in regards to Deathstroke, take a drink.
When someone fakes it by just reading the cover of a comic, take a drink.
Whenever someone's face is covered by the cover of a comic book, take a shot.
Every time Glenn or Ed says "I got nothing," take a drink.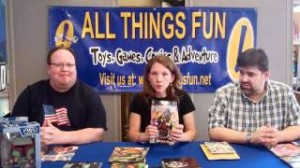 Whenever Glenn mumbles, take a drink.
Every time two of the hosts have their own show while the third is talking, or said activity is referenced out loud, chug.
Any time someone says "Zenescope," take a shot. If it's in reference to a non-Zenescope comic, take two shots.
When Allison turns a cover over on the table because she doesn't want to see it, take a drink.
Whenever Batwoman's skin pigment is mentioned, take a shot.
If Glenn makes ape sounds or hums the Star Wars theme, take a drink.
When anyone makes a reference to the concept of "A day without Deadpool is a day without sunshine," chug.
If Allison reviews a Marvel comic, take a drink. If more than one, a drink is taken for each one.
If any reference to Glenn's age is made, chug.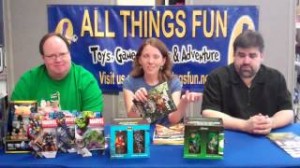 Whenever the phrase "vast storehouse of useless knowledge" is used, take a shot.
Every time Ed shakes his head, take a drink. If he shakes his head in despair, take two drinks.
Whenever it's mentioned that a comic has not been read, or there wasn't enough time to read the comics, chug.
Every time Allison discusses wardrobe, chug.
Whenever Glenn violates the spoiler rules and gives vital details away, take a shot. If Ed calls him on it, take two shots.
Every time Glenn takes a comic from Allison, take a drink.
Every time Allison looks like she's going to hit Glenn, take a shot.
When Glenn finally gets hit, chug.
Whenever someone makes someone else pronounce a word, take a drink. If it's Allison saying the word, two drinks.
Whenever Glenn asks Ed a question he clearly doesn't know the answer to, take a shot. If Ed does it to Glenn, chug.
Every time Allison makes fun of a Marvel character's name, take a shot.
Whenever Glenn makes a reference that must be Wikipedia-ed later, chug.
Last man standing wins.
Please continue to watch and enjoy the All Things Fun! New Comics Vidcast here. Remember, don't watch and drive, folks.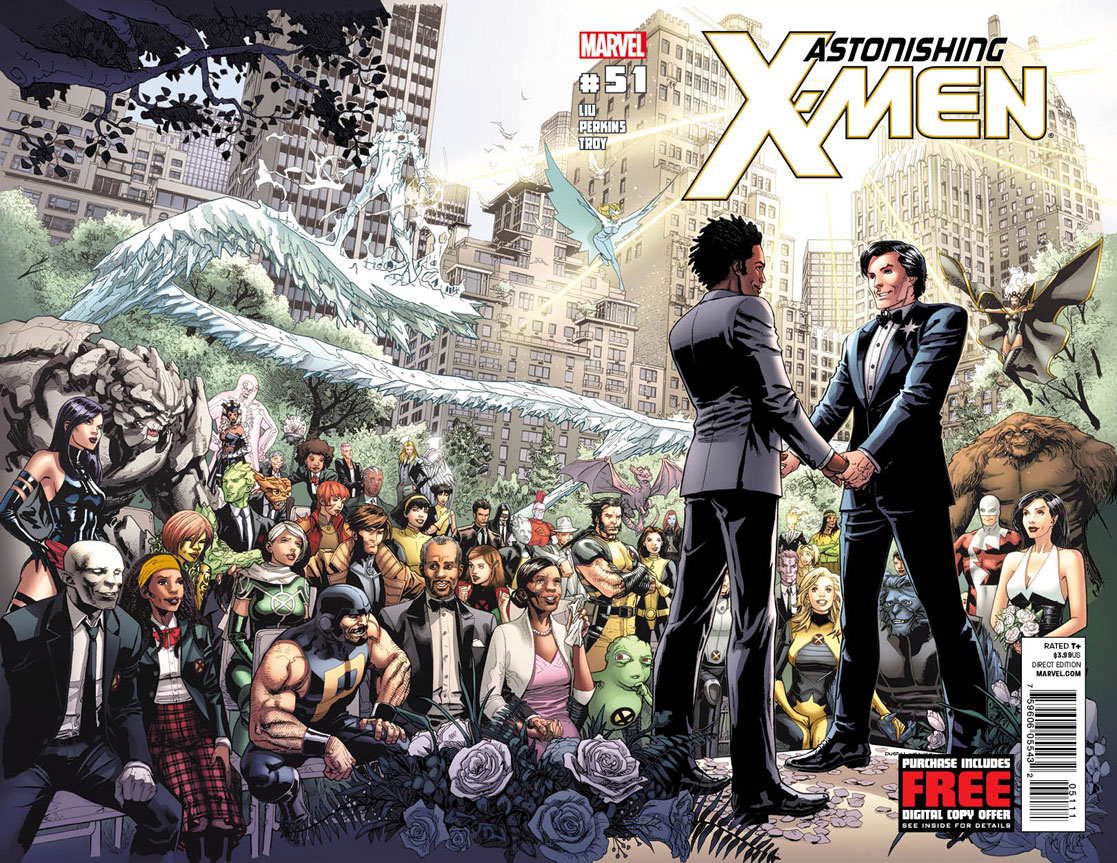 By Glenn Walker
This is the wedding everybody is talking about. Rolling Stone, MTV, Washington Post, LA Times, USA Today, Wall Street Journal, and Entertainment Weekly - they're all talking about the X-Men wedding of Northstar and his partner Kyle. In the last issue, Northstar proposed and Kyle declined, then things got a bit dark with the usual X-Men superheroics and villain shenanigans.
Here in the story's conclusion, Astonishing X-Men #51, written by Marjorie Liu and illustrated by Mike Perkins, it looks like the wedding is on and will be attended by an entire universe of X-Men family and friends.
You won't want to miss the comics wedding event of the year in Astonishing X-Men #51, out this week at All Things Fun!. And don't forget to invite Iceman to your own wedding, the ice sculptures will be free!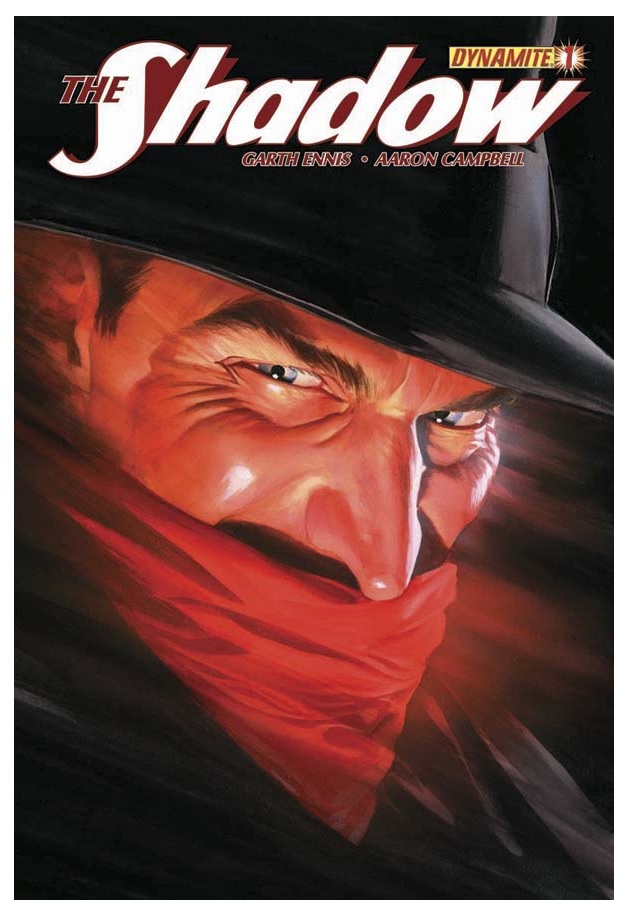 By Glenn Walker
I love me some Shadow. Seriously, The Shadow is one of the superhero archetypes from the pulp magazines of the 1930s, and one of the direct inspirations for the Batman, among others. In the past few decades, The Shadow has not fared well in comics in my opinion, but then again, I'm a purist when it comes to the character.
When I had heard Garth Ennis was writing the new series for Dynamite Comics, I was really dreading it, as Ennis has a reputation for hating superheroes - witness his series The Boys, who knows what he would do with one of the original superheroes?
I need not have worried. Garth Ennis gets The Shadow, properly set as a period piece, pre-WWII, and maybe just a bit more violent than I would have preferred (this not for the kiddies), it is almost exactly the type of story I would have wished for.
And artist Aaron Campbell's gritty cityscapes and neighborhoods are perfect for the period and the storytelling. This is a killer combination. I am reminded of Matt Wagner's Sandman Mystery Theater, of which The Shadow was also a primary inspiration. Highly recommended! Get over to All Things Fun! and get your copy today!
By Glenn Walker
The mantra used to be Comics aren't just for kids anymore, but these days things have changed. A thought occurred to me several weeks back while watching the Super Bowl. We have gone mainstream. The nerds have inherited the earth.
I had friends and family call me during the game, not about the game, mind you but about the commercials, pushed to call by seeing trailers for the new Ghost Rider flick, and The Avengers of course. They didn't call me to find out what these movies are because they already knew – they wanted to know what I thought of them. They also wanted to know if there would be previews for The Amazing Spider-Man, The Dark Knight Rises, or even The Man of Steel during the game as well.
None of these things were unknown entities. They were all known quantities to folks who know nothing about comic books. This was not a game of ask-the-geek because he'll know what the hell it is, it was ask-the-geek because he'll know if we should see it. Gone are the days of only nerds knowing how many days until the next comic book movie comes out, now everyone is on that clock.
And for clarification, when I say things like nerd, geek, fanboy, etc., it's a term of endearment, and to differentiate ourselves from this new type of fan, the mainstream fan. Remember the days when nobody knew who Green Lantern was outside of your comic shop? Well, game over, your mom knows Green Lantern now. He's Ryan Reynolds in that flick that bombed last year. But still, there is awareness.
Almost all of our Hollywood blockbusters these days, whether they succeed or not, are based on comic books. Audiences around the world get indoctrinated to geek culture on a weekly basis watching "Big Bang Theory." Kevin Smith just started a nerd version of "Hardcore Pawn" set in his own comic book shop. Comics-based "The Walking Dead" gets better ratings on AMC than "Mad Men."
Comic book culture has gone mainstream. It has already happened. Nerds rule. The bad news is we're no longer special. Just sayin'.
By Glenn Walker
If you watch the All Things Fun! New Comics Vidcast regularly, you know that the new Defenders comic is one of my favorites for 2012 so far.  Written by Matt Fraction with art by Terry and Rachel Dodson, the new Defenders features Doctor Strange, the Sub-Mariner, the Silver Surfer, the Red She-Hulk and Iron Fist as they fight a threat to the entire Marvel Universe, one so powerful that they cannot even verbalize its existence. Sounds like a lot? Sounds like a lot of mumbo-jumbo, too cosmic, or just too messed up for a comic book? Welcome to the world of the Defenders.
Whether it was purposely orchestrated or just dumb luck and coincidence, the characters who were soon to become the core members of the Defenders - Dr. Strange, the Incredible Hulk, the Sub-Mariner, and the Silver Surfer - kept bumping into each other in pairs and trios of varying combinations in the early 1970s. Someone, I'm guessing Roy Thomas, decided to just throw them together as their own team. And 'thrown together' is the operative term. By no means are any of these four team players, nor should they even get along by any stretch of the imagination, and thus the concept of the non-team was formed. They weren't really a team, they just worked together when needed.
Their first official appearance was in a comic called Marvel Feature #1, eventually graduating after a couple issues to their own self-titled book The Defenders. Thomas wrote the first couple stories before handing over the reins to Steve Englehart, and that's how I first became aware of the Defenders. Englehart was writing both Defenders and Avengers at the same time, and conceived a plan to have the teams battle each other. This was a time and age when superhero slugfests were not the norm, mind you, and this fight had a slightly darker edge.
If you take a close look at the ranks of the Defenders, adding in new members Valkyrie and Hawkeye to the equation at the time of the clash, the team looks like some sort of anti-Avengers - quite possibly even a group of villains! In the plot of the story Loki manipulates the mighty Avengers into fighting the dynamic Defenders easily saying that they were in fact villain intent on taking over the planet. They had all stood against the forces of good at one time or another, and the Avengers had just had an uneasy encounter with Dr. Strange - Loki didn't even have to mentally push them at all to believe him, the Avengers had to take down the Defenders.
Imagine for a moment the joy of this little fanboy in the summer of 1973 as the battle of the century raged from one title to the next. Yes, it was one of the first crossovers, taking up almost a dozen issues of two titles, yet still affected the entire Marvel Universe, and costing less than two and a half dollars. If only they could do that these days. I watched old friends and older enemies like Iron Man and Hawkeyeslug it out, Captain America and Namor join forces against a third foe, Sunfire, the Vision attack the Silver Surfer thinking he meant to harm the Scarlet Witch, and the biggest baddest battle of them all - Hulk vs. Thor. Yeah, baby!
It was a good summer, the heroes cleared up any misunderstandings and departed friends at the end. And much to the glee of Marvel Comics, this Avengers fan became a Defenders reader too. They hooked me. I watched as Hawkeye, the Surfer, and Namor left, but Yellowjacket, the Son of Satan, and former Squadron Sinister villain Nighthawk wandered in. It should be stated now, this was the nature of the non-team concept. There may have been a core membership, but this was not a team with rules, headquarters, membership cards, or anything like that with the Defenders. People came and went as they pleased. Notably, Dr. Strange, the Hulk, Valkyrie, and Nighthawk always seemed to be around.
The anti-Avengers vibe continued in that not only was the members always suspect or of questionable morality, either to the public or even to each other. There was also something else, something that reared its head big time when writer Steve Gerber took over the book. The Defenders didn't really fight super-villains and menaces like the Avengers did. There was no Kang or Ultron or even Hydra on their docket. The Defenders fought weird stuff. Really really weird stuff.
They fought Xemnu the Titan. This white furry alien monster first appeared during the 1950s when Marvel was still called Atlas Comics (formerly Timely Comics), and at that time, Xemnu was called the Hulk. The Defenders also fought one of their greatest battles against the Headmen, almost completely composed of minor one-shot threats from the pre-Marvel horror/scifi days. They were led by a twisted woman named after a Rolling Stones song with a red plastic spherical organic computer grafted to her neck instead of a head - Ruby Thursday.
Gerber also brought the Defenders to the future to fight Badoon along side the Guardians of the Galaxy (this story also introduced Korvac, a villain who later succeeded in killing the Avengers, ahem, they got better), but that's almost normal compared threats like super-villains in motivational therapy, an army of Bozo the Clowns and the Elf with a Gun. That last one was an unsolved, and inexplicable mystery for years. Gerber also brought the new Red Guardian, Patsy Walker as Hellcat from Avengers and even his own creation, Howard the Duck, in, just to add to the madness. Truly, one has to wonder what Gerber was smoking.
David Anthony Kraft, a force missing in comics for decades, and one I wish would come back, next took on the reins of writer for the title. Kraft was formerly a rock journalist, later founded Comics Interview, and also wrote some of my favorite all-time Defenders stories. He also brought the weird big time. After introducing the Soviet nuclear menace of The Presence, Kraft brought back Nick Fury's brother Scorpio who in turn brought with him a twisted new android version of the Zodiac just in time for the fiftieth issue.
Kraft's two greatest and weirdest achievements for the non-team were "The Revenge of Vera Gemini" and "Defenders for a Day." The first storyline brought much of the rock and roll imagery from various albums of Blue Oyster Cult to life to bewitch the Defenders, a real treat for BOC fans and a great supernatural tale featuring the cool but obscure Devil-Slayer passing through. "Defenders for a Day" had a documentary airing on television explaining the non-team concept badly - causing multiple heroes (and villains) to show up and declare themselves Defenders so the real non-team has to clean up. Great fun.
The title passed in a variety of hands after that, with Dr. Strange, the Sub-Mariner, and Son of Satan returning to the ranks, as well as the Beast, Iceman, new hero the Gargoyle and a whole bunch of former Avengers. In the hands of writer J.M. DeMatteis, who would later the next decade bring the weird to the post-Crisis Justice League along with fellow Defenders alumni Keith Giffen, the non-team continued to defend the world from the most bizarre threats known to man.
If it's the Masters of Evil, call the Avengers. If it's the Six Fingered Hand, the Dragon of the Moon, Yandroth, the Mindless Ones, or the dreaded Elf with a Gun - call the dynamic Defenders. After several reboots and variations on the theme in recent years, the team has been reborn in the fires of Fear Itself. It's a non-team of both old and new, and has got lots of weird, including secret messages in the borders of the pages. Matt Fraction is definitely channeling Gerber and Kraft in this new version. If you're not reading the new Defenders, you should be, check it out!
By Glenn Walker
With Memorial Day looming my mind turns to the men and women who protect our nation's interests here and abroad, and to those who gave their lives for our freedom. What does this have to do with comics, you might ask. Well, whether you know it or not, there were and are a lot of comics about those folks.
Today when people think of comic books, they think of brightly costumed superheroes flying around and hitting bad guys, but comics weren't always all about the superheroes. They covered a myriad of genres from crime fiction to romance to jungle adventures to horror to westerns to war stories. And that last category was a big seller even in the industry of the superhero.
With film, it has often been theorized that in wartime, fantasy is big because people want to escape, and in peacetime, war stories are big because people have forgotten the horror of war. This is not necessarily the case with comics. War comics have always thrived, until the past few decades at least. In some cases, like during the Vietnam War, they flourished.
At the dawn of comics, back in the Golden Age, one of the prototype heroes was the ace pilot. There was Hop Harrigan, and later semi-costumed pilots like Blackhawk, Airboy, the Phantom Eagle and Captain Midnight, and of course all of these were in the style of Tailspin Tommy. Aviators were hot when it came to war comics back in the day.
Even Steve Trevor, who was the first outsider to find Paradise Island and bring Wonder Woman to America during the Second World War, was a pilot. And Wonder Woman herself was one of the first of another kind of war hero – the patriotic superhero. Heroes who cloaked themselves in the colors of the American flag to fight not only crime, but also the enemies of America. The most famous of these would be upcoming movie star, Captain America. Others who followed in his footsteps included The Shield, Uncle Sam, Miss America (DC's and Marvel's), the Star-Spangled Kid and Stripesy, the Patriot, the Fighting Yank, Minute-Man and the Spirit of '76, among others, just to name a few.
These heroes and others of the era would join forces to fight the war as well, at the time, and in retcon. Tales of the All-Star Squadron, the Invaders, the Justice Society/Battalion, the All-Winners Squad, the Freedom Fighters, the Young All-Stars and The Twelve are still being told today, but that's not really the kind of hero I'm talking about.
The other type of war hero back in the day was closer to the real thing, just a regular joe, the fighting man, the soldier. In World War II, comics were sent overseas to our fighting forces, just as they have been in the decades since, and these pulp heroes were the ones that our heroes could identify with.
The more famous of these soldier heroes didn't appear ironically until after the Second World War and into the 1950s and 60s, but still, their names are with us today. Marvel Comics' most famous soldier was Sgt. Fury who led the Howling Commandos in the War. He has endured and Nick Fury is one of the major players in Marvel's movie universe, played by Samuel L. Jackson in Iron Man 2 (2010) and rumored for his own movie as well. Nick Fury, as well as many of his men, formed the basis for SHIELD in the Marvel Universe.
Over at DC Comics, Fury's counterpart would be Sgt. Rock and his Easy Company. Rock forms the foundation for DC's much larger universe of WWII heroes. While Rock remains an average soldier, although with great leadership and heroic qualities, he is joined in the fight by more interesting compatriots. Among them are the Haunted Tank, the Losers, the Unknown Soldier, Mademoiselle Marie, the original Suicide Squad and later G.I. Robot and the Creature Commandos.
Veering off-topic for a moment, DC also did some innovative comics featuring the opposing forces in war with Enemy Ace and Blitzkrieg. The later, however interesting, was short-lived. These characters still appear from time to time. Rumored to have died on the last day of World War II, someone claiming to be Frank Rock led a version of the Suicide Squad and worked in the Luthor Administration. Vertigo Comics presented a new version of the Losers that proved so successful it was made into a feature film.
Most of the war comics so popular for almost four decades died out in the 1980s. I guess political correctness had taken its toll, or perhaps the stories no longer had resonance for the current generation reading comics. There have been occasional forays into the genre. Marvel's The 'Nam stands out, as do the few one-shots of Sgt. Rock that DC has done lately.
Sgt. Rock, Sgt. Fury, Easy Company and the Howling Commandos – those are just a few of the heroes of our armed forces in the comics, most of whom were inspired by the real heroes of our world, specifically our nation, who we remember this and every Memorial Day.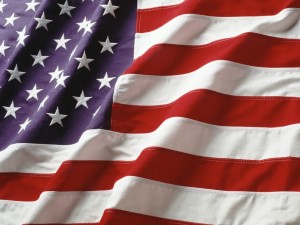 By Allison Eckel
Welcome to March! Get ready for the big event… Not college basketball, not the C2E2, but Smithsonian's annual Women in Science month! Why is this fodder for a comics industry commentary, you ask? Because this year, Smithsonian is treating five female field scientists as super-heroes, complete with their own digital comics (the cover to the first is shown below).
The super-hero hook for this year's Women's History Month observance is encapsulated on the promo page: These life-long conservationists have a "passion to save the planet." The digital comics are the origin stories of each scientist, or "the moments that sparked their lifelong journey of scientific discovery." The actual work of these scientists is presented on Smithsonian Channel in a series of documentaries airing throughout the month (see the list of scientists and their topics, below). The episodes are also available online. To round out the super-hero marketing, visitors to the site can take a quiz to see what kind of super conservation science suits their personalities.
My first reaction to this marketing campaign was negative. First of all, they found me by feeding me an ad on Facebook that read: "Love COMIC BOOKS?" So, at first I thought Smithsonian, our national museum, was dumbing down science to appeal to comics readers. Enraged, I followed the ad (they won).
The Women in Science landing page did not at first assuage my rage. Along the left is a lady dressed as sexy scientist (but not too sexy), standing strong as though she were Wonder Woman, lab coat blowing in the wind like a cape. I expect a stunt like this from History Channel  or TLC – which are no longer following their original formats – but not from Smithsonian. I don't want my national museum "Foxified," dumbed-down, reduced to sexy marketing tricks to entice viewers.
After a deep breath, I actually explored the content of the site. Turns out, the lady on the left is simply part of a fun marketing campaign. The web comics are a fun idea: a look at what inspires us and how kids of today may be inspired by their teachers. The actual content of Smithsonian's Women in Science observance is strong, true, and worthy of our national museum – and worthy of the women they profile.
So, check out some real-life planet-savers this month on Smithsonian Channel. Information for all episodes is found on the same site, so click here for more.
Elizabeth Blackburn: Decoding Immortality
JoGayle Howard: The Ghost Cat (the clouded leopard)
Nan Hauser: Footprints in the Water (whales)
Elisabeth Kalko: Batwomen of Panama
Gudrun Pflueger: Running with Wolves
The web comics are each written by Mallory Murphy, illustrated by Gerard Conte, and colored by Kevin Colden.
By Glenn Walker
Hopefully y'all have been following the All Things Fun! Comic Vidcast broadcast live every Wednesday, and if not, get yourself over to its special webpage and enjoy.  As I said, it's live every Wednesday morning at 10:30 AM sharp Eastern Standard Time, and available for viewing, as are all the episodes, throughout the week afterwards.
I, along with co-hosts Allison Eckel (fellow blogger) and Ed Evans (All Things Fun! owner), discuss the new comics that come out that day for the week.  We like to think we offer our own unique and informative view of the comics world and what's going on within it and around it.
Although, sometimes fifteen to twenty minutes just isn't enough to explain some of the references made during the vidcast, and it certainly isn't anywhere near enough time to justify the vast storehouse of useless comics knowledge spilling out of my head.  Hopefully these show notes might help.
Deadpool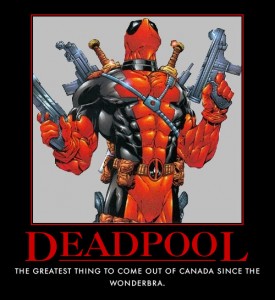 I am not a nice person.  I have been known to tease young children, take candy from babies and frequently have poked X-Men fans with pointed sticks, but nothing was as terrible as when I convinced Allison that there was not only a Golden Age Deadpool, but also a Silver Age Deadpool.  I'm a cruel, cruel man.
In reality, Deadpool was created for Marvel Comics in 1991 by the infamous Rob Liefield.  The wildly popular character is in many ways an in-joke for comics readers, even his real name, Wade Wilson, is a reference to DC Comics' mercenary anti-hero/villain Deathstroke (aka Slade Wilson).  His healing factor and super-reflexes are a product of the same program that created that other Canadian superhero, Wolverine.  The 'merc with a mouth' often talks to the readers directly, and rarely shuts up, to be honest.  The character is so popular that hardly a week goes by without some Deadpool offering from Marvel Comics.
Squirrel Girl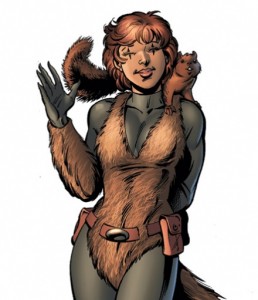 This one, a teenaged mutant super-heroine with rodent-like abilities and the power to communicate with, yes, squirrels, was created by comics legend Steve Ditko in 1992.  In her first appearance she and her sidekick, a squirrel named Monkey Joe, first fought, then teamed up with Iron Man, and then when the Golden Avenger was defeated, she was victorious against the sinister Doctor Doom.  Don't laugh.  This really happened.
John Byrne created the Great Lakes Avengers in 1989 as a joke, another in-comic reference to other characters, in this case conceptually, to another DC Comics idea - the Legion of Substitute Heroes.  These heroes had dumb powers and were ridiculous characters but would serve as back-up, should the real heroes fall in battle.  Squirrel Girl was a perfect fit for the team.
Her service on that team led to the character being featured in the recent I Am an Avenger #1 and writer Brian Michael Bendis choosing her to become nanny for Luke Cage and Jessica Jones' daughter in upcoming issues of New Avengers.
The Micronauts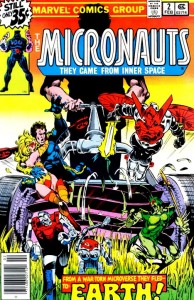 When the Japanese Microman toy line came to America in 1976 as Micronauts by Mego, Marvel got the license for their comic book adventures.  With Bill Mantlo on story and Michael Golden on art, characters, history and an entire universe - or more accurately a Microverse - was created simply based on the toy designs and one or two names.  Just my opinion, but for about a year or so, them's was some darn good comics.
Two concepts remain after all these years.  First Bug, who continues to appear as part of Marvel's Guardians of the Galaxy and in their cosmic-based mini-series epics.  The other, Captain Universe, is equally cosmic.  Whenever a person, any person, is in a time of crisis, the Uni-Power, also known as the Enigma Force, can transform them into a cosmic-powered superhero known as Captain Universe.  Interesting idea, he's the hero who can be you.  Notably, Spider-Man once became Captain Universe, and he beat the living snot out of Firelord.  Yes, really.
Giant-Size Man-Thing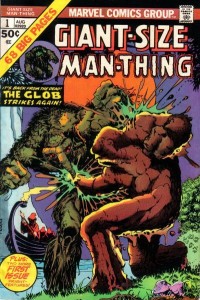 Hmmm.  Let's take the second part first.  Man-Thing was Marvel Comics' swamp monster counterpart to DC Comics' Swamp Thing.  Like the Doom Patrol and the X-Men, and the Red Tornado and the Vision, this was one of those times when both major comic book companies came up with a concept at roughly the same time, summer of 1971.  Sometimes great minds think alike, but it's notable to mention that The Heap, the swamp monster from the Golden Age, predates them both by nearly thirty years.
Unlike Swamp Thing, the Man-Thing was frequently used as a tool to tell stories, or the catharsis for other stories.  They were rarely about him.  Other characters surrounded him and were launched after appearing with him, such as Wundarr, Foolkiller and Howard the Duck among others.  And as the Guardian of the Nexus of All Realities (don't even ask) it seemed like anything could happen when Man-Thing was around.
Now for the embarrassing part.  In the mid-seventies, Marvel upsized several of their comics to more pages and more cents with a line they called Giant-Size.  Almost every Marvel comic had a "Giant-Size" version, including, you guessed it, Man-Thing.  Over the years, this double entendre has become a legendary joke in the industry, but it should be noted that Giant-Size Man-Thing lasted for an entire year, five whole issues.  And I just bet that writer Steve Gerber giggled like a madman every time it came out.
That's all for this time.  I'm sure there will have to be more explanations of obscure and arcane info from my twisted mind that makes into our live vidcast.  Maybe next time I'll teach y'all how to pronounce all the 'O' villains in the Justice League's rogues gallery…
By Allison Eckel
My mother-in-law is a voracious reader who will read just about anything she can get her hands on. The existence of a plot or well-defined characters is not actually needed. I'm a little different in my reading preferences. As the mother of two small children, my time to read books that are about more than the alphabet is seriously limited, so the books need to be well-chosen. The Harry Potter series gave me a great bang for my buck, so to speak, because they instantly transported me and filled my imagination, even for the snippets of time I could give them.
In a post-Harry literary marketplace, I find myself continuing to look at books billed as Kid Lit. I don't have the patience for "adult fiction." The characters are often too whiny or shallow and their plot lines too obvious. I am much more attracted to that classic archetype of Ordinary Kid Discovers Extraordinary Origins. The parent/guardian knows the truth but keeps it from the kid until that one fateful day when all is revealed and life changes. And of course, the world hangs in the balance. You all know countless examples of this story. Briar Rose from Sleeping Beauty didn't know she was an ill-fated princess. Clark Kent knows he is a little different but has to discover his true abilities and alien beginnings. The Cheerleader on NBC's "Heroes" discovers her amazing healing abilities. My childhood favorite is Amy Winston from DC Comic's "Amythyst, Princess of Gemworld," who is a normal 13-year old who discovers she is actually the long-lost, magical, princess of a beautiful alien world. Lyra from the His Dark Materials trilogy has not a care in the world until she becomes the only child who can read the Golden Compass and uncovers many mysteries around her parents. And of course, we all know about Harry Potter.
There is something about these stories that I find completely entertaining. By focusing on children they can see new magic in the world and have it be believable. Also, authors are able to use the powerful nature of puberty as roadmap for their young heroes' journey. Kids reading these stories can perhaps find something to identify with, or a way to dream about their own inevitable awkwardness. Adults can simply enjoy the ride.
My latest Kid Lit crush is for Percy Jackson and the Olympians by Rick Riordan (published by Hyperion). A junior-high-aged kid with ADHD and dyslexia, Percy has a knack for getting into trouble. Turns out he's the son of a Greek god, making him a demigod, and therefore a target for all of the monsters in mythology. Of course, rather than stay safe, Percy and his demigod friends must complete a quest to save the world. The plot moves quickly and Percy's narration is snarky, as though he lived it and he still can't believe it's all true.
Books 1 (The Lightning Thief) and 2 (The Sea of Monsters) have won many impressive awards, and it's easy to see why. Riordan understands his target audience of junior-high school kids because he was an English teacher for many years and created Percy Jackson as a bedtime story for his own son.
Now, for a writer to understand his audience is easy. For a writer to show respect for that audience is challenging. JK Rowling achieved this in her Potter series. She respected the reader, regardless of age, to keep up with her vision and so did not have to get bogged down with too many explanations. Riordan achieves this as well. It must be tempting for a former teacher to indulge in lengthy explanations of the ancient Greeks to show us how much he knows. But he keeps a tight hold on that impulse and instead gives us secret places where the ancient Greeks thrive in modern life. Riordan's universe works in much the same way as Rowling's: the magical Greeks live among the normal mortals, but still apart from them and in secret. He uses descriptions of these places to showcase what life might have been like when sacrificing the best part of your dinner to the gods was normal. We come away believing that there's a valley on Long Island that only immortals can enter, or that prominent figures in our history were demigods too (including George Washington and Houdini).
If Riordan puts as much care and craft into his adult fiction – he writes the Tres Navvare mystery series – I may have to try them. Then, I may actually be able to discuss books with my mother-in-law.
Remember: Book 4 of Percy Jackson and the Olympians, The Battle of the Labrynth, hits shelves May 6. (Update: Book 5: the Last Olympian is due May, 2009)