By Allison Eckel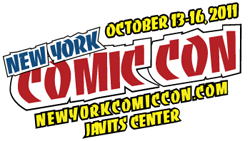 Experiences at New York Comic Con are as diverse as the cosplayers in line for Speed Dating. Some go for the panels of industry movers and shakers, hoping to hear exclusive details on upcoming projects. Some go for Artists Alley, hoping to score an exclusive sketch of a fave character by a fave creative. Many go in costume, hoping to connect with other aficionados of the "cosplay" universe. And then of course, we all go for the convention hall, that endless labyrinth of geek-fueled consumerism (and I mean that in a good way).
I go for Kids Day because I love to share my fandom with my son, now a fourth-grader (he was the special kids' comics reviewer for the All Things Fun new comics vidcast this summer. In this one he shares his thoughts on Justice League #1). With him in tow, I stop worrying about panels (the lines are too long and the best points will appear online by day's end anyway) and focus instead on the special programming slate reserved for Sunday. This is a difficult program to get right, and NYCC organizers try something new every year. The offerings run the gamut from quiet and focused to massive chaos: drawing workshops, group light saber battles, celebrity appearances, gaming demonstrations, and more. This year, they put the Kids Day program in its own location, separated from the not-always-all-ages convention hall. This was good and bad. Located in the remote North Pavilion of Javits, Kids Day was very far removed from everything else. Once we got there, we couldn't just flit in and out; we had to commit to staying long-term. Luckily, the North Pavilion had its own restroom and food cart.
At the 2011 Kids Day, we were joined by another family who is hip to geek culture, but not exactly comics. NYCC newbies, you could say. I was eager to see NYCC through the eyes of not only my nine-yr-old comic fan, but his newbie buddy and sci-fi geeky parent. We started the day by learning the motions for several spells from Bellatrix Lastrange and Narcissa Malfoy cosplayers; checked out a Beyblade Tournament; tossed the quaffle in a pick-up game of Quidditch; embarked on a mini-Dungeons & Dragons adventure; and spotted a few celebrities. Oh, yeah: The celebrities who appear for autographs were shoved in the back corner as though the organizers didn't quite know what to do with them. Overall, the boys had fun, but not for long. By lunchtime, we were ready to head back into the fray of the main convention.
One of our favorite choices in the Kids Day program is the drawing workshop. My son's first NYCC was 2008, when most of the Kids Day schedule was workshops, held classroom-style, taught by working comics artists. He had a blast and soaked up every trick and tip the artists would teach him. But, overall, those workshops were poorly attended. In subsequent years, fewer workshops appeared in the program. This year, we found only one. But this one was fantastic.
Titled "Nursery Rhyme Comics," and listed as appropriate for kids aged four and older, we feared it would skew too young for the two fourth graders in our group. We learned that Nursery Rhyme Comics is the title of an awesome new book published by First Second that showcases 50 nursery rhymes as interpreted by 50 different artists. The workshop brought a few of those artists and their editor together to talk to kids about ways to take existing text and interpret the visuals to tell the story.
Then the kids had a chance to try it out. My son took "Star Light, Star Bright" and turned it into a dramatic, romantic encounter between Hal Jordan as Green Lantern and Carol Ferris as Star Sapphire (when she was evil). I am completely proud.
Of course, we did brave the convention hall. And brave one had to be, for the teeming masses were grumpy by the afternoon. The cool booth attraction this year was digital green screen photos. DC Comics put you into the new Justice League line up, Dell Ray audio books put you into a battle with a dragon, and more. Hasbro toys gave out mini Optimus Prime figures to promote their new Kre-O building blocks (Lego competitors) licensed with Transformers. DC Comics gave out plastic blocks of ice that glow green to promote the Nov. 29th release of Smallville's entire 10-year-run on DVD (and more of those super-hero logo pins). But most booths gave out marketing fliers only, if anything. Freebies were rare, but demos were not. Many booths offered video game demonstrations, prompting more than one disgruntled fanboy to complain that this was no longer a "comic" con. All I know is that the gaming booths were so crowded we didn't even try to see what they offered.
We slowly slogged through the crowd to Artists Alley in hopes of doing a few video interviews for the AllThingsFun You Tube channel. Alas, the Alley hosted way too many fans. Which is a good thing. Keeping my video camera secure in my pocket, I did manage to meet a few artists, including Amy Mebberson and Katie Cook. I wanted to meet Todd Nauck, but the boys were tiring fast and his line was too long. Our final stop was the great pair behind Tiny Titans, Art Balthazar and Franco (Aureliani), but they had stepped away from their table.
There is a moment when a boy's brain becomes exhausted, but he doesn't believe it. We reached that moment at 3:00. So we headed to the aisles of book publishers, where I craftily parked them at DK, where the boys sat on the floor, leafing through visual dictionaries of Star Wars ships and Lego figures while I darted in and out of the booths surrounding them. Most book publishers at NYCC have "special prices" that are not that great. I can see a book at the Con, buy it from Amazon with my home, and read it the next day – or better yet, download the digital copy and read it on the train home.
Except for Graphic Universe. This all-ages graphic novel imprint of Lerner Publishing offers a wide catalog of titles, including Sherlock Holmes adaptations, a line of myths from various cultures, tween fiction, and more. Their show special, at least by Sunday, was three paperbacks for $10. Since the first book I picked up was $9.95, I call that a good deal.
By 4p.m., we left the Javits convention center. The boys protested, asking to see "just one more booth," but we were all tired, hungry, and getting short tempered. This year's NYCC Kids Day was a blast. We did not fulfill our wish list, but we had a lot fun together. Which, I suppose, is what comics fandom is really all about.