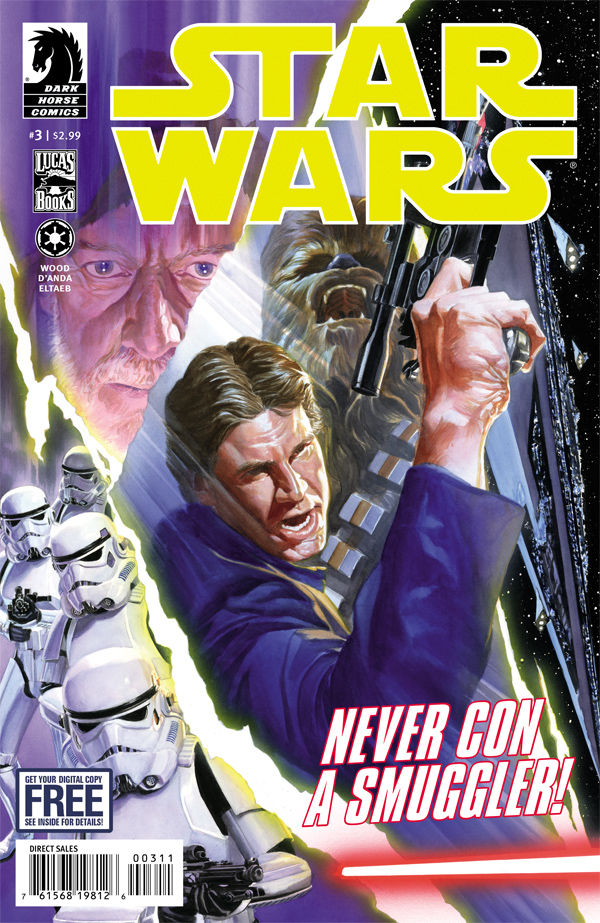 By Glenn Walker
Dark Horse Comics has had the license to make comics based on Star Wars for over two decades, but I have to confess it's flown over or under my radar for the most part. That's not because I'm not a Star Wars fan, no, not at all, it's because I'm an original Star Wars fan.
Luke Skywalker, Han Solo, Darth Vader in armor and breathing mask, Princess Leia, Chewbacca, and even Boba Fett - that's what Star Wars is to me. If it's not those first three movies, I'm sorry, I just don't get it. The majority of the Dark Horse SW books have seemed to be new characters, stuff from other movies or media, or just barely on the fringes of the universe I know. Nothing personal, DH, it just didn't grab me.
That said, a recent offering has gotten my attention, my full attention. A title called Star Wars, no subtitles, no adjectives, and solely about the characters I knew, debuted three months ago. Star Wars #3, written by Brian Wood with art by Carlos D'Anda, brings us to a SW universe shortly after the events of that first classic movie A New Hope.
From the first few pages, this old school Star Wars fan was hooked. Princess Leia and Luke Skywalker are at odds over a new squadron of X-Wings and finding a traitor in their ranks. Meanwhile, Han Solo and Chewie are off on their next big adventure, and it starts with a bang!
Great story and art, not to mention full-on nostalgic excitement, highlight this great jumping on point for new readers. Star Wars #3 from Dark Horse Comics is on sale this week at All Things Fun!, just look for the fantastic Alex Ross cover!
By Glenn Walker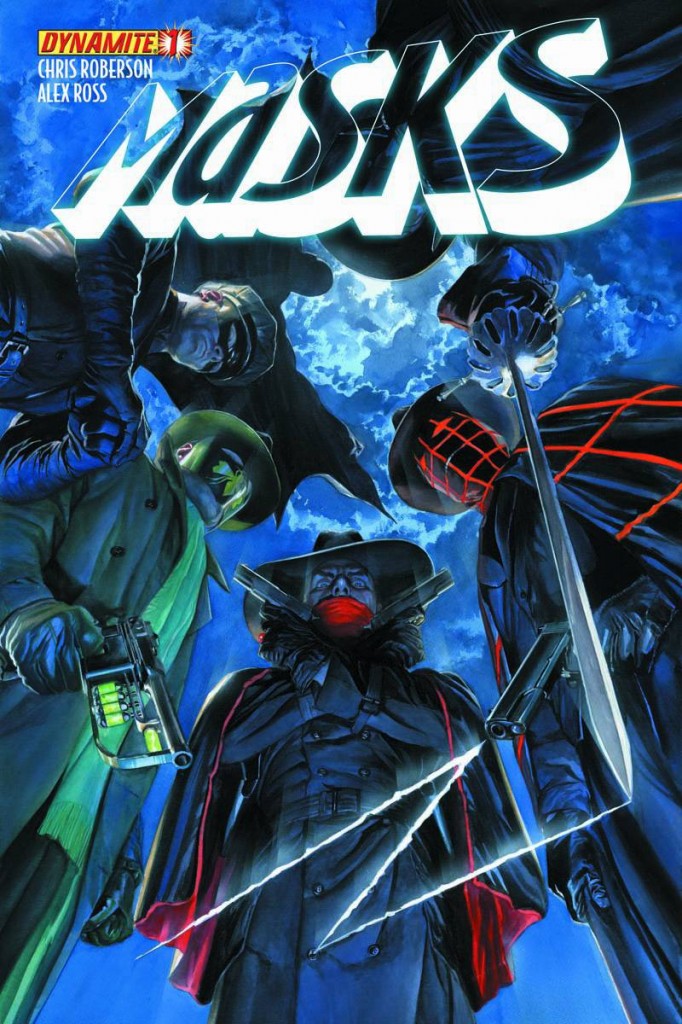 Ask the folks at All Things Fun! how excited I am about this comic. They will roll their eyes. I'm pretty jaded when it comes to comics crossover events, especially from the Big Two, but Masks from Dynamite Entertainment is the stuff of kid-like joy for me.
I am a huge Shadow fan, Green Hornet too, folks who watch the Vidcast know this - I am a big pulp geek. Imagine if The Shadow met the Green Hornet. Now, imagine if those two ran across The Spider... now add in other pulp fiction heroes of the 1930s period joining together with those three for one fantastic adventure. That is the awesome premise of Masks!
The story that comprises this mini-series is based on an original tale of The Spider from the 1930s, the Black Police Trilogy, which spanned over three novels and had the criminal underworld embark on a fascist takeover of New York State. That original story also sees print his week as The Spider Vs. The Empire State by Norvell Page. The new version, an eight-issue mini-series written by Chris Roberson and illustrated by the awesome Alex Ross, adds to the title protagonist, The Shadow, the Green Hornet and Kato, a new Zorro, the Black Bat, Miss Fury, the Black Terror, and the Green Lama, among others. This is truly the ultimate crossover for the pulp heroes.
The first issue does not disappoint, from the first encounter between The Shadow and the Green Hornet to the emergence of the Justice Party and the Black Legion, Masks #1 was well worth the wait. If you love these old characters, or you are meeting them for the first time, this is an incredible comic book. Do not miss Masks #1!
By Glenn Walker
Has the furor died down yet? Is it safe to talk about it yet? Yeah, it might be time. There was a week or two there if you mentioned the kiss, also known as the Superman/Wonder Woman power coupling in the final few pages of Justice League #12, by Geoff Johns and Jim Lee, you might as well be wearing asbestos - because flames will fly. A month and a half having gone by however, it may just be safe to think about this one.
I am a hardcore Wonder Woman fan, and I'm a firm believer that Superman and Lois Lane belong together. I've labored on about that last point before, both here and other places. Whether Wonder Woman and Steve Trevor should be together is a whole other argument, but just for simplicity's sake, let's just say, in a perfect world, they too belong together. However, in the New 52 DC Universe, neither couple is together, in the former case, have never been together… so it might work out for Supes and WW… or would it?
To figure out the present, as always, we must look to the past. Despite both superheroes being around since the Golden Age, they never really had much interaction until the 1960s, and then to be honest, very little. Sure, both Superman and Wonder Woman were members of the Justice Society of America, but rarely appeared in the same issue. Superman's appearances were rare, as he was an honorary member.
Things were slightly different in the Silver Age's Justice League, but comics were simpler then, all about story, less about character interaction. By the time things had changed, and the way comics were written was more mature and character driven, the couple's positions almost reversed, with Diana becoming an ex-member of the League while she was without super-powers. Again, the two rarely saw each other.
Probably the first time I saw Superman and Wonder Woman together, outside of the League, was in Lois Lane #136, sadly the second to the last issue of that series. In that story, the two heroes announce their engagement, much to the heartbreak of Lois. In the end it's all a ruse to lure out a psychotic killer who wants to marry Superman herself.
Silliness, yes, and typical of Lois tales of the time, but the cover betrays something more. As the power couple save Lois from certain doom, she thinks in a good old-fashioned though balloon, "Now I know why Superman is marrying Wonder Woman instead of me… they're a super-team!" There you go, power couple, so much in common, etc. It does make sense. They are both strangers in strange land, both gods among mankind, and in the same profession, and both keeping big secrets. Of course they would fall for each other.
That issue of Lois Lane was a hoax, but later, in the post-Crisis era, the powers that be tried to put them together again, but this time explaining why not. It was in Action Comics #600, in a story by John Byrne and George Perez. Their big kiss this time was awkward, like a brother kissing a sister, as it is with most co-workers who try to make things happen. It's kinda ick.
Much later, in the classic alternate future epic, Kingdom Come, by Mark Waid and Alex Ross, Superman and Wonder Woman do actually wind up together, and work well together as both a team and a couple. There is one prime plot point that allows this to happen. In that story, Lois is dead, and if Diana had someone, they are also long gone. They are the perfect second chance couple, as long as their first choices are unavailable.
Now, we have a new continuity in the New 52. In this world, Superman and Lois Lane have never gotten together, and Wonder Woman has a tenuous if any relationship with Steve Trevor. In Justice League #12, the two come together out of loneliness and battle fatigue, as well as that old bugaboo, familiarity. But I doubt it will stick.
In the new 52, these two characters are not the same as they were. Given the Kingdom Come example, those two would get together under those circumstances, but in the New 52, they are now completely different people. Neither one of them is completely human. This should evident to anyone who reads their solo books. Superman is more alien than ever, and Wonder Woman is more god than ever. This might stand for now, but my prediction - doomed romance, at least in the New 52. You'll just have to stay tuned into upcoming DC Comics to see if I'm right.
By Glenn Walker
Revivals seem to be the name of the game lately in comics.
First there's Alex Ross' Project: Superpowers for Dynamite Entertainment that features a new take on many of the public domain superheroes of the 1940s. Characters that in the public domain are those whose copyright has expired, like Sherlock Holmes - anyone can tell stories of these characters. So even though we've seen versions of these heroes before (and currently in a few cases), we get to see a whole new spin on such classic golden oldies like the Black Terror, the Green Lama, the Fighting Yank and Charles Biro's Daredevil - that last one with a slight name change because of that pesky Matt Murdock character over at the fledgling Marvel Comics. Alex Ross does most of the legwork and the covers for Project Superpowers, with scripts by his partner Jim Krueger and interior art by Stephen Sadowski and Doug Klauba among others.
Speaking of Marvel, they also have a project on tap at the moment involving some of their characters from the Golden Age, although at first glance more than a few of these guys are also-rans and nearly no-shows. If you look up the actual appearances of the heroes who make up The Twelve you might be surprised at how seriously lame some of them were. That said, writer J. Michael Straczynski and artist Chris Weston have done a phenomenal job of not only redesigning but also refining and fleshing out these characters for a 21st century audience. Here JMS seriously makes up for his involvement in the "One More Day" debacle over in Amazing Spider-Man. Both of these books are highly recommended by me, and are available at All Things Fun!.
If you're into the superheroes of days past, I would also suggest checking out Justice Society of America from DC Comics and Marvel's upcoming Avengers/Invaders series that brings the 1940s team to the present. Coincidentally Alex Ross is also involved in both of those series as well. I would also throw in a plug for Dan Dare, writer Garth Ennis' new spin on the classic British space hero from Virgin Comics.