By Glenn Walker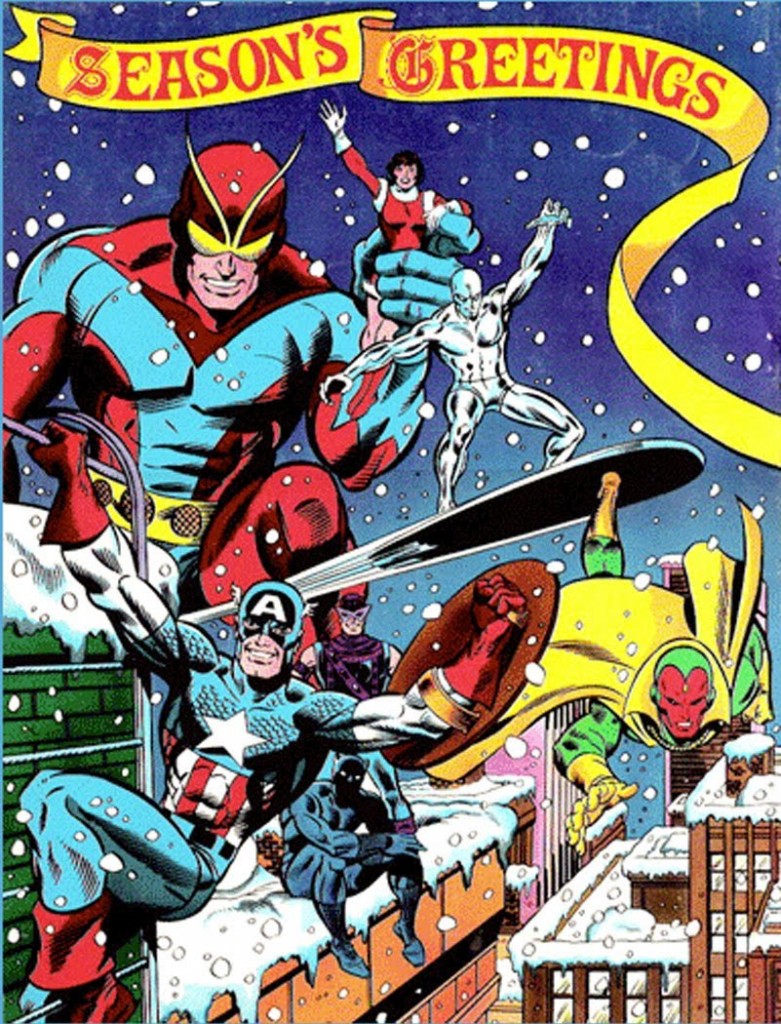 Christmas decorations are everywhere, Christmas music is on the radio, everyone is running from store to store to get all the good bargains. Yes, it's that time of year again - it's time to spend time with the family, whether you like it or not.
The holiday season is here, and the holidays are all about family. The Avengers is my favorite superhero team, and in a way, they are a family of sorts. In my opinion, the Avengers has always worked better as soap opera in superhero trappings, after all, superhero comics are the bastard stepchild of mythology and soap opera. The problem is, when you get right down to the roots, the Avengers family tree is rather twisted and dysfunctional. What better time to explore this nest of incest and insanity than the holidays, right?
Let's start with the team's inaugural couple, and while they are no longer officially or romantically still together (depending on the writer), Dr. Henry Pym (known alternately as Ant-Man, Giant-Man, Goliath, Yellowjacket, Doctor Pym, or the Wasp) and Janet Van Dyne, the original and best known Wasp, have had no children, and yet they leave quite a family legacy.
Pym created an artificial intelligence called Ultron, soon to be the big bad in the next big Marvel crossover event, who would become the Earth's Mightiest Heroes' deadliest foe. This machine menace wanted only two things, the complete and total eradication of the human race… and daddy's love. Hank was not forthcoming, leading to an Oedipal complex of catastrophic proportions. I'm being vague, and sarcastic, but trust me, this covers it.
Ultron considered Pym his father, and in a twisted way, that made the Wasp his mother. Since it's likely Ultron was programmed with Pym's brain patterns, he wanted his mother, and eventually, rather than 'have' her, he created a bride of his own - the aptly named Jocasta, a machine woman programmed with Janet's brain patterns. Jocasta would eventually turn against her master, join the Avengers, and creepily become enamored with Hank Pym. Ew.
It gets worse. In an attempt to be more like his own 'father,' Ultron endeavored to become a father himself, and created the Vision. While more of a reactivation than a creation, Ultron still would call the Vision his 'son' for decades.
Of course, that's not the machine monster's only son. Each time Ultron rebuilt himself, he gave himself a number designation. The Ultron Mark 12 seemed to have gained some form of evolution and wanted to be a good son to Pym. Unfortunately (or unfortunately, depending on your outlook), this model sacrificed itself to save the Avengers from a resurrected Ultron-11.
Speaking of the Vision, he is another source of incest and conflict in the Avengers family. I've talked before on this blog about his romance with the Scarlet Witch, their marriage, their children, her breakdown, and then how she tried to destroy the whole team.
If that's not enough to make things uncomfortable at holiday dinner, there's also Wonder Man. His brain patterns were originally used to program the Vision, he fell for the Scarlet Witch, and his first and last encounters with the team have involved trying to destroy them. I'm sensing a theme here…
The Vision isn't innocent here either when it comes to relationships outside of Wanda either. He's also been involved with Mantis, Stature, and the aforementioned Jocasta as well. If that's not difficult enough, imagine the Vision sitting at the same table with Wonder Man, with whom he has shared a mind, and the original Human Torch, with whom he has shared an android body. Go ahead, just imagine the small talk.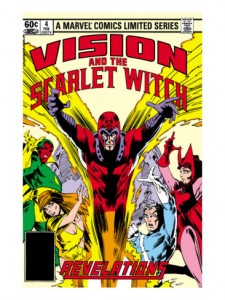 Let's talk about the Scarlet Witch's family a little bit now. There are her two children, Young Avengers Wiccan and Speed, whose continuity are better left untouched, especially if you're running low on Tylenol. There's also her brother, fellow Avenger Quicksilver, and of course her dear old dad, arch-foe and sometimes ally of the X-Men, Magneto. Mags notably enslaved Wanda and her brother as members of the Brotherhood of Evil Mutants, and has also battled the Avengers more times than this vast storehouse of useless comics knowledge can count.
Quicksilver eventually left the Avengers for a time because he resented his sister's love for the Vision, because he was a machine. Imagine that, a racist mutant. He then fell for Crystal of the Inhumans. Hmmm… sounds like someone could use an attitude adjustment. It's okay though, karma is a bitch, just like his wife Crystal, herself a jilted romance of the Human Torch, she eventually found solace in the arms of fellow Avenger, the Black Knight.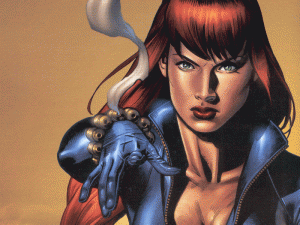 If you want to talk about relationship hopping, no one does it like the Black Widow. She was originally one of Iron Man's enemies, who reformed along with erstwhile romance Hawkeye, to join the team. When she was later briefly rejected by Daredevil, she finally joined the Avengers before going back to him. Notably, her ex-husband, the Red Guardian fought the Avengers on occasion. She's had close relationships with Captain America, Hercules, and is currently with Winter Soldier. Is your scorecard filled up yet? Turn it over, there's more.
Speaking of villains who have reformed, especially after fighting the Avengers, there's the original Thunderbolts, who were also the same Masters of Evil team who attacked the Mansion and nearly beat Jarvis and Hercules to death. Just sayin'. Hawkeye later led that team. There's also the Swordsman, who spent most of his career as an enemy of the Avengers before joining the team. Just for the record, he trained Hawkeye, and also brought Mantis onto the team.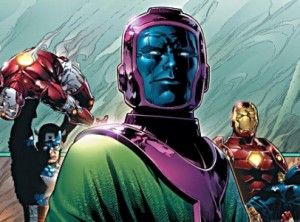 And then there's Kang. Like the other Avengers greatest foe, Ultron, Kang the Conqueror is also family, although we're not sure exactly how. Kang is many people, due to the vagaries of time travel and the paradoxes involved, he's also Rama Tut, Immortus, the Scarlet Centurion, possibly even the Justice League of America foe the Lord of Time, and many, many alternate versions of himself. But the arguing point is who was he originally?
For decades the conventional wisdom at Marvel Comics suggested that Kang was Nathaniel Richards, but that might not be completely or even still correct. You know how comic book continuity changes every other day. Since the brilliant and award winning Young Avengers series by Allan Heinberg, there is much speculation that he may in fact be Iron Man or a descendent of Tony Stark. I bet that makes Hank Pym feel better about his sins.
Kang has other more sinister relationships with Avengers though. In the infamous Avengers #200, Immortus, a version of Kang, kidnapped Carol Danvers - then known as Ms. Marvel, now known as Captain Marvel - and took her to his home in Limbo, brainwashed her, impregnated her, returned her to Earth, and then she (I'm not making this up) gave birth to him, whereupon he swept her off her feet and returned with her to Limbo to supposedly live happily ever after. And for the most part, the Avengers let him get away with it. This dark point in comics history is known as The Rape of Ms. Marvel.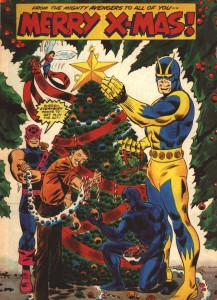 So yeah, that will be uncomfortable when the family gets together. It's no wonder that Ms. Marvel, Iron Man, and Hercules among others have heavy drinking problems... just look at these Avengers!
You think it's rough with your family, be glad you're not having a holiday dinner with the Avengers family. Yeah, imagine what's going on at that holiday dinner table. Ya gotta admit, the conversation is going to be interesting… at least before combat breaks out. As I said, I love the Avengers, but man, they are soooo not the kind of family I would want to sit down with for the holidays...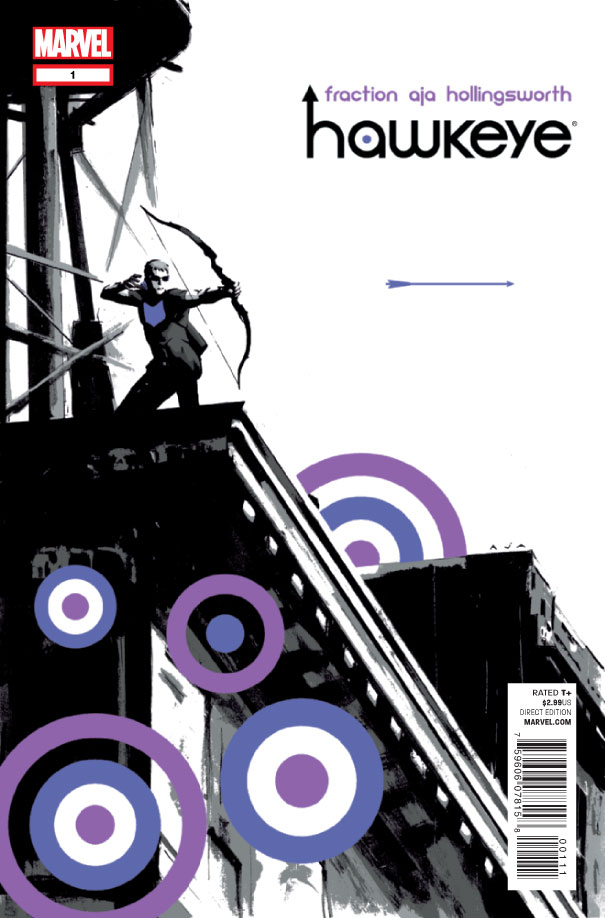 By Glenn Walker
Hawkeye the Marksman has come a long way in the nearly five decades he's been around. Clint Barton has gone from minor Iron Man villain to the Black Widow's partner to redemptive and rebellious Avenger to the size-changing Goliath to leading an Avengers team, and even leading the Thunderbolts, to now - a big time movie star in Marvel's The Avengers. Heck, he's even worn a skirt. He's not just a guy with a bow and arrows.
Now writer Matt Fraction and artist David Aja (the team that brought us The Immortal Iron Fist) take Hawkeye in a new direction. In Hawkeye #1, our hero enters the grim and gritty crime noir New York City that this character has never really seen before. Aja's art conjures comparison to Darwyn Cooke and Michael Lark, and portrays the city more real than it's ever been in a Marvel comic outside the Punisher's little corner. And Matt Fraction, Matt Fraction is just the man, and he knows his Hawkeye, this time as if through Quentin Tarantino's pen and camera. Great stuff.
Be sure to check out this new take on a treasured and storied character. Hawkeye #1 by Fraction and Aja, a new ongoing series from Marvel Comics, on sale at All Things Fun! this week.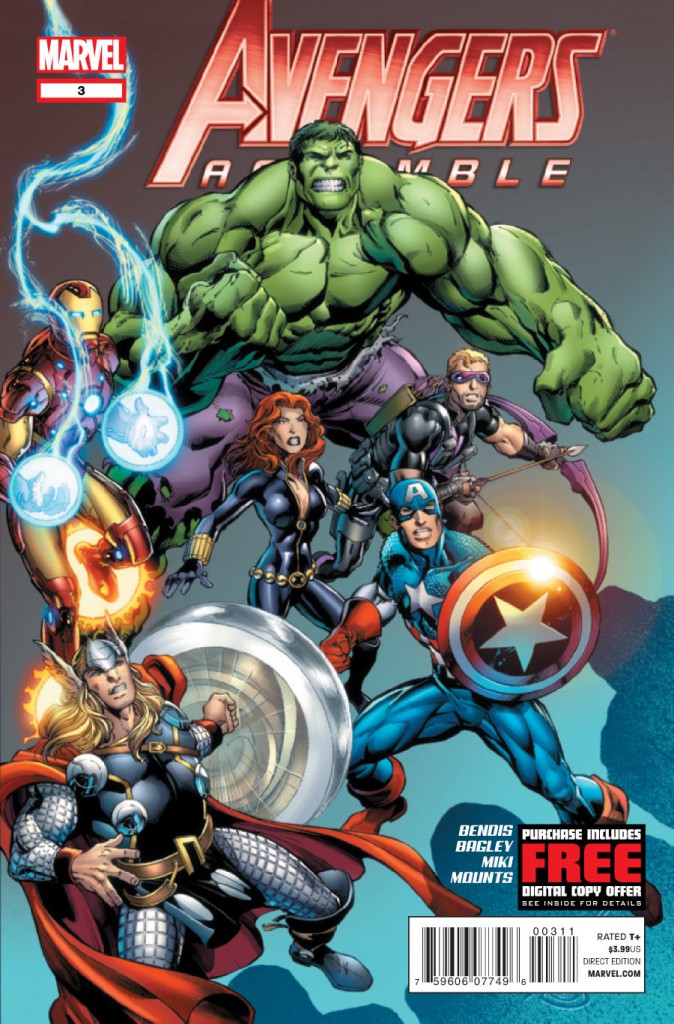 By Glenn Walker
To say that this is a big week for Marvel Comics and the Avengers would be a serious understatement. With the release of Marvel's The Avengers this past weekend to the highest box office opening ever, I say this is the biggest week for the Avengers.
So if you haven't already, go out and see the movie, and if you've already done it, see it again, then come on down to All Things Fun! and pick up the biggest Avengers comic this week, Avengers Assemble #3.
The cinematic Avengers - Thor, Iron Man, Hulk, Captain America, Hawkeye and the Black Widow - go toe to toe with the new Zodiac in this story by writer Brian Michael Bendis and artist Mark Bagley, featuring the biggest last page revelation you'll see this side of a Marvel movie end credit sequence.
Do not miss Avengers Assemble #3!
By Glenn Walker
Now that Fear Itself is over, and Iron Man is in recovery from his night of alcoholic excess, bad things are afoot for the Golden Avenger. His arch-enemies Zeke Stane and the Mandarin have been in the background upgrading his old rogues gallery. What better time to take a peek at the Forgotten Foes of Iron Man?
Stane, Hammer, Doom, and more recently Osborn – these are Iron Man's enemies, right? Yeah, nowadays that's about right, but the fact is that ol' Shellhead has one of the more extensive rogues galleries in comics, rivaling Spider-Man, Batman, and the Flash. The problem is most of them are long forgotten.
Let's start with those that are well known. These have been persistent enemies in the last decade or so…
Norman Osborn: Also known as Spider-Man's arch-enemy the Green Goblin, Norman Osborn is also an industrialist, arms dealer, and rival to Tony Stark. Even if neither had super-powered other identities these two would clash. Most recently Osborn took SHIELD away from Stark and created his own immoral Avengers team to replace the real one when he had them outlawed.
Doctor Doom: It makes sense that these two would eventually butt armored heads and not like each other. They are so similar and yet so different. Both men rule their own empires, both wear armor and wield incredible power. They have crossed paths on several occasions, and it's rarely to have lunch and compare notes.
Victor Von Doom is primarily a foe of the Fantastic Four, but has had bad relations with most heroes of the Marvel Universe, but he has a special place in his dark heart for Iron Man. Scarred by an accident, he sealed himself in indestructible armor and also augments his power with sorcery - another reason the Golden Avenger dislikes Doom. Iron Man hates magic. He can't understand it, he can't control, so he abhors it.
In the Silver and Bronze Ages of comics, Iron Man collected quite a colorful assortment of enemies, most of them lost to the sands of time, some not. Hopefully we'll be seeing some of them again real soon. They are…
The Ghost: The Ghost is an industrial spy, common in the world of high tech business, but he is the worst kind - a super-powered industrial spy. True identity unknown, he uses his 'ghost tech' to become invisible, phase through walls, and basically do as he pleases. He currently haunts the Thunderbolts as a current member.
Unicorn: Iron Man was forged in the midst of the Cold War so many of his adversaries are of the 'Red Menace' type, the Unicorn is one of them. Wearing a costume and headgear designed by Professor Anton Vanko AKA the Crimson Dynamo, the Unicorn can shoot a variety energy beams and other powers from the horn on his helmet - thus the name, the Unicorn. He has most recently appeared on Nicktoons' "Iron Man Armored Adventures."
Spymaster: Employed at different times by Zodiac, Justin Hammer, and Madame Masque, Spymaster is exactly what he sounds like, another industrial spy much like The Ghost. He uses a variety of gadgets to get the job done and is also a trained assassin as well. The original Spymaster was murdered by The Ghost, and since then other men have taken on his mantle.
The Controller:  Powered by a super-strong exoskeleton, mind control and his slave discs, scientist Basil Sandhurst tried to conquer New York City, and has since worked with and under many other villains. He has also fought many of the Marvel Universe's heroes, though his primary foe remains the Armored Avenger.
Ultimo: This giant artificial humanoid construct was built by aliens millennia ago and left on Earth. Ultimo has arisen from time to time to fight Iron Man, frequently as a pawn of other villains like The Mandarin and the Yellow Claw. It is known for its few lines of dialogue, the main one being, "If it moves, it dies." Ultimo has appeared in every animated incarnation of Iron Man.
The Living Laser: Usually thought of an Avengers foe, the Living Laser began his days that way before making a name for himself in Iron Man's rogues gallery. Arthur Parks first used laser technology and then infused into himself becoming a real living laser. Notably he was originally a pawn of The Mandarin, and now makes life hell for the Golden Avenger solo. He has also been seen on "Armored Adventures," as well as the new "Avengers: Earth's Mightiest Heroes" animated series.
The Melter: Bruno Horgan was an arms dealer put out of business by Tony Stark and then chose to use his heat technology to become the Melter and take on 'Stark's bodyguard,' Iron Man. And old school villain, he was a member of the first two Masters of Evil groups and eventually was killed by the super-villain-murdering Scourge.
Blizzard: On the opposite end of the temperature gauge is the Blizzard. Three men have gone by this name and costume all using cold-based technology to fight Iron Man. The Blizzard has been a frequent animated Iron Man foe in the 1960s, the 1990s and in the 2010s as well.
Madame Masque: Part Catwoman, part Iron Maiden, and all mercenary, Whitney Frost is both lover and archenemy to Iron Man. She is the daughter of super-powered crime lord Count Nefaria, and she hides her disfigured face behind a golden mask. Masque is a double agent to beat all double agents. In the past she has allied herself with, among others, the Avengers, the Thunderbolts, the Maggia, Norman Osborn, and The Hood.
Hawkeye: This longtime Avenger started his career under the tutelage of villains and Iron Man was his first target. The bowman named Clint Barton eventually turned to the good side with help from the also repentant Black Widow. Later he would become not only Iron Man's colleague and friend, but one of the greatest Avengers.
Titanium Man: Another Red Menace villain from the Silver Age, the Titanium Man is Russian KGB Boris Bullski who with an armored suit similar to the Crimson Dynamo tried to destroy the American capitalist hero Iron Man. Titanium bigger and stronger than iron, Boris crush. Don't be fooled by my levity, the Titanium Man is a bad ass.
Alcohol: This foe has taken down the Golden Avenger more than once. Demon alcohol has always been with Tony Stark, as we've pretty much always seen him drinking, usually martinis the way those billionaire types always do. In the late 1970s, writers decided to give Stark consequences, and he became an alcoholic. It got so bad that he had to give up being Iron Man for a while. The bottle remains a dangerous lurking foe for our hero.
Now, finally, let's take a look at the Hollywood brigade, those that have been portrayed on the big screen so far…
Obadiah Stane: Played by Jeff Bridges in the Iron Man movie, the man who would become the Iron Monger and ignite the Armor Wars is a fairly recent villain, from the late Bronze Age. Again, a rival industrialist, Stane stole Stark's entire company from him, along with all of his armor prototypes. His son Zeke Stane has sworn revenge on the Golden Avenger, and with The Mandarin's help will soon be making Iron Man's life hell.
The Mandarin: In the Silver Age, The Mandarin was Iron Man's main big bad, so big and bad he still tried to destroy Old Shellhead's superhero team the Avengers, even when he was no longer a member of the team! The Mandarin was a leftover of the Cold War as were most early Iron Man foes, but was also based on something much, much older. A villain in the tradition of Sax Rohmer's Doctor Fu Manchu, The Mandarin gained his powers from ten ancient alien rings, each of which had its own dangerous weaponry. He frequently would employ other villains (both other enemies of Iron Man and not) to do his bidding.
The Mandarin appeared in slightly subdued form in the first Iron Man film. Over the decades since he was introduced the concept of the Oriental villain has become one of racial insult and rarely used anymore. The Mandarin appeared in the 1966 "Marvel Super Heroes" animated show, in the 1990s "Iron Man" series, again leading a group of other villains against his enemy, and in "Iron Man Armored Adventures."
Justin Hammer: Sam Rockwell gave life to Hammer in Iron Man 2. In the comics, the character is much less slick, less clueless and much older. Like the film version, he's a rival industrialist (yes, there's a theme here), who tried to frame Iron Man, and then sicced an army of super-villains on him when that didn't work. He was a memorable foe in that his actions made Tony Stark crawl into the bottle with dangerous circumstances for the first time.
The Black Widow: Natasha Romanov is again an old school Communist threat from the Cold War days. Double-crossing and triple-crossing is what the spy game is all about, and this Russian spy used her feminine wiles as well as her martial arts training to get what she wanted. Eventually, with Hawkeye's help, what she wanted was to defect to America and join SHIELD. She has also served with the Avengers, and will be played by Scarlett Johansson in next summer's The Avengers.
Whiplash: Like the Black Widow, Whiplash was in Iron Man 2, but he was the main villain as played by Mickey Rourke. The film origins of Whiplash are muddied by being combined with that of the Crimson Dynamo, so I'll concentrate on the comics here. Mark Scarlotti was a Stark employee who traded sides to the Maggia when they offered him the technology to build a suit with cybernetic whips built into it. He later went by the name Blacklash and was eventually killed by a sentient Iron Man armor. Don't ask, these things just apparently happen every day in the Marvel Universe.
The Crimson Dynamo: The armor has been worn by many men, but the theme is the same. The Crimson Dynamo is an armored superhero, whose power is equal to Iron Man's, and he's loyal to the Communist government of the Soviet Union. Perhaps that bit of datedness is why the producers of Iron Man 2 went with Whiplash. Battles with the Dynamo are always greatly anticipated by readers, and in most cases they are misunderstandings, as in most cases the Dynamo is a good guy. Depends on your perspective of course, and what year it is. If it's 1966, he's a Commie and villain, no matter what, ya know?
There, that should prep you for the upcoming events in Iron Man. It should be exciting when these old foes return in new, improved, and more dangerous form. And as always, you'll be able to check those adventures out at All Things Fun!.