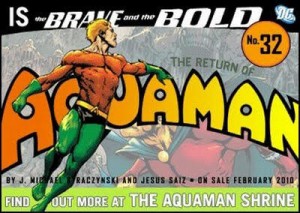 By Glenn Walker
My friend Rob Kelly is a guy with a lot of passion. Whether it's his work or his hobbies, he puts everything he has into it.  Case in point – his brainchild the Aquaman Shrine.  His love and respect for the Aquaman character knows no bounds and his passion to see Aquaman get the props he deserves is phenomenal.
When the sea king, in his most classic and recognizable form, was set to return in the pages of The Brave and the Bold, Rob set up a campaign to make sure as many folks as possible were both aware of and ordered the issue.  Even here at Welcome to Hell I supported the effort.
A few weeks back, Brave and the Bold #32 came out, featuring the classic Aquaman and Jack Kirby's The Demon, and here's my review...
Writer J. Michael Straczynski has been rolling throughout time and space in the DC Universe with his tales in Brave and the Bold, and this issue marks the subtitle on the cover "Lost Stories of Yesterday, Today and Tomorrow" to further ensure he wouldn't be hindered by continuity.  Sometimes the complicated soap opera mythology of comics gets in the way of telling stories.  If you want to read good stories and worry about that tangled mess – JMS' Brave and the Bold is for you.
This issue, illustrated by frequent collaborator Jesus Saiz, is no different.  This done-in-one story brings the classic Aquaman together with The Demon to stop a decidedly Lovecraftian elder entity from entering our dimension.  An excellent short story, "Night Gods" tells the tale of Whitford Crane who is trying to find out if he's insane or not by digging up his friend's grave.  When captured he relates the story from his point of view.  The first two pages have the feel of the old 1970s DC horror comics.  I could almost see the Phantom Stranger appearing next, but instead it's the rather odd pairing of Aquaman and the Demon.
The unlikely duo get together once a year to stop this invasion of an elder god into our world, and poor Whitford is stuck in the middle.  While Lovecraft is more in the Demon's field, the focus is actually more on Aquaman.  As a man of the sea himself, Crane has a healthy respect for Aquaman, and his narration lovingly paints him as the dynamic hero he is.  The sea king's underwater fighting prowess and especially his telepathic powers are displayed breathtakingly.
I agree with Rob wholeheartedly that this is the Aquaman we want, and hopefully sales on this issue should tell DC Comics how much we feel this.  And even if you're not an Aquaman fan, or even a comics fan, Brave and the Bold demonstrates what good storytelling is all about.  Definitely check it out.  Highly recommended.
Later it was revealed in the pages of Blackest Night #8 that Aquaman was among those heroes coming back to life for good, and would be featured in the upcoming mini-series Brightest Day.  In fact, his reunion with Mera in that issue was one of the most emotional I've read in comics in some time.  I think with Blackest Night writer Geoff Johns steering the Aqua-ship for the immediate future, that we have nothing but good things to look forward to.  Brightest Day will of course be available from All Things Fun!
* the above previously appeared in slightly different form at my blog, Welcome to Hell.
By Allison Eckel
The Blackest Night is over so we must return to our monthlies to read about our heroes picking up the pieces after defeating their worst nightmares made flesh. After such a crisis, I expect to slog through a few months of everyone bemoaning the psycho-drama, revisiting their loss, their struggle, their burden of continuing. Instead, the editors at DC Comics have learned lessons from the recovery from 52, Infinite Crisis, Final Crisis, et al. They have given us Brightest Day, which so far seems to be a framework for the recovery; a focus for the characters to avoid the endless whining.
The title Brightest Day sounds like it will be a big-smile, broad-chested, hands-on-hips, cape flapping in the wind way to look at life. What we actually get with Brightest Day is so much more complicated. Now, it's not Grant Morrison complicated, thank goodness. But it is seeking to accomplish many things all at once, and so far doing it smoothly. Brightest Day is bringing back 12 departed characters and reinserting them into the universe (at least for now). The characters include some headliners like Aquaman, Firestorm, Hawkman and Hawkgirl, and Martian Manhunter, together with Deadman, Hawk, Captain Boomerang, Black Adam's adopted son Osiris, Jade, and Maxwell Lord. Since Barry Allen's Flash returned from his "death" in the speed force just before Blackest Night, he doesn't count here. So, why is Flash one of the Brightest Day titles? The twelfth returned character is Eobard Thawne, the Reverse Flash.
And already, this list is so much more interesting than it first appears. Aquaman is alive and reunited with Mera, but his power to summon sea life seems limited to dead creatures. Hawkgirl is once again Shiera, not the more recent Kendra. Firestorm has always combined two people into one hero, only now it combines old and new versions with Ronnie Raymond with Jason Rush -- and neither is happy about it. Captain Boomerang and the Reverse Flash are both incarcerated at the start, but early glimpses indicate they won't be for long. Osiris had once linked up with the Teen Titans, but he has now joined Deathstroke as a mercenary in Slade Wilson's twisted one shot Titans: Villains for Hire. Maxwell Lord has a grand plan, as always, and it begins by making nearly everyone on Earth forget him. Everyone except former Justice League International members Booster Gold, Captain Atom, Fire, and Ice. Hank Hall has returned to be Hawk to Dawn Granger's Dove, but more than an avatar of war, he sees himself as a soldier of God. Maybe the Birds of Prey will calm him down. Finally, Deadman, at long last alive but not yet with free will, is compelled by a mysterious force to visit each of the twelve; and he's not sure why he's wearing a white lantern ring.
The separate reintegration stories all have legs to carry them, seemingly without Brightest Day: Who is blackmailing the Birds of Prey? Can Barry Allen balance all aspects of his life? Will the mercenary Titans continue to kill heroes or will they implode from internal strife (spoiler alert: we no longer have two Atoms)? Will the JLI find Maxwell Lord before he carries out his big plan?
In the case of Flash, Brightest Day is the opportunity for a headliner to reboot an existing title.Flash Reborn had me worried. I'm a big Wally West fan, so when the esteemed Barry Allen returned angry and without hope, I considered giving up on the speedsters. But so far, the regular Flash series has me really excited for more. Brightest Day tie-in aside, this first issue laid some solid foundations for a long-running series. The Fastest Man Alive is the slowest member of his police forensics department because he is one of the few government workers who still care about a quality outcome. He is also married to a fast-paced newspaper reporter, which brings conflict into his home life. On top of that, he is the Flash. All of this we know already. This is a return to life as Barry knew it before the Crisis on Infinite Earths. The freshness for readers is in the art by Francis Manapul, and in the way Geoff Johns is willing to step back and let the art tell much of the story. Here's an interview with Manapul about this issue.
Here's a fun experiment. I went into one of my storage boxes and pulled out an issue of Flash at random. Out came #226, written by Stuart Immonen and Kathryn Kuder. Here is what Wally has to say to us on page 1:
"Check it, don't these jerks ever learn? There must be at least two synaptic nanoseconds between this joker's mouth and his trigger finger. Enough time to realize this is a totally useless endeavor. And they'll have enough time to mull over what went wrong… in jail! I don't get much time for quiet contemplation. After all, I am the Flash – the Fastest Man Alive!"
I don't mean to criticize the writing. After all, it is difficult for me to comprehend Wally's level of speed and descriptions about "synaptic nanoseconds" help. But, to compare, turn to the newFlash #1. Pour over the first 11 pages. The words are mostly removed and replaced with an exploding car, a steering wheel headed straight for a kid, and a scarlet speedster crackling with energy holding the steering wheel an inch from the kid's nose – he caught it, and I can breathe again. Wow.
After Blackest Night, I should be cross-over-weary. I should be ready to return to the regular slog of monthly titles. I was ready to look cynically on Brightest Day as just another hook to get me to spend more money. But so far, it has surpassed my expectations. I am very excited for more.
Great online resource: Resurrection Checklist. This online document provides the issue numbers for the deaths of each of the 12 resurrected characters for Brightest Day. I would have liked to see digital pages linked through this, but at least I know what to shop for if my collection has a hole.
Flash and Birds of Prey aren't the only titles starting afresh this month. Here is a cavalcade of First Issues, including:
Batman: The Return of Bruce Wayne (Grant Morrison picks up where he left off in the final pages of Final Crisis #7)
DC Universe Legacies #1 (A 10-part history of the DCU, because after every major crisis, they have to re-write their own history)
Legion of Super-Heroes #1 (by Paul Levitz, former DC corporate honcho now returning to his creative roots)
Zatanna #1 (from the preview looks a lot like a sexier "Harry Dresden.")
By Allison Eckel
I was five when my parents bought me my first comics and I have been a faithful reader of the form ever since – and of the same characters, too. Although the characters have been tweaked here and there, I have certainly changed more than they have. So, my take on a series is heavily colored by age, experiences, and insights of the moment.
For example, in the third grade I discovered DC's Amethyst, Princess of Gemworld. It's a story we've read in many forms: An alien world's long-lost princess is really 13-year-old Amy Winston, a very normal little girl from the U.S. If I discovered it tomorrow for the first time, I would likely find it "cute, but terribly derivative." But at the time, it spoke to me on many levels and I still haven't shaken it.
Today, when I read comics I bring to the story a complicated bag of technical knowledge, motherhood, cynicism, and other things far removed from innocent wonder. If Blackest Night had been just about the rings and the emotional spectrum, I would have enjoyed it but probably forgotten most of it quickly. Like 52 and Infinite Crisis: I can't for the life of me remember what either was about. But Blackest Night carried a deeper emotional hook that caught me at just the right time.
When heroes confronted Black Lanterns, they were not just fighting the reanimated corpses of their loved ones. Neckron made sure that the dead spoke and with their words made the heroes confront their biggest failures. Because for a hero, what is worse than your loved ones dying on your watch? Is there any one of these confrontations that stays with you more than the rest? Kyle and Alex? Guy Gardner and Tora? Beast Boy and Terra?
For me, it was Donna Troy and her baby in writer J.T. Krull's Blackest Night: Titans. Now, if I had read this in my youth, I probably would have said, "That's gross. How could she care for that creepy little monster?" Maybe many of you thought something similar. Now that I can add the lens of motherhood to my perceptions, my reading of this issue if very different. And I just can't shake it.
I also can't shake the end of the limited series Cry for Justice. At first, I avoided this series, which includes an odd grouping of characters, most of whom I didn't care about. But by the second issue, I was hooked. Writer James Robinson leads us on a chase that reveals a hoodwink that becomes a standoff. The consequences are tragic, of course, but masterfully planned. Loss of a hero is no longer good enough. No, the tragedy, post-Blackest Night, has to be bigger, deeper, younger and more fragile. This is another one I can't shake.
Thanks to Krull again, I get to re-live it over and over in the pages of Justice League: The Rise and Fall of Arsenal. Poor Roy; I was really rooting for him as the former bad-boy turned single father to an adorable little girl. I sense a pattern here: Maybe Titans are meant to be childless. I guess I should be worried for Wally's kids next…
In the meantime, we have the launch of Brightest Day. I hope the strong writing and emotional component that earned Blackest Night an Eisner Award nomination continues and that DC serves up more than a forgettable comics event. With winter over and spring in full bloom, I am ready to shake the gut-wrenching tragedy for awhile and look for some renewal.