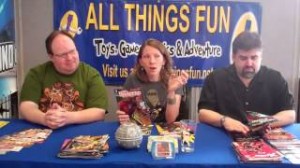 By Glenn Walker
Just a note at the beginning of this blog entry, please note that the folks here at the All Things Fun! Blog, Vidcast or Store do not advocate drinking or overdrinking. The following is to be considered only for entertainment purposes. If you want to play, coffee or diet soda is suggested, but not required.
For the uninitiated, The All Things Fun! New Comics Vidcast is shot live every week at All Things Fun! - the South Jersey/Philadelphia area's best comics and gaming store, located in West Berlin, NJ.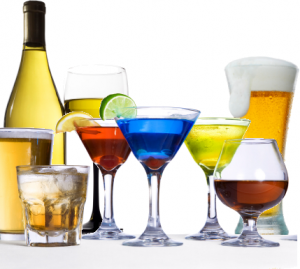 Co-hosts Ed Evans, Allison Eckel and Glenn Walker discuss the new comics out every week in wicked high definition video, and also available on the YouTube. You can see it here.
In the almost two years we've been doing The All Things Fun! New Comics Vidcast, certain occurrences and coincidences in our performances have been pointed out. Things that we do in each episode that would play well in drinking game form have emerged. What follows is a partial list.
Every time Allison says the word "rejigger," take a drink.
Whenever someone makes a pirate reference in regards to Deathstroke, take a drink.
When someone fakes it by just reading the cover of a comic, take a drink.
Whenever someone's face is covered by the cover of a comic book, take a shot.
Every time Glenn or Ed says "I got nothing," take a drink.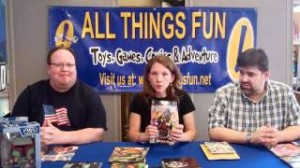 Whenever Glenn mumbles, take a drink.
Every time two of the hosts have their own show while the third is talking, or said activity is referenced out loud, chug.
Any time someone says "Zenescope," take a shot. If it's in reference to a non-Zenescope comic, take two shots.
When Allison turns a cover over on the table because she doesn't want to see it, take a drink.
Whenever Batwoman's skin pigment is mentioned, take a shot.
If Glenn makes ape sounds or hums the Star Wars theme, take a drink.
When anyone makes a reference to the concept of "A day without Deadpool is a day without sunshine," chug.
If Allison reviews a Marvel comic, take a drink. If more than one, a drink is taken for each one.
If any reference to Glenn's age is made, chug.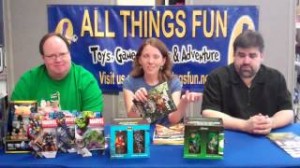 Whenever the phrase "vast storehouse of useless knowledge" is used, take a shot.
Every time Ed shakes his head, take a drink. If he shakes his head in despair, take two drinks.
Whenever it's mentioned that a comic has not been read, or there wasn't enough time to read the comics, chug.
Every time Allison discusses wardrobe, chug.
Whenever Glenn violates the spoiler rules and gives vital details away, take a shot. If Ed calls him on it, take two shots.
Every time Glenn takes a comic from Allison, take a drink.
Every time Allison looks like she's going to hit Glenn, take a shot.
When Glenn finally gets hit, chug.
Whenever someone makes someone else pronounce a word, take a drink. If it's Allison saying the word, two drinks.
Whenever Glenn asks Ed a question he clearly doesn't know the answer to, take a shot. If Ed does it to Glenn, chug.
Every time Allison makes fun of a Marvel character's name, take a shot.
Whenever Glenn makes a reference that must be Wikipedia-ed later, chug.
Last man standing wins.
Please continue to watch and enjoy the All Things Fun! New Comics Vidcast here. Remember, don't watch and drive, folks.
By Glenn Walker
More and more, Hollywood in recent years has been leaning on the comics industry for ideas. Superheroes and comic books are huge on the big screen, and the year 2011 is no exception. We started the year with Seth Rogan's The Green Hornet, which, while not lasting too long in theaters, was much better than this Hornet fan could have ever anticipated.
Here's a date-by-date reference of what's coming up for superheroes and comics on the big screen. I have also included some of the major players in these movies. As you'll notice, the Six Degrees of Kevin Bacon game now extends easily into superhero genre flicks.
April 1: Super
This one isn't actually based on a comic book property, but many folks will probably scream at the similarities with last year's Kick-Ass, and unfortunately, it's not an April Fools joke. Regular guy Rainn Wilson ("The Office) takes on the superhero identity of the Crimson Bolt to rescue his wife from a drug dealer. The flick promises a cast with Nathan Fillion ("Firefly," "Castle"), Kevin Bacon (Hollow Man), Liv Tyler (Lord of the Rings), and Linda Cardellini (All-Star Superman, "Freaks and Geeks"), among others.
May 6: Thor
Marvel Comics' first hammer strike of the summer hits with their resident thunder god's first appearance on the screen, with the next step building to the Avengers movie. Hinted at the end of Iron Man 2, this is the tale of Thor, exiled by his father to Earth from the high-tech magical world of Asgard. It seems everything we thought was just Norse mythology is real, and now the worlds are merging, as evil from that realm threaten ours. Only Thor can save us. Stan Lee and Jack Kirby magic brought to life on the screen in 3D, starring Chris Hemsworth (Star Trek), Anthony Hopkins (Beowulf), Natalie Portman (Black Swan, Star Wars prequels), and directed by Kenneth Branagh (Henry V, star, director, screenplay) -- I can't wait for this one.
June 3: X-Men: First Class
More Marvel Comics goodness in this 1960s period piece prequel to the X-Men franchise. This is the story of Charles Xavier and Magneto's friendship and falling out, and the formation of the first X-Men team. It's very loosely based on the comics, more tied to the movies. Look for James McAvoy (Wanted), Kevin Bacon (busy summer, Kev?) and the near-perfect casting of January Jones from "Mad Men" as Emma Frost.
June 17: Green Lantern
In a summer dominated by Marvel at the movies, this is the one DC Comics fans have been waiting for. Test pilot Hal Jordan is given a magical Power Ring by a dying alien and becomes the Green Lantern, just one of thousands of space police officers commanded by the Guardians of the Universe. He undergoes training by a cadre of other alien cops and then tries to save the Earth from threats within and beyond. Ryan Reynolds, who has previous played Marvel heroes Hannibal King (Blade: Trinity) and Deadpool (X-Men Origins: Wolverine), is in the title role. Peter Sarsgaard (Jarhead) is Hector Hammond, Tim Robbins (Shawshank Redemption) is Senator Hammond, Blake Lively (The Town) is Carol Ferris, Mark Strong (Kick-Ass) is Sinestro, Angela Bassett (Contact) is Amanda Waller, Dennis Heyspert (Jarhead, "24") voices Kilowog, and John Larroquette ("Chuck," "Night Court") reprises his voice role as Tomar-Re (from the animated Green Lantern: First Flight).
This will be a geekfest and serious eye candy -- this is the summer's must-see flick, and the first in what Warner Bros. hopes will be a new franchise.
July 22: Captain America: The First Avenger
The set-up to The Avengers film takes a step back into the past to spotlight Marvel's World War II superhero Captain America. Scrawny Steve Rogers, played by Chris Evans (Fantastic Four's Human Torch, The Losers, Scott Pilgrim), can't serve in the military so volunteers as a guinea pig in the Super Soldier program. He emerges as a fighting machine of physical perfection. He defends the U.S. against the forces of the Red Skull (played by former Matrix Agent and LOTR elf Hugo Weaving) and the Nazis, before ending up stranded in the 21st century. The rest of the supporting cast boasts fanboy cred as well. Included is Tommy Lee Jones (Men in Black), Stanley Tucci (Burlesque), Neal McDonough (DC Showcase: Green Arrow, Tin Man), and Dominic Cooper (the upcoming Abraham Lincoln: Vampire Hunter). This one looks great.
July 29: Cowboys & Aliens
This one is based on a little-known 1990s graphic novel where cowboys and Indians in the Old West repel an alien invasion. Iron Man's Jon Faveau directs Harrison Ford (Indiana Jones) and Daniel Craig (James Bond) in this Steven Spielberg/Ron Howard production. Other noteworthy players include Olivia Wilde (Tron: Legacy), Sam Rockwell (Iron Man 2, Galaxy Quest), Noah Ringer (The Last Airbender), and Clancy Brown (Highlander, voice of Odin in "The Avengers: Earth's Mightiest Heroes," and Mr. Krabs in "Spongebob Squarepants").
No Date Yet: Luke Cage
Another Marvel Studios production, Tyrese Gibson (Transformers) plays wrongly convicted man who escapes from prison after gaining superpowers. This movie does not yet have a release date or a full cast and crew listing, but is currently slated for 2011.
The summer ends the superhero movies list for 2011, but 2012 has a full slate as well. Highlights include Hugh Jackman returning to his best-known character in The Wolverine, Ryan Reynolds reprising his role as Deadpool, and Nicholas Cage returns in Ghost Rider: Spirit of Vengeance. Next summer finally brings The Avengers, what Marvel movies have been building to for the past few years, as well as Men in Black III, the reboot with Andrew Garfield as The Amazing Spider-Man, Chris Nolan's The Dark Knight Rises and the year 2012 ends with something called Superman: The Man of Steel. These are good times to be a comics reader, and a film fan.
By Glenn Walker
Hopefully y'all have been following the All Things Fun! Comic Vidcast broadcast live every Wednesday, and if not, get yourself over to its special webpage and enjoy.  As I said, it's live every Wednesday morning at 10:30 AM sharp Eastern Standard Time, and available for viewing, as are all the episodes, throughout the week afterwards.
I, along with co-hosts Allison Eckel (fellow blogger) and Ed Evans (All Things Fun! owner), discuss the new comics that come out that day for the week.  We like to think we offer our own unique and informative view of the comics world and what's going on within it and around it.
Although, sometimes fifteen to twenty minutes just isn't enough to explain some of the references made during the vidcast, and it certainly isn't anywhere near enough time to justify the vast storehouse of useless comics knowledge spilling out of my head.  Hopefully these show notes might help.
Deadpool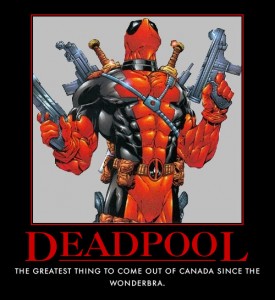 I am not a nice person.  I have been known to tease young children, take candy from babies and frequently have poked X-Men fans with pointed sticks, but nothing was as terrible as when I convinced Allison that there was not only a Golden Age Deadpool, but also a Silver Age Deadpool.  I'm a cruel, cruel man.
In reality, Deadpool was created for Marvel Comics in 1991 by the infamous Rob Liefield.  The wildly popular character is in many ways an in-joke for comics readers, even his real name, Wade Wilson, is a reference to DC Comics' mercenary anti-hero/villain Deathstroke (aka Slade Wilson).  His healing factor and super-reflexes are a product of the same program that created that other Canadian superhero, Wolverine.  The 'merc with a mouth' often talks to the readers directly, and rarely shuts up, to be honest.  The character is so popular that hardly a week goes by without some Deadpool offering from Marvel Comics.
Squirrel Girl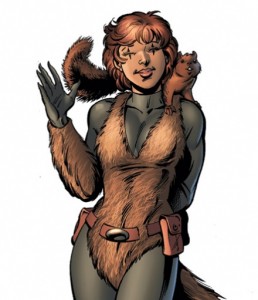 This one, a teenaged mutant super-heroine with rodent-like abilities and the power to communicate with, yes, squirrels, was created by comics legend Steve Ditko in 1992.  In her first appearance she and her sidekick, a squirrel named Monkey Joe, first fought, then teamed up with Iron Man, and then when the Golden Avenger was defeated, she was victorious against the sinister Doctor Doom.  Don't laugh.  This really happened.
John Byrne created the Great Lakes Avengers in 1989 as a joke, another in-comic reference to other characters, in this case conceptually, to another DC Comics idea - the Legion of Substitute Heroes.  These heroes had dumb powers and were ridiculous characters but would serve as back-up, should the real heroes fall in battle.  Squirrel Girl was a perfect fit for the team.
Her service on that team led to the character being featured in the recent I Am an Avenger #1 and writer Brian Michael Bendis choosing her to become nanny for Luke Cage and Jessica Jones' daughter in upcoming issues of New Avengers.
The Micronauts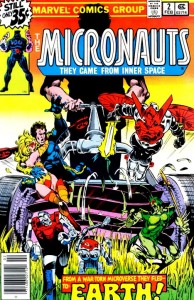 When the Japanese Microman toy line came to America in 1976 as Micronauts by Mego, Marvel got the license for their comic book adventures.  With Bill Mantlo on story and Michael Golden on art, characters, history and an entire universe - or more accurately a Microverse - was created simply based on the toy designs and one or two names.  Just my opinion, but for about a year or so, them's was some darn good comics.
Two concepts remain after all these years.  First Bug, who continues to appear as part of Marvel's Guardians of the Galaxy and in their cosmic-based mini-series epics.  The other, Captain Universe, is equally cosmic.  Whenever a person, any person, is in a time of crisis, the Uni-Power, also known as the Enigma Force, can transform them into a cosmic-powered superhero known as Captain Universe.  Interesting idea, he's the hero who can be you.  Notably, Spider-Man once became Captain Universe, and he beat the living snot out of Firelord.  Yes, really.
Giant-Size Man-Thing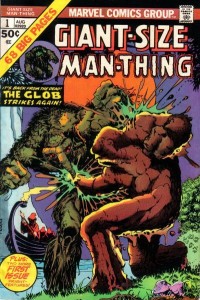 Hmmm.  Let's take the second part first.  Man-Thing was Marvel Comics' swamp monster counterpart to DC Comics' Swamp Thing.  Like the Doom Patrol and the X-Men, and the Red Tornado and the Vision, this was one of those times when both major comic book companies came up with a concept at roughly the same time, summer of 1971.  Sometimes great minds think alike, but it's notable to mention that The Heap, the swamp monster from the Golden Age, predates them both by nearly thirty years.
Unlike Swamp Thing, the Man-Thing was frequently used as a tool to tell stories, or the catharsis for other stories.  They were rarely about him.  Other characters surrounded him and were launched after appearing with him, such as Wundarr, Foolkiller and Howard the Duck among others.  And as the Guardian of the Nexus of All Realities (don't even ask) it seemed like anything could happen when Man-Thing was around.
Now for the embarrassing part.  In the mid-seventies, Marvel upsized several of their comics to more pages and more cents with a line they called Giant-Size.  Almost every Marvel comic had a "Giant-Size" version, including, you guessed it, Man-Thing.  Over the years, this double entendre has become a legendary joke in the industry, but it should be noted that Giant-Size Man-Thing lasted for an entire year, five whole issues.  And I just bet that writer Steve Gerber giggled like a madman every time it came out.
That's all for this time.  I'm sure there will have to be more explanations of obscure and arcane info from my twisted mind that makes into our live vidcast.  Maybe next time I'll teach y'all how to pronounce all the 'O' villains in the Justice League's rogues gallery…