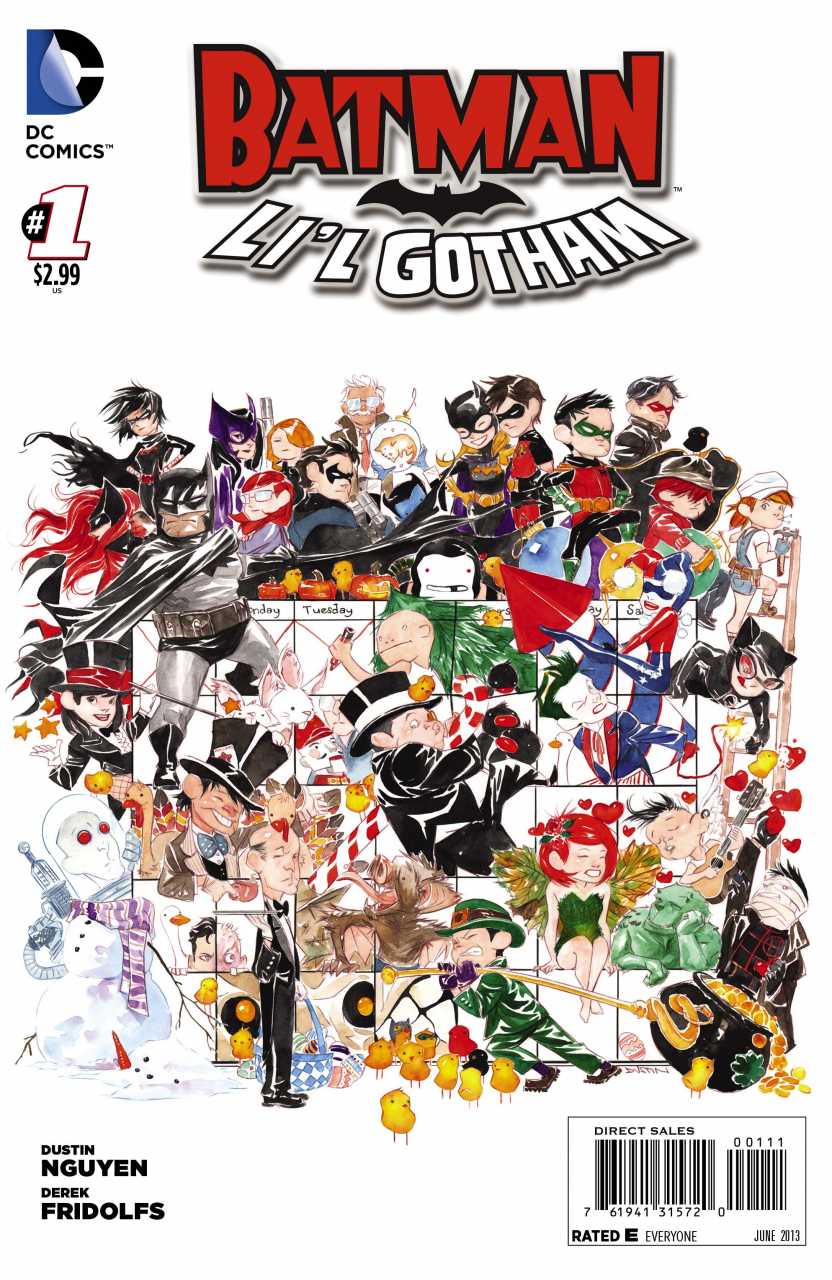 By Glenn Walker
Yeah, it's a kids book. Usually this kind of stuff Allison handles, and I get the scary mature readers only comics. But when this comic dropped into my lap, it was just too much fun to resist. Batman: Li'l Gotham is great!
Written by Dustin Nguyen and Derek Fridolfs, with moody but kid-friendly cartoonish art by Nguyen, Batman: Li'l Gotham is the perfect counterpoint and companion to DC's other kids favorite Superman Family Adventures by Franco and Art Baltazar (who also brought us Tiny Titans). Nguyen and Fridolfs brings us two relatively in-continuity tales of autumn holidays, Halloween and Thanksgiving.
There is lots of fun stuff here for both adults and kids of all ages. Batman teaches Damian about Halloween and the Penguin attacks the Thanksgiving Day Parade. It's almost a wonderful throwback to the good old days when heroes didn't have to die and world was always in peril - just fun adventure.
And I loved the Halloween full page with the Golden and Silver Age Flashes holding hands, Darkseid chilling with a Slurpee, and Hush and a mummy checking each other out. Didn't I tell you this was fun?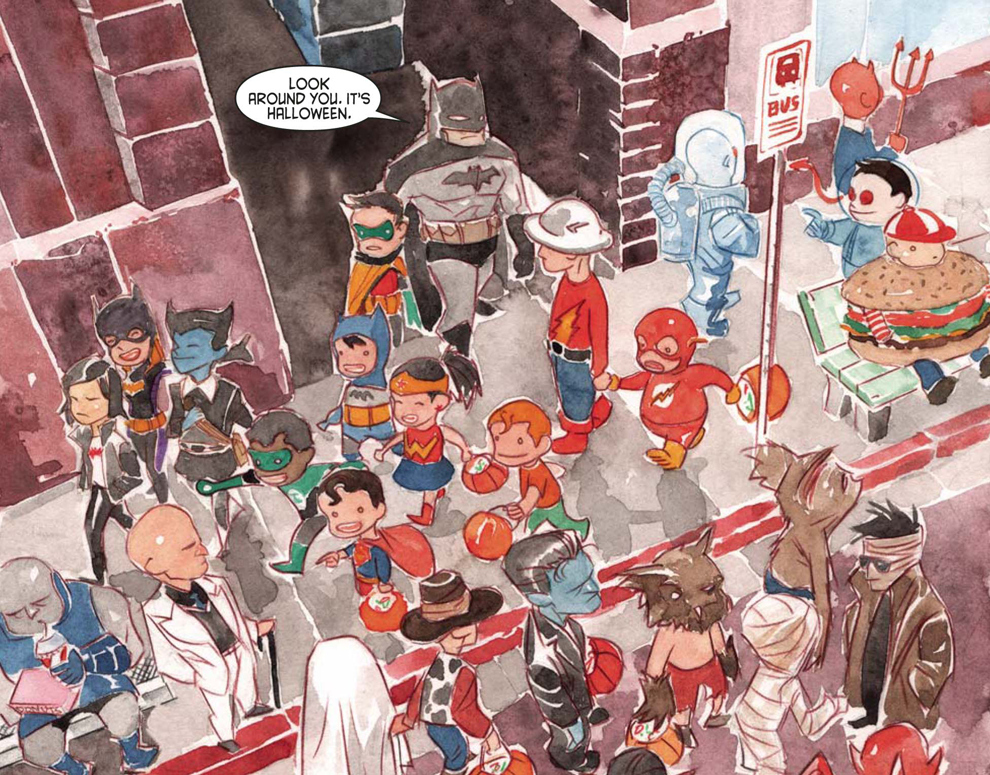 Batman: Li'l Gotham #1 is on sale this week at All Things Fun!, make sure you get down there and pick up your copy today. Originally only available digital, here's your chance to have a copy of your very own, to hold in your hands, and share with your family.
By Allison Eckel
Welcome to March! Get ready for the big event… Not college basketball, not the C2E2, but Smithsonian's annual Women in Science month! Why is this fodder for a comics industry commentary, you ask? Because this year, Smithsonian is treating five female field scientists as super-heroes, complete with their own digital comics (the cover to the first is shown below).
The super-hero hook for this year's Women's History Month observance is encapsulated on the promo page: These life-long conservationists have a "passion to save the planet." The digital comics are the origin stories of each scientist, or "the moments that sparked their lifelong journey of scientific discovery." The actual work of these scientists is presented on Smithsonian Channel in a series of documentaries airing throughout the month (see the list of scientists and their topics, below). The episodes are also available online. To round out the super-hero marketing, visitors to the site can take a quiz to see what kind of super conservation science suits their personalities.
My first reaction to this marketing campaign was negative. First of all, they found me by feeding me an ad on Facebook that read: "Love COMIC BOOKS?" So, at first I thought Smithsonian, our national museum, was dumbing down science to appeal to comics readers. Enraged, I followed the ad (they won).
The Women in Science landing page did not at first assuage my rage. Along the left is a lady dressed as sexy scientist (but not too sexy), standing strong as though she were Wonder Woman, lab coat blowing in the wind like a cape. I expect a stunt like this from History Channel  or TLC – which are no longer following their original formats – but not from Smithsonian. I don't want my national museum "Foxified," dumbed-down, reduced to sexy marketing tricks to entice viewers.
After a deep breath, I actually explored the content of the site. Turns out, the lady on the left is simply part of a fun marketing campaign. The web comics are a fun idea: a look at what inspires us and how kids of today may be inspired by their teachers. The actual content of Smithsonian's Women in Science observance is strong, true, and worthy of our national museum – and worthy of the women they profile.
So, check out some real-life planet-savers this month on Smithsonian Channel. Information for all episodes is found on the same site, so click here for more.
Elizabeth Blackburn: Decoding Immortality
JoGayle Howard: The Ghost Cat (the clouded leopard)
Nan Hauser: Footprints in the Water (whales)
Elisabeth Kalko: Batwomen of Panama
Gudrun Pflueger: Running with Wolves
The web comics are each written by Mallory Murphy, illustrated by Gerard Conte, and colored by Kevin Colden.
By Allison Eckel
Add Simon Pegg to your list of Writers to Watch. Yes, that Simon Pegg. The English actor who brought plucky humor to both Scotty and zombies began his screen career co-writing the British sitcom Spaced. This month, he adds comics to his geek street cred.
While crafting his memoir Nerd Do Well for Random House, Pegg also delivered the 62-digital-paged graphic novel The Adventures of Simon Pegg and Canterbury and the Mystery of the Scarlet Panther and the Star of Nefertiti and the Tablet of Amonhotep IV. This also happens in the story. As Pegg explains, his editor wants the biography, but all Pegg wants to write is, "fiction about a suave, handsome superhero and his robot butler. The story of a tricked-out vigilante, with innumerable gadgets, a silver tongue and deadly fists -- like Batman without the costume and a more pointed 'gay subtext.' Sure, it's not original, but it's far more interesting than my life. I don't even have a robotic butler. Not anymore."
As he said, it's not entirely original; but it is hilariously executed. I see The Adventures of Simon Pegg as a mash up of Batman: The Brave and the Bold with the Venture Brothers. The artwork by Gaz Roberts is as fun, bold and irreverent as Pegg's script. I am glad I took a chance on this and would love to read more.
The Adventures of Simon Pegg digital graphic novel is 62 pages for $2.99 available for both the iOS and Android platforms. It's not available from ComiXology. It is available here.
By Allison Eckel
My household is undergoing a digital revolution. My husband and I recently got iPhones, and we added an iPad. At first, we thought they would be just kind of fun, a way to easily check e-mail on the go and give the kids something new to play with. However, after only one month, we have significantly reduced our use of paper lists, printed calendars, and electricity guzzling laptop computers. We are considering a switch to all-digital forms of news (cancelling the printed form of our major metropolitan newspaper). In meetings, all of my notes go into the iPad (my stack of yellow legal pads is beginning to get dusty). We rarely watch movies on DVD anymore, since our Netflix account can stream through all of our mobile devices as well as our Wii. Gene Roddenberry's vision of the future has landed in my suburban living room.
Of course, there are consequences to this digital revolution. As you probably noticed, our decreased consumption of printed goods may be ecologically friendly, but the producing companies will suffer. Have you taken this to its logical, comics-related conclusion? Yep. The days of the printed monthly comic are numbered.
Now, digital comics are not a 2010 innovation. Marvel boasts that its web site has featured digital content for at least three years (according to Dan Buckley, Marvel's publisher). What is revolutionary is that every major comics publisher has integrated its digital reader with ComiXology and will support multiple digital platforms and virtual archiving.
Oops, that is, except Marvel. You still have to go to their site for their content. I think this is the first time DC Comics has made a smart, consumer-friendly move before Marvel. Regardless, consumers can now instantly download content to a PC, a smartphone, an iPad, a PSP, or any other "cloud sourcing" device and enjoy their comics on the go.
On the plus side, this enables fans to access back-catalog content like never before. I was able to introduce my son to DC's 1985 game-changer Crisis on Infinite Earths (for free) without opening my sealed original issues. Being a DC fan, I have never read an Iron Man comic. However, I can read all 33 pages of The Invincible Iron Man #1 by Warren Ellis through Marvel's site to see if I should give Tony Stark a try.
So, on the minus side, there's the impending demise of the printed monthly comic. Die-hard fans proclaim, "It will never happen," but the influence of the All American Dollar is pretty strong. Case in point: Superman and Wonder Woman writer J. Michael Straczynski, together with his DC Comics publishers, just made the controversial decision to end his runs on those monthly titles early in favor of more lucrative graphic novels. His new book Superman: Earth One hit such high sales marks that they "fast-tracked a sequel," in the words of Co-Publisher Dan Didio. While this is not an example of digital trumping print, it does show how printed monthly comics are underperforming for their publishers. It also shows how projects that reach mainstream audiences will win the day.
It is these mainstreamers that publishers are courting through digital innovations. At NYCC, the comics publishers (without a representative from DC) discussed this issue. They estimated that the core audience for monthly print titles sold through local comic shops (LCS) is roughly 300,000. The publishers would love to see that number in the millions, more in line with the numbers of readers of manga in Japan. For that to happen, the price point of monthly comics has to decrease dramatically while access has to increase. Aaron Colter, marketing coordinator for Dark Horse, made a great point: If a consumer has $4 to spend on entertainment, would he choose one issue of an ongoing comic that he will read in 10 minutes, or would he choose something that lasts longer like a ticket for a second-run movie house?
The current model of selling archival-quality print through comic shops, they say, is keeping the comics industry from growing beyond the current 300,000. "The future is very bright for digital comics," according to Chip Mosher, marketing director for Boom!Studios. "In the next five years, we will see a lot of experimentation."
Most of those experiments will likely revolve around what to do with our beloved LCSs. If you hadn't noticed, the LCS is absent from the digital model: Launch the digital app, download a comic, read it. No brick-and-mortar store required. For now, publishers are "experimenting" with ways to keep the LCS in the loop. Dark Horse, for example, offers exclusive digital content available only with a code provided by a retailer. Similarly, Top Cow will offer a digital download code with the purchase of Witchblade #144. From a fan's standpoint, this is not terribly exciting. From the publisher's standpoint, this seems annoying at best and better if avoided altogether. Rather like giving flowers to a dying man. From a business standpoint, as cold as it is, cutting out the LCS helps offset the cost of the technology the publishers are pushing to innovate. Of course, that's my analysis of the situation. No publisher on the NYCC panel ever drew that conclusion out loud.
The digital revolution has begun and it is affecting the comics industry. Exactly what this means for fans in the short term is unknown, but in the long term, I would say that the value of that print collection you have in the spare bedroom may soon skyrocket as new, printed titles approach extinction.
By Allison Eckel
I was all set to discuss the Brightest Day tie-in story Justice League: Generation Lost (issue #4 is on sale now) and the 20-year old storylines tied into it when DC Comics hit me with a barrage of "forward-looking" integrated media news. I put "forward looking" in quotation marks because the term was attributed to Jim Lee, DC's co-publisher, in the company's exciting press release …. Are you ready? Are you excited?
"DC Comics, publisher of Superman, Batman, Green Lantern and Fables, is partnering with comiXology and PlayStation®Network for two separate digital comics distribution deals launching today, Wednesday, June 23. In addition, a DC Comics App for the iPhone®, iPad® and iPod® Touch is available allowing consumers an easy way to access DC Comics' content. The announcement was made jointly by DC Entertainment and Warner Bros. Digital Distribution." 
Wow, didn't that just rock your world? No, it didn't rock mine either. DC is a little late to this party. Boom! Studios made this announcement June 15 and Marvel has offered an iPad App since April. Now, don't get me wrong. I am salivating over the iPad pretty badly. Entertainment Weekly magazine's "Must List" App almost got me to buy one all on its own, it's that cool. If you are not familiar with the "Must List," it is simply 10 entries in current pop culture that the magazine editors are really into that week. Well, the App takes those books, movies, CDs, TV shows, comics, whatever, and hyperlinks to more info, trailers, excerpts, theater listings, buying options, etc. The App provides an integrated user experience.
When digital comics provide an integrated user experience, then my world will be rocked. Imagine reading the Generation Lost storyline about Maxwell Lord's return from the dead and subsequent manipulation of his former Justice League International team, then touching some symbol to access Justice League International #12 (April 1988) to read the story of the first time he died (and the first time he murdered) together with the first time he manipulated that team. In my current analog reality, just completing that sentence cost me two hours of research in my comics storage closet.
One implication of such integrated content might be an end of the casual comics collector. Those of us who love the stories and hold onto them so we can revisit them as needed might begin to rethink ink and paper when the details are a few back-lit touches away. This imagined reality would mean the end to the comics retailer because we would not need to buy even back issues. We would still read, still buy, still consume; we just would not keep and store physical books.
Another aspect to the digital trend is that digital comics are supposedly less expensive to consumers, who first need to buy a reader (is a $500 iPad worth saving two bucks an issue?). Also, fans who do not have a comics retailer nearby are able to return to their favorite characters via download. But so far, reading a digital version of the comics is all we're getting from publishers. Still missing is the true promise of digital: the integrated user experience. That is the game-changer. That would rock my world.