By Glenn Walker
Has the furor died down yet? Is it safe to talk about it yet? Yeah, it might be time. There was a week or two there if you mentioned the kiss, also known as the Superman/Wonder Woman power coupling in the final few pages of Justice League #12, by Geoff Johns and Jim Lee, you might as well be wearing asbestos - because flames will fly. A month and a half having gone by however, it may just be safe to think about this one.
I am a hardcore Wonder Woman fan, and I'm a firm believer that Superman and Lois Lane belong together. I've labored on about that last point before, both here and other places. Whether Wonder Woman and Steve Trevor should be together is a whole other argument, but just for simplicity's sake, let's just say, in a perfect world, they too belong together. However, in the New 52 DC Universe, neither couple is together, in the former case, have never been together… so it might work out for Supes and WW… or would it?
To figure out the present, as always, we must look to the past. Despite both superheroes being around since the Golden Age, they never really had much interaction until the 1960s, and then to be honest, very little. Sure, both Superman and Wonder Woman were members of the Justice Society of America, but rarely appeared in the same issue. Superman's appearances were rare, as he was an honorary member.
Things were slightly different in the Silver Age's Justice League, but comics were simpler then, all about story, less about character interaction. By the time things had changed, and the way comics were written was more mature and character driven, the couple's positions almost reversed, with Diana becoming an ex-member of the League while she was without super-powers. Again, the two rarely saw each other.
Probably the first time I saw Superman and Wonder Woman together, outside of the League, was in Lois Lane #136, sadly the second to the last issue of that series. In that story, the two heroes announce their engagement, much to the heartbreak of Lois. In the end it's all a ruse to lure out a psychotic killer who wants to marry Superman herself.
Silliness, yes, and typical of Lois tales of the time, but the cover betrays something more. As the power couple save Lois from certain doom, she thinks in a good old-fashioned though balloon, "Now I know why Superman is marrying Wonder Woman instead of me… they're a super-team!" There you go, power couple, so much in common, etc. It does make sense. They are both strangers in strange land, both gods among mankind, and in the same profession, and both keeping big secrets. Of course they would fall for each other.
That issue of Lois Lane was a hoax, but later, in the post-Crisis era, the powers that be tried to put them together again, but this time explaining why not. It was in Action Comics #600, in a story by John Byrne and George Perez. Their big kiss this time was awkward, like a brother kissing a sister, as it is with most co-workers who try to make things happen. It's kinda ick.
Much later, in the classic alternate future epic, Kingdom Come, by Mark Waid and Alex Ross, Superman and Wonder Woman do actually wind up together, and work well together as both a team and a couple. There is one prime plot point that allows this to happen. In that story, Lois is dead, and if Diana had someone, they are also long gone. They are the perfect second chance couple, as long as their first choices are unavailable.
Now, we have a new continuity in the New 52. In this world, Superman and Lois Lane have never gotten together, and Wonder Woman has a tenuous if any relationship with Steve Trevor. In Justice League #12, the two come together out of loneliness and battle fatigue, as well as that old bugaboo, familiarity. But I doubt it will stick.
In the new 52, these two characters are not the same as they were. Given the Kingdom Come example, those two would get together under those circumstances, but in the New 52, they are now completely different people. Neither one of them is completely human. This should evident to anyone who reads their solo books. Superman is more alien than ever, and Wonder Woman is more god than ever. This might stand for now, but my prediction - doomed romance, at least in the New 52. You'll just have to stay tuned into upcoming DC Comics to see if I'm right.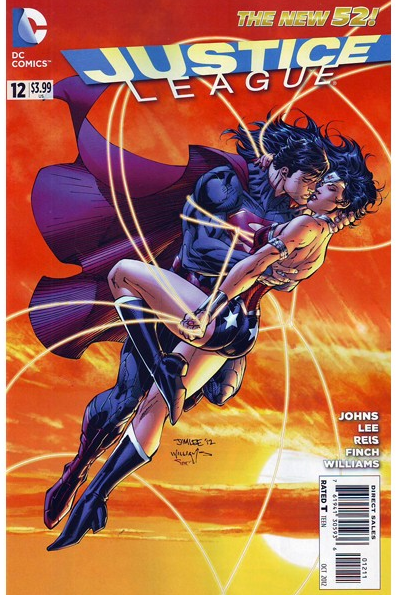 By Glenn Walker
One of the gems of DC Comics' New 52 has been Justice League, and this week, with issue #12 having its controversial content spotlighted on various news programs and Match.com, it's no small exception. It happens on the cover, and it happens late in the comic itself, but it's what everybody is talking about - the kiss between Superman and Wonder Woman. Writer Geoff Johns says that this will be a major relationship in upcoming DC Comics making the two a real power couple. Where this leaves their lovers from former continuities, Lois Lane and Steve Trevor, only time will tell.
Notably, the kiss is not all that's going in Justice League #12. This issue also brings the "Villain's Journey" storyline to a tragic close, revealing what Graves' real motives are. As always, Johns and artist Jim Lee bring the big guns out with their Justice League. This issue also gives hints as to what the future holds for our heroes, including the Trinity War, and the new Justice League of America title. Do not miss Justice League #12, on sale this week at All Things Fun!
By Allison Eckel
Editor's Note: Contains spoilers. Be sure to read Justice League #5 before continuing!
Five months into Geoff John's reboot of the Justice League, I am still enjoying the ride. The characterization tweaks of these icons are fun to discover. But there's a moment in Justice League #5 (on shelves now) that actually turned my stomach and left me feeling icky.
It wasn't gore such as can be found in Animal Man. It was a character moment so incongruous with my expectation that I almost put down the book.
As the heroes rush off to face Darkseid, Batman pulls Green Lantern aside for a quiet talk. GL has been rushing at Darkseid full force, and each time has been beaten senseless. So, Batman tries to talk GL into a different tactic. Ok, that makes sense. But then, he pulls off his cowl, introduces himself as Bruce Wayne, and gives a quick synopsis of the parental tragedy that drove him to vigilantism. He ends with a gentle, well-crafted moral: "This is bigger...than you are. Get out of your own way. Focus on what's important here".
WHAT?!? The most closely guarded secret in all of the DCU is Batman's true identity. The Bat family would sooner die than expose their own identities simply because they could then be traced to Bruce. That must still be true in the New 52. Nightwing mentions this in last week's new issue #6, when he worries that his clandestine activities may be realized by his circus folk, and Nightwing's connection to Bruce Wayne will be revealed.
But, here's Bruce, taking off his cowl in the middle of the street and easily revealing himself to Green Lantern. No, it's wrong. I don't like it.
Plus, Bruce summarizes his origin story in such a well-adjusted way I have to wonder why he still feels the need to wear tights at all. Part of Batman's milieu is that he's driven to a vigilante life by this childhood tragedy that he does not discuss. His Bat family all know it, they know why Bruce secretly guards the dilapidated alley and theater location of the end of his childhood, but no one lets on – it is topic non grata. Batman is left alone to be angry, driven, secretive – and deserving to stand as an equal to Superman and Green Lantern.
Yet, here's Bruce succinctly rattling off this story as if it's a tale of a childhood week at camp that taught him a valuable lesson in leadership.
I understand that this scene is meant to show Batman's ability to strategize and manipulate his teammates – in a good way  – while working in his origin story for all the new readers. Plus, for some reason yet unveiled, he wanted to remove the cape for transport through the boom tube. But, through the past 60-plus years, he has found other ways to be a field commander. Some New 52 changes I can live with (no Nightwing finger stripes, more than one Firestorm, etc.), but this touchy feely sensitive Batman is a step too far.
By  Glenn Walker
Probably the big news this year, or biggest news period in quite some time in the comics industry, is the big relaunch of DC Comics this September. DC will be putting 52 first issues of 52 new and old series, and it's being called a number of things; however, "reboot" is the one word that is being debated.
The core concept is to make DC Comics and its characters more accessible to new readers, and the powers that be believe that a new start is the best way to do this. Reboot is the term bandied about for this, and not just in the comics field – it's been done for decades in pop culture including film, television, and books. In comics, however, is where the word reboot gets a bad name. Comic books are serial fantasy dramas, where status quo and continuity are very important. In other words, the characters and their storylines must both stay the same and yet grow at the same time. It's a slippery slope, and in the right creative hands, it can work; but, as with all things, sometimes the right hands are not available.
The fact is that DC Comics has been around for nearly 80 years, and that means 80 years of stories, 80 years of history, and 80 years of continuity – there's that dirty word again. Imagine dating someone who has 80 years of emotional baggage – yeah, that's how some people view DC Comics' venerable history. So some folks feel it might be better to just start from scratch and avoid all that formidable history. Putting out number one issues of all the comics is a way to do this. It feels new, it feels like a reader is coming in on the ground floor, a fresh start.
At first, despite the cries of anguish from longtime fans who didn't want to see the characters and stories they loved washed away into oblivion, it seemed that this was what DC was doing. We will see a new, younger Superman, along with a new, younger Justice League. Barbara Gordon will be Batgirl again. It appears we have a new version of Mister Terrific, as well as Hawkman, Firestorm, Green Arrow, and Black Canary. We even have a Teen Titans team who has never met before. And in many of the promotions there is a focus on a more diverse DC Universe – with minority characters like Cyborg, Batwoman, Blue Beetle, new African hero Batwing, the aforementioned Mister Terrific, Static, Apollo and Midnighter, and a diverse new Blackhawks team, to just name a few.
Now let's be fair. There are a handful of titles here that I am genuinely excited about. But all is not as it seems. It turns out that some of the new titles will be telling stories of the past. And then DC revealed that certain titles would retain some of their continuity, specifically the Batman, Green Lantern, and Legion families of books. Certain major comic book events of recent times will still occur in continuity. So it isn't a reboot of any kind, or even a fresh start; worse than that, it is beginning to look like it is business as usual. But wait – it gets worse.
There are glaring omissions in the 52 titles. Popular characters and concepts have been left out. First, let's consider that the Justice Society of America, except for the ominously different Hawkman and Mister Terrific, are nowhere to be found. The JSA are the first superhero team, dating back to 1940. Despite only dealing with the Second World War a few times in their original run, later retcons (the act of retroactively changing continuity) like the All-Star Squadron have deeply rooted the JSA in that war, and with fixed ages.
Technically due to this, the Justice Society members should all be in their nineties at least. Various in-story reasons account for their long life spans. Several members were exposed to the magic of villain Ian Karkull, while others had their own reasons. For the Flash, it was the speed force; Green Lantern, his Power Ring; Wildcat has multiple lives like a cat; Hawkman keeps getting reincarnated; and folks like Doctor Fate and the Spectre are just flat out immortal and take new human hosts as needed. But even after all this time, these things wear thin, and even though the JSA has a loving fanbase, some of the powers that be at DC don't agree.
It's a fact that a fan favorite ongoing series starring the heroes was canceled during the 1990s because editors felt that readers did not want to read about 'old people.' Geoff Johns, DC's current resident wonder boy, and one of the masterminds behind this don't-call-it-a-reboot, brought back the JSA a few years back with great success, introducing a new generation of heroes – legacies of the older heroes – for the original members to train. Ironically, this new JSA featured a cast of characters much more racially and ethnically diverse than anything DC's current line-up of titles promises.
These characters have been given a rest, according to DC Comics co-publisher Dan DiDio. All of them have vanished from the relaunch save Hawkman and Mister Terrific who both seem to currently have no connection to any team. There's been much talk about letting Superman be the first superhero again with this relaunch, and that says one thing to me, folks – there's no Justice Society.
Speaking of Superman, this brings me to the second exception to diversity in the new DC Universe. Not only can't a character be old, they can't be married. Dan DiDio in these post-relaunch weeks has also said that the Lois Lane/Superman marriage is being 're-examined.' What does that mean? Well, it means a lot, whether we're talking about DC's increasing legal troubles with the Siegel and Shuster heirs that indicate several elements of the character may no longer belong to them, including Lois Lane, remains to be seen.
There was much contention a few years ago with the storyline "One More Day" over at Marvel Comics, in which Spider-Man and Mary Jane Watson's marriage was dissolved (along with quite a bit of continuity) by the devil Mephisto. Years later the furor still continues, and even though writer Dan Slott is doing a fantastic job with Amazing Spider-Man, this reader has vowed not to buy that comic until the continuity error is fixed, and still hasn't to this day. And I know I'm not alone.
Sometimes retcons work, and sometimes they are just bizarre and done for all the wrong reasons. For me, Spider-Man's marriage was one such error, as it was a natural progression for the character and it made sense. We have all been in long-time relationships, and let's be real here – there is a crap-or-get-off-the-pot equation that occurs, and most people will not wait forever. Sometimes you get married, sometimes you split up.
With Lois Lane, the marriage defines her character. Now before I start getting hate mail, I'm not being sexist and saying she's defined by being his wife. What I am saying is that for the past 20 years, Lois has been not just Superman's wife, but his partner and his equal. As far as I'm concerned, that is 360 degrees from the vindictive, jealous, snoopy, and yes, let's say it, dumb and blind woman of the 1950s and 1960s. And as the Man of Steel's equal she offers insight, a sounding board, and depth to a formerly flat cardboard Superman character.
However, it seems that the powers that be at DC, in their 're-examining' of the relationship, might just decide that the childish, degrading love triangle and secret identity hiding of decades ago is right for this modern couple. This makes me fear equally for the marriages of the Flash and Aquaman. We already know that Hawkman is Hawkgirl-less in the new DC Universe.
So, don't be old, don't be married, and the final minority to take a hit in this don't-call-it-a-reboot seems to be: don't be handicapped. The Batgirl title, written by fan favorite Gail Simone, seems to be telling stories of the past, a past where Barbara Gordon has the full use of her legs, and is not in a wheelchair fighting crime as Oracle. One could also assume the unlikely possibility that these are current-day tales where she's been cured of her paralysis. Either way, DC's number one handicapped hero is no more, and worse yet, if the former option is true, we're going to see her shot again.
Now as much as I love Batgirl, and I love me some Barbara Gordon Batgirl – one of my first crushes was on Yvonne Craig in that tight purple jumpsuit – Oracle was a much better, more defined and in-depth character. I'll take Oracle over Batgirl any day. Barbara never got a JLA membership in the cape, but she got one in the chair, ya know? I want my Oracle back, and not by reliving the horrible, pun unintended, Killing Joke.
So, in closing, DC could stand for Diversity Comics, as long as you're not old, married, or handicapped. Please don't make this so, DC.
By Allison Eckel
Writer Tony Bedard sums up my feelings as a reader heading into Part 5 of War of the Green Lanterns: "Good guys. Bad guys. Patriots. Turncoats. It's gotten so you can't tell them apart anymore." The central characters of the Green Lantern family of titles (pretty much the human ring slingers) have been on the good, bad, and ugly sides of their Guardian employers so often I can't keep up. So, when their latest cross-over event War of the Green Lanterns began, I was apathetic. Since Brightest Day is wrapping up in other titles, and we are launching into a Flash event, did we really need a GL cross-over?
Well, I have read the first five issues of War of the Green Lanterns, and I can answer my own question. Yes, we did need this cross-over; and yes, it is awesome. So far, this story is doing two things. First, it gives us an epic, boss-level battle to wrap up the stories of the spectrum lanterns, Scar and her oozy black book, Ganthet's secret mission for Guy, and Atrocitus' lost and "forbidden" sector 666. Expect many text references to many events from many cross-overs past.
Second, War of the Green Lanterns is dealing with the plurality of so many green ring bearers from one planet in sector 2814. The Guardians and their Corps were scandalized when a human from Earth was given the ring. Now, so many universe re-starts later, four humans wield rings simultaneously. The fate of the Corps and Oa (and probably the universe, again) is in their hands. So, not only do they need to work together, but they will need to do it without their beloved rings. This set-up allows the three writers (Bedard, Geoff Johns, and Peter J. Tomasi) to explore their characters and let them breathe a little. In Part 4, they get the added characterization vehicle of spectrum rings: Which color should each man choose?
My hope for this dense tapestry of action, GL mythos, and character-defining moments is that everything we have lived from Sinestro Corps Wars (2007-2008) to now will coalesce and simplify. That said, I'm not sure I am ready to give up any of the four human ring bearers. I have my fave, of course, but the others are useful for different stories. I do hope the pace of cross-over onslaught can slow and we can coast through the GL movie release (June 17) with a few basic stories in the comics.
War of the Green Lanterns is fun – note Tomasi's dialog during the Gardner/Jordan smackdown in Emerald Warriors #8 – action-packed, and if we're lucky, conclusive.
Click here to download a checklist for all of the titles in the War of the Green Lanterns crossover.
By Allison Eckel
I have been crippled by the Internet.
I am now three (ok, four) days late on my post because every time I sit down to write, I first have to check Twitter. After reading countless posts by writers, comedians, politicians, bloggers, and friends, I usually get a new topic idea, set to research it, and run out of time for the day.
Case in point: Over the weekend I started following a story about Lois Lane. A fan in England started an online campaign to get Lois her own comic series. The trending topic #LoisLaneSeries turned into a big deal (although many of the participants appeared to be sequential accounts of the same three people). They contacted comics writers and asked for re-tweets and many actually gave positive comments as well.
Great, I thought: I will write a blog post about the great, unsinkable Lois Lane, about her history in comics and other media, and what her own title today might look like. Of course, I will also speculate on the effectiveness of a grass-roots Twitter campaign on the engine that is DC Comics Editorial.
As I sat down to write this awesome Lois Lane blog post, I first checked Twitter. Newsarama beat me to it. Theirs is the article I wanted to write. I guess that will teach me to play with my kids all afternoon instead of writing, right?
Here's another lesson learned by this: The comics creators are more approachable today than ever before. Most of them are on Twitter, so you don't have to communicate through the letters column anymore. Oh, right: There is no letters column anymore.
So, bookmark this page and fire up your Twitter account. Here is a smattering of comics creatives who are currently active in social media. And there are more, so feel free to post a few others in the comments section.
Brian M. Bendis (writer, Avengers)
Paul Cornell (writer, Knight & Squire)
Sterling Gates (writer, Supergirl)
Phil Hester (artist, Green Hornet)
Geoff Johns (DC Comics Chief Creative Officer, writer Brightest Day)
Ron Marz (writer, Velocity)
Bryan Q. Miller (writer, Batgirl)
Chris Samnee (artist, Thor: The Mighty Avenger)
Gail Simone (writer, Secret Six)
Paul Cornell also has a blog on which he is running a contest. The prize: an entire box of comp issues from DC Comics (122 monthlies plus a handful of trade paperbacks and other goodies). To enter, visit this page of his blog and attempt to answer the really challenging trivia questions. Example: 6: In what way are 'Wonder Woman', Metallo and Roger Penrose the same person?
His contest deadline is December 22, so hurry!
In the meantime, send notes of encouragement to your favorite comics industry creatives.
By Allison Eckel
The Blackest Night is over so we must return to our monthlies to read about our heroes picking up the pieces after defeating their worst nightmares made flesh. After such a crisis, I expect to slog through a few months of everyone bemoaning the psycho-drama, revisiting their loss, their struggle, their burden of continuing. Instead, the editors at DC Comics have learned lessons from the recovery from 52, Infinite Crisis, Final Crisis, et al. They have given us Brightest Day, which so far seems to be a framework for the recovery; a focus for the characters to avoid the endless whining.
The title Brightest Day sounds like it will be a big-smile, broad-chested, hands-on-hips, cape flapping in the wind way to look at life. What we actually get with Brightest Day is so much more complicated. Now, it's not Grant Morrison complicated, thank goodness. But it is seeking to accomplish many things all at once, and so far doing it smoothly. Brightest Day is bringing back 12 departed characters and reinserting them into the universe (at least for now). The characters include some headliners like Aquaman, Firestorm, Hawkman and Hawkgirl, and Martian Manhunter, together with Deadman, Hawk, Captain Boomerang, Black Adam's adopted son Osiris, Jade, and Maxwell Lord. Since Barry Allen's Flash returned from his "death" in the speed force just before Blackest Night, he doesn't count here. So, why is Flash one of the Brightest Day titles? The twelfth returned character is Eobard Thawne, the Reverse Flash.
And already, this list is so much more interesting than it first appears. Aquaman is alive and reunited with Mera, but his power to summon sea life seems limited to dead creatures. Hawkgirl is once again Shiera, not the more recent Kendra. Firestorm has always combined two people into one hero, only now it combines old and new versions with Ronnie Raymond with Jason Rush -- and neither is happy about it. Captain Boomerang and the Reverse Flash are both incarcerated at the start, but early glimpses indicate they won't be for long. Osiris had once linked up with the Teen Titans, but he has now joined Deathstroke as a mercenary in Slade Wilson's twisted one shot Titans: Villains for Hire. Maxwell Lord has a grand plan, as always, and it begins by making nearly everyone on Earth forget him. Everyone except former Justice League International members Booster Gold, Captain Atom, Fire, and Ice. Hank Hall has returned to be Hawk to Dawn Granger's Dove, but more than an avatar of war, he sees himself as a soldier of God. Maybe the Birds of Prey will calm him down. Finally, Deadman, at long last alive but not yet with free will, is compelled by a mysterious force to visit each of the twelve; and he's not sure why he's wearing a white lantern ring.
The separate reintegration stories all have legs to carry them, seemingly without Brightest Day: Who is blackmailing the Birds of Prey? Can Barry Allen balance all aspects of his life? Will the mercenary Titans continue to kill heroes or will they implode from internal strife (spoiler alert: we no longer have two Atoms)? Will the JLI find Maxwell Lord before he carries out his big plan?
In the case of Flash, Brightest Day is the opportunity for a headliner to reboot an existing title.Flash Reborn had me worried. I'm a big Wally West fan, so when the esteemed Barry Allen returned angry and without hope, I considered giving up on the speedsters. But so far, the regular Flash series has me really excited for more. Brightest Day tie-in aside, this first issue laid some solid foundations for a long-running series. The Fastest Man Alive is the slowest member of his police forensics department because he is one of the few government workers who still care about a quality outcome. He is also married to a fast-paced newspaper reporter, which brings conflict into his home life. On top of that, he is the Flash. All of this we know already. This is a return to life as Barry knew it before the Crisis on Infinite Earths. The freshness for readers is in the art by Francis Manapul, and in the way Geoff Johns is willing to step back and let the art tell much of the story. Here's an interview with Manapul about this issue.
Here's a fun experiment. I went into one of my storage boxes and pulled out an issue of Flash at random. Out came #226, written by Stuart Immonen and Kathryn Kuder. Here is what Wally has to say to us on page 1:
"Check it, don't these jerks ever learn? There must be at least two synaptic nanoseconds between this joker's mouth and his trigger finger. Enough time to realize this is a totally useless endeavor. And they'll have enough time to mull over what went wrong… in jail! I don't get much time for quiet contemplation. After all, I am the Flash – the Fastest Man Alive!"
I don't mean to criticize the writing. After all, it is difficult for me to comprehend Wally's level of speed and descriptions about "synaptic nanoseconds" help. But, to compare, turn to the newFlash #1. Pour over the first 11 pages. The words are mostly removed and replaced with an exploding car, a steering wheel headed straight for a kid, and a scarlet speedster crackling with energy holding the steering wheel an inch from the kid's nose – he caught it, and I can breathe again. Wow.
After Blackest Night, I should be cross-over-weary. I should be ready to return to the regular slog of monthly titles. I was ready to look cynically on Brightest Day as just another hook to get me to spend more money. But so far, it has surpassed my expectations. I am very excited for more.
Great online resource: Resurrection Checklist. This online document provides the issue numbers for the deaths of each of the 12 resurrected characters for Brightest Day. I would have liked to see digital pages linked through this, but at least I know what to shop for if my collection has a hole.
Flash and Birds of Prey aren't the only titles starting afresh this month. Here is a cavalcade of First Issues, including:
Batman: The Return of Bruce Wayne (Grant Morrison picks up where he left off in the final pages of Final Crisis #7)
DC Universe Legacies #1 (A 10-part history of the DCU, because after every major crisis, they have to re-write their own history)
Legion of Super-Heroes #1 (by Paul Levitz, former DC corporate honcho now returning to his creative roots)
Zatanna #1 (from the preview looks a lot like a sexier "Harry Dresden.")