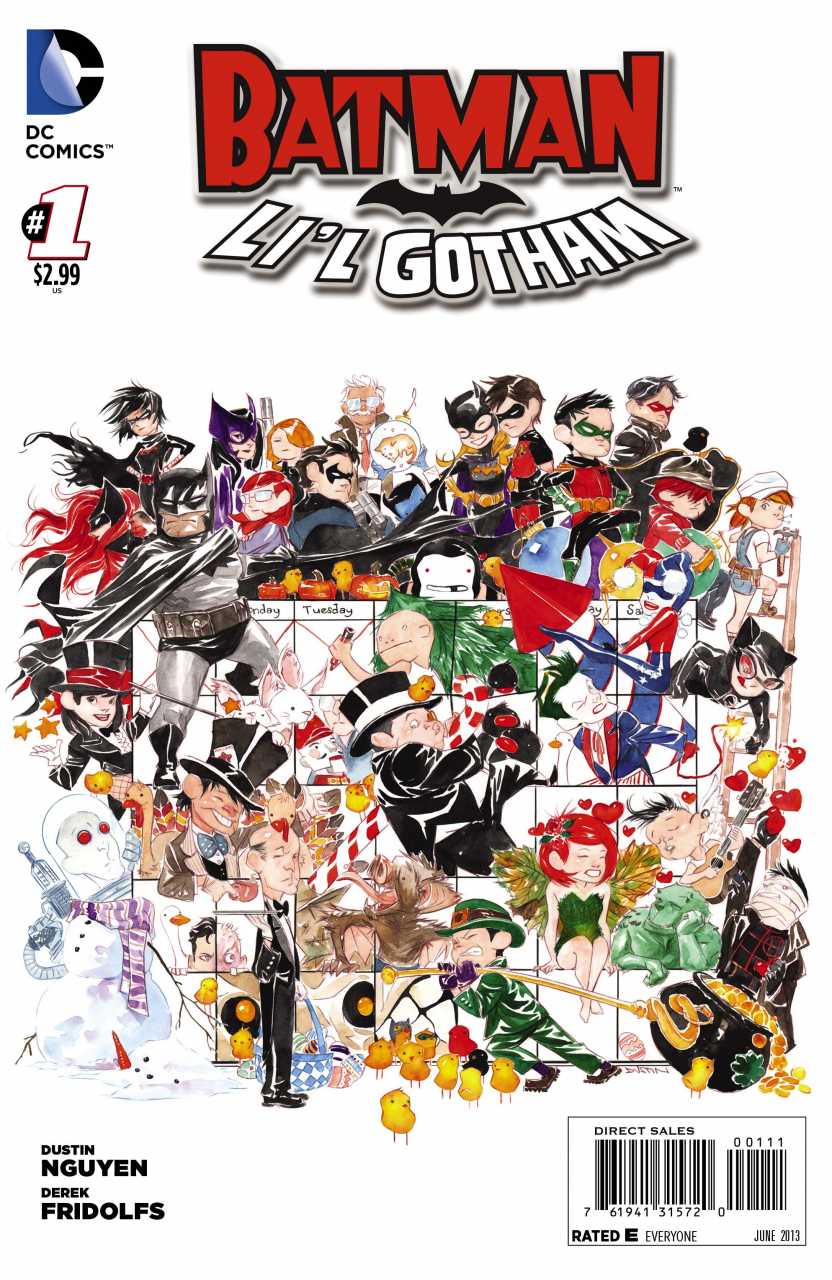 By Glenn Walker
Yeah, it's a kids book. Usually this kind of stuff Allison handles, and I get the scary mature readers only comics. But when this comic dropped into my lap, it was just too much fun to resist. Batman: Li'l Gotham is great!
Written by Dustin Nguyen and Derek Fridolfs, with moody but kid-friendly cartoonish art by Nguyen, Batman: Li'l Gotham is the perfect counterpoint and companion to DC's other kids favorite Superman Family Adventures by Franco and Art Baltazar (who also brought us Tiny Titans). Nguyen and Fridolfs brings us two relatively in-continuity tales of autumn holidays, Halloween and Thanksgiving.
There is lots of fun stuff here for both adults and kids of all ages. Batman teaches Damian about Halloween and the Penguin attacks the Thanksgiving Day Parade. It's almost a wonderful throwback to the good old days when heroes didn't have to die and world was always in peril - just fun adventure.
And I loved the Halloween full page with the Golden and Silver Age Flashes holding hands, Darkseid chilling with a Slurpee, and Hush and a mummy checking each other out. Didn't I tell you this was fun?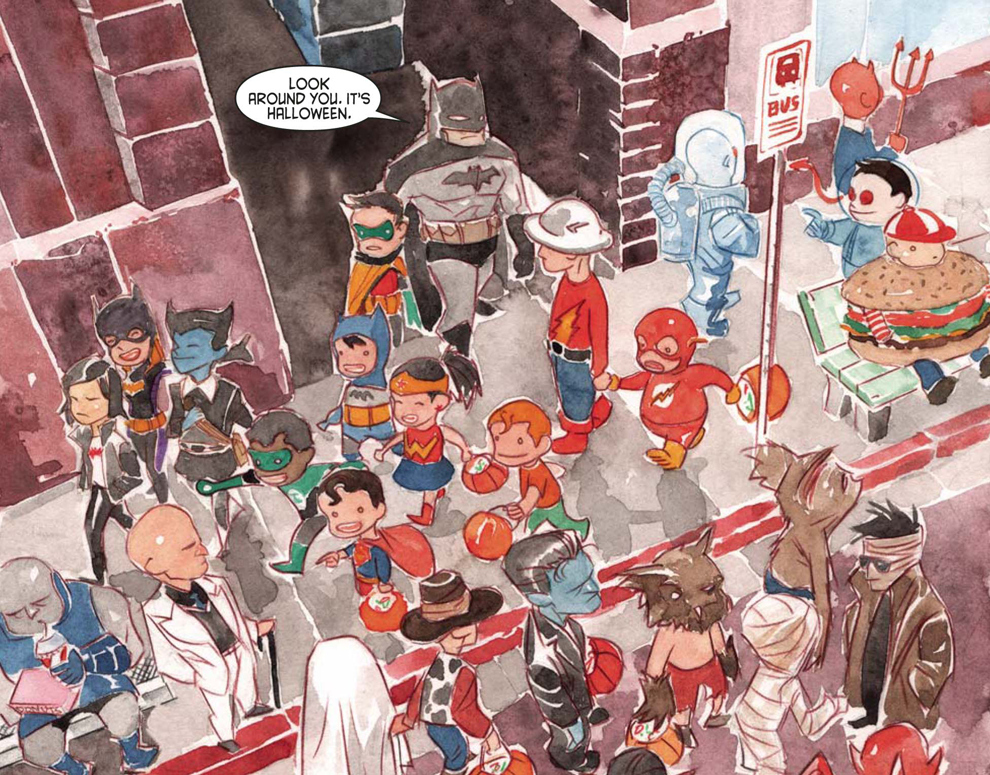 Batman: Li'l Gotham #1 is on sale this week at All Things Fun!, make sure you get down there and pick up your copy today. Originally only available digital, here's your chance to have a copy of your very own, to hold in your hands, and share with your family.
By Glenn Walker
Has the furor died down yet? Is it safe to talk about it yet? Yeah, it might be time. There was a week or two there if you mentioned the kiss, also known as the Superman/Wonder Woman power coupling in the final few pages of Justice League #12, by Geoff Johns and Jim Lee, you might as well be wearing asbestos - because flames will fly. A month and a half having gone by however, it may just be safe to think about this one.
I am a hardcore Wonder Woman fan, and I'm a firm believer that Superman and Lois Lane belong together. I've labored on about that last point before, both here and other places. Whether Wonder Woman and Steve Trevor should be together is a whole other argument, but just for simplicity's sake, let's just say, in a perfect world, they too belong together. However, in the New 52 DC Universe, neither couple is together, in the former case, have never been together… so it might work out for Supes and WW… or would it?
To figure out the present, as always, we must look to the past. Despite both superheroes being around since the Golden Age, they never really had much interaction until the 1960s, and then to be honest, very little. Sure, both Superman and Wonder Woman were members of the Justice Society of America, but rarely appeared in the same issue. Superman's appearances were rare, as he was an honorary member.
Things were slightly different in the Silver Age's Justice League, but comics were simpler then, all about story, less about character interaction. By the time things had changed, and the way comics were written was more mature and character driven, the couple's positions almost reversed, with Diana becoming an ex-member of the League while she was without super-powers. Again, the two rarely saw each other.
Probably the first time I saw Superman and Wonder Woman together, outside of the League, was in Lois Lane #136, sadly the second to the last issue of that series. In that story, the two heroes announce their engagement, much to the heartbreak of Lois. In the end it's all a ruse to lure out a psychotic killer who wants to marry Superman herself.
Silliness, yes, and typical of Lois tales of the time, but the cover betrays something more. As the power couple save Lois from certain doom, she thinks in a good old-fashioned though balloon, "Now I know why Superman is marrying Wonder Woman instead of me… they're a super-team!" There you go, power couple, so much in common, etc. It does make sense. They are both strangers in strange land, both gods among mankind, and in the same profession, and both keeping big secrets. Of course they would fall for each other.
That issue of Lois Lane was a hoax, but later, in the post-Crisis era, the powers that be tried to put them together again, but this time explaining why not. It was in Action Comics #600, in a story by John Byrne and George Perez. Their big kiss this time was awkward, like a brother kissing a sister, as it is with most co-workers who try to make things happen. It's kinda ick.
Much later, in the classic alternate future epic, Kingdom Come, by Mark Waid and Alex Ross, Superman and Wonder Woman do actually wind up together, and work well together as both a team and a couple. There is one prime plot point that allows this to happen. In that story, Lois is dead, and if Diana had someone, they are also long gone. They are the perfect second chance couple, as long as their first choices are unavailable.
Now, we have a new continuity in the New 52. In this world, Superman and Lois Lane have never gotten together, and Wonder Woman has a tenuous if any relationship with Steve Trevor. In Justice League #12, the two come together out of loneliness and battle fatigue, as well as that old bugaboo, familiarity. But I doubt it will stick.
In the new 52, these two characters are not the same as they were. Given the Kingdom Come example, those two would get together under those circumstances, but in the New 52, they are now completely different people. Neither one of them is completely human. This should evident to anyone who reads their solo books. Superman is more alien than ever, and Wonder Woman is more god than ever. This might stand for now, but my prediction - doomed romance, at least in the New 52. You'll just have to stay tuned into upcoming DC Comics to see if I'm right.
By Glenn Walker
It is a good time to be a comic book archer. Green Arrow is coming back to the TV screen with a series called "Arrow" in the fall, and this summer Oscar winner Jeremy Renner blew us all away as Hawkeye in the big screen version of Marvel's The Avengers. They have both come a long way from being just Batman with a bow and the low man in Iron Man's rogues gallery.
The Archer, or the Bow and Arrow Guy, is one of the comic book hero templates. When the average comic book reader thinks 'archer' or 'bow and arrow guy,' they think Green Arrow or Hawkeye, depending on whether you're a DC or Marvel fanperson. The truth is that's only the tip of the arrow so to speak. Welcome to a handy tour of the bow and arrow folks of the comic book world, and trust me, there are a lot of them… but we'll start with the big guns, ahem, bows…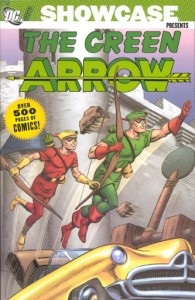 Green Arrow
Green Arrow has been rebooted, revamped, re-thought and (this one is for you, Allison) re-jiggered several times, but for the most part, his origins remain the same. Green Arrow was created by Mort Weisinger and George Papp, and first appeared in 1941's More Fun Comics #73, which coincidentally also featured the first appearance of Aquaman. Spoiled brat millionaire Oliver Queen was stranded on a deserted island (or another similar isolated nowheresville) and had to learn archery to survive. His rescue usually happens at the hands of criminals whom Queen takes down with his mad archery skillz, and is thus inspired to become a full-time crimefighter, the Green Arrow.
Along the way, Queen built an arsenal of trick arrows, a secret headquarters the Arrowcave, specialized vehicles like the Arrowcar, the Arrowplane, and even the Arrowboat, and his adopted ward, also trained in archery, became his sidekick, Speedy. Quickly Green Arrow was looked upon as nothing more than Batman with a bow, or worse yet, a knock-off Batman.
Denny O'Neil and Neal Adams changed all that with their late 1960s take on the character, giving him a new costume, facial hair unheard of for superheroes, and a liberal attitude in a time when comic book characters did not have social consciousnesses. The new Green Arrow became wildly popular, was eventually paired up with both Green Lantern and romantic interest Black Canary in the award-winning Green Lantern/Green Arrow series. In one story, he was conflicted by Speedy's heroin addiction, an event which would follow that character for the rest of his career.
The Justice League's resident archer and left wing voice of reason remains an iconic hero today, recently conquering live action prime time as supporting cast in "Smallville," and soon to return in a new vision in "Arrow." In the comics, he has his own title in DC Comics' New 52, albeit younger, slicker, and less liberal - more Tony Stark than Oliver Queen. Times change, I guess.
Hawkeye
I've talked about Hawkeye the Marksman here before briefly. Hawkeye AKA Clint Barton was introduced as a reluctant foe of Iron Man in 1964's Tales of Suspense #57, and created by Stan Lee and Don Heck. After a few more less villainous appearances, he became an Avenger in the first major membership shake-up of that team, becoming one of 'Cap's Kooky Quartet.' There, training by Captain America was joined by his weapons mastery taught him by the villain Trick Shot (another archer) and future Avenger the Swordsman.
While like Green Arrow, Hawkeye made use of gimmicked arrows, his character was more fleshed out by his abrasive personality. He was always the stirrer, the smart aleck, and always bucking to lead the Avengers over Captain America. Ironically, years later, Hawkeye would become the leader of the West Coast Avengers, a product of having Cap as a role model. While Green Arrow may have preceded Hawkeye by decades, the latter's emergence as a fully formed character preceded that of the former. Also on the copycat scale, Hawkeye's romantic interest for some time was the Black Widow, and later he married Mockingbird, both characters having more than a passing similarity to Green Arrow's Black Canary.
The Avengers resident archer has become one of the most reliable and stalwart members of the team. Whether he goes by the name Hawkeye, Goliath, or Ronin, he can usually be found at the front of the fight, charging headlong into battle, no matter if Ultron or Kang will just laugh off a trick arrow or not. That's just our Hawkeye, brave beyond reason.
Archers of the Golden Age
Back over at DC, that company published adventures of the original heroic archer, Robin Hood, as early as 1938. Robin Hood Tales was originally published by Quality Comics but eventually by DC after they acquired several of their characters and magazines. Of course, Robin Hood being a public legend, copyright is kinda off the table, but there you go.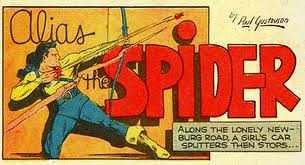 Quality also had a feature called "Alias the Spider" in Crack Comics. Created by Paul Gustavson, Tom Halloway fought crime with his bow and arrows, his valet Chuck, and a cool car called the Black Widow. In modern times writer James Robinson retconned the Spider into a foe of The Shade, and not necessarily a hero or even a nice guy at all, in his amazing Starman series. Grant Morrison also created a legacy of the character with I, Spyder, however briefly, in his Seven Soldiers.
Quality also had The Marksman. Fawcett Comics featured Golden Arrow. Centaur Publications had The Arrow, also created by Paul Gustavson, who was briefly revived in the 1990s by Malibu Comics. He can also be seen in Dynamite's comic featuring public domain heroes, Project Superpowers. There was also the Huntress in Yellowjacket Comics from Charlton, not to mention Young Robin Hood, and the Green Knight, all costumed crimefighters of the Golden Age who used the bow and arrows.
Sidekicks and Legacies
The aforementioned Speedy was Roy Harper, Oliver Queen's ward. He had two different origins, both similar, much like his mentor's various beginnings. Eventually he grew up to become Arsenal, and then Red Arrow, a full-fledged member of the Justice League. Later GA took on another sidekick named Speedy, this time the teenaged runaway, Mia Dearden. The second Speedy was notable for being both a child prostitute and one of the few HIV positive characters in comics.
Much like Batman in this regard, Green Arrow has not only been sidekicked by three kids, but one of them is also his son. While GA was dead (don't ask, you know how death works in comic books, it's temporary at best) his son Connor Hawke took up the bow and mantle of Green Arrow, and like Roy Harper years later, Connor also took Ollie's place in the Justice League for a while.
Not to be outdone, while Marvel's Hawkeye was dead (I did tell you not to ask, didn't I?), Kate Bishop in the Young Avengers took up the bow, as well as several other weapons, and began calling herself Hawkeye. It should be noted at this point, that Hawkeye, like Roy Harper, is an expert of all projectile weapons, not just arrows. Daredevil's arch-foe Bullseye's whole schtick revolves around this particular skill.
One more legacy, and it's another embarrassing reminder of the days when Green Arrow was just Batman with a bow. He too had international counterparts who were inspired by him. Where Batman has the Batmen of All Nations, which eventually evolved into Batman Inc., Green Arrow had the Green Arrows of the World. Their membership included the Ace Archer of Japan, the Phantom of France, the Bowman of the Bush, Verde Flecha, the Bowman of Britain, and the Polynesian Archer. Hey, Grant Morrison, wanna write Green Arrow next?
There have been a fair amount of baddies who have used the bow and arrow motif for evil as well. The Golden Age Superman and the 1966 television Batman were plagued by the villainous Archer. Also in the Golden Age, Wildcat's foe, the Huntress (also known as Tigress) used a crossbow. This choice of weapon was passed down to both her daughter, Artemis, as well as her heroic namesake, the Huntress.
Many of the villains with bows however were members of Green Arrow's mostly forgotten rogues gallery. Among them were Black Arrow, the Crimson Archer, Cupid, Ape Archer, Funny Arrow, the Iron Archer, John Centaur, most lost to the sands of time. The most known of these would probably be the Rainbow Archer and Red Dart (who our buddy Grant Morrison actually did dig up for his JLA run). Later on there was also Shado, GA's on again/off again lover; Natas, who trained Green Arrow and Deathstroke among others; and Merlyn the Magician of the League of Assassins, one of the hero's most dangerous foes.
In the old days Green Arrow frequently faced a female rival named Miss Arrowette, whose daughter Arrowette with a bit of retconning became a major player in Young Justice. Combined with the aforementioned Huntress' daughter, she is the inspiration for the double agent character of Artemis in Cartoon Network's "Young Justice" cartoon. There was also the Blue Bowman, in reality Batman foe the Signalman, who got the idea of being a bow and arrow villain by being cellmates with Green Arrow enemy Bull's Eye.
There are many other archers, on both sides of the law. I've haven't covered Artemis who was once Wonder Woman, Yondu the Alpha Centaurian archer from the 31st century's Guardians of the Galaxy, Firestorm foe Moonbow, White Feather of the Inferior 5, brief Justice Leaguer Maya, any of the Old West archers, Shaft, Archer (sans Armstrong), Legolas, or even Xeen Arrow, the Green Arrow of Dimension Zero yet. But there's only so much space. Be assured there have been many behind the bow in the comics, and there will be more.
I'll see y'all next time. I'm off to the movie theater to see Brave. I hear that Princess Merida is a heck of a shot too…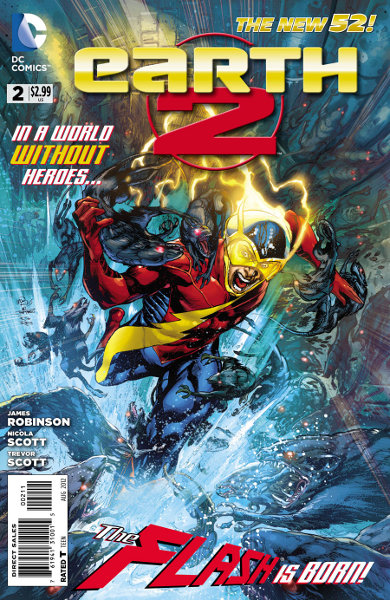 By Glenn Walker
Now most of you are aware of Earth 2 #2 because it features the big reveal of the Alan Scott of Earth 2, soon to be that alternate world's Green Lantern, as a gay and out character. But there are many other reasons you should be picking up this particular comic book.
See the arrival of Michael Holt, Mister Terrific, on Earth 2, as well as cameo appearances by a few surprise guests that will whet your appetites for future issues of this series. But the big draw in this issue by writer James Robinson and artist Nicola Scott is the new origin of young Jay Garrick as the Flash of Earth 2!
If you're not already reading the hottest comic of the week, you need to pick up Earth 2 #2 for new adventures of new takes on the beloved Golden Age superheroes of the Justice Society - Enter the New 52 era!
By Glenn Walker
The thought occurred to me on a recent episode of the All Things Fun! New Comics Vidcast that not everyone knows who the Vision is, or why he is so important to the Avengers. As I said on that episode, when it comes to the Avengers in the late 1960s, the 1970s, and the early 1980s -- the Vision is the fo-shizzle.
The origin of the Vision is one of the first to be mostly retcon: that's retroactive continuity for folks not familiar with comic book lingo. It means that the story we're now told comes from slightly altering or bending events already established as history in the comics. It's made to fit with what we already know, but it's a story that is being told later. Got it? Good, we'll get to that part shortly.
Outside of comic book continuity, the Vision's origin is part of what was called a secret crossover. Back in the dark ages, before cross-company crossovers happened on a semi-regular basis, sometimes writers would get together and do them subtly for their own entertainment. The introductions of the new Vision in Avengers #57 by writer Roy Thomas and the new Red Tornado in Justice League of America #64 by Gardner Fox was one such event.
Both characters had several similarities. They were both androids who were taking on the names of long forgotten Golden Age heroes, sent by villains to infiltrate a superhero team and destroy them, but eventually they each turned good and joined that team. Both had super powers their namesakes did not, both were struggling to become human, and both would eventually find love. They appeared within a month of each other, with the Red Tornado beating the Vision to print by a month.
The Vision, at first, was the creation of the Avengers' arch-foe Ultron, itself an artificial intelligence built by Hank Pym, Goliath at the time. The Vision was an android, technically a synthezoid, an artificial being who had seemingly plastic-like flesh and blood organs beneath his crimson skin rather than gears and machine parts. He possessed complete molecular control over his body. He could become intangible and float or fly, and become as hard as diamond. He was sustained by solar energy through a gem in his forehead and could discharge powerful solar beams from his eyes. His deadliest attack by far was passing a hand into a victim intangibly then solidifying, disrupting the target on a molecular level… painful.
The Vision quickly became one of the most popular characters in the Avengers, so popular in fact that it was his image that appeared next to the price and Comics Code info on the cover of the title for almost a hundred issues. The Vision was the Avengers. Rarely an issue went by without him in it, or on the cover (besides the corner image). He was one of the most powerful Avengers, humbled only briefly by bouts of unexplained claustrophobia, a drive to become more human -- and love.
Yes, perhaps the most important factor in the Vision's life was his love for the Scarlet Witch. Two outcasts from society, non-humans, the android and the mutant, found love in each other's arms. It was a not-so-clever analogy for interracial relationships while mixed into the Marvel Universe world of superheroes. Their forbidden love shocked the world, alienated Quicksilver, the Witch's brother, and endeared the Vision and the Scarlet Witch to Avengers readers everywhere.
Around this time, the Avengers came into conflict with Kang, and the Legion of the Unliving. The Legion included beings plucked from time just before the moment of their deaths to serve Kang and destroy the Avengers. Among them were Wonder Man, whose brain patterns were used by Ultron to create the Vision's mind, and the original android Human Torch. In the battle, the Vision had been nearly destroyed, yet was saved by the above two, along with the Frankenstein Monster, all of whom felt some sort of kinship to the fallen Avenger.
The Monster perhaps sensed another artificial being. Wonder Man maybe understood on some level that they shared a mind. The Human Torch saw something very disconcerting. He saw himself. The Vision's crimson body was in fact his own! The truth became very evident that Ultron had used the Torch's inert android body to create the Vision. The android Avenger's weakness of claustrophobia was clearly inherited from the Human Torch from years of being trapped underwater.
The Legionnaires, after saving the Vision's life, were returned to their proper places in time. Wonder Man would return from the dead, vying for the Scarlet Witch's affections, and adding more of a soap opera element to the Avengers comic. It was an intriguing dilemma, as they were essentially the same man. Circumstances made it so the Vision was dismantled at one point, and his wife fell fully for Wonder Man.
Things got worse for the Scarlet Witch as time went by. She became more and more powerful, eventually gaining the power to alter reality itself. She had had this power all along, having created children for herself and the Vision with it. Once she realized that her children were not even real, she snapped, and snapped hard.
In the event called "Disassembled," the Scarlet Witch succeeded in doing what no other villain -- not Kang, or Ultron, or the Masters of Evil -- had been able to do: She defeated the Avengers. Amongst the rubble was her former husband, the Vision, torn apart by the enraged She-Hulk, as both were manipulated by the Scarlet Witch.
As with most Marvel superheroes, everyone got better eventually. The Vision's recovery was easier, being a repair rather than an out and out resurrection. Early events in Avengers Vs. X-Men have the Vision and the Scarlet Witch confronting each other for the first since the events of "Disassembled," a moment Avengers readers had been waiting for for years.
What happens next is anyone's guess, but I hope that the Vision returns to his status of greatness among the Avengers. Time will tell…
By Glenn Walker
One of DC Comics New 52 coming in September is Blackhawks written by Mike Costa with art by Ken Lashley and Graham Nolan, among others. DC describes it like this:
Welcome to a world waging a new kind of war that's faster and more brutal than ever before. It's fought by those who would make the innocent their targets, using computers, smart weapons and laser-guided missiles. The new enemy is hard to find – and closer to home than we think. Between us and them stand the Blackhawks, an elite force of military specialists equipped with the latest in cutting-edge hardware and vehicles. Their mission: Kill the bad guys before they kill us.
Sounds a bit vague, doesn't it? It's obviously a war comic, but… really what is it? Mike Costa is a fairly new name in the world of comics, but what he has done more than prepares him for the book described above – he's writing G.I. Joe Cobra for IDW. Yeah, now it makes sense, doesn't it? Costa has given several interviews talking up the new Blackhawks. He's very excited, and is hoping for the best with this new series.
I'm excited too, not necessarily for the new series, although it is one of my most anticipated comics of the relaunch. It's the name I'm excited about; yeah, I'm an old-school Blackhawks fan – and I'm not talking about Chicago hockey either, folks. It's time for another history lesson from the Glenn Walker Vast Storehouse of Useless Knowledge.
Blackhawk is a very old and legendary name in the world of comic books. Blackhawk had his own movie serial, radio show, prose novel, action figures, animation, toys – and along with Superman, Batman, Wonder Woman, Aquaman, and Green Arrow, was one of the handful of heroes to survive the Golden Age through into the Silver Age. All this, and he's not even a costumed superhero.
Blackhawk debuted in Military Comics #1 in August 1941, another in the wave of aviator heroes we've talked about before. However, the character stood out and above others of his ilk, experiencing phenomenal popularity, as evidenced in the radio, movie, and other exposure of the time. His adventures continued throughout the decade in both Modern Comics (changed from Military after the war) and his own self-titled comic. When Blackhawk's publisher, Quality Comics, closed up shop in 1956, DC Comics bought them out and kept publishing Blackhawk without missing a beat.
The character of Blackhawk himself has gone under a number of identities, and it's debatable which one is real in the original continuity. But, one thing is sure: Blackhawk is a hero, a defender of freedom, and one of the best pilots in the world. Before and during World War II he leads a squadron of pilots against the Axis powers. This squadron, known as the Magnificent Seven before any movies co-opted the name, was the Blackhawks. Each member represented a nation subjugated by the Axis.
The Blackhawks included Andre from France, Olaf from Sweden, Stan from Poland, Hendrickson from Denmark, Chuck from the U.S., and Chop-Chop from China. Blackhawk himself was rumored to be Polish, American, or both. One-time squad members also included Boris, Zeg, and Gaynor, as well as allies Lady Blackhawk, Miss Fear and the team's hawk mascot, Blackie. Created in the less-than-enlightened 1940s, the ethnic stereotypes were rampant, and especially hurtful when it came to poor Chop-Chop. Retcons and more contemporary stories changed things for the better in later decades.
After the war, and especially after DC's ownership, the Blackhawks began to face a variety of costumed villain more familiar to comics readers, and Blackhawk became less a war comic and more an adventure series in the vein of the superhero genre. Sales declined as the years progressed, and as the "Batman" TV camp craze was in full swing, editors made the decision to turn the Blackhawks into super-powered heroes. It was a change that killed the book. Not even a last minute return to stories of World War II could save Blackhawk from cancellation.
The Blackhawks vanished from comics shelves and racks for the first time in decades. DC Comics revived the team as contemporary mercenaries fighting high tech terrorists in 1976. This was my first exposure to the team, and in this short run, just under a year, I fell in love with the characters. It was something new to me, and discovering their long history became a journey that many comics readers experience when they find a favorite hero or heroes. These were regular guys, but heroes just the same, fighting a more realistic threat (still super-powered to an extent) than the ones Superman and the Justice League usually fought. I was sold.
The Blackhawks were revived again, again set in war stories, but again disappeared after a while. War comics were no longer in vogue in the 1980s sadly. Late in the decade Howard Chaykin completely revamped the team in a more realistic style that stuck for a little while, re-introducing the Blackhawks to a new generation of readers. The characters became a solid part of DC Comics history and continuity, even appearing in a few episodes of Cartoon Network's popular "Justice League" animated series.
Continuity has established that at least some legacy of the Blackhawks exists in the current DCU, as part of an elite military force using high-tech jet fighters, and also as a courier service called Blackhawk Express. And even more recently, a time-tossed Lady Blackhawk has become a major player and team member in Gail Simone's Birds of Prey series. Literally, the Blackhawks seem to be the characters that never say die.
The newest incarnation of the team might not have any (if at all) relation to the originals, but one can hope. Either way, I'm looking forward to it. The new Blackhawks debuts on comic shop shelves, and especially at All Things Fun!, on September 28th. Check it out!
And if I may quote the original Blackhawks' battle cry, "Hawkaaa!"
By Glenn Walker
With Memorial Day looming my mind turns to the men and women who protect our nation's interests here and abroad, and to those who gave their lives for our freedom. What does this have to do with comics, you might ask. Well, whether you know it or not, there were and are a lot of comics about those folks.
Today when people think of comic books, they think of brightly costumed superheroes flying around and hitting bad guys, but comics weren't always all about the superheroes. They covered a myriad of genres from crime fiction to romance to jungle adventures to horror to westerns to war stories. And that last category was a big seller even in the industry of the superhero.
With film, it has often been theorized that in wartime, fantasy is big because people want to escape, and in peacetime, war stories are big because people have forgotten the horror of war. This is not necessarily the case with comics. War comics have always thrived, until the past few decades at least. In some cases, like during the Vietnam War, they flourished.
At the dawn of comics, back in the Golden Age, one of the prototype heroes was the ace pilot. There was Hop Harrigan, and later semi-costumed pilots like Blackhawk, Airboy, the Phantom Eagle and Captain Midnight, and of course all of these were in the style of Tailspin Tommy. Aviators were hot when it came to war comics back in the day.
Even Steve Trevor, who was the first outsider to find Paradise Island and bring Wonder Woman to America during the Second World War, was a pilot. And Wonder Woman herself was one of the first of another kind of war hero – the patriotic superhero. Heroes who cloaked themselves in the colors of the American flag to fight not only crime, but also the enemies of America. The most famous of these would be upcoming movie star, Captain America. Others who followed in his footsteps included The Shield, Uncle Sam, Miss America (DC's and Marvel's), the Star-Spangled Kid and Stripesy, the Patriot, the Fighting Yank, Minute-Man and the Spirit of '76, among others, just to name a few.
These heroes and others of the era would join forces to fight the war as well, at the time, and in retcon. Tales of the All-Star Squadron, the Invaders, the Justice Society/Battalion, the All-Winners Squad, the Freedom Fighters, the Young All-Stars and The Twelve are still being told today, but that's not really the kind of hero I'm talking about.
The other type of war hero back in the day was closer to the real thing, just a regular joe, the fighting man, the soldier. In World War II, comics were sent overseas to our fighting forces, just as they have been in the decades since, and these pulp heroes were the ones that our heroes could identify with.
The more famous of these soldier heroes didn't appear ironically until after the Second World War and into the 1950s and 60s, but still, their names are with us today. Marvel Comics' most famous soldier was Sgt. Fury who led the Howling Commandos in the War. He has endured and Nick Fury is one of the major players in Marvel's movie universe, played by Samuel L. Jackson in Iron Man 2 (2010) and rumored for his own movie as well. Nick Fury, as well as many of his men, formed the basis for SHIELD in the Marvel Universe.
Over at DC Comics, Fury's counterpart would be Sgt. Rock and his Easy Company. Rock forms the foundation for DC's much larger universe of WWII heroes. While Rock remains an average soldier, although with great leadership and heroic qualities, he is joined in the fight by more interesting compatriots. Among them are the Haunted Tank, the Losers, the Unknown Soldier, Mademoiselle Marie, the original Suicide Squad and later G.I. Robot and the Creature Commandos.
Veering off-topic for a moment, DC also did some innovative comics featuring the opposing forces in war with Enemy Ace and Blitzkrieg. The later, however interesting, was short-lived. These characters still appear from time to time. Rumored to have died on the last day of World War II, someone claiming to be Frank Rock led a version of the Suicide Squad and worked in the Luthor Administration. Vertigo Comics presented a new version of the Losers that proved so successful it was made into a feature film.
Most of the war comics so popular for almost four decades died out in the 1980s. I guess political correctness had taken its toll, or perhaps the stories no longer had resonance for the current generation reading comics. There have been occasional forays into the genre. Marvel's The 'Nam stands out, as do the few one-shots of Sgt. Rock that DC has done lately.
Sgt. Rock, Sgt. Fury, Easy Company and the Howling Commandos – those are just a few of the heroes of our armed forces in the comics, most of whom were inspired by the real heroes of our world, specifically our nation, who we remember this and every Memorial Day.