By Glenn Walker
It is a good time to be a comic book archer. Green Arrow is coming back to the TV screen with a series called "Arrow" in the fall, and this summer Oscar winner Jeremy Renner blew us all away as Hawkeye in the big screen version of Marvel's The Avengers. They have both come a long way from being just Batman with a bow and the low man in Iron Man's rogues gallery.
The Archer, or the Bow and Arrow Guy, is one of the comic book hero templates. When the average comic book reader thinks 'archer' or 'bow and arrow guy,' they think Green Arrow or Hawkeye, depending on whether you're a DC or Marvel fanperson. The truth is that's only the tip of the arrow so to speak. Welcome to a handy tour of the bow and arrow folks of the comic book world, and trust me, there are a lot of them… but we'll start with the big guns, ahem, bows…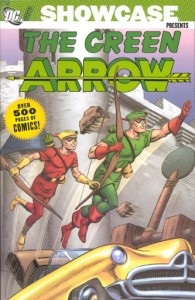 Green Arrow
Green Arrow has been rebooted, revamped, re-thought and (this one is for you, Allison) re-jiggered several times, but for the most part, his origins remain the same. Green Arrow was created by Mort Weisinger and George Papp, and first appeared in 1941's More Fun Comics #73, which coincidentally also featured the first appearance of Aquaman. Spoiled brat millionaire Oliver Queen was stranded on a deserted island (or another similar isolated nowheresville) and had to learn archery to survive. His rescue usually happens at the hands of criminals whom Queen takes down with his mad archery skillz, and is thus inspired to become a full-time crimefighter, the Green Arrow.
Along the way, Queen built an arsenal of trick arrows, a secret headquarters the Arrowcave, specialized vehicles like the Arrowcar, the Arrowplane, and even the Arrowboat, and his adopted ward, also trained in archery, became his sidekick, Speedy. Quickly Green Arrow was looked upon as nothing more than Batman with a bow, or worse yet, a knock-off Batman.
Denny O'Neil and Neal Adams changed all that with their late 1960s take on the character, giving him a new costume, facial hair unheard of for superheroes, and a liberal attitude in a time when comic book characters did not have social consciousnesses. The new Green Arrow became wildly popular, was eventually paired up with both Green Lantern and romantic interest Black Canary in the award-winning Green Lantern/Green Arrow series. In one story, he was conflicted by Speedy's heroin addiction, an event which would follow that character for the rest of his career.
The Justice League's resident archer and left wing voice of reason remains an iconic hero today, recently conquering live action prime time as supporting cast in "Smallville," and soon to return in a new vision in "Arrow." In the comics, he has his own title in DC Comics' New 52, albeit younger, slicker, and less liberal - more Tony Stark than Oliver Queen. Times change, I guess.
Hawkeye
I've talked about Hawkeye the Marksman here before briefly. Hawkeye AKA Clint Barton was introduced as a reluctant foe of Iron Man in 1964's Tales of Suspense #57, and created by Stan Lee and Don Heck. After a few more less villainous appearances, he became an Avenger in the first major membership shake-up of that team, becoming one of 'Cap's Kooky Quartet.' There, training by Captain America was joined by his weapons mastery taught him by the villain Trick Shot (another archer) and future Avenger the Swordsman.
While like Green Arrow, Hawkeye made use of gimmicked arrows, his character was more fleshed out by his abrasive personality. He was always the stirrer, the smart aleck, and always bucking to lead the Avengers over Captain America. Ironically, years later, Hawkeye would become the leader of the West Coast Avengers, a product of having Cap as a role model. While Green Arrow may have preceded Hawkeye by decades, the latter's emergence as a fully formed character preceded that of the former. Also on the copycat scale, Hawkeye's romantic interest for some time was the Black Widow, and later he married Mockingbird, both characters having more than a passing similarity to Green Arrow's Black Canary.
The Avengers resident archer has become one of the most reliable and stalwart members of the team. Whether he goes by the name Hawkeye, Goliath, or Ronin, he can usually be found at the front of the fight, charging headlong into battle, no matter if Ultron or Kang will just laugh off a trick arrow or not. That's just our Hawkeye, brave beyond reason.
Archers of the Golden Age
Back over at DC, that company published adventures of the original heroic archer, Robin Hood, as early as 1938. Robin Hood Tales was originally published by Quality Comics but eventually by DC after they acquired several of their characters and magazines. Of course, Robin Hood being a public legend, copyright is kinda off the table, but there you go.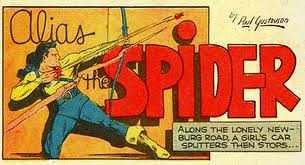 Quality also had a feature called "Alias the Spider" in Crack Comics. Created by Paul Gustavson, Tom Halloway fought crime with his bow and arrows, his valet Chuck, and a cool car called the Black Widow. In modern times writer James Robinson retconned the Spider into a foe of The Shade, and not necessarily a hero or even a nice guy at all, in his amazing Starman series. Grant Morrison also created a legacy of the character with I, Spyder, however briefly, in his Seven Soldiers.
Quality also had The Marksman. Fawcett Comics featured Golden Arrow. Centaur Publications had The Arrow, also created by Paul Gustavson, who was briefly revived in the 1990s by Malibu Comics. He can also be seen in Dynamite's comic featuring public domain heroes, Project Superpowers. There was also the Huntress in Yellowjacket Comics from Charlton, not to mention Young Robin Hood, and the Green Knight, all costumed crimefighters of the Golden Age who used the bow and arrows.
Sidekicks and Legacies
The aforementioned Speedy was Roy Harper, Oliver Queen's ward. He had two different origins, both similar, much like his mentor's various beginnings. Eventually he grew up to become Arsenal, and then Red Arrow, a full-fledged member of the Justice League. Later GA took on another sidekick named Speedy, this time the teenaged runaway, Mia Dearden. The second Speedy was notable for being both a child prostitute and one of the few HIV positive characters in comics.
Much like Batman in this regard, Green Arrow has not only been sidekicked by three kids, but one of them is also his son. While GA was dead (don't ask, you know how death works in comic books, it's temporary at best) his son Connor Hawke took up the bow and mantle of Green Arrow, and like Roy Harper years later, Connor also took Ollie's place in the Justice League for a while.
Not to be outdone, while Marvel's Hawkeye was dead (I did tell you not to ask, didn't I?), Kate Bishop in the Young Avengers took up the bow, as well as several other weapons, and began calling herself Hawkeye. It should be noted at this point, that Hawkeye, like Roy Harper, is an expert of all projectile weapons, not just arrows. Daredevil's arch-foe Bullseye's whole schtick revolves around this particular skill.
One more legacy, and it's another embarrassing reminder of the days when Green Arrow was just Batman with a bow. He too had international counterparts who were inspired by him. Where Batman has the Batmen of All Nations, which eventually evolved into Batman Inc., Green Arrow had the Green Arrows of the World. Their membership included the Ace Archer of Japan, the Phantom of France, the Bowman of the Bush, Verde Flecha, the Bowman of Britain, and the Polynesian Archer. Hey, Grant Morrison, wanna write Green Arrow next?
There have been a fair amount of baddies who have used the bow and arrow motif for evil as well. The Golden Age Superman and the 1966 television Batman were plagued by the villainous Archer. Also in the Golden Age, Wildcat's foe, the Huntress (also known as Tigress) used a crossbow. This choice of weapon was passed down to both her daughter, Artemis, as well as her heroic namesake, the Huntress.
Many of the villains with bows however were members of Green Arrow's mostly forgotten rogues gallery. Among them were Black Arrow, the Crimson Archer, Cupid, Ape Archer, Funny Arrow, the Iron Archer, John Centaur, most lost to the sands of time. The most known of these would probably be the Rainbow Archer and Red Dart (who our buddy Grant Morrison actually did dig up for his JLA run). Later on there was also Shado, GA's on again/off again lover; Natas, who trained Green Arrow and Deathstroke among others; and Merlyn the Magician of the League of Assassins, one of the hero's most dangerous foes.
In the old days Green Arrow frequently faced a female rival named Miss Arrowette, whose daughter Arrowette with a bit of retconning became a major player in Young Justice. Combined with the aforementioned Huntress' daughter, she is the inspiration for the double agent character of Artemis in Cartoon Network's "Young Justice" cartoon. There was also the Blue Bowman, in reality Batman foe the Signalman, who got the idea of being a bow and arrow villain by being cellmates with Green Arrow enemy Bull's Eye.
There are many other archers, on both sides of the law. I've haven't covered Artemis who was once Wonder Woman, Yondu the Alpha Centaurian archer from the 31st century's Guardians of the Galaxy, Firestorm foe Moonbow, White Feather of the Inferior 5, brief Justice Leaguer Maya, any of the Old West archers, Shaft, Archer (sans Armstrong), Legolas, or even Xeen Arrow, the Green Arrow of Dimension Zero yet. But there's only so much space. Be assured there have been many behind the bow in the comics, and there will be more.
I'll see y'all next time. I'm off to the movie theater to see Brave. I hear that Princess Merida is a heck of a shot too…
By Allison Eckel
The current story arc of Green Arrow has not appealed to my colleague Glenn Walker, who has dubbed it, "the magic, happy forest story" – and not with a kind expression. The events of Brightest Day brought tragedy and devastation to G.A.'s home of Star City, and the mysterious White Lantern entity filled the rubble with a vast forest. Oliver Queen has taken up residence in this forest, which has turned into something of a multi-issue spirit quest. So that Ollie does not spend entire issues monologuing, writer J.T. Krul sent Galahad into the forest to keep Ollie company. Galahad is another mystery: is he a forest figment or an escaped mental patient -- or something else entirely? The latest issue, Green Arrow #10, arrived this week. In our New Comics Wednesday Vidcast on March 30, we passed by this issue quickly, thinking it was yet another story of Ollie soul-searching in the woods.
It is not. This issue is Krul let off the leash to run wild through the neighborhood.
Yes, the issue is about Facing One's Demons, which this whole arc has been about, but since Brightest Day is wrapping up, Krul can finally put the discussion into action.
Ollie is locked in battle with the forest as well as Everyone's Favorite Rhyming Demon Etrigan, who is not so cute separated from host Jason Blood. The story leaves the battle to follow Galahad, who awakes alone in the forest and wanders toward a church, candles lit and body laid out near the altar. [Literature alert!] The narration is an excerpt from the epic poem "Sir Galahad," by Lord Alfred Tennyson, written in the late 1800s! I was so thankful for the explanatory editor's note – at first, I thought I was reading lyrics from a 70s ballad rock band.
Krul's bold use of literature heightens the emotional impact of Galahad's realization of his own true identity. The two storylines are woven together to deliver a quickening pace toward the climax, when the Forest reveals its own true nature and Ollie accepts that next month, it's a final showdown between It and Him.
Glenn can "poo-poo" the happy, magic forest all he wants. Green Arrow #10 proves it isn't all that happy, and that Krul is a really great storyteller.
By Allison Eckel
I am going to assume that all of you have seen Marvel Studios' first release, Iron Man. It has been well-reviewed, even by usually high-brow sites like Salon.com. Plus, we can usually count on director Jon Favreau (Made, Zathura), who wrote Swingers, to bring real humor and poignancy to even the dorkiest script (witness Elf).
But then again, Iron Man is a live action super-hero movie. Many have tried to tame this beast, and few have done it remotely well. Although there are many I enjoy, I am hard pressed to find any I would consider "good movies." Daredevil? Nope. Blade? Nope. Superman Returns? Not even close.
My husband and I just re-watched Batman Begins, which has garnered praise as a successful Batman movie. Roger Ebert wrote: "The movie works dramatically in addition to being an entertainment." But I still winced with embarrassment at more than one lame line (most of which regarded the car).
And we all remember the first Sam Raimi Spider-Man movie, when the Green Goblin confronts Spidey during a parade on a crowded Manhattan street. Instead of being a dramatic confrontation with innocent lives in the balance, it became a pricey Power Rangers episode.
The live-action super-hero movie is an unattainable dream. We want to see buff, suave leading men playing out the characters we have read for decades, but actors have difficulty remaining suave when wearing spandex, rubber, masks, and capes.
Then along came Iron Man. This character wears a metal exosuit, not spandex and a rubber cowl, automatically making this movie easier for the filmmakers in the believability category. The styling of the suit is actually, dare I say, elegant. And on my first viewing, the effects blended seamlessly. I'm sure I will begin to see the flaws on repeated viewings in the comfort of my own living room, with the power of pause and rewind in my hand. You know, I don't think I winced at all during Iron Man. Oh, no, wait. There was one moment. The Burger King product placement was shameful, though it was one of the best-handled of its kind, so that I almost didn't see the commercial until it was too late.
I will admit that I am not familiar with the Iron Man comics; I grew up a DC girl. But as a comics reader, I know about hero origin stories, the gray areas of morality, the epiphanies that can send a billionaire playboy down a righteous path, etc. Actually, I found many parallels between Tony Stark's story in the movie and the circumstances that send Oliver Queen (Green Arrow), another heir to a munitions powerhouse, to don a mask and fight injustice. Both are injured, separated from society, and learn that the munitions bearing their names are in the hands of "the bad guys." That realization sends them both to renounce their playboy ways, step outside the bounds of society and the law, and pursue vigilante justice. That's pretty much where the similarities end, though. Ollie becomes fixated on Robin Hood and takes from the power mongers to help the little guy, usually on city streets. Stark builds a bad-ass power suit and goes after the same bad guys who captured him, and then the guys who hired them. Stark's story on the big screen is tight. He's captured, he invents a suit to free himself from rebels that use his company's munitions, he redesigns the suit to defeat the rebels, he discovers corporate corruption, and continues his new mission. We don't get the sound-bite-sized moral lesson rammed down our throats as with Spider-Man ("With great power comes great responsibility") or a theme pervading every aspect of the universe as with the notion of fear in Batman Begins.
Robert Downey Jr.'s performance as Stark succeeds in sealing the deal. He is simply awesome. He plays a brilliant techno-geek ("at age six he built his first engine") who looks amazing in a designer suit; equally at home in a ratty T-shirt, gold-titanium exosuit, or Armani. Those are not easy balls to balance. I thought his transformation from slick and bored to earnest and driven was convincing yet did not require long brooding moments to achieve. He emerged from each circumstance with a new plan, a new direction, and got it done. Boom. I am so enamored of him as Stark that it may cause me to see The Incredible Hulk (June 13) just to see his cameo. For certain, I will be seeing the Iron Man sequel in 2010.
My viewing partner for Iron Man was my six-year-old son. Iron Man is rated PG-13, and I am usually a staunch gate-keeper for the entertainment that reaches my kids. But I decided to take a chance, and he and I set out for adventure. We picked a Monday evening, so the few people there with us would not mind if I needed to explain plot details or "bad words" to my boy. The more mature material in the movie happens early in the film. Stark is kidnapped by Afghani rebels and tortured (briefly). My son is not used to seeing that much personal firepower on the screen at one time, nor that level of personal violence, but he weathered it okay. Oh, and there was one scene back in the U.S. between Stark and certain young lady through which I covered by boy's eyes.
Once in the red and gold suit, the violence is mostly "fantasy violence" – a guy in a metal suit blowing stuff up, or two guys in metal suits fighting in the street. My son is more adjusted to this sort of spectacle from cartoons such as Ben 10 (Cartoon Network), the new Spectacular Spider-Man on CW, and anything rated Y-7. Actually, the filmmakers showed remarkable restraint with the blood-and-guts factor: it is almost non-existent, except for the wounds suffered by Stark himself.
My son is now all about Iron Man. He is convinced that he will be able to invent the crazy fuel cell that powers the exosuit. He wants to know where he can buy gold and titanium to put together the armor. For now, I hope he will be happy with books, comics, PJs, and action figures for inspiration. We will be popping into All Things Fun soon to see what we can find to keep the fandom going until April 2010.