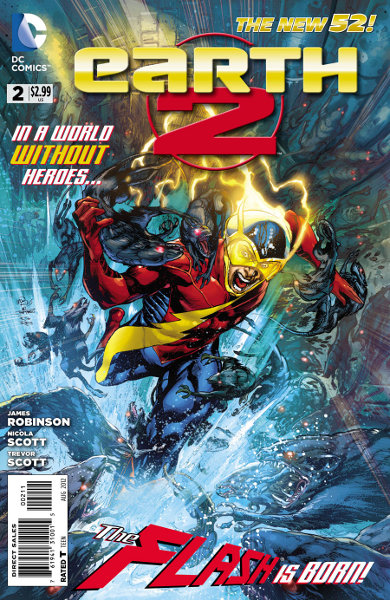 By Glenn Walker
Now most of you are aware of Earth 2 #2 because it features the big reveal of the Alan Scott of Earth 2, soon to be that alternate world's Green Lantern, as a gay and out character. But there are many other reasons you should be picking up this particular comic book.
See the arrival of Michael Holt, Mister Terrific, on Earth 2, as well as cameo appearances by a few surprise guests that will whet your appetites for future issues of this series. But the big draw in this issue by writer James Robinson and artist Nicola Scott is the new origin of young Jay Garrick as the Flash of Earth 2!
If you're not already reading the hottest comic of the week, you need to pick up Earth 2 #2 for new adventures of new takes on the beloved Golden Age superheroes of the Justice Society - Enter the New 52 era!
By Glenn Walker
The mantra used to be Comics aren't just for kids anymore, but these days things have changed. A thought occurred to me several weeks back while watching the Super Bowl. We have gone mainstream. The nerds have inherited the earth.
I had friends and family call me during the game, not about the game, mind you but about the commercials, pushed to call by seeing trailers for the new Ghost Rider flick, and The Avengers of course. They didn't call me to find out what these movies are because they already knew – they wanted to know what I thought of them. They also wanted to know if there would be previews for The Amazing Spider-Man, The Dark Knight Rises, or even The Man of Steel during the game as well.
None of these things were unknown entities. They were all known quantities to folks who know nothing about comic books. This was not a game of ask-the-geek because he'll know what the hell it is, it was ask-the-geek because he'll know if we should see it. Gone are the days of only nerds knowing how many days until the next comic book movie comes out, now everyone is on that clock.
And for clarification, when I say things like nerd, geek, fanboy, etc., it's a term of endearment, and to differentiate ourselves from this new type of fan, the mainstream fan. Remember the days when nobody knew who Green Lantern was outside of your comic shop? Well, game over, your mom knows Green Lantern now. He's Ryan Reynolds in that flick that bombed last year. But still, there is awareness.
Almost all of our Hollywood blockbusters these days, whether they succeed or not, are based on comic books. Audiences around the world get indoctrinated to geek culture on a weekly basis watching "Big Bang Theory." Kevin Smith just started a nerd version of "Hardcore Pawn" set in his own comic book shop. Comics-based "The Walking Dead" gets better ratings on AMC than "Mad Men."
Comic book culture has gone mainstream. It has already happened. Nerds rule. The bad news is we're no longer special. Just sayin'.
By Allison Eckel
Editor's Note: Contains spoilers. Be sure to read Justice League #5 before continuing!
Five months into Geoff John's reboot of the Justice League, I am still enjoying the ride. The characterization tweaks of these icons are fun to discover. But there's a moment in Justice League #5 (on shelves now) that actually turned my stomach and left me feeling icky.
It wasn't gore such as can be found in Animal Man. It was a character moment so incongruous with my expectation that I almost put down the book.
As the heroes rush off to face Darkseid, Batman pulls Green Lantern aside for a quiet talk. GL has been rushing at Darkseid full force, and each time has been beaten senseless. So, Batman tries to talk GL into a different tactic. Ok, that makes sense. But then, he pulls off his cowl, introduces himself as Bruce Wayne, and gives a quick synopsis of the parental tragedy that drove him to vigilantism. He ends with a gentle, well-crafted moral: "This is bigger...than you are. Get out of your own way. Focus on what's important here".
WHAT?!? The most closely guarded secret in all of the DCU is Batman's true identity. The Bat family would sooner die than expose their own identities simply because they could then be traced to Bruce. That must still be true in the New 52. Nightwing mentions this in last week's new issue #6, when he worries that his clandestine activities may be realized by his circus folk, and Nightwing's connection to Bruce Wayne will be revealed.
But, here's Bruce, taking off his cowl in the middle of the street and easily revealing himself to Green Lantern. No, it's wrong. I don't like it.
Plus, Bruce summarizes his origin story in such a well-adjusted way I have to wonder why he still feels the need to wear tights at all. Part of Batman's milieu is that he's driven to a vigilante life by this childhood tragedy that he does not discuss. His Bat family all know it, they know why Bruce secretly guards the dilapidated alley and theater location of the end of his childhood, but no one lets on – it is topic non grata. Batman is left alone to be angry, driven, secretive – and deserving to stand as an equal to Superman and Green Lantern.
Yet, here's Bruce succinctly rattling off this story as if it's a tale of a childhood week at camp that taught him a valuable lesson in leadership.
I understand that this scene is meant to show Batman's ability to strategize and manipulate his teammates – in a good way  – while working in his origin story for all the new readers. Plus, for some reason yet unveiled, he wanted to remove the cape for transport through the boom tube. But, through the past 60-plus years, he has found other ways to be a field commander. Some New 52 changes I can live with (no Nightwing finger stripes, more than one Firestorm, etc.), but this touchy feely sensitive Batman is a step too far.
By Allison Eckel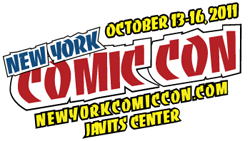 Experiences at New York Comic Con are as diverse as the cosplayers in line for Speed Dating. Some go for the panels of industry movers and shakers, hoping to hear exclusive details on upcoming projects. Some go for Artists Alley, hoping to score an exclusive sketch of a fave character by a fave creative. Many go in costume, hoping to connect with other aficionados of the "cosplay" universe. And then of course, we all go for the convention hall, that endless labyrinth of geek-fueled consumerism (and I mean that in a good way).
I go for Kids Day because I love to share my fandom with my son, now a fourth-grader (he was the special kids' comics reviewer for the All Things Fun new comics vidcast this summer. In this one he shares his thoughts on Justice League #1). With him in tow, I stop worrying about panels (the lines are too long and the best points will appear online by day's end anyway) and focus instead on the special programming slate reserved for Sunday. This is a difficult program to get right, and NYCC organizers try something new every year. The offerings run the gamut from quiet and focused to massive chaos: drawing workshops, group light saber battles, celebrity appearances, gaming demonstrations, and more. This year, they put the Kids Day program in its own location, separated from the not-always-all-ages convention hall. This was good and bad. Located in the remote North Pavilion of Javits, Kids Day was very far removed from everything else. Once we got there, we couldn't just flit in and out; we had to commit to staying long-term. Luckily, the North Pavilion had its own restroom and food cart.
At the 2011 Kids Day, we were joined by another family who is hip to geek culture, but not exactly comics. NYCC newbies, you could say. I was eager to see NYCC through the eyes of not only my nine-yr-old comic fan, but his newbie buddy and sci-fi geeky parent. We started the day by learning the motions for several spells from Bellatrix Lastrange and Narcissa Malfoy cosplayers; checked out a Beyblade Tournament; tossed the quaffle in a pick-up game of Quidditch; embarked on a mini-Dungeons & Dragons adventure; and spotted a few celebrities. Oh, yeah: The celebrities who appear for autographs were shoved in the back corner as though the organizers didn't quite know what to do with them. Overall, the boys had fun, but not for long. By lunchtime, we were ready to head back into the fray of the main convention.
One of our favorite choices in the Kids Day program is the drawing workshop. My son's first NYCC was 2008, when most of the Kids Day schedule was workshops, held classroom-style, taught by working comics artists. He had a blast and soaked up every trick and tip the artists would teach him. But, overall, those workshops were poorly attended. In subsequent years, fewer workshops appeared in the program. This year, we found only one. But this one was fantastic.
Titled "Nursery Rhyme Comics," and listed as appropriate for kids aged four and older, we feared it would skew too young for the two fourth graders in our group. We learned that Nursery Rhyme Comics is the title of an awesome new book published by First Second that showcases 50 nursery rhymes as interpreted by 50 different artists. The workshop brought a few of those artists and their editor together to talk to kids about ways to take existing text and interpret the visuals to tell the story.
Then the kids had a chance to try it out. My son took "Star Light, Star Bright" and turned it into a dramatic, romantic encounter between Hal Jordan as Green Lantern and Carol Ferris as Star Sapphire (when she was evil). I am completely proud.
Of course, we did brave the convention hall. And brave one had to be, for the teeming masses were grumpy by the afternoon. The cool booth attraction this year was digital green screen photos. DC Comics put you into the new Justice League line up, Dell Ray audio books put you into a battle with a dragon, and more. Hasbro toys gave out mini Optimus Prime figures to promote their new Kre-O building blocks (Lego competitors) licensed with Transformers. DC Comics gave out plastic blocks of ice that glow green to promote the Nov. 29th release of Smallville's entire 10-year-run on DVD (and more of those super-hero logo pins). But most booths gave out marketing fliers only, if anything. Freebies were rare, but demos were not. Many booths offered video game demonstrations, prompting more than one disgruntled fanboy to complain that this was no longer a "comic" con. All I know is that the gaming booths were so crowded we didn't even try to see what they offered.
We slowly slogged through the crowd to Artists Alley in hopes of doing a few video interviews for the AllThingsFun You Tube channel. Alas, the Alley hosted way too many fans. Which is a good thing. Keeping my video camera secure in my pocket, I did manage to meet a few artists, including Amy Mebberson and Katie Cook. I wanted to meet Todd Nauck, but the boys were tiring fast and his line was too long. Our final stop was the great pair behind Tiny Titans, Art Balthazar and Franco (Aureliani), but they had stepped away from their table.
There is a moment when a boy's brain becomes exhausted, but he doesn't believe it. We reached that moment at 3:00. So we headed to the aisles of book publishers, where I craftily parked them at DK, where the boys sat on the floor, leafing through visual dictionaries of Star Wars ships and Lego figures while I darted in and out of the booths surrounding them. Most book publishers at NYCC have "special prices" that are not that great. I can see a book at the Con, buy it from Amazon with my home, and read it the next day – or better yet, download the digital copy and read it on the train home.
Except for Graphic Universe. This all-ages graphic novel imprint of Lerner Publishing offers a wide catalog of titles, including Sherlock Holmes adaptations, a line of myths from various cultures, tween fiction, and more. Their show special, at least by Sunday, was three paperbacks for $10. Since the first book I picked up was $9.95, I call that a good deal.
By 4p.m., we left the Javits convention center. The boys protested, asking to see "just one more booth," but we were all tired, hungry, and getting short tempered. This year's NYCC Kids Day was a blast. We did not fulfill our wish list, but we had a lot fun together. Which, I suppose, is what comics fandom is really all about.
By Allison Eckel
Three weeks of new DC Comics titles, and Batwoman appears in the top five of nearly all reviewer lists as the best of the crop. Keeping her company are Animal Man, Swamp Thing, and Batman. The fifth spot on the leader board seems to be the wild card slot, chosen depending on the reviewer's particular tastes. I have to agree that those four titles are compellingly written with art that takes typical comics storytelling to new levels. However, I don't really like them.
I set out to say that I don't really like Batwoman specifically, but realized that the others didn't really excite me either. I have been dragging my feet trying to complete this article because I can't quite explain my statement – like that "Ollie-ness" so missing from J.T. Krul's new version of Green Arrow. Elusive, undefinable, and really kind of important.
But, I don't really have to like these particular books because the 48 other choices are designed to offer something compelling for almost every type of reader. While they don't quite go that far, they come close. Pre-DCnU, readers had simple choices. You want a strong hero-led book? Batman, Superman, or Wonder Woman. You want an ensemble cast? Justice League, Justice Society, or Legion. There were a few others on the fringes, but they were not the central tent pole titles.
We are still in early days, but in the DCnU, I don't see a clear core of books that all must read. Perhaps because in rolling out the new universe, the company is giving almost equal weight to every title. Frankenstein: Agent of S.H.A.D.E. seems almost as important in the grand scheme as Wonder Woman. Could this be due to the dual layer of storytelling presented in each book? We have the creative team's story and then we have the way it all fits in with the bigger picture of post-Flashpoint and that glowing Mystery Lady that only Superboy seems to sense. By inserting her into every #1, DC is telling readers that even I, Vampire will somehow be important.
That should free readers to sample all of the books and commit to the ones they truly like. We all like different things for different reasons, so I am a little surprised that the group of Batwoman, Animal Man, Swamp Thing, and Batman so consistently land at the top of every list. I suspect mob mentality or a feeling of, "Well, So-and-so said it's really great so it must be." And as I said, they are all well-done. But so are a lot of other books. So, I am breaking from my pundit colleagues, going out on a limb, and saying that I really didn't enjoy Batwoman.
Now, because I am a comics reviewer who focuses on DC Comics, it is in my (non-existent) contract to compile my own list of top DCnU books so far. In case you have the patience to read yet another list, mine is below. These are the books I am really excited to read regularly. I would like to read your list, but only if you choose the books you sincerely enjoyed, not just the ones everyone is lauding.
Allison's Favorite DCnU Titles (So Far):
#1: Justice League
#2: Demon Knights
#3: Wonder Woman
#4: Green Lantern
#5: Batgirl
Now, I have yet to read quite a few books. I am most excited to read: Flash, Firestorm, Aquaman, Superman, and all the books released while I was trying to write this, including Supergirl, Captain Atom, Birds of Prey, and the very sexy Catwoman. My leader board is likely to change.
For now, the comments section is open (here and on our Facebook page: All Things Fun! Comics). Share your pics for the DCnU titles that excite you so far. And if it's Batwoman, tell me why.
By Allison Eckel
Writer Tony Bedard sums up my feelings as a reader heading into Part 5 of War of the Green Lanterns: "Good guys. Bad guys. Patriots. Turncoats. It's gotten so you can't tell them apart anymore." The central characters of the Green Lantern family of titles (pretty much the human ring slingers) have been on the good, bad, and ugly sides of their Guardian employers so often I can't keep up. So, when their latest cross-over event War of the Green Lanterns began, I was apathetic. Since Brightest Day is wrapping up in other titles, and we are launching into a Flash event, did we really need a GL cross-over?
Well, I have read the first five issues of War of the Green Lanterns, and I can answer my own question. Yes, we did need this cross-over; and yes, it is awesome. So far, this story is doing two things. First, it gives us an epic, boss-level battle to wrap up the stories of the spectrum lanterns, Scar and her oozy black book, Ganthet's secret mission for Guy, and Atrocitus' lost and "forbidden" sector 666. Expect many text references to many events from many cross-overs past.
Second, War of the Green Lanterns is dealing with the plurality of so many green ring bearers from one planet in sector 2814. The Guardians and their Corps were scandalized when a human from Earth was given the ring. Now, so many universe re-starts later, four humans wield rings simultaneously. The fate of the Corps and Oa (and probably the universe, again) is in their hands. So, not only do they need to work together, but they will need to do it without their beloved rings. This set-up allows the three writers (Bedard, Geoff Johns, and Peter J. Tomasi) to explore their characters and let them breathe a little. In Part 4, they get the added characterization vehicle of spectrum rings: Which color should each man choose?
My hope for this dense tapestry of action, GL mythos, and character-defining moments is that everything we have lived from Sinestro Corps Wars (2007-2008) to now will coalesce and simplify. That said, I'm not sure I am ready to give up any of the four human ring bearers. I have my fave, of course, but the others are useful for different stories. I do hope the pace of cross-over onslaught can slow and we can coast through the GL movie release (June 17) with a few basic stories in the comics.
War of the Green Lanterns is fun – note Tomasi's dialog during the Gardner/Jordan smackdown in Emerald Warriors #8 – action-packed, and if we're lucky, conclusive.
Click here to download a checklist for all of the titles in the War of the Green Lanterns crossover.
By Glenn Walker
More and more, Hollywood in recent years has been leaning on the comics industry for ideas. Superheroes and comic books are huge on the big screen, and the year 2011 is no exception. We started the year with Seth Rogan's The Green Hornet, which, while not lasting too long in theaters, was much better than this Hornet fan could have ever anticipated.
Here's a date-by-date reference of what's coming up for superheroes and comics on the big screen. I have also included some of the major players in these movies. As you'll notice, the Six Degrees of Kevin Bacon game now extends easily into superhero genre flicks.
April 1: Super
This one isn't actually based on a comic book property, but many folks will probably scream at the similarities with last year's Kick-Ass, and unfortunately, it's not an April Fools joke. Regular guy Rainn Wilson ("The Office) takes on the superhero identity of the Crimson Bolt to rescue his wife from a drug dealer. The flick promises a cast with Nathan Fillion ("Firefly," "Castle"), Kevin Bacon (Hollow Man), Liv Tyler (Lord of the Rings), and Linda Cardellini (All-Star Superman, "Freaks and Geeks"), among others.
May 6: Thor
Marvel Comics' first hammer strike of the summer hits with their resident thunder god's first appearance on the screen, with the next step building to the Avengers movie. Hinted at the end of Iron Man 2, this is the tale of Thor, exiled by his father to Earth from the high-tech magical world of Asgard. It seems everything we thought was just Norse mythology is real, and now the worlds are merging, as evil from that realm threaten ours. Only Thor can save us. Stan Lee and Jack Kirby magic brought to life on the screen in 3D, starring Chris Hemsworth (Star Trek), Anthony Hopkins (Beowulf), Natalie Portman (Black Swan, Star Wars prequels), and directed by Kenneth Branagh (Henry V, star, director, screenplay) -- I can't wait for this one.
June 3: X-Men: First Class
More Marvel Comics goodness in this 1960s period piece prequel to the X-Men franchise. This is the story of Charles Xavier and Magneto's friendship and falling out, and the formation of the first X-Men team. It's very loosely based on the comics, more tied to the movies. Look for James McAvoy (Wanted), Kevin Bacon (busy summer, Kev?) and the near-perfect casting of January Jones from "Mad Men" as Emma Frost.
June 17: Green Lantern
In a summer dominated by Marvel at the movies, this is the one DC Comics fans have been waiting for. Test pilot Hal Jordan is given a magical Power Ring by a dying alien and becomes the Green Lantern, just one of thousands of space police officers commanded by the Guardians of the Universe. He undergoes training by a cadre of other alien cops and then tries to save the Earth from threats within and beyond. Ryan Reynolds, who has previous played Marvel heroes Hannibal King (Blade: Trinity) and Deadpool (X-Men Origins: Wolverine), is in the title role. Peter Sarsgaard (Jarhead) is Hector Hammond, Tim Robbins (Shawshank Redemption) is Senator Hammond, Blake Lively (The Town) is Carol Ferris, Mark Strong (Kick-Ass) is Sinestro, Angela Bassett (Contact) is Amanda Waller, Dennis Heyspert (Jarhead, "24") voices Kilowog, and John Larroquette ("Chuck," "Night Court") reprises his voice role as Tomar-Re (from the animated Green Lantern: First Flight).
This will be a geekfest and serious eye candy -- this is the summer's must-see flick, and the first in what Warner Bros. hopes will be a new franchise.
July 22: Captain America: The First Avenger
The set-up to The Avengers film takes a step back into the past to spotlight Marvel's World War II superhero Captain America. Scrawny Steve Rogers, played by Chris Evans (Fantastic Four's Human Torch, The Losers, Scott Pilgrim), can't serve in the military so volunteers as a guinea pig in the Super Soldier program. He emerges as a fighting machine of physical perfection. He defends the U.S. against the forces of the Red Skull (played by former Matrix Agent and LOTR elf Hugo Weaving) and the Nazis, before ending up stranded in the 21st century. The rest of the supporting cast boasts fanboy cred as well. Included is Tommy Lee Jones (Men in Black), Stanley Tucci (Burlesque), Neal McDonough (DC Showcase: Green Arrow, Tin Man), and Dominic Cooper (the upcoming Abraham Lincoln: Vampire Hunter). This one looks great.
July 29: Cowboys & Aliens
This one is based on a little-known 1990s graphic novel where cowboys and Indians in the Old West repel an alien invasion. Iron Man's Jon Faveau directs Harrison Ford (Indiana Jones) and Daniel Craig (James Bond) in this Steven Spielberg/Ron Howard production. Other noteworthy players include Olivia Wilde (Tron: Legacy), Sam Rockwell (Iron Man 2, Galaxy Quest), Noah Ringer (The Last Airbender), and Clancy Brown (Highlander, voice of Odin in "The Avengers: Earth's Mightiest Heroes," and Mr. Krabs in "Spongebob Squarepants").
No Date Yet: Luke Cage
Another Marvel Studios production, Tyrese Gibson (Transformers) plays wrongly convicted man who escapes from prison after gaining superpowers. This movie does not yet have a release date or a full cast and crew listing, but is currently slated for 2011.
The summer ends the superhero movies list for 2011, but 2012 has a full slate as well. Highlights include Hugh Jackman returning to his best-known character in The Wolverine, Ryan Reynolds reprising his role as Deadpool, and Nicholas Cage returns in Ghost Rider: Spirit of Vengeance. Next summer finally brings The Avengers, what Marvel movies have been building to for the past few years, as well as Men in Black III, the reboot with Andrew Garfield as The Amazing Spider-Man, Chris Nolan's The Dark Knight Rises and the year 2012 ends with something called Superman: The Man of Steel. These are good times to be a comics reader, and a film fan.