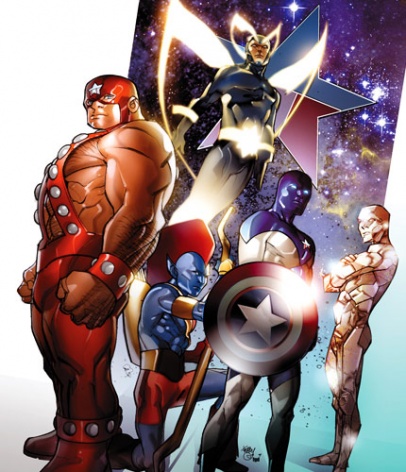 By Glenn Walker
Over at the All Things Fun! New Comics Vidcast, we try to do the best we can, but sometimes we make some mistakes. One such mistake came in our last regular show - we forgot all about the trades of the week, and one of them was a biggie, or at least to me it was a biggie - Guardians of the Galaxy: Tomorrow's Avengers. This trade comes in two volumes, and they are both on sale at, where else, All Things Fun!.
Now, for most of you out there, when I say 'Guardians of the Galaxy,' you're thinking, oh cool, Star-Lord, Rocket Racoon, Groot, the new Brian Michael Bendis comic, and big budget Marvel movie next summer, right? Well, this ain't them. Those are the characters who took the name and ran with it. I'm talking about the originals.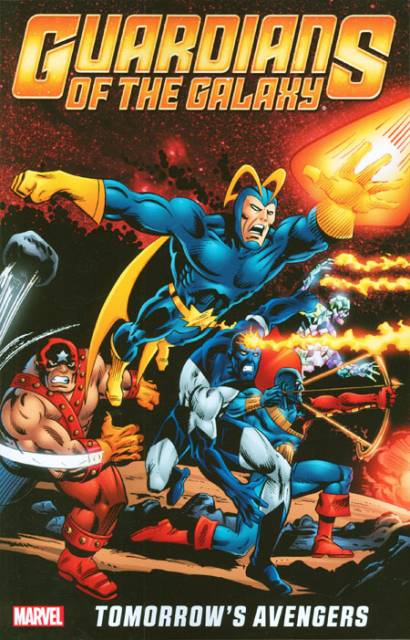 In 1969 Doom Patrol and Deadman creator Arnold Drake, along with noted Silver Age artist Gene Colon, himself famous for his Daredevil, Iron Man, and Tomb of Dracula work, took a look at the Marvel Comics Universe in the 30th century. If that time sounds familiar, yeah, it was a direct shot to counter DC Comics' success with the Legion of Super-Heroes, also set one thousand years in the future.
Introduced in Marvel Super Heroes #18, we were introduced to a new superhero team, one composed of humans who had evolved for survival on different planets that Earth had colonized in the last hundred years. Led by thousand year old astronaut Vance Astro, who along with telekinetic powers and the inspiration of the heroes of today's world, leads this team against the alien Badoon, who have conquered the Earth.
The original members included Charlie-27 of Jupiter, made bigger and stronger by that planet's oppressive size and gravity. There was also Martinex, a crystalline being from Pluto, and Yondu, and weapons master from Alpha Centauri. They were quickly joined by flame-haired Nikki from Mercury, and the mysterious cosmic being Starhawk.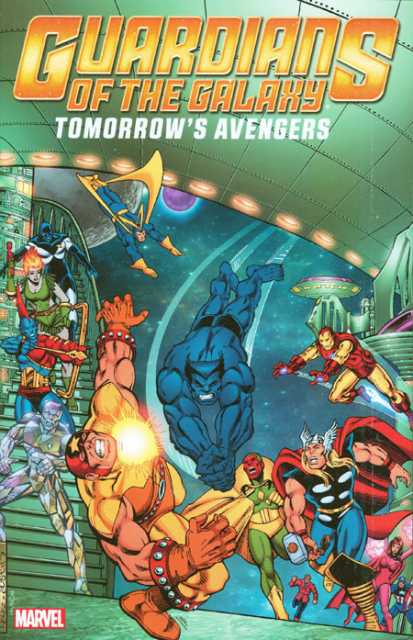 The team fought the Badoon across the backdrop of more than a few Marvel titles before defeating them and freeing the Earth with the help of the time-tossed Defenders. Saving the Earth was easy however, compared to what came next…
A new foe rose from the ashes to take over the 31st century Earth after that. He was part-man and part-machine, named Michael Korvac, a collaborator in the Badoon invasion. Korvac was really nobody until he fled to the twentieth century. There, he tried to download some of Galactus' technology, a stunt that embued him with the Power Cosmic. Now he was somebody. Korvac became one of the most powerful beings in the universe, calling himself alternately Korvac, Michael, and The Enemy.
His master plan originally was to erase the Guardians of the Galaxy from the timeline by killing Vance Astro as a child. The Guardians followed him back in time, and enlisted the Avengers to protect the young boy. Long story short, he decided that universal conquest was a better goal, and when the Avengers and Guardians tried to stop him, he killed them. Yeah, he was that powerful. You can read that story in The Korvac Saga, also available from All Things Fun!.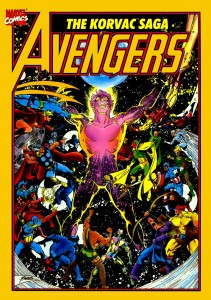 These are some of the tales that are included in volumes one and two of Guardians of the Galaxy: Tomorrow's Avengers. It is a whole new world of Marvel Comics action and adventure, and one that eventually inspired the latest incarnation of the team, the one that will be featured in next summer's sure-to-be-hit movie.
That movie, it should be noted, might have more to do with the original Guardians of the Galaxy than we thought. Michael Rooker, of "The Walking Dead" fame, just got cast …as Yondu. I guess we'll just have to wait and see!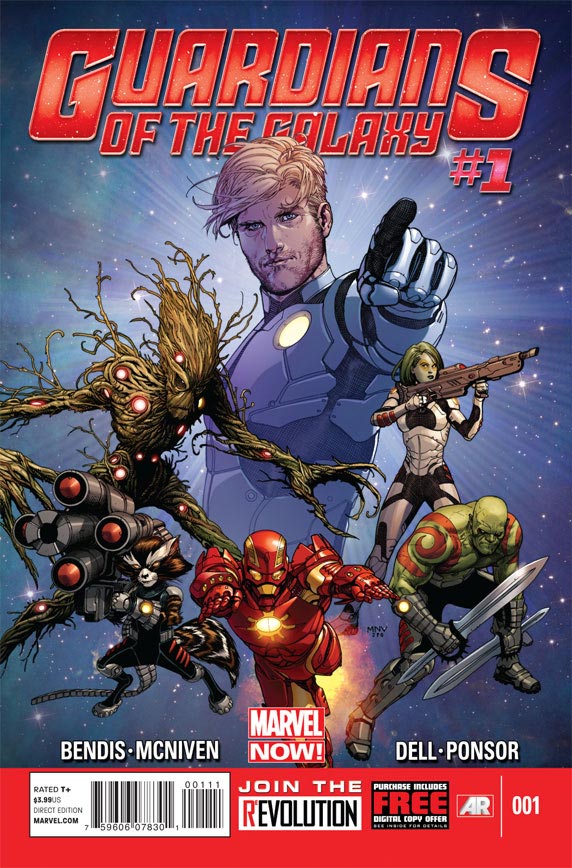 By Glenn Walker
The newest jewel in the Marvel NOW! crown is the new series of Guardians of the Galaxy by the power duo of writer Brian Michael Bendis and artist Steve McNiven. Bendis is coming off of a decade plus old run on the Avengers franchise, as well as Ultimate Spider-Man and Marvel NOW!'s All-New X-Men, and McNiven is the artist who dazzled us on New Avengers, and the legendary Civil War. And they aren't the only reasons Guardians of the Galaxy is so hot.
For those not in the know, Guardians of the Galaxy is headed to the big screen in 2014 with a cast that already includes Chris Pratt and Dave Bautista. Here's your chance to get in on the excitement early with a number one issue that is a terrific jumping-on point for new readers. Marvel Comics superstar Iron Man joins the Guardians just as the Earth has been made a target for invaders from space. And it only gets better from there.
For more adventures of these classic Marvel cosmic characters including Star-Lord, Drax the Destroyer, Gamora, Groot, Iron Man, and of course, Rocket Racoon - get on down to All Things Fun! and pick up Guardians of the Galaxy #1, on sale this week!
By Glenn Walker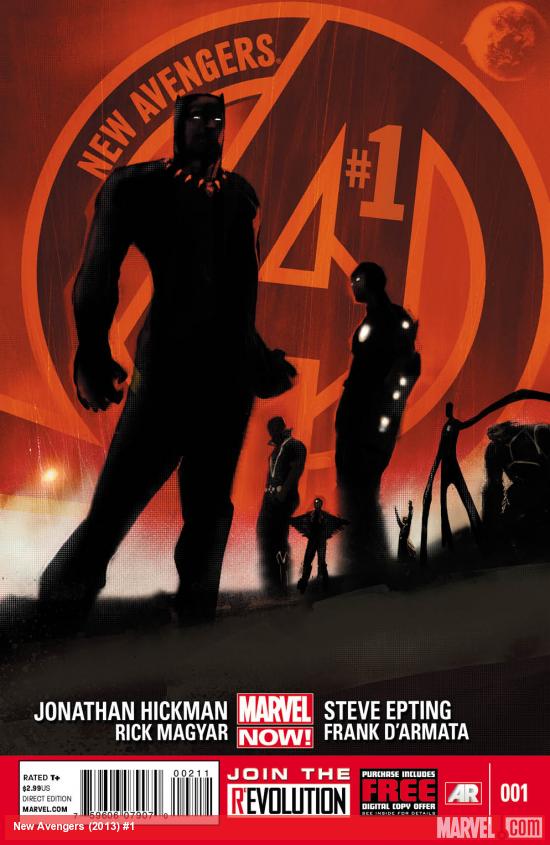 Remember that time, way back in the Avengers Bendis-verse when the most powerful beings on Marvel Earth got together and decided they needed to stand in the shadows and run things for everyone else? You had Reed (Mr. Fantastic) Richards, Professor X, Tony (Iron Man) Stark, Prince Namor the Sub-Mariner, Black Bolt, Doctor Strange, and the Black Panther - and they called themselves, ominously enough, the Illuminati. It was a step in what they considered the right direction, a way to prevent misunderstandings between various super-teams, between nations, and to unify forces when Earth itself was attacked.
As shown on the first page of the brand new New Avengers #1, part of the Marvel NOW! initiative, by writer Jonathan Hickman and artist Steve Epting, the Black Panther immediately thought it was a bad idea, and he bailed on the first meeting. Turns out the Panther was right, as this Illuminati failed to function during the Skrull Secret Invasion, and it certainly didn't stop this past year's battle to end all battles, Avengers Vs. X-Men. Now, however, in this issue, the Black Panther needs them.
Hickman and Epting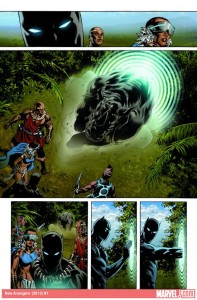 produce, in New Avengers #1 (the third first issue of this title in a decade, I think), one of the best Black Panther stories I've read in a while. Now I'm a sucker for the Black Panther, and I love him in the Avengers, because there he embodies the perfect melding of Batman-like fighting prowess, scientific know-how, superhero pro-activity, and that classy regal-ness that running one of the world's most highly advanced civilizations brings with it. Gotta love the Panther. Usually will get one or two of these qualities, but Hickman gets it. This is the Black Panther done right.
Artist Steve Epting is also a star here. As an old school Avengers fan, I loved his art on the title back in the 1990s, and when I next saw his work, it was much tighter and smoother as he worked with Ed Brubaker on the now legendary Captain America series of the last decade. A peek back a year or so at Fantastic Four proves how well he works with Hickman as well. Here in New Avengers, he delivers his best work so far in my opinion.
Together the two spin a tale of the Black Panther and his Wakandan scientists as they discover a gateway to another planet, where dangerous forces seek to destroy the Earth, and possibly all Earths. Hey, who you gonna call? The Illuminati, of course. This is an awesome comic, and one of my picks for the week. Special bonus, there are even clues here to the origins of one of the new members over in Hickman's Marvel NOW! Avengers. New Avengers #1, on the shelves at All Things Fun!, and other comic shops (but ATF! is the best!). Do not miss!
By Glenn Walker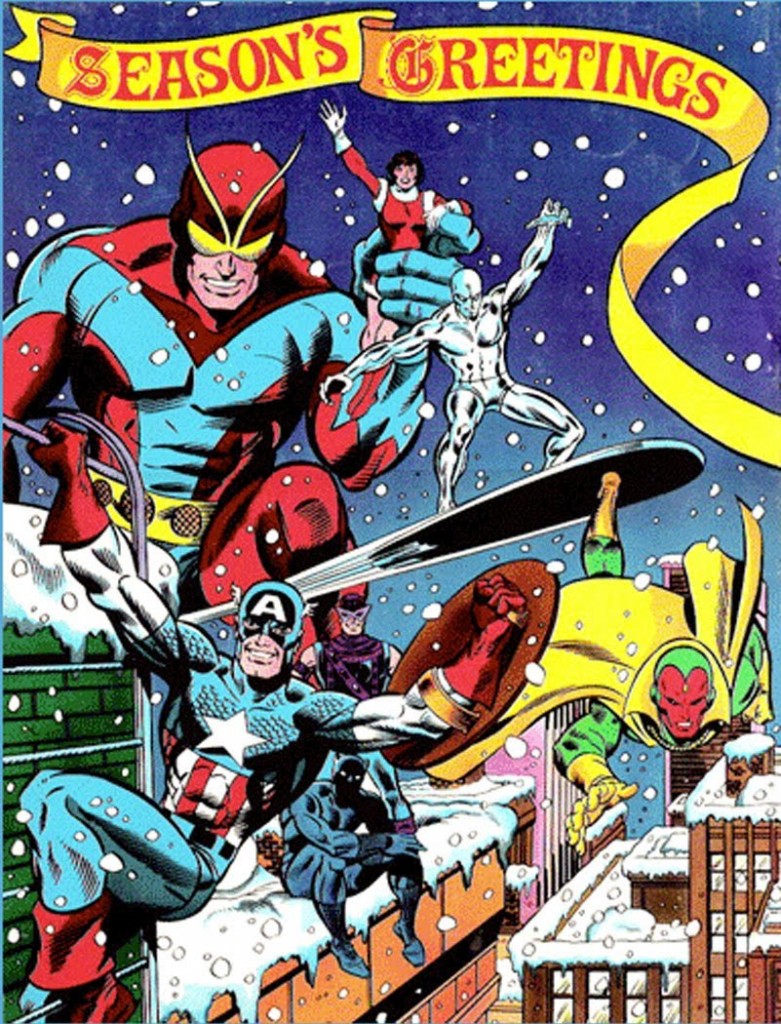 Christmas decorations are everywhere, Christmas music is on the radio, everyone is running from store to store to get all the good bargains. Yes, it's that time of year again - it's time to spend time with the family, whether you like it or not.
The holiday season is here, and the holidays are all about family. The Avengers is my favorite superhero team, and in a way, they are a family of sorts. In my opinion, the Avengers has always worked better as soap opera in superhero trappings, after all, superhero comics are the bastard stepchild of mythology and soap opera. The problem is, when you get right down to the roots, the Avengers family tree is rather twisted and dysfunctional. What better time to explore this nest of incest and insanity than the holidays, right?
Let's start with the team's inaugural couple, and while they are no longer officially or romantically still together (depending on the writer), Dr. Henry Pym (known alternately as Ant-Man, Giant-Man, Goliath, Yellowjacket, Doctor Pym, or the Wasp) and Janet Van Dyne, the original and best known Wasp, have had no children, and yet they leave quite a family legacy.
Pym created an artificial intelligence called Ultron, soon to be the big bad in the next big Marvel crossover event, who would become the Earth's Mightiest Heroes' deadliest foe. This machine menace wanted only two things, the complete and total eradication of the human race… and daddy's love. Hank was not forthcoming, leading to an Oedipal complex of catastrophic proportions. I'm being vague, and sarcastic, but trust me, this covers it.
Ultron considered Pym his father, and in a twisted way, that made the Wasp his mother. Since it's likely Ultron was programmed with Pym's brain patterns, he wanted his mother, and eventually, rather than 'have' her, he created a bride of his own - the aptly named Jocasta, a machine woman programmed with Janet's brain patterns. Jocasta would eventually turn against her master, join the Avengers, and creepily become enamored with Hank Pym. Ew.
It gets worse. In an attempt to be more like his own 'father,' Ultron endeavored to become a father himself, and created the Vision. While more of a reactivation than a creation, Ultron still would call the Vision his 'son' for decades.
Of course, that's not the machine monster's only son. Each time Ultron rebuilt himself, he gave himself a number designation. The Ultron Mark 12 seemed to have gained some form of evolution and wanted to be a good son to Pym. Unfortunately (or unfortunately, depending on your outlook), this model sacrificed itself to save the Avengers from a resurrected Ultron-11.
Speaking of the Vision, he is another source of incest and conflict in the Avengers family. I've talked before on this blog about his romance with the Scarlet Witch, their marriage, their children, her breakdown, and then how she tried to destroy the whole team.
If that's not enough to make things uncomfortable at holiday dinner, there's also Wonder Man. His brain patterns were originally used to program the Vision, he fell for the Scarlet Witch, and his first and last encounters with the team have involved trying to destroy them. I'm sensing a theme here…
The Vision isn't innocent here either when it comes to relationships outside of Wanda either. He's also been involved with Mantis, Stature, and the aforementioned Jocasta as well. If that's not difficult enough, imagine the Vision sitting at the same table with Wonder Man, with whom he has shared a mind, and the original Human Torch, with whom he has shared an android body. Go ahead, just imagine the small talk.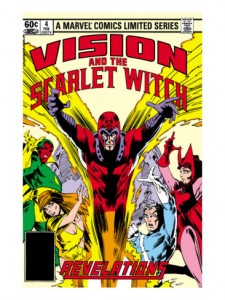 Let's talk about the Scarlet Witch's family a little bit now. There are her two children, Young Avengers Wiccan and Speed, whose continuity are better left untouched, especially if you're running low on Tylenol. There's also her brother, fellow Avenger Quicksilver, and of course her dear old dad, arch-foe and sometimes ally of the X-Men, Magneto. Mags notably enslaved Wanda and her brother as members of the Brotherhood of Evil Mutants, and has also battled the Avengers more times than this vast storehouse of useless comics knowledge can count.
Quicksilver eventually left the Avengers for a time because he resented his sister's love for the Vision, because he was a machine. Imagine that, a racist mutant. He then fell for Crystal of the Inhumans. Hmmm… sounds like someone could use an attitude adjustment. It's okay though, karma is a bitch, just like his wife Crystal, herself a jilted romance of the Human Torch, she eventually found solace in the arms of fellow Avenger, the Black Knight.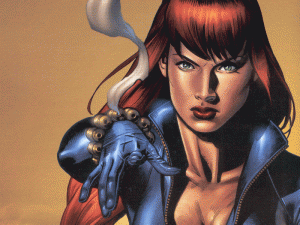 If you want to talk about relationship hopping, no one does it like the Black Widow. She was originally one of Iron Man's enemies, who reformed along with erstwhile romance Hawkeye, to join the team. When she was later briefly rejected by Daredevil, she finally joined the Avengers before going back to him. Notably, her ex-husband, the Red Guardian fought the Avengers on occasion. She's had close relationships with Captain America, Hercules, and is currently with Winter Soldier. Is your scorecard filled up yet? Turn it over, there's more.
Speaking of villains who have reformed, especially after fighting the Avengers, there's the original Thunderbolts, who were also the same Masters of Evil team who attacked the Mansion and nearly beat Jarvis and Hercules to death. Just sayin'. Hawkeye later led that team. There's also the Swordsman, who spent most of his career as an enemy of the Avengers before joining the team. Just for the record, he trained Hawkeye, and also brought Mantis onto the team.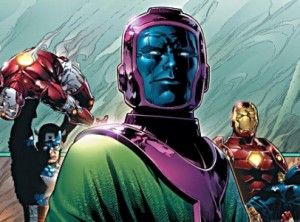 And then there's Kang. Like the other Avengers greatest foe, Ultron, Kang the Conqueror is also family, although we're not sure exactly how. Kang is many people, due to the vagaries of time travel and the paradoxes involved, he's also Rama Tut, Immortus, the Scarlet Centurion, possibly even the Justice League of America foe the Lord of Time, and many, many alternate versions of himself. But the arguing point is who was he originally?
For decades the conventional wisdom at Marvel Comics suggested that Kang was Nathaniel Richards, but that might not be completely or even still correct. You know how comic book continuity changes every other day. Since the brilliant and award winning Young Avengers series by Allan Heinberg, there is much speculation that he may in fact be Iron Man or a descendent of Tony Stark. I bet that makes Hank Pym feel better about his sins.
Kang has other more sinister relationships with Avengers though. In the infamous Avengers #200, Immortus, a version of Kang, kidnapped Carol Danvers - then known as Ms. Marvel, now known as Captain Marvel - and took her to his home in Limbo, brainwashed her, impregnated her, returned her to Earth, and then she (I'm not making this up) gave birth to him, whereupon he swept her off her feet and returned with her to Limbo to supposedly live happily ever after. And for the most part, the Avengers let him get away with it. This dark point in comics history is known as The Rape of Ms. Marvel.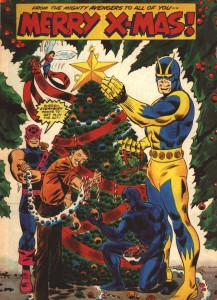 So yeah, that will be uncomfortable when the family gets together. It's no wonder that Ms. Marvel, Iron Man, and Hercules among others have heavy drinking problems... just look at these Avengers!
You think it's rough with your family, be glad you're not having a holiday dinner with the Avengers family. Yeah, imagine what's going on at that holiday dinner table. Ya gotta admit, the conversation is going to be interesting… at least before combat breaks out. As I said, I love the Avengers, but man, they are soooo not the kind of family I would want to sit down with for the holidays...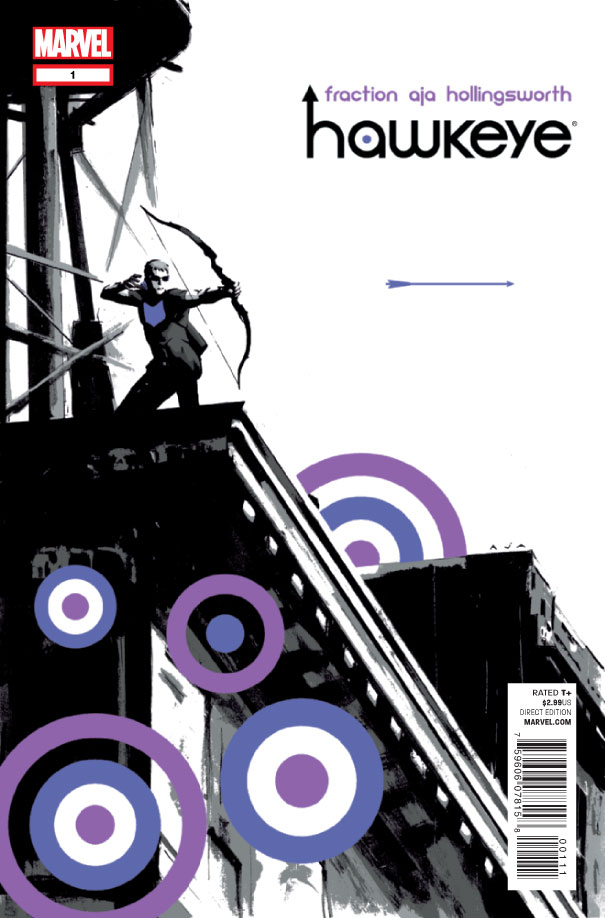 By Glenn Walker
Hawkeye the Marksman has come a long way in the nearly five decades he's been around. Clint Barton has gone from minor Iron Man villain to the Black Widow's partner to redemptive and rebellious Avenger to the size-changing Goliath to leading an Avengers team, and even leading the Thunderbolts, to now - a big time movie star in Marvel's The Avengers. Heck, he's even worn a skirt. He's not just a guy with a bow and arrows.
Now writer Matt Fraction and artist David Aja (the team that brought us The Immortal Iron Fist) take Hawkeye in a new direction. In Hawkeye #1, our hero enters the grim and gritty crime noir New York City that this character has never really seen before. Aja's art conjures comparison to Darwyn Cooke and Michael Lark, and portrays the city more real than it's ever been in a Marvel comic outside the Punisher's little corner. And Matt Fraction, Matt Fraction is just the man, and he knows his Hawkeye, this time as if through Quentin Tarantino's pen and camera. Great stuff.
Be sure to check out this new take on a treasured and storied character. Hawkeye #1 by Fraction and Aja, a new ongoing series from Marvel Comics, on sale at All Things Fun! this week.
By Glenn Walker
It is a good time to be a comic book archer. Green Arrow is coming back to the TV screen with a series called "Arrow" in the fall, and this summer Oscar winner Jeremy Renner blew us all away as Hawkeye in the big screen version of Marvel's The Avengers. They have both come a long way from being just Batman with a bow and the low man in Iron Man's rogues gallery.
The Archer, or the Bow and Arrow Guy, is one of the comic book hero templates. When the average comic book reader thinks 'archer' or 'bow and arrow guy,' they think Green Arrow or Hawkeye, depending on whether you're a DC or Marvel fanperson. The truth is that's only the tip of the arrow so to speak. Welcome to a handy tour of the bow and arrow folks of the comic book world, and trust me, there are a lot of them… but we'll start with the big guns, ahem, bows…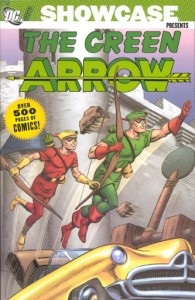 Green Arrow
Green Arrow has been rebooted, revamped, re-thought and (this one is for you, Allison) re-jiggered several times, but for the most part, his origins remain the same. Green Arrow was created by Mort Weisinger and George Papp, and first appeared in 1941's More Fun Comics #73, which coincidentally also featured the first appearance of Aquaman. Spoiled brat millionaire Oliver Queen was stranded on a deserted island (or another similar isolated nowheresville) and had to learn archery to survive. His rescue usually happens at the hands of criminals whom Queen takes down with his mad archery skillz, and is thus inspired to become a full-time crimefighter, the Green Arrow.
Along the way, Queen built an arsenal of trick arrows, a secret headquarters the Arrowcave, specialized vehicles like the Arrowcar, the Arrowplane, and even the Arrowboat, and his adopted ward, also trained in archery, became his sidekick, Speedy. Quickly Green Arrow was looked upon as nothing more than Batman with a bow, or worse yet, a knock-off Batman.
Denny O'Neil and Neal Adams changed all that with their late 1960s take on the character, giving him a new costume, facial hair unheard of for superheroes, and a liberal attitude in a time when comic book characters did not have social consciousnesses. The new Green Arrow became wildly popular, was eventually paired up with both Green Lantern and romantic interest Black Canary in the award-winning Green Lantern/Green Arrow series. In one story, he was conflicted by Speedy's heroin addiction, an event which would follow that character for the rest of his career.
The Justice League's resident archer and left wing voice of reason remains an iconic hero today, recently conquering live action prime time as supporting cast in "Smallville," and soon to return in a new vision in "Arrow." In the comics, he has his own title in DC Comics' New 52, albeit younger, slicker, and less liberal - more Tony Stark than Oliver Queen. Times change, I guess.
Hawkeye
I've talked about Hawkeye the Marksman here before briefly. Hawkeye AKA Clint Barton was introduced as a reluctant foe of Iron Man in 1964's Tales of Suspense #57, and created by Stan Lee and Don Heck. After a few more less villainous appearances, he became an Avenger in the first major membership shake-up of that team, becoming one of 'Cap's Kooky Quartet.' There, training by Captain America was joined by his weapons mastery taught him by the villain Trick Shot (another archer) and future Avenger the Swordsman.
While like Green Arrow, Hawkeye made use of gimmicked arrows, his character was more fleshed out by his abrasive personality. He was always the stirrer, the smart aleck, and always bucking to lead the Avengers over Captain America. Ironically, years later, Hawkeye would become the leader of the West Coast Avengers, a product of having Cap as a role model. While Green Arrow may have preceded Hawkeye by decades, the latter's emergence as a fully formed character preceded that of the former. Also on the copycat scale, Hawkeye's romantic interest for some time was the Black Widow, and later he married Mockingbird, both characters having more than a passing similarity to Green Arrow's Black Canary.
The Avengers resident archer has become one of the most reliable and stalwart members of the team. Whether he goes by the name Hawkeye, Goliath, or Ronin, he can usually be found at the front of the fight, charging headlong into battle, no matter if Ultron or Kang will just laugh off a trick arrow or not. That's just our Hawkeye, brave beyond reason.
Archers of the Golden Age
Back over at DC, that company published adventures of the original heroic archer, Robin Hood, as early as 1938. Robin Hood Tales was originally published by Quality Comics but eventually by DC after they acquired several of their characters and magazines. Of course, Robin Hood being a public legend, copyright is kinda off the table, but there you go.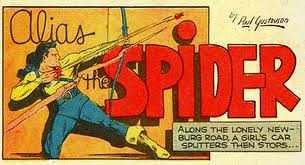 Quality also had a feature called "Alias the Spider" in Crack Comics. Created by Paul Gustavson, Tom Halloway fought crime with his bow and arrows, his valet Chuck, and a cool car called the Black Widow. In modern times writer James Robinson retconned the Spider into a foe of The Shade, and not necessarily a hero or even a nice guy at all, in his amazing Starman series. Grant Morrison also created a legacy of the character with I, Spyder, however briefly, in his Seven Soldiers.
Quality also had The Marksman. Fawcett Comics featured Golden Arrow. Centaur Publications had The Arrow, also created by Paul Gustavson, who was briefly revived in the 1990s by Malibu Comics. He can also be seen in Dynamite's comic featuring public domain heroes, Project Superpowers. There was also the Huntress in Yellowjacket Comics from Charlton, not to mention Young Robin Hood, and the Green Knight, all costumed crimefighters of the Golden Age who used the bow and arrows.
Sidekicks and Legacies
The aforementioned Speedy was Roy Harper, Oliver Queen's ward. He had two different origins, both similar, much like his mentor's various beginnings. Eventually he grew up to become Arsenal, and then Red Arrow, a full-fledged member of the Justice League. Later GA took on another sidekick named Speedy, this time the teenaged runaway, Mia Dearden. The second Speedy was notable for being both a child prostitute and one of the few HIV positive characters in comics.
Much like Batman in this regard, Green Arrow has not only been sidekicked by three kids, but one of them is also his son. While GA was dead (don't ask, you know how death works in comic books, it's temporary at best) his son Connor Hawke took up the bow and mantle of Green Arrow, and like Roy Harper years later, Connor also took Ollie's place in the Justice League for a while.
Not to be outdone, while Marvel's Hawkeye was dead (I did tell you not to ask, didn't I?), Kate Bishop in the Young Avengers took up the bow, as well as several other weapons, and began calling herself Hawkeye. It should be noted at this point, that Hawkeye, like Roy Harper, is an expert of all projectile weapons, not just arrows. Daredevil's arch-foe Bullseye's whole schtick revolves around this particular skill.
One more legacy, and it's another embarrassing reminder of the days when Green Arrow was just Batman with a bow. He too had international counterparts who were inspired by him. Where Batman has the Batmen of All Nations, which eventually evolved into Batman Inc., Green Arrow had the Green Arrows of the World. Their membership included the Ace Archer of Japan, the Phantom of France, the Bowman of the Bush, Verde Flecha, the Bowman of Britain, and the Polynesian Archer. Hey, Grant Morrison, wanna write Green Arrow next?
There have been a fair amount of baddies who have used the bow and arrow motif for evil as well. The Golden Age Superman and the 1966 television Batman were plagued by the villainous Archer. Also in the Golden Age, Wildcat's foe, the Huntress (also known as Tigress) used a crossbow. This choice of weapon was passed down to both her daughter, Artemis, as well as her heroic namesake, the Huntress.
Many of the villains with bows however were members of Green Arrow's mostly forgotten rogues gallery. Among them were Black Arrow, the Crimson Archer, Cupid, Ape Archer, Funny Arrow, the Iron Archer, John Centaur, most lost to the sands of time. The most known of these would probably be the Rainbow Archer and Red Dart (who our buddy Grant Morrison actually did dig up for his JLA run). Later on there was also Shado, GA's on again/off again lover; Natas, who trained Green Arrow and Deathstroke among others; and Merlyn the Magician of the League of Assassins, one of the hero's most dangerous foes.
In the old days Green Arrow frequently faced a female rival named Miss Arrowette, whose daughter Arrowette with a bit of retconning became a major player in Young Justice. Combined with the aforementioned Huntress' daughter, she is the inspiration for the double agent character of Artemis in Cartoon Network's "Young Justice" cartoon. There was also the Blue Bowman, in reality Batman foe the Signalman, who got the idea of being a bow and arrow villain by being cellmates with Green Arrow enemy Bull's Eye.
There are many other archers, on both sides of the law. I've haven't covered Artemis who was once Wonder Woman, Yondu the Alpha Centaurian archer from the 31st century's Guardians of the Galaxy, Firestorm foe Moonbow, White Feather of the Inferior 5, brief Justice Leaguer Maya, any of the Old West archers, Shaft, Archer (sans Armstrong), Legolas, or even Xeen Arrow, the Green Arrow of Dimension Zero yet. But there's only so much space. Be assured there have been many behind the bow in the comics, and there will be more.
I'll see y'all next time. I'm off to the movie theater to see Brave. I hear that Princess Merida is a heck of a shot too…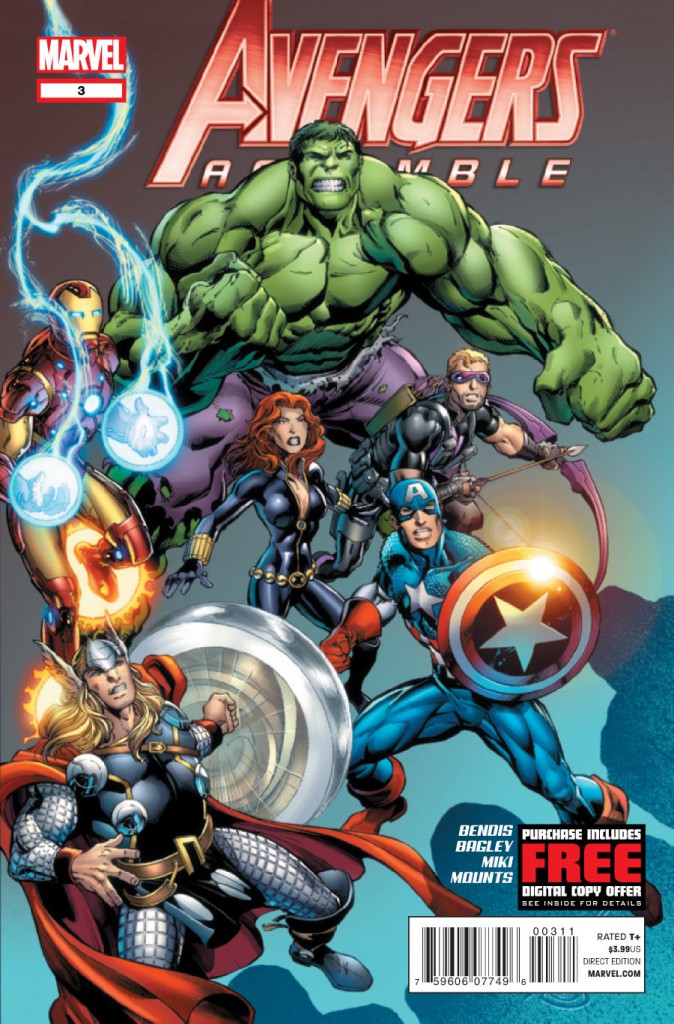 By Glenn Walker
To say that this is a big week for Marvel Comics and the Avengers would be a serious understatement. With the release of Marvel's The Avengers this past weekend to the highest box office opening ever, I say this is the biggest week for the Avengers.
So if you haven't already, go out and see the movie, and if you've already done it, see it again, then come on down to All Things Fun! and pick up the biggest Avengers comic this week, Avengers Assemble #3.
The cinematic Avengers - Thor, Iron Man, Hulk, Captain America, Hawkeye and the Black Widow - go toe to toe with the new Zodiac in this story by writer Brian Michael Bendis and artist Mark Bagley, featuring the biggest last page revelation you'll see this side of a Marvel movie end credit sequence.
Do not miss Avengers Assemble #3!
By Glenn Walker
Now that Fear Itself is over, and Iron Man is in recovery from his night of alcoholic excess, bad things are afoot for the Golden Avenger. His arch-enemies Zeke Stane and the Mandarin have been in the background upgrading his old rogues gallery. What better time to take a peek at the Forgotten Foes of Iron Man?
Stane, Hammer, Doom, and more recently Osborn – these are Iron Man's enemies, right? Yeah, nowadays that's about right, but the fact is that ol' Shellhead has one of the more extensive rogues galleries in comics, rivaling Spider-Man, Batman, and the Flash. The problem is most of them are long forgotten.
Let's start with those that are well known. These have been persistent enemies in the last decade or so…
Norman Osborn: Also known as Spider-Man's arch-enemy the Green Goblin, Norman Osborn is also an industrialist, arms dealer, and rival to Tony Stark. Even if neither had super-powered other identities these two would clash. Most recently Osborn took SHIELD away from Stark and created his own immoral Avengers team to replace the real one when he had them outlawed.
Doctor Doom: It makes sense that these two would eventually butt armored heads and not like each other. They are so similar and yet so different. Both men rule their own empires, both wear armor and wield incredible power. They have crossed paths on several occasions, and it's rarely to have lunch and compare notes.
Victor Von Doom is primarily a foe of the Fantastic Four, but has had bad relations with most heroes of the Marvel Universe, but he has a special place in his dark heart for Iron Man. Scarred by an accident, he sealed himself in indestructible armor and also augments his power with sorcery - another reason the Golden Avenger dislikes Doom. Iron Man hates magic. He can't understand it, he can't control, so he abhors it.
In the Silver and Bronze Ages of comics, Iron Man collected quite a colorful assortment of enemies, most of them lost to the sands of time, some not. Hopefully we'll be seeing some of them again real soon. They are…
The Ghost: The Ghost is an industrial spy, common in the world of high tech business, but he is the worst kind - a super-powered industrial spy. True identity unknown, he uses his 'ghost tech' to become invisible, phase through walls, and basically do as he pleases. He currently haunts the Thunderbolts as a current member.
Unicorn: Iron Man was forged in the midst of the Cold War so many of his adversaries are of the 'Red Menace' type, the Unicorn is one of them. Wearing a costume and headgear designed by Professor Anton Vanko AKA the Crimson Dynamo, the Unicorn can shoot a variety energy beams and other powers from the horn on his helmet - thus the name, the Unicorn. He has most recently appeared on Nicktoons' "Iron Man Armored Adventures."
Spymaster: Employed at different times by Zodiac, Justin Hammer, and Madame Masque, Spymaster is exactly what he sounds like, another industrial spy much like The Ghost. He uses a variety of gadgets to get the job done and is also a trained assassin as well. The original Spymaster was murdered by The Ghost, and since then other men have taken on his mantle.
The Controller:  Powered by a super-strong exoskeleton, mind control and his slave discs, scientist Basil Sandhurst tried to conquer New York City, and has since worked with and under many other villains. He has also fought many of the Marvel Universe's heroes, though his primary foe remains the Armored Avenger.
Ultimo: This giant artificial humanoid construct was built by aliens millennia ago and left on Earth. Ultimo has arisen from time to time to fight Iron Man, frequently as a pawn of other villains like The Mandarin and the Yellow Claw. It is known for its few lines of dialogue, the main one being, "If it moves, it dies." Ultimo has appeared in every animated incarnation of Iron Man.
The Living Laser: Usually thought of an Avengers foe, the Living Laser began his days that way before making a name for himself in Iron Man's rogues gallery. Arthur Parks first used laser technology and then infused into himself becoming a real living laser. Notably he was originally a pawn of The Mandarin, and now makes life hell for the Golden Avenger solo. He has also been seen on "Armored Adventures," as well as the new "Avengers: Earth's Mightiest Heroes" animated series.
The Melter: Bruno Horgan was an arms dealer put out of business by Tony Stark and then chose to use his heat technology to become the Melter and take on 'Stark's bodyguard,' Iron Man. And old school villain, he was a member of the first two Masters of Evil groups and eventually was killed by the super-villain-murdering Scourge.
Blizzard: On the opposite end of the temperature gauge is the Blizzard. Three men have gone by this name and costume all using cold-based technology to fight Iron Man. The Blizzard has been a frequent animated Iron Man foe in the 1960s, the 1990s and in the 2010s as well.
Madame Masque: Part Catwoman, part Iron Maiden, and all mercenary, Whitney Frost is both lover and archenemy to Iron Man. She is the daughter of super-powered crime lord Count Nefaria, and she hides her disfigured face behind a golden mask. Masque is a double agent to beat all double agents. In the past she has allied herself with, among others, the Avengers, the Thunderbolts, the Maggia, Norman Osborn, and The Hood.
Hawkeye: This longtime Avenger started his career under the tutelage of villains and Iron Man was his first target. The bowman named Clint Barton eventually turned to the good side with help from the also repentant Black Widow. Later he would become not only Iron Man's colleague and friend, but one of the greatest Avengers.
Titanium Man: Another Red Menace villain from the Silver Age, the Titanium Man is Russian KGB Boris Bullski who with an armored suit similar to the Crimson Dynamo tried to destroy the American capitalist hero Iron Man. Titanium bigger and stronger than iron, Boris crush. Don't be fooled by my levity, the Titanium Man is a bad ass.
Alcohol: This foe has taken down the Golden Avenger more than once. Demon alcohol has always been with Tony Stark, as we've pretty much always seen him drinking, usually martinis the way those billionaire types always do. In the late 1970s, writers decided to give Stark consequences, and he became an alcoholic. It got so bad that he had to give up being Iron Man for a while. The bottle remains a dangerous lurking foe for our hero.
Now, finally, let's take a look at the Hollywood brigade, those that have been portrayed on the big screen so far…
Obadiah Stane: Played by Jeff Bridges in the Iron Man movie, the man who would become the Iron Monger and ignite the Armor Wars is a fairly recent villain, from the late Bronze Age. Again, a rival industrialist, Stane stole Stark's entire company from him, along with all of his armor prototypes. His son Zeke Stane has sworn revenge on the Golden Avenger, and with The Mandarin's help will soon be making Iron Man's life hell.
The Mandarin: In the Silver Age, The Mandarin was Iron Man's main big bad, so big and bad he still tried to destroy Old Shellhead's superhero team the Avengers, even when he was no longer a member of the team! The Mandarin was a leftover of the Cold War as were most early Iron Man foes, but was also based on something much, much older. A villain in the tradition of Sax Rohmer's Doctor Fu Manchu, The Mandarin gained his powers from ten ancient alien rings, each of which had its own dangerous weaponry. He frequently would employ other villains (both other enemies of Iron Man and not) to do his bidding.
The Mandarin appeared in slightly subdued form in the first Iron Man film. Over the decades since he was introduced the concept of the Oriental villain has become one of racial insult and rarely used anymore. The Mandarin appeared in the 1966 "Marvel Super Heroes" animated show, in the 1990s "Iron Man" series, again leading a group of other villains against his enemy, and in "Iron Man Armored Adventures."
Justin Hammer: Sam Rockwell gave life to Hammer in Iron Man 2. In the comics, the character is much less slick, less clueless and much older. Like the film version, he's a rival industrialist (yes, there's a theme here), who tried to frame Iron Man, and then sicced an army of super-villains on him when that didn't work. He was a memorable foe in that his actions made Tony Stark crawl into the bottle with dangerous circumstances for the first time.
The Black Widow: Natasha Romanov is again an old school Communist threat from the Cold War days. Double-crossing and triple-crossing is what the spy game is all about, and this Russian spy used her feminine wiles as well as her martial arts training to get what she wanted. Eventually, with Hawkeye's help, what she wanted was to defect to America and join SHIELD. She has also served with the Avengers, and will be played by Scarlett Johansson in next summer's The Avengers.
Whiplash: Like the Black Widow, Whiplash was in Iron Man 2, but he was the main villain as played by Mickey Rourke. The film origins of Whiplash are muddied by being combined with that of the Crimson Dynamo, so I'll concentrate on the comics here. Mark Scarlotti was a Stark employee who traded sides to the Maggia when they offered him the technology to build a suit with cybernetic whips built into it. He later went by the name Blacklash and was eventually killed by a sentient Iron Man armor. Don't ask, these things just apparently happen every day in the Marvel Universe.
The Crimson Dynamo: The armor has been worn by many men, but the theme is the same. The Crimson Dynamo is an armored superhero, whose power is equal to Iron Man's, and he's loyal to the Communist government of the Soviet Union. Perhaps that bit of datedness is why the producers of Iron Man 2 went with Whiplash. Battles with the Dynamo are always greatly anticipated by readers, and in most cases they are misunderstandings, as in most cases the Dynamo is a good guy. Depends on your perspective of course, and what year it is. If it's 1966, he's a Commie and villain, no matter what, ya know?
There, that should prep you for the upcoming events in Iron Man. It should be exciting when these old foes return in new, improved, and more dangerous form. And as always, you'll be able to check those adventures out at All Things Fun!.
By Allison Eckel
Critics have said that Iron Man 2 has lost the lilt, irreverent attitude of its predecessor; that it relies too much on grand, CG-laden battle scenes. To that, I say, Well, duh! It's a Hero Sequel. Of course it has lost its irreverent attitude. When we get to Part 2, it's time to get serious, to understand the power one wields and the corresponding weight of that responsibility.
Speaking of Sam Raimi's Spider-Man … The Hero Sequel also contains a more insidious bad guy. Meeting Otto Octavious was, at first, a dream come true for Peter Parker. The Joker was better left for the Dark Knight.  Clark was getting too comfortable with Lois until Zod and his cronies gave him a serious challenge. In Iron Man 2, we have a dark-mirror counterpart to Tony Stark in Ivan, the brilliant son to a dead, brilliant inventor. One was raised with success and privilege; the other, in exile and squalor, resenting the first. When they meet, Tony as Iron Man has brought peace to the world because no nation on Earth can contend with the battle suit. Ivan proves that Iron Man is touchable, and destruction reigns.
Two elements of the typical Hero Sequel are not upheld in Iron Man 2, and I like the result. First is the illusion that the Hero has a choice whether to continue in the Good Fight or hang up the tights. In Spider-Man 2, a doctor tells Peter, "Maybe you're not supposed to be Spider-Man climbing those walls. You always have a choice, Peter." Peter foolishly believes him and puts the suit in the garbage. He thought that when his powers left him he could go back to a "normal" life. But comics readers know that the Hero really does not have a choice.
Iron Man 2 never wastes time with this. Tony tells a Senator Garry Shandling that there is no weapon suit, that the Iron Man suit is him and cannot be separate. Tony understands that there is no choice, there is only the consequences. When something begins to go wrong with his mini-arc reactor, his choice is not whether to stop the hero gig but whether to eke out a few extra weeks of life or die in a fantastically fun fireball of glory.
Which brings us to the second element of the Hero Sequel not maintained in Iron Man 2: the love interest. Pepper's back, given a new role at Stark Industries, yet she seems completely inconsequential. I bet they could have saved Paltrow's fee, left her out of the movie, and the only difference would be the running time. I am actually glad about this. The typical Hero Sequel uses the love interest to propel the emotional elements of the Hero's journey. Peter Parker spends a lot of time pining over Mary Jane. Superman 2 is unwatchable according to my kids because it is all about Lois. Bruce can't be the committed Batman we all want because he has to rescue What's-her-name. But not Tony. Iron Man 2 makes references to a relationship between Tony and Pepper (and yes, there is a brief kissing scene), but it keeps this on the side and does not let it get in the way. Tony is still Tony, with or without Pepper.
There is a third element of the Hero Sequel that usually serves to undermine the movie rather than improve it: increased character roster. With Iron Man, we were content to meet Tony and his little gang: his girl Pepper, his buddy Rhodey, and occasional cut-up Happy. The bad business man was the bad guy, so that was a tight package. The sequel, we are told time and again, has to add characters, right? So a new bad businessman works with an evil bad guy while a new tough lady in a cat suit makes eyes at our hero and displays questionable loyalties. Wait, is this Iron Man 2 or Batman Returns?
Actually, the elongated cast of characters in Iron Man 2 does have the potential of spiraling out of control, especially since we also meet Nick Fury and see further into his clandestine organization S.H.I.E.L.D. These bits provide a convenient way through a plot point while also laying the ground work for the next three Marvel Studios releases: Thor (May 2011), Captain America (July 2011) and The Avengers (May 2012). At the end of this stream, we may get a third Iron Man movie.
That is a lot of plot to fit into a neat package, all tied together with explosions and battles. The critics are a little divided as to whether it works. I wrote previously that Iron Man saved the Hero Movie genre. I won't say that Iron Man 2 is at all ground breaking for the Hero Sequel. However, I will say that I enjoyed it and it gave my eight-year-old and me a lot to discuss in the car ride home, which to me is worth the price of admission.
For parents:
Iron Man 2 does not have the level of personal brutality witnessed in the beginning of Iron Man. Nor does it have a bedroom scene. It does have a brief view of a lady in her underwear, which made my eight-year-old boy snicker. If you would like to introduce your kids to the Marvel heroes of Iron Man and upcoming films Thor (2011), Captain America (2011), and The Avengers(2012), visit the all ages comics rack at All Things Fun! for the Super Hero Squad (also a cartoon, Cartoon Network, 8pm). Another fun offering from Marvel Kids is Power Pack.
By Allison Eckel
I am going to assume that all of you have seen Marvel Studios' first release, Iron Man. It has been well-reviewed, even by usually high-brow sites like Salon.com. Plus, we can usually count on director Jon Favreau (Made, Zathura), who wrote Swingers, to bring real humor and poignancy to even the dorkiest script (witness Elf).
But then again, Iron Man is a live action super-hero movie. Many have tried to tame this beast, and few have done it remotely well. Although there are many I enjoy, I am hard pressed to find any I would consider "good movies." Daredevil? Nope. Blade? Nope. Superman Returns? Not even close.
My husband and I just re-watched Batman Begins, which has garnered praise as a successful Batman movie. Roger Ebert wrote: "The movie works dramatically in addition to being an entertainment." But I still winced with embarrassment at more than one lame line (most of which regarded the car).
And we all remember the first Sam Raimi Spider-Man movie, when the Green Goblin confronts Spidey during a parade on a crowded Manhattan street. Instead of being a dramatic confrontation with innocent lives in the balance, it became a pricey Power Rangers episode.
The live-action super-hero movie is an unattainable dream. We want to see buff, suave leading men playing out the characters we have read for decades, but actors have difficulty remaining suave when wearing spandex, rubber, masks, and capes.
Then along came Iron Man. This character wears a metal exosuit, not spandex and a rubber cowl, automatically making this movie easier for the filmmakers in the believability category. The styling of the suit is actually, dare I say, elegant. And on my first viewing, the effects blended seamlessly. I'm sure I will begin to see the flaws on repeated viewings in the comfort of my own living room, with the power of pause and rewind in my hand. You know, I don't think I winced at all during Iron Man. Oh, no, wait. There was one moment. The Burger King product placement was shameful, though it was one of the best-handled of its kind, so that I almost didn't see the commercial until it was too late.
I will admit that I am not familiar with the Iron Man comics; I grew up a DC girl. But as a comics reader, I know about hero origin stories, the gray areas of morality, the epiphanies that can send a billionaire playboy down a righteous path, etc. Actually, I found many parallels between Tony Stark's story in the movie and the circumstances that send Oliver Queen (Green Arrow), another heir to a munitions powerhouse, to don a mask and fight injustice. Both are injured, separated from society, and learn that the munitions bearing their names are in the hands of "the bad guys." That realization sends them both to renounce their playboy ways, step outside the bounds of society and the law, and pursue vigilante justice. That's pretty much where the similarities end, though. Ollie becomes fixated on Robin Hood and takes from the power mongers to help the little guy, usually on city streets. Stark builds a bad-ass power suit and goes after the same bad guys who captured him, and then the guys who hired them. Stark's story on the big screen is tight. He's captured, he invents a suit to free himself from rebels that use his company's munitions, he redesigns the suit to defeat the rebels, he discovers corporate corruption, and continues his new mission. We don't get the sound-bite-sized moral lesson rammed down our throats as with Spider-Man ("With great power comes great responsibility") or a theme pervading every aspect of the universe as with the notion of fear in Batman Begins.
Robert Downey Jr.'s performance as Stark succeeds in sealing the deal. He is simply awesome. He plays a brilliant techno-geek ("at age six he built his first engine") who looks amazing in a designer suit; equally at home in a ratty T-shirt, gold-titanium exosuit, or Armani. Those are not easy balls to balance. I thought his transformation from slick and bored to earnest and driven was convincing yet did not require long brooding moments to achieve. He emerged from each circumstance with a new plan, a new direction, and got it done. Boom. I am so enamored of him as Stark that it may cause me to see The Incredible Hulk (June 13) just to see his cameo. For certain, I will be seeing the Iron Man sequel in 2010.
My viewing partner for Iron Man was my six-year-old son. Iron Man is rated PG-13, and I am usually a staunch gate-keeper for the entertainment that reaches my kids. But I decided to take a chance, and he and I set out for adventure. We picked a Monday evening, so the few people there with us would not mind if I needed to explain plot details or "bad words" to my boy. The more mature material in the movie happens early in the film. Stark is kidnapped by Afghani rebels and tortured (briefly). My son is not used to seeing that much personal firepower on the screen at one time, nor that level of personal violence, but he weathered it okay. Oh, and there was one scene back in the U.S. between Stark and certain young lady through which I covered by boy's eyes.
Once in the red and gold suit, the violence is mostly "fantasy violence" – a guy in a metal suit blowing stuff up, or two guys in metal suits fighting in the street. My son is more adjusted to this sort of spectacle from cartoons such as Ben 10 (Cartoon Network), the new Spectacular Spider-Man on CW, and anything rated Y-7. Actually, the filmmakers showed remarkable restraint with the blood-and-guts factor: it is almost non-existent, except for the wounds suffered by Stark himself.
My son is now all about Iron Man. He is convinced that he will be able to invent the crazy fuel cell that powers the exosuit. He wants to know where he can buy gold and titanium to put together the armor. For now, I hope he will be happy with books, comics, PJs, and action figures for inspiration. We will be popping into All Things Fun soon to see what we can find to keep the fandom going until April 2010.