By Glenn Walker
Hopefully y'all have been following the All Things Fun! Comic Vidcast uploaded every Wednesday, and if not, get yourself over to its special webpage and enjoy. As I said, it's uploaded every Wednesday morning by 11:30 AM sharp Eastern Standard Time, and available for viewing – as are all the episodes, throughout the week afterwards. The Vidcast even has its own channel on YouTube.
I, along with co-hosts Allison Eckel and Ed Evans, discuss the new comics that come out that day for the week. We like to think we offer our own unique and informative view of the comics world and what's going on within it and around it.
Although, sometimes fifteen to twenty minutes just isn't enough to explain some of the references made during the vidcast, and it certainly isn't anywhere near enough time to justify the vast storehouse of useless comics knowledge spilling out of my head. We've had to do an explanatory post like this once or twice before, and hopefully this new edition of Show Notes might help alleviate the pressure on my brain.
Lucas "Snapper" Carr
Allison doesn't like this guy and thinks he's dumb, and didn't know why he was showing up in recent issues of the out-of-continuity Young Justice. Old folks like me were thrilled with both the history and irony of his appearance. Sadly, when most people do think of poor Snapper, they do think lame. That's because they don't have a sense of history, or perhaps don't know his history.
Snapper was designed to be the identifying character in Gardner Fox's Silver Age Justice League of America. He was the little-bit-out-of-date beatnik kid who got to hang out with the World's Greatest Heroes. "Wow, if we, the readers, could be Snapper, wouldn't that be cool?" was the line of thinking, but after a while, Snap got annoying. While Fox was on the book, Carr worked as a storytelling device, informing readers on the ins and outs of the team, the day-to-day operations, and he even had a friendship with the League's second new member, the Atom.
However, as time went by, even Gardner Fox got tired of poor Snap, and used him less and less. When Fox left, and new, younger, hipper writer Denny O'Neil came on board, things changed. O'Neil sought to streamline the JLoA to be more his style, and more in line with other books he wrote. More focus was placed on his pet characters like the darker detective Batman, Green Lantern, his revamped and more socially conscious Green Arrow, and the Earth-Two Justice Society transfer, Black Canary. O'Neil also got rid of folks. Over in her own title, he had depowered Wonder Woman, and here, he had her resign from the League. J'Onn J'Onzz returned to his homeworld, and O'Neil simply just ignored Aquaman as if he didn't exist.
Denny O'Neil had more sinister plans for poor Snapper Carr. In the writer's mind, as Snapper grew older, the League had gotten tired of him, and in turn, Snapper was weary of being made fun of by his peers for being the 'Justice League mascot.' In short, he was feeling alienated, and was ready to strike back at 'the man,' his mentors and friends in the JLA. Snapper fell under the sway of an anti-superhero public speaker (shades of the Glorious Godfrey who would come a few short years later) called Mr. Average.
The insidious Mr. Average convinced Snapper that he had to turn against the heroes, and he weaseled their biggest secret out of poor Snapper: the location of their secret headquarters, the Secret Sanctuary in Mount Justice. Oh, and did I mention that Mr. Average was actually the Joker in disguise? Yeah, this was bad. And it led to Snapper Carr's resignation as an honorary JLA member, and the move to a satellite headquarters in orbit.
But therein lies the irony of Snapper appearing in Young Justice, as you see, the YJ team meets in the old Mount Justice headquarters. Cool, huh? Snapper Carr eventually made amends with the JLA, but not after making further mistakes, like being misled once again by villains like The Key, the Star-Tsar, and the Privateer. He later sidekicked for the android Hourman from the future. Snapper Carr remains a case study in the idea that there are no bad characters, only bad writers.
The Absorbing Man
Stop snickering, Allison. I know how you like to make fun of the sometimes-lame names of Marvel Comics characters, but this one is really cool. And besides, it's DC that has characters like the Crimson Centipede, the Purple Pile-Driver, Animal-Vegetable-Mineral Man, and Don Rickles as a super-villain -- not Marvel, so take that.
The Absorbing Man began his comics life as small-time and not-so-bright criminal Carl "Crusher" Creel, and in the typical fashion of most Silver Age Thor villains, being unknowingly empowered by Thor's evil stepbrother Loki. In this case, Loki gave Creel the ability to absorb the strengths and properties of whatever he touches. For example, he touches stone, he becomes as strong as stone, and in actuality, stone. Needless to say, he's been shattered several times.
Over the years, other than Thor, he has clashed with the Hulk several times, giving you an idea of Creel's power levels. The turning point for the Absorbing Man was in the late 1970s in Avengers #183-184 when he made the big leagues. He ended up taking on the entire Avengers team when all he wanted was to be left alone. From that moment on, he was taken seriously and was considered a major Avengers foe, as opposed to that dumb guy with the ball and chain who sometimes bothered Thor and the Hulk.
He's been animated several times, beginning with the Thor segments of 1966's "Marvel Super Heroes," and most recently in Disney XD's "Avengers: Earth's Mightiest Heroes" as both an adversary of the Hulk and the whole team again. Creel has even made it to the big screen, albeit in a mangled comics-to-film version. In Ang Lee's Hulk movie, Nick Nolte plays Bruce Banner's father, who is imbued with the Absorbing Man's powers.
Crusher Creel continues his major threat level status even today as one of The Worthy in Marvel Comics' latest big crossover event, "Fear Itself."
Wonder Man
Here's another name Allison has busted on, and a character with a lot of history, and an amazing character when written right. Currently he's being miswritten by Brian Michael Bendis in theAvengers comics franchise, as a bitter former member who wants to stop his old teammates by starting his own group, the Revengers. It all sounds familiar, but essentially out of character.
Wonder Man began life as a one-shot, one-note character in the classic Avengers #9 by Stan Lee and Don Heck. Simon Williams was recruited byBaron Zemo and the first Masters of Evil to gain super powers and infiltrate the Avengers and destroy them from within. With a mysterious 'ionic' process, Williams was given enhanced strength, endurance and invulnerability, as well as a rocket belt for flying. He joined the team, and then when the Masters of Evil attacked, Simon had a change of heart and fought against them. Zemo double-crossed him, and Wonder Man became the first Avenger to die in battle. At least he died on the side of the angels.
Wonder Man was not forgotten. His name and memory came up often in the Avengers series. Things got hot when Simon's brother, the Grim Reaper, attacked the team seeking revenge. It was revealed later that Simon's brain patterns were actually recorded, and used as a template for the android Vision's mind after he had been reprogrammed. And much later, Avengers arch-foe Kang stole Wonder Man out of time and used him as a pawn in his Legion of the Unliving. In all cases, fan response was strong.
All of these post-death appearances told the powers-that-be at Marvel one thing: Wonder Man was popular. And what do you do with dead characters in comics when they're popular? You bring them back from the dead of course! Wonder Man returned in Avengers #151, first as azuvembie (don't even ask, or just click, but you've been warned), and then for real and for good, regaining his full member status on the team.
Wonder Man became a fast fan favorite, became a founding member of the West Coast Avengers, best friends with teammate the Beast, got his own series, and yes, died a couple more times, and came back as well. He's become known as a loyal support Avenger, his colorful, and sometimes drab costumes, and for coming back from the dead frequently. What he's not known for is being vengeful and unfoundedly proactive. Again, it's Snapper Carr time -- there are no bad characters, only bad writers.
That said, Wonder Man, and the Revengers, can be found in recent issues of the Avengers franchise of titles, fighting his former friends, the Avengers.
That's all for this time. I'm sure there will have to be more explanations of obscure and arcane info from my twisted mind. Maybe next time I'll teach y'all how to pronounce all the 'O' villains in the Justice League's rogues gallery…
By Glenn Walker
"It's like déjà vu all over again." This amusing Yogi Berra quote approximates one of my biggest problems with DC Comics' New 52. The idea of the restart, the blank slate for some of these characters bothers me quite a bit.
One of the reasons is I don't like origin stories. No, scratch that, I do like origin stories, I just don't like them when they're not needed, or when they are told over and over again. I hate them in superhero movies. It seems like when a hero gets a movie the origin has to be done, whether we like it or not. Just think, next year we'll have Spider-Man's origin told in the movie theater twice in less than ten years.
Why can't they just tell a good story? Just do that, and we as viewers will accept that the hero is who he is and can do what he does. That's how they did it back in the Golden Age, the Silver Age, and especially in the old movie serials. Heck, back in the Bronze Age, in the late 1970s, DC Comics themselves did it one better. Every story opened with an introductory paragraph that told you who the hero was, where he came from, and what he could do.
Here's an example: Rocketed as a baby from the exploding planet Krypton, Kal-El grew to manhood on Earth - whose yellow sun and lighter gravity gave him fantastic super-powers! In the city of Metropolis, he poses as mild-mannered TV newsman Clark Kent - but battles evil all over the Earth - and beyond - as… Superman!
DC should probably implement that again; as a matter of fact, I think most superhero comics should. If you can't tell me the origin in one paragraph, it might just be too complex. Yes, I'm looking at you, Miles Morales.
The starting from scratch idea has actually ruined a few of the New 52 for me. Case in point - The Flash #1. It's a great comic, good story, great new costume, and a terrific new foe in the style of the Silver Age rogues. My problem is that they have turned back the clock. Barry Allen is no longer married to Iris, and on page one, is on a pseudo date with Patty (our Bronze Age preemptive Ms. Flash) Spivot. This just isn't right.
Even as a kid (not yet a married adult, so screw your relation theories), I preferred loving married Iris Allen over mean single Iris West. Barry and Iris had a love that spanned millennia and the multiverse, and survived both their however-temporary deaths. They are soul mates, just as much as Hawkman and Hawkgirl/woman, and they belong together.
I love Barry Allen, and the Silver Age Flash is one of my all-time favorite characters, but do you know when I didn't like him? After Iris' death, when he was dating Fiona Webb and flirting with Zatanna, that's when he was a jerk. I didn't want to read about him. Notably I kept reading even when he was a widowed angeldust addict, but not as a jerk.
Speaking of jerks, we are also back to square one with Superman. The Clark/Lois/Superman triangle is back. I thought we were done with this kind of deceit. If Superman was as true blue as he's always pretended to be, this cruelty would have ended decades earlier than it did. I'm telling you, if Lois shot Clark to death with kryptonite bullets after finding out he'd been yanking her chain with the whole double identity thing for so long – even Judge Judy would acquit her. I don't want to go back to those dark days, but I think I've written enough about that already in these blogs.
Getting back on track, when Superman was rebooted in 1986, the one thing that turned me off was that everything was erased, it was a blank slate. While that was not a bad thing in itself, I then had to read certain stories over again as they were retold. I remember being bored to tears by all the Cadmus Project stories as I had already read them all before, back when they were called the DNA Project as written by Jack Kirby.
Dan Jurgens is a great comic book writer – when he's not retelling Kirby Superman stories over and over again. I certainly hope that won't be the case with Grant Morrison's new Superman. Unfortunately for me, I think we will be getting the Cadmus/DNA Project stories again anyway in the new Superboy and Teen Titans. I certainly hope not. As much as I liked Morrison's take on the early Superman days in Action Comics, I hope we won't be getting too many repeats. It's dangerous territory, as his origin has been retold at least three times in the past decade, and will also appear again in the Man of Steel film – not to mention almost fifty years of Superboy stories – as if we could all forget Superman's origin…
The best #1 issue of DC's New 52, in my opinion, is Aquaman #1. You know why I think a big part of that is? Because the story accepts what has gone before (and Aquaman's marriage to Mera is still intact, unlike other DC Comics marriages) and works with it. Why couldn't all the DC titles have done that? Writer Geoff Johns has fun with Aquaman's history and perception, and fun is something lacking in many of the New 52 as well.
The storytellers of the DC Universe should be guided by the work of Grant Morrison's Batman, Steve Englehart's Justice League of America and Detective Comics, and James Robinson's Starman. Just write good stories – and assume everything that came before did happen, but just don't reference it unless it's important to the story you're telling. It's pick and choose continuity, but it's continuity that works.
Keep it simple, keep it entertaining, and just tell good stories – and not re-tell them. Please.
By Glenn Walker
In Marvel Comics' Avengers #213, an unfortunate character-defining moment occurred with Dr. Henry Pym, then going by the name of Yellowjacket. He struck his wife, Janet Van Dyne, AKA the Wasp. Ask anyone who's a Marvel Comics fan about Hank Pym, and at some point during the conversation, early on usually, the phrase 'domestic violence' (or worse) will come up.
Now before we start this rollercoaster ride, please understand I am not supporting domestic violence in any capacity whatsoever. What Hank did to Jan is inexcusable. My question is why does one slap define his character forever? Especially in light of the fact it might not have been meant to happen in the comic at all? Oh yeah, you read that right, but I'll get to that later.
First let's have some history on Dr. Henry Pym. He's one of the Marvel originals, created by Stan Lee and Jack Kirby in Tales to Astonish #27. As Ant-Man, the scientist-turned-adventurer continued on in that comic, gaining both a rogues gallery and a sidekick: Janet Van Dyne, who became the Wasp. While Ant-Man could shrink and communicate and control ants, he gave his heiress girlfriend slightly different powers. The Wasp could shrink, but at insect size she sprouted wings and had mechanical 'stingers.' She was a bit ditzy at the beginning, but let's be honest here, Stan Lee was not at his finest writing women back in those days.
The next big move in Hank's career was, along with the Wasp, becoming a founding member of the Avengers. By that time, Pym had improved upon the science that allowed him to shrink, and was also using the identity of Giant-Man, who could not only shrink, but also grow to incredible size. Retroactively it's been suggested that Pym kept trying to improve himself to compete with the bigger guns in the Avengers, especially fellow scientist Tony Stark as Iron Man. Me, I don't buy it.
Later after a leave of absence from the team, Hank and Jan returned to the Avengers, and this time, he called himself Goliath. Three identities and at least a half-dozen costumes, as well as a dozen outfits for the Wasp – a pattern was developing. It would stay in place for years. For the record, the Wasp has had more costumes than any other heroine in comics. He stayed Goliath for a while, and was even trapped at a height of fifteen feet for some time. It was during this period that things got bad.
Realizing that he fought better in the lab with his brain than he did in a costume and with his fists, Hank turned to his research more seriously. This, unfortunately, was his undoing. He created an artificial intelligence called Ultron that not only turned against him, the creature affected his thinking, and ultimately his mind. Later this monster became one of the Avengers' greatest foes. Failed experiments and damaged self-esteem added into the equation and Henry Pym had a mental breakdown. From this tragedy arose the new identity of Yellowjacket.
Yellowjacket was everything that Hank Pym wasn't, and he even claimed to have killed Pym. Yellowjacket was active, aggressive, acting first and thinking last. He wielded a disruptor pistol, didn't change size, and moved in on Pym's woman quickly – and asked Janet to marry him. The Wasp was the only one who knew that Yellowjacket was the product of a mental break and a backfiring experiment. So she not only humored him, she married him.
At the wedding, Hank came to his senses, but still thereafter was subject to mental stress. Mostly it was the guilt of having created one of the Avengers' deadliest enemies that weighed most heavy on him. For the most part – except for switching off to Ant-Man once or twice – Hank remained Yellowjacket for most of the 1970s. He later took on other identities like the scientific adventurer Doctor Pym, and more recently as the new Wasp in memory of his late ex-wife (yeah, we'll get to that). He also has gone back to Goliath, Ant-Man, and Giant-Man for short periods of time, that last is the identity he's using in current issues of Avengers Academy.
Ultron has returned on many occasions, often screwing with Hank's mind. In hindsight, it is hard to say how many of Pym's mental problems have been his own, and how many have been the brainwashings and manipulations of Ultron – but that's a case for another time. This brings us back to the beginning: Avengers #213, and the slap.
Yellowjacket was under stress and mental strain again. He was getting careless, making mistakes, and taking it out on his wife Janet. Verbally, it should be stressed, he was yelling at her. Janet, in their relationship, had always stood by him. She would rather be superheroing, and he would always want to be in the lab, they quarreled occasionally, but they always stood by each other. In this issue, it changes.
Hank strikes Jan, knocks her down, and gives her a shiner. One strike is shown. Despite the idea that if it happens once, it'll happen again, we don't see it in the comics. He hits her once, and is labeled a wife-beater forever. In the events that follow, Hank is expelled from the Avengers, divorced from Janet, suffers a complete mental breakdown, does jail time, attacks the Avengers, is brainwashed by Egghead, and even seriously contemplates suicide – all of this in a very short time.
Hank has been forgiven, and redeemed himself, in his own eyes, in Janet's, and in those of the Avengers several times in the decades since. It seems that he is forgiven in everyone's eyes, except those of the majority of readers, and the writers at Marvel. And as I've always said: There are no bad characters, only bad writers. Seeing as Hank Pym is one of my favorite Avengers, it hurts me to see a character of such great potential treated thus. The slap remains a stigma, the stigma that defines the character.
I have to wonder why this is not the case with other comic book characters. Have we forgotten that Hal Jordan slaughtered most of the Green Lantern Corps? How many people has the Hulk killed in his rampages? How many times has Spider-Man knocked Mary Jane around? In post-Crisis continuity, Superman sentenced the three Phantom Zone villains to death. Reed Richards struck his wife Sue physically and verbally to shake her out of her Malice identity.
Let's not even get into the weird physical relationships Batman has had with Catwoman and Talia, among others – you know there was more than slapping involved there. Add in the archer couples Hawkeye and Mockingbird, and Green Arrow and Black Canary, and you have enough dysfunctional relationship there to make Hank and Jan seem positively healthy. Why is it Henry Pym that takes the blame?
Recently it has come to light, although I had heard rumors for years, that the slap was never meant to happen as we saw it on the page. The writer of that issue, Jim Shooter, who was also Marvel's editor-in-chief at the time, posted a blog entry about the incident. You can read it here. It's called, appropriately enough, "Hank Pym Was Not a Wife Beater." What is most interesting is that artist Bob Hall collaborates this in the comments section of the blog.
So where does this leave us? Well, continuity is as it was printed, not what was meant to be printed. I mean, this is the way it is: Hank hit Jan. Of course, Janet is no longer with us, killed at the end of the Secret Invasion. In Dan Slott's Mighty Avengers, Hank was in the process of finding a way to bring her back. The subplot remains in Avengers Academy by Christos Gage. Both Slott and Gage are good writers – no, make that great writers. Maybe Hank is headed toward another redemption, and maybe this time it will stick.
By Glenn Walker
With Memorial Day looming my mind turns to the men and women who protect our nation's interests here and abroad, and to those who gave their lives for our freedom. What does this have to do with comics, you might ask. Well, whether you know it or not, there were and are a lot of comics about those folks.
Today when people think of comic books, they think of brightly costumed superheroes flying around and hitting bad guys, but comics weren't always all about the superheroes. They covered a myriad of genres from crime fiction to romance to jungle adventures to horror to westerns to war stories. And that last category was a big seller even in the industry of the superhero.
With film, it has often been theorized that in wartime, fantasy is big because people want to escape, and in peacetime, war stories are big because people have forgotten the horror of war. This is not necessarily the case with comics. War comics have always thrived, until the past few decades at least. In some cases, like during the Vietnam War, they flourished.
At the dawn of comics, back in the Golden Age, one of the prototype heroes was the ace pilot. There was Hop Harrigan, and later semi-costumed pilots like Blackhawk, Airboy, the Phantom Eagle and Captain Midnight, and of course all of these were in the style of Tailspin Tommy. Aviators were hot when it came to war comics back in the day.
Even Steve Trevor, who was the first outsider to find Paradise Island and bring Wonder Woman to America during the Second World War, was a pilot. And Wonder Woman herself was one of the first of another kind of war hero – the patriotic superhero. Heroes who cloaked themselves in the colors of the American flag to fight not only crime, but also the enemies of America. The most famous of these would be upcoming movie star, Captain America. Others who followed in his footsteps included The Shield, Uncle Sam, Miss America (DC's and Marvel's), the Star-Spangled Kid and Stripesy, the Patriot, the Fighting Yank, Minute-Man and the Spirit of '76, among others, just to name a few.
These heroes and others of the era would join forces to fight the war as well, at the time, and in retcon. Tales of the All-Star Squadron, the Invaders, the Justice Society/Battalion, the All-Winners Squad, the Freedom Fighters, the Young All-Stars and The Twelve are still being told today, but that's not really the kind of hero I'm talking about.
The other type of war hero back in the day was closer to the real thing, just a regular joe, the fighting man, the soldier. In World War II, comics were sent overseas to our fighting forces, just as they have been in the decades since, and these pulp heroes were the ones that our heroes could identify with.
The more famous of these soldier heroes didn't appear ironically until after the Second World War and into the 1950s and 60s, but still, their names are with us today. Marvel Comics' most famous soldier was Sgt. Fury who led the Howling Commandos in the War. He has endured and Nick Fury is one of the major players in Marvel's movie universe, played by Samuel L. Jackson in Iron Man 2 (2010) and rumored for his own movie as well. Nick Fury, as well as many of his men, formed the basis for SHIELD in the Marvel Universe.
Over at DC Comics, Fury's counterpart would be Sgt. Rock and his Easy Company. Rock forms the foundation for DC's much larger universe of WWII heroes. While Rock remains an average soldier, although with great leadership and heroic qualities, he is joined in the fight by more interesting compatriots. Among them are the Haunted Tank, the Losers, the Unknown Soldier, Mademoiselle Marie, the original Suicide Squad and later G.I. Robot and the Creature Commandos.
Veering off-topic for a moment, DC also did some innovative comics featuring the opposing forces in war with Enemy Ace and Blitzkrieg. The later, however interesting, was short-lived. These characters still appear from time to time. Rumored to have died on the last day of World War II, someone claiming to be Frank Rock led a version of the Suicide Squad and worked in the Luthor Administration. Vertigo Comics presented a new version of the Losers that proved so successful it was made into a feature film.
Most of the war comics so popular for almost four decades died out in the 1980s. I guess political correctness had taken its toll, or perhaps the stories no longer had resonance for the current generation reading comics. There have been occasional forays into the genre. Marvel's The 'Nam stands out, as do the few one-shots of Sgt. Rock that DC has done lately.
Sgt. Rock, Sgt. Fury, Easy Company and the Howling Commandos – those are just a few of the heroes of our armed forces in the comics, most of whom were inspired by the real heroes of our world, specifically our nation, who we remember this and every Memorial Day.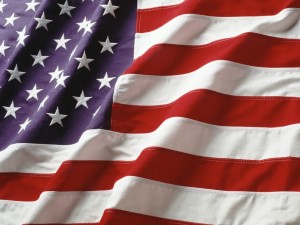 By Glenn Walker
As I write this, we have just entered the Hanukkah holiday season, eight nights of lighting candles and giving gifts. This is still fairly new to me, having married into a Jewish family only a brief sixteen years ago, but it's become part of our annual holiday celebration. So before I get started here, I just want to wish everyone out there, celebrating or not, a Happy Hanukkah.
The season got me thinking about a couple things -- Adam Sandler's "Hanukkah Song," and the growing concern that I had nothing to write about for this blog entry. It also had me thinking about what comic book characters would also be celebrating Hanukkah. So I decided to throw it all together in one pot.
The premise of Sandler's song is that there aren't many Hanukkah songs, and so he wrote "a song for all the nice little Jewish kids who didn't hear that many Hanukkah songs." It starts like this:
"Put on your yarmulke, here comes Hanukkah
It's so much fun-a-kah to celebrate Hanukkah,
"Hanukkah is the festival of lights,
Instead of one day of presents, we have eight crazy nights.
"When you feel like the only kid in town without a Christmas tree,
Here's a list of people who are Jewish, just like you and me…"
Adam Sandler goes on to list, to the tune of the song, celebrities who are Jewish (such as Henry Winkler, Kirk Douglas, William Shatner and the Three Stooges), so the kids don't feel so left out with all the Christmas stuff going on. It's comedy and good-natured fun all in one package.
Being the comic book geek I am, for all the other Hanukkah-celebrating fanboys and girls, I would add the following:
Let's start with The Thing. Ben Grimm was the pilot on the mission that turned his best friend, his girlfriend and her brother into the Fantastic Four all those years ago. In the time since, he's become one of Marvel Comics' best known characters, was a member of the West Coast Avengers, teamed up with everybody else in the Marvel Universe, was played by Michael Chiklis in the movies, and even has his own catchphrase, "It's clobberin' time!" Co-creator Jack Kirby has said in interviews that the Thing was even based on himself. It just doesn't get any better than that, folks.
Marvel Comics also has Sabra, the superheroic defender of Israel; Sasquatch, late of the Canadian super-team, Alpha Flight; masked Western hero and honorary Avenger, the Two-Gun Kid; gamma-irradiated psychiatrist Doc Samson who helps out the Hulk from time to time; triple threat Justice who is technically a member of the New Warriors, the Avengers and kinda, sorta the Guardians of the Galaxy too.
And then there's Kitty Pryde of the X-Men who has gone under a number of superhero codenames. One of her first and most memorable comic book appearances featured her alone in the X-Mansion on Christmas Eve stalked by an Alien-like monster. If she wasn't already Jewish, that might have gotten her to convert.  While we're on the subject, Magneto, the X-Men's primary foe, is also, depending on which origin you're reading, half-Jewish.
There's Firebreather, created by Phil Hester (the new writer on Wonder Woman) and Andy Kuhn for Image Comics a few years back. This is the story of Duncan Rosenblatt, a typical teenage boy with typical teenage problems -- and oh yeah, his parents are a soccer mom and the fire-breathing king of the giant monsters. Teen angst just got harder. And if you saw the CGI movie recently on Cartoon Network, you know just how cool this character really is.
Also from the world of independent comics, there's Fathom of the Elementals; American Flagg; The Tick's sidekick Arthur; and Prime, the Captain Marvel wannabe from Malibu Comics' old Ultraverse. Most notable of the independent comics heroes is Judah the Hammer who appeared in Nexus as that character's frequent partner. Judah was the alien martial artist and fusionkaster named after the Jewish hero who actually first celebrated the festival of lights we know today as Hanukkah.
DC Comics also has a stellar handful of heroes enjoying the holiday. They include Colossal Boy (or Micro Lad, depending on which version of continuity you believe) of the Legion of Super-Heroes and his family, his mother being the former President of Earth in the far future; Ragman, most recently of the Shadowpact; the second Nite-Owl from the highly acclaimed Watchmen graphic novel; Ambush Bug, comic relief hero who currently appears in Outsiders; and Atom-Smasher, formerly Nuklon, who is involved with the current Justice Society teams.
The most famous over at DC is probably the Silver Age Atom, the Joker's sometimes girlfriend, sometimes henchman Harley Quinn, and of course. Batwoman, the newest addition to 'the Batman family,' soon to have her own ongoing series.
There are many others that could be included in this article, like Iceman, Moon Knight, the Golden Age Sandman, the Seraph, Dominic Fortune, Shaloman, the Golem, the second Doctor Fate, Go Girl, Quicksilver and the Scarlet Witch, even Captain Underpants.  I'm sure they would all be wishing you and yours a Happy Hanukkah!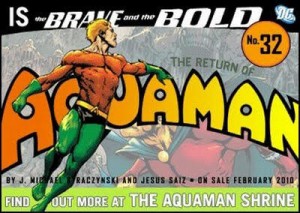 By Glenn Walker
My friend Rob Kelly is a guy with a lot of passion. Whether it's his work or his hobbies, he puts everything he has into it.  Case in point – his brainchild the Aquaman Shrine.  His love and respect for the Aquaman character knows no bounds and his passion to see Aquaman get the props he deserves is phenomenal.
When the sea king, in his most classic and recognizable form, was set to return in the pages of The Brave and the Bold, Rob set up a campaign to make sure as many folks as possible were both aware of and ordered the issue.  Even here at Welcome to Hell I supported the effort.
A few weeks back, Brave and the Bold #32 came out, featuring the classic Aquaman and Jack Kirby's The Demon, and here's my review...
Writer J. Michael Straczynski has been rolling throughout time and space in the DC Universe with his tales in Brave and the Bold, and this issue marks the subtitle on the cover "Lost Stories of Yesterday, Today and Tomorrow" to further ensure he wouldn't be hindered by continuity.  Sometimes the complicated soap opera mythology of comics gets in the way of telling stories.  If you want to read good stories and worry about that tangled mess – JMS' Brave and the Bold is for you.
This issue, illustrated by frequent collaborator Jesus Saiz, is no different.  This done-in-one story brings the classic Aquaman together with The Demon to stop a decidedly Lovecraftian elder entity from entering our dimension.  An excellent short story, "Night Gods" tells the tale of Whitford Crane who is trying to find out if he's insane or not by digging up his friend's grave.  When captured he relates the story from his point of view.  The first two pages have the feel of the old 1970s DC horror comics.  I could almost see the Phantom Stranger appearing next, but instead it's the rather odd pairing of Aquaman and the Demon.
The unlikely duo get together once a year to stop this invasion of an elder god into our world, and poor Whitford is stuck in the middle.  While Lovecraft is more in the Demon's field, the focus is actually more on Aquaman.  As a man of the sea himself, Crane has a healthy respect for Aquaman, and his narration lovingly paints him as the dynamic hero he is.  The sea king's underwater fighting prowess and especially his telepathic powers are displayed breathtakingly.
I agree with Rob wholeheartedly that this is the Aquaman we want, and hopefully sales on this issue should tell DC Comics how much we feel this.  And even if you're not an Aquaman fan, or even a comics fan, Brave and the Bold demonstrates what good storytelling is all about.  Definitely check it out.  Highly recommended.
Later it was revealed in the pages of Blackest Night #8 that Aquaman was among those heroes coming back to life for good, and would be featured in the upcoming mini-series Brightest Day.  In fact, his reunion with Mera in that issue was one of the most emotional I've read in comics in some time.  I think with Blackest Night writer Geoff Johns steering the Aqua-ship for the immediate future, that we have nothing but good things to look forward to.  Brightest Day will of course be available from All Things Fun!
* the above previously appeared in slightly different form at my blog, Welcome to Hell.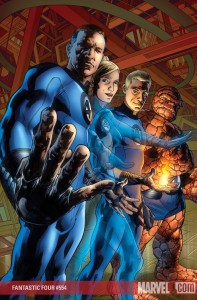 By Glenn Walker
The grandmaster of hype that Stan Lee was, and still is, he placed the words "World's Greatest Comics Magazine" over the title of his Fantastic Four early on. But really, when was the last time the comic really lived up to that hype? The last four months, I'd say.
Created in 1961 by writer Stan Lee and artist Jack Kirby, Fantastic Four follows the adventures of scientist Reed Richards, his wife Susan, her brother Johnny Storm, and Reed's best friend Benjamin Grimm. Together they took a rocket ride into orbit where they were bombarded by cosmic rays and transformed. Reed, now able to stretch any part of his body, took the name Mr. Fantastic. Sue, able to generate force fields and turn herself and others invisible, became the Invisible Woman. Johnny. Able to set himself aflame and fly, became known as the Human Torch. And Ben, his body now metamorphosed into a rocky, super-strong monster, called himself, unfortunately, the Thing. Together they became the Fantastic Four, more family than superhero team, and saved the Earth time and again from such menaces as Doctor Doom, the Mole Man and Galactus.
But then you knew all that, especially if you've had any contact with the comics world for the last four decades. And that's the problem. After four decades even the coolest concepts get a bit less fresh. So, some time ago, the high muckety-mucks at Marvel Comics planned a revamp. No, not a new take like Marvel's Ultimate line or one of those "everything you know is wrong" stories, but something better.
They grabbed writer Mark Millar and artist Bryan Hitch, who had previously revamped the Avengers with that Ultimate new take process, and dropped them on the regular Fantastic Four title. The duo are known for doing things big and 'widescreen' and it was hoped they could do something with the book. Boy, did they.
The "World's Greatest" story arc, beginning in Fantastic Four #554, starts with a bang. The Earth is doomed, and Reed's old girlfriend, who still has eyes for him, has built a new Earth for the human race to evacuate to. Then there's also the robot who's destroying all the military bases on Earth and none of our superheroes can stop it. Did I mention that Johnny is sleeping with a super-villainess? And oh yeah, did I forget the Anti-Galactus, too? All that and Doctor Doom and the New Defenders are coming too.
Highly recommended, these issues, and future ones as well, should be available at All Things Fun!. Check them out.