By Glenn Walker
It is a good time to be a comic book archer. Green Arrow is coming back to the TV screen with a series called "Arrow" in the fall, and this summer Oscar winner Jeremy Renner blew us all away as Hawkeye in the big screen version of Marvel's The Avengers. They have both come a long way from being just Batman with a bow and the low man in Iron Man's rogues gallery.
The Archer, or the Bow and Arrow Guy, is one of the comic book hero templates. When the average comic book reader thinks 'archer' or 'bow and arrow guy,' they think Green Arrow or Hawkeye, depending on whether you're a DC or Marvel fanperson. The truth is that's only the tip of the arrow so to speak. Welcome to a handy tour of the bow and arrow folks of the comic book world, and trust me, there are a lot of them… but we'll start with the big guns, ahem, bows…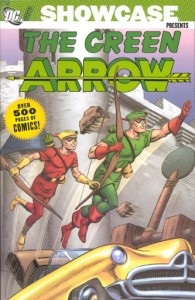 Green Arrow
Green Arrow has been rebooted, revamped, re-thought and (this one is for you, Allison) re-jiggered several times, but for the most part, his origins remain the same. Green Arrow was created by Mort Weisinger and George Papp, and first appeared in 1941's More Fun Comics #73, which coincidentally also featured the first appearance of Aquaman. Spoiled brat millionaire Oliver Queen was stranded on a deserted island (or another similar isolated nowheresville) and had to learn archery to survive. His rescue usually happens at the hands of criminals whom Queen takes down with his mad archery skillz, and is thus inspired to become a full-time crimefighter, the Green Arrow.
Along the way, Queen built an arsenal of trick arrows, a secret headquarters the Arrowcave, specialized vehicles like the Arrowcar, the Arrowplane, and even the Arrowboat, and his adopted ward, also trained in archery, became his sidekick, Speedy. Quickly Green Arrow was looked upon as nothing more than Batman with a bow, or worse yet, a knock-off Batman.
Denny O'Neil and Neal Adams changed all that with their late 1960s take on the character, giving him a new costume, facial hair unheard of for superheroes, and a liberal attitude in a time when comic book characters did not have social consciousnesses. The new Green Arrow became wildly popular, was eventually paired up with both Green Lantern and romantic interest Black Canary in the award-winning Green Lantern/Green Arrow series. In one story, he was conflicted by Speedy's heroin addiction, an event which would follow that character for the rest of his career.
The Justice League's resident archer and left wing voice of reason remains an iconic hero today, recently conquering live action prime time as supporting cast in "Smallville," and soon to return in a new vision in "Arrow." In the comics, he has his own title in DC Comics' New 52, albeit younger, slicker, and less liberal - more Tony Stark than Oliver Queen. Times change, I guess.
Hawkeye
I've talked about Hawkeye the Marksman here before briefly. Hawkeye AKA Clint Barton was introduced as a reluctant foe of Iron Man in 1964's Tales of Suspense #57, and created by Stan Lee and Don Heck. After a few more less villainous appearances, he became an Avenger in the first major membership shake-up of that team, becoming one of 'Cap's Kooky Quartet.' There, training by Captain America was joined by his weapons mastery taught him by the villain Trick Shot (another archer) and future Avenger the Swordsman.
While like Green Arrow, Hawkeye made use of gimmicked arrows, his character was more fleshed out by his abrasive personality. He was always the stirrer, the smart aleck, and always bucking to lead the Avengers over Captain America. Ironically, years later, Hawkeye would become the leader of the West Coast Avengers, a product of having Cap as a role model. While Green Arrow may have preceded Hawkeye by decades, the latter's emergence as a fully formed character preceded that of the former. Also on the copycat scale, Hawkeye's romantic interest for some time was the Black Widow, and later he married Mockingbird, both characters having more than a passing similarity to Green Arrow's Black Canary.
The Avengers resident archer has become one of the most reliable and stalwart members of the team. Whether he goes by the name Hawkeye, Goliath, or Ronin, he can usually be found at the front of the fight, charging headlong into battle, no matter if Ultron or Kang will just laugh off a trick arrow or not. That's just our Hawkeye, brave beyond reason.
Archers of the Golden Age
Back over at DC, that company published adventures of the original heroic archer, Robin Hood, as early as 1938. Robin Hood Tales was originally published by Quality Comics but eventually by DC after they acquired several of their characters and magazines. Of course, Robin Hood being a public legend, copyright is kinda off the table, but there you go.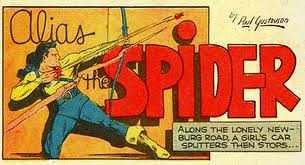 Quality also had a feature called "Alias the Spider" in Crack Comics. Created by Paul Gustavson, Tom Halloway fought crime with his bow and arrows, his valet Chuck, and a cool car called the Black Widow. In modern times writer James Robinson retconned the Spider into a foe of The Shade, and not necessarily a hero or even a nice guy at all, in his amazing Starman series. Grant Morrison also created a legacy of the character with I, Spyder, however briefly, in his Seven Soldiers.
Quality also had The Marksman. Fawcett Comics featured Golden Arrow. Centaur Publications had The Arrow, also created by Paul Gustavson, who was briefly revived in the 1990s by Malibu Comics. He can also be seen in Dynamite's comic featuring public domain heroes, Project Superpowers. There was also the Huntress in Yellowjacket Comics from Charlton, not to mention Young Robin Hood, and the Green Knight, all costumed crimefighters of the Golden Age who used the bow and arrows.
Sidekicks and Legacies
The aforementioned Speedy was Roy Harper, Oliver Queen's ward. He had two different origins, both similar, much like his mentor's various beginnings. Eventually he grew up to become Arsenal, and then Red Arrow, a full-fledged member of the Justice League. Later GA took on another sidekick named Speedy, this time the teenaged runaway, Mia Dearden. The second Speedy was notable for being both a child prostitute and one of the few HIV positive characters in comics.
Much like Batman in this regard, Green Arrow has not only been sidekicked by three kids, but one of them is also his son. While GA was dead (don't ask, you know how death works in comic books, it's temporary at best) his son Connor Hawke took up the bow and mantle of Green Arrow, and like Roy Harper years later, Connor also took Ollie's place in the Justice League for a while.
Not to be outdone, while Marvel's Hawkeye was dead (I did tell you not to ask, didn't I?), Kate Bishop in the Young Avengers took up the bow, as well as several other weapons, and began calling herself Hawkeye. It should be noted at this point, that Hawkeye, like Roy Harper, is an expert of all projectile weapons, not just arrows. Daredevil's arch-foe Bullseye's whole schtick revolves around this particular skill.
One more legacy, and it's another embarrassing reminder of the days when Green Arrow was just Batman with a bow. He too had international counterparts who were inspired by him. Where Batman has the Batmen of All Nations, which eventually evolved into Batman Inc., Green Arrow had the Green Arrows of the World. Their membership included the Ace Archer of Japan, the Phantom of France, the Bowman of the Bush, Verde Flecha, the Bowman of Britain, and the Polynesian Archer. Hey, Grant Morrison, wanna write Green Arrow next?
There have been a fair amount of baddies who have used the bow and arrow motif for evil as well. The Golden Age Superman and the 1966 television Batman were plagued by the villainous Archer. Also in the Golden Age, Wildcat's foe, the Huntress (also known as Tigress) used a crossbow. This choice of weapon was passed down to both her daughter, Artemis, as well as her heroic namesake, the Huntress.
Many of the villains with bows however were members of Green Arrow's mostly forgotten rogues gallery. Among them were Black Arrow, the Crimson Archer, Cupid, Ape Archer, Funny Arrow, the Iron Archer, John Centaur, most lost to the sands of time. The most known of these would probably be the Rainbow Archer and Red Dart (who our buddy Grant Morrison actually did dig up for his JLA run). Later on there was also Shado, GA's on again/off again lover; Natas, who trained Green Arrow and Deathstroke among others; and Merlyn the Magician of the League of Assassins, one of the hero's most dangerous foes.
In the old days Green Arrow frequently faced a female rival named Miss Arrowette, whose daughter Arrowette with a bit of retconning became a major player in Young Justice. Combined with the aforementioned Huntress' daughter, she is the inspiration for the double agent character of Artemis in Cartoon Network's "Young Justice" cartoon. There was also the Blue Bowman, in reality Batman foe the Signalman, who got the idea of being a bow and arrow villain by being cellmates with Green Arrow enemy Bull's Eye.
There are many other archers, on both sides of the law. I've haven't covered Artemis who was once Wonder Woman, Yondu the Alpha Centaurian archer from the 31st century's Guardians of the Galaxy, Firestorm foe Moonbow, White Feather of the Inferior 5, brief Justice Leaguer Maya, any of the Old West archers, Shaft, Archer (sans Armstrong), Legolas, or even Xeen Arrow, the Green Arrow of Dimension Zero yet. But there's only so much space. Be assured there have been many behind the bow in the comics, and there will be more.
I'll see y'all next time. I'm off to the movie theater to see Brave. I hear that Princess Merida is a heck of a shot too…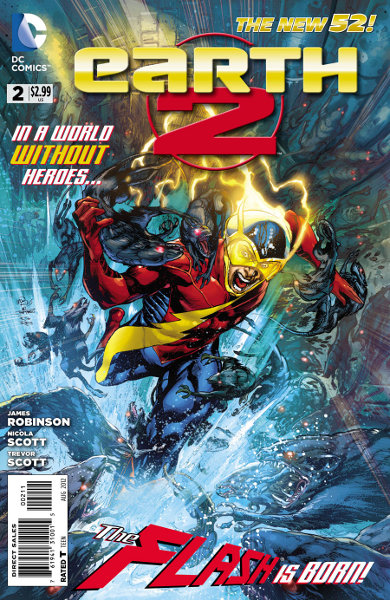 By Glenn Walker
Now most of you are aware of Earth 2 #2 because it features the big reveal of the Alan Scott of Earth 2, soon to be that alternate world's Green Lantern, as a gay and out character. But there are many other reasons you should be picking up this particular comic book.
See the arrival of Michael Holt, Mister Terrific, on Earth 2, as well as cameo appearances by a few surprise guests that will whet your appetites for future issues of this series. But the big draw in this issue by writer James Robinson and artist Nicola Scott is the new origin of young Jay Garrick as the Flash of Earth 2!
If you're not already reading the hottest comic of the week, you need to pick up Earth 2 #2 for new adventures of new takes on the beloved Golden Age superheroes of the Justice Society - Enter the New 52 era!
By Glenn Walker
People are talking about The Shade, from James Robinson's Starman, recently, but in my opinion they're talking about it for all the wrong reasons. Folks are talking about sales figures and cancellations and the state of the comics industry – but what they should have done is read the new Shade comic and talked about that instead. The book is really good, sales be damned.
James Robinson's Starman is not only one of my favorite comic book series, it is, I dare say, one of the best comic book series ever. Back in the 1990s when most superheroes were being Image-sized and replaced by newer, "kewler" versions of the originals, writer James Robinson and artist through most of the run Tony Harris turned that concept on its ear with the creation of Jack Knight. Jack was the black sheep son of the Golden Age Starman – a legacy character who did not want to take up his father's mantle as a costumed superhero, but chose to do it on his own terms.
Jack Knight was a Generation X cipher that many of us identified with, and he was thrust into a superhero universe that we all both knew and loved – and was yet to discover wild and amazing things about – all at the pen of James Robinson. Robinson and Harris created a fictional city in the DC Comics tradition, Opal City, which became a character in itself throughout the series. They also adapted many already existing characters into his new web of elaborate continuity. Among them were the second Starman from the legendary First Issue Special #12, as well as every other hero to go by that name, such as the Mist, Solomon Grundy, the Ragdoll, Alias the Spider, and most of all: The Shade.
The Shade was a super-villain foe of the Golden Age Flash, created in the 1940s as a rather dapper man in black with a top hat and a cane that manipulated shadows. He returned in the Silver Age fighting both his old enemy and the new Flash. Later he joined one of the Injustice Societies and fought both the Justice Society and Justice League on several occasions. James Robinson redesigned the villain as a morally vague Victorian immortal named Richard Swift, a native of Opal City, who in the protection of his home, mentored the new Starman, Jack Knight.
In this new light, The Shade quickly became a fan favorite and even got his own four-issue mini-series at the height of Starman's popularity. Whereas previously he was a throwaway super-villain whose only redeeming quality was his Golden Age vintage, Robinson gave him depth and a vast background that made him intriguing and exciting to a whole generation of comics readers. And now The Shade is back in a new twelve-issue maxi-series written by James Robinson, and is unfortunately in the midst of a whirlpool of controversy.
I saw the Tweet that sparked some of the mania. I follow James Robinson on Twitter and saw this on November 26th. The story was further picked up at The Savage Critics, The Beat and Comics Should Be Good at Comic Book Resources. I'll let you read those links if you want, but the gist is if sales don't get better for The Shade, DC Comics may pull the plug on it before it's done.
Part of the sales problem (if there is one; reports vary) is that that wonderful Starman series I talk so lovingly of was almost a generation ago. No one remembers it, and those who do, might not be aware of this new series with it being released amongst the flurry of DC Comics' big New 52 relaunch. There also might be the problem of James Robinson's most recent work, Justice League of America, which I talked about here on the All Things Fun! Blogs. It's notable that while I really dug it, not many other folks did. James Robinson's Justice League left a bad taste in a lot of mouths. If they see his name on a new comic, they might not pick it up because of his run on Justice League of America.
The shame of it is The Shade is a terrific book that you should be reading. With art by Cully Hamner, this new series has something for folks both familiar and new to the character. If you're looking for connection to the old Starman comic, there are appearances by Mikaal Tomas, Hope O'Dare and everybody's favorite, Jake 'Bobo' Benetti.
On the new side, we are introduced to new villains Les Diaboliques, and the new character that I have fallen in love with: William Von Hammer, a private detective related to Enemy Ace, the Hammer of Hell. If you dig Slam Bradley, The Goon, or just good old fashioned hard boiled detective stories, you will love this new Hammer. And there's also a must-not-miss battle between The Shade and Deathstroke.
Bottom line, comics industry rumors and cancellation threats aside, you should be reading this title. If you're adventurous so far with DC's New 52, or if you're disillusioned with the never-ending events at Marvel, or if you just feel like trying something new, I highly recommend The Shade. Try it, read it, and you might like it. And talk about it for all the right reasons.
By Glenn Walker
The problem with writing comic books that feature teams in an interactive continuity is that sometimes the superheroes you want on those teams are just unavailable due to events occurring in their own titles. Basically it's been the same old story for a long time when it comes to the Justice League of America at DC Comics – you want Superman and Batman, but you can't have them.
When one thinks of the Justice League of America, one thinks of the World's Greatest Super-Heroes. There's Superman, Batman, Wonder Woman, Flash, Green Lantern, and then it gets into a fuzzy area where bar fights start. I would add Aquaman, Hawkman, Green Arrow, maybe even Captain Marvel and Plastic Man, but as I said, it's the realm of madness to go further without the words "in my opinion."  It would be great to have that top five on the JLA, but it rarely happens.
I like comic book writer James Robinson, the latest writer to take the reins of the Justice League's comic. He did amazing work in the 1990s with an Eisner Award-winning run on Starman that showed his ability to take old characters and concepts and rejuvenate them. I love the heroes and villains of the Golden Age, so his work was of special interest to me. He treated them with a love and respect not shown since Roy Thomas worked in comics.
When Robinson took over the Justice League of America about a year ago, it was a mess.  In the midst of the Blackest Night crossover event, the membership had been decimated, and any excitement about the title had kinda fizzled. Robinson began to introduce his own version of the team in his introductory mini-series Cry for Justice, but it was crippled by some hideous events in that series itself, which upset many readers – the destruction of Star City, Green Arrow becoming a murderer, and the loss of Red Arrow's arm.
Maybe in response to readers' dismay, Robinson began to rebuild the team in a different way. Piece by piece, he built what at first seemed a 'gimmick team.' Since Bruce Wayne wasn't available because he was dead, or traveling through time, or maybe just chilling in the Bahamas with Tony Stark – Robinson recruited Dick Grayson who had taken up the cowl and cape of Batman. Superman was dealing with New Krypton and then felt the urge to take a walk, so Robinson recruited Supergirl.
Then an idea must have occurred to him. If he was moving Robin/Nightwing and Supergirl up to the 'big league,' why not graduate others of the younger generation to the main team? To replace Wonder Woman who had been rebooted into virtual non-existence, he brought in Donna Troy. Just to even things out he also brought up Dick Grayson's fellow Teen Titan Cyborg. He had also temporarily added in Starfire and Mon-El as well.
Robinson's recent attempt to return to the Silver and Bronze Age tradition of the Justice League/Justice Society summer team-ups helped to round out his new version of the JLA.  From the JSA he poached his Flash and Green Lantern substitutes: daughter of Johnny Quick and Liberty Belle, and former Flash protégé Jesse Quick, and daughter of the Golden Age Green Lantern, Jade, recently resurrected in Blackest Night.
Along with his own pet characters – the blue alien Starman and classic-but-obscure hero Congorilla – this was set up as "James Robinson's New Justice League." Essentially it at first it looks like a gimmick, something that would have been a gag cover in the Silver Age just to get readers to look twice and go "What's going on here?" But here it is – Dick Grayson and his female Justice League, along with their pet alien, gorilla, and robot. It's a bit too Doom Patrol for me, but what's cool is that Robinson is making it work.
Robinson had been floundering a bit, trying to find his groove, but with last month's fiftieth issue of Justice League of America, I think he got it. In a far-reaching epic of multiversal proportions, he pitted his neophyte League against one of their deadliest adversaries, the Crime Syndicate, evil doppelgangers of the JLA's big five.
Over and above the fanboy glee of seeing Supergirl fight Ultraman or the new Batman struggle with Owlman, there is also the fun of watching this new team dynamic start to gel. They might not be my Justice League, but I am invested in these characters and want to see them interact and triumph. And James Robinson is never a writer to make things easy for the heroes.
As if the Crime Syndicate wasn't enough, there's also the threat of some multiversal crisis in the air, and then there is also the Omega Man. Robinson has picked up the lost plot threads of Brad Meltzer's Doctor Impossible and his Dark New Gods, and it turns out that not only are there dopplegangers of the New Gods, but also Darkseid – the Omega Man.
Justice League of America #51 is on the shelves now, check it out. Recommended.
By Allison Eckel
To prepare for the great issue 700 of Superman, I finally sat down and read the huge stack of Superman Family titles I've collected chronicling the saga of New Krypton – about two years' worth of books.  I am glad I waited to read them altogether. Story collections of this saga have begun to ship, so if you haven't followed it, you still have a chance, and there are parts of this I highly recommend.
In a nutshell, remember the bottle city of Kandor? Superman has had it in his Fortress of Solitude for as long as I've been a comics reader, some 30 years. Well, no longer. The city becomes big again, the resident Kryptonians grow a planet under they're city, and Earth's yellow sun adds a planet to its system. The obvious implication for Superman is that he is no longer the last Kryptonian, but one among many, all of whom have his abilities and almost none of whom share his morals.
That is enough to sustain a compelling read for three or four issues of one title, but not enough for the scale they needed. So someone at DC – maybe the New Krypton writing team of James Robinson and Greg Rucka? – wisely realized that Superman stories are greatest when his adversary is complicated, intelligent, plotting, and morally grey, which is why Lex Luthor is such a great foil. The weakest stories are the ones filled with mindless fisticuffs.
The New Krypton saga had three such adversaries who were locked in an intricate dance around each other, with each other, and against Superman. The covert ops and overt PR spin of General Sam Lane (Lois's supposedly dead father); the patriotic strategizing "for the safety of New Krypton" from General Zod, who once tried to take over Earth; and the self-advancing avarice of Lex Luthor, who would sacrifice anything for more Brainiac technology. Wrapped around these men are political and moral situations allegorical to many in the recent news. Oh, and Brainiac was working in there too, he was just demoted to mindless attacker and pawn of the other three.
I won't tell you how it all ends. I will say that it's cataclysmic and we end up with about the same number of Kryptonians as we started with, which is a tremendous body count.
Through the saga, Superman stayed on New Krypton (except for a few crises in other titles that brought him back to Earth). He became a citizen, hung up the blue tights, and got a job. Issue 700 highlights the moment he returns to Lois. Some have criticized this story by J. Michael Straczynski as an unfortunate throwback to the days when Superman arrived just in time to rescue Lois as a damsel in distress. But I disagree. I think she would have evaded the Parasite eventually. That chase was just a convenient set-up for Superman's arrival.
The real point of this story is not the save but the reunion. I could replace Clark and Lois with newspaper cut-outs of a U.S. soldier and his wife and the conversation would be pretty much the same. The reunion is powerful, dramatic, sometimes traumatic, and words fail. You reaffirm, reconnect, and start to move on.
Now, with Superman, he typically moves on by just getting back to keeping everyone safe. But not this time. This time, the crisis was deeply personal and prolonged. This time, his perspective of himself and his responsibility has gone a little out-of-whack. Also, the people of Earth have been put through a PR spin machine that made them distrust him. Writer JMS even has a woman blame Superman for the death of her husband from cancer, saying that if Supes had been on Earth, he might have seen the tumor and been able to do something about it. At first, I was blown away by how preposterous an accusation this is. Superman taught Kara this very lesson: They can't save everyone, especially not from things like cancer. How could he take this woman seriously?
The answer, I hope, will come from JMS's "Grounded" storyline that will run for a while in the Superman title. For starters, Supes walks. That's it, he just walks. Here's how JMS explained it to Maxim magazine in June: "Superman is coming home, to get a sense of where we are, who we are, and what he may (or may not) be able to do to help. It's about how Superman sees us, and how we see ourselves, reflected in his eyes." Superman 701 shows him walking in Philadelphia where he stops to help a resident diagnose car trouble before moving on. Superman 702 will have him stopping in Detroit (on sale Aug. 11). These stories, so far, are small and quiet, but not pointless. By the end, I'm sure we'll have Superman back to normal, but "Grounded" seems to be about the journey, which is a nice change of pace for a comic universe as crisis-heavy as the DCU.
By Allison Eckel
I was five when my parents bought me my first comics and I have been a faithful reader of the form ever since – and of the same characters, too. Although the characters have been tweaked here and there, I have certainly changed more than they have. So, my take on a series is heavily colored by age, experiences, and insights of the moment.
For example, in the third grade I discovered DC's Amethyst, Princess of Gemworld. It's a story we've read in many forms: An alien world's long-lost princess is really 13-year-old Amy Winston, a very normal little girl from the U.S. If I discovered it tomorrow for the first time, I would likely find it "cute, but terribly derivative." But at the time, it spoke to me on many levels and I still haven't shaken it.
Today, when I read comics I bring to the story a complicated bag of technical knowledge, motherhood, cynicism, and other things far removed from innocent wonder. If Blackest Night had been just about the rings and the emotional spectrum, I would have enjoyed it but probably forgotten most of it quickly. Like 52 and Infinite Crisis: I can't for the life of me remember what either was about. But Blackest Night carried a deeper emotional hook that caught me at just the right time.
When heroes confronted Black Lanterns, they were not just fighting the reanimated corpses of their loved ones. Neckron made sure that the dead spoke and with their words made the heroes confront their biggest failures. Because for a hero, what is worse than your loved ones dying on your watch? Is there any one of these confrontations that stays with you more than the rest? Kyle and Alex? Guy Gardner and Tora? Beast Boy and Terra?
For me, it was Donna Troy and her baby in writer J.T. Krull's Blackest Night: Titans. Now, if I had read this in my youth, I probably would have said, "That's gross. How could she care for that creepy little monster?" Maybe many of you thought something similar. Now that I can add the lens of motherhood to my perceptions, my reading of this issue if very different. And I just can't shake it.
I also can't shake the end of the limited series Cry for Justice. At first, I avoided this series, which includes an odd grouping of characters, most of whom I didn't care about. But by the second issue, I was hooked. Writer James Robinson leads us on a chase that reveals a hoodwink that becomes a standoff. The consequences are tragic, of course, but masterfully planned. Loss of a hero is no longer good enough. No, the tragedy, post-Blackest Night, has to be bigger, deeper, younger and more fragile. This is another one I can't shake.
Thanks to Krull again, I get to re-live it over and over in the pages of Justice League: The Rise and Fall of Arsenal. Poor Roy; I was really rooting for him as the former bad-boy turned single father to an adorable little girl. I sense a pattern here: Maybe Titans are meant to be childless. I guess I should be worried for Wally's kids next…
In the meantime, we have the launch of Brightest Day. I hope the strong writing and emotional component that earned Blackest Night an Eisner Award nomination continues and that DC serves up more than a forgettable comics event. With winter over and spring in full bloom, I am ready to shake the gut-wrenching tragedy for awhile and look for some renewal.