By Glenn Walker
Has the furor died down yet? Is it safe to talk about it yet? Yeah, it might be time. There was a week or two there if you mentioned the kiss, also known as the Superman/Wonder Woman power coupling in the final few pages of Justice League #12, by Geoff Johns and Jim Lee, you might as well be wearing asbestos - because flames will fly. A month and a half having gone by however, it may just be safe to think about this one.
I am a hardcore Wonder Woman fan, and I'm a firm believer that Superman and Lois Lane belong together. I've labored on about that last point before, both here and other places. Whether Wonder Woman and Steve Trevor should be together is a whole other argument, but just for simplicity's sake, let's just say, in a perfect world, they too belong together. However, in the New 52 DC Universe, neither couple is together, in the former case, have never been together… so it might work out for Supes and WW… or would it?
To figure out the present, as always, we must look to the past. Despite both superheroes being around since the Golden Age, they never really had much interaction until the 1960s, and then to be honest, very little. Sure, both Superman and Wonder Woman were members of the Justice Society of America, but rarely appeared in the same issue. Superman's appearances were rare, as he was an honorary member.
Things were slightly different in the Silver Age's Justice League, but comics were simpler then, all about story, less about character interaction. By the time things had changed, and the way comics were written was more mature and character driven, the couple's positions almost reversed, with Diana becoming an ex-member of the League while she was without super-powers. Again, the two rarely saw each other.
Probably the first time I saw Superman and Wonder Woman together, outside of the League, was in Lois Lane #136, sadly the second to the last issue of that series. In that story, the two heroes announce their engagement, much to the heartbreak of Lois. In the end it's all a ruse to lure out a psychotic killer who wants to marry Superman herself.
Silliness, yes, and typical of Lois tales of the time, but the cover betrays something more. As the power couple save Lois from certain doom, she thinks in a good old-fashioned though balloon, "Now I know why Superman is marrying Wonder Woman instead of me… they're a super-team!" There you go, power couple, so much in common, etc. It does make sense. They are both strangers in strange land, both gods among mankind, and in the same profession, and both keeping big secrets. Of course they would fall for each other.
That issue of Lois Lane was a hoax, but later, in the post-Crisis era, the powers that be tried to put them together again, but this time explaining why not. It was in Action Comics #600, in a story by John Byrne and George Perez. Their big kiss this time was awkward, like a brother kissing a sister, as it is with most co-workers who try to make things happen. It's kinda ick.
Much later, in the classic alternate future epic, Kingdom Come, by Mark Waid and Alex Ross, Superman and Wonder Woman do actually wind up together, and work well together as both a team and a couple. There is one prime plot point that allows this to happen. In that story, Lois is dead, and if Diana had someone, they are also long gone. They are the perfect second chance couple, as long as their first choices are unavailable.
Now, we have a new continuity in the New 52. In this world, Superman and Lois Lane have never gotten together, and Wonder Woman has a tenuous if any relationship with Steve Trevor. In Justice League #12, the two come together out of loneliness and battle fatigue, as well as that old bugaboo, familiarity. But I doubt it will stick.
In the new 52, these two characters are not the same as they were. Given the Kingdom Come example, those two would get together under those circumstances, but in the New 52, they are now completely different people. Neither one of them is completely human. This should evident to anyone who reads their solo books. Superman is more alien than ever, and Wonder Woman is more god than ever. This might stand for now, but my prediction - doomed romance, at least in the New 52. You'll just have to stay tuned into upcoming DC Comics to see if I'm right.
By Glenn Walker
Hopefully y'all have been following the All Things Fun! Comic Vidcast uploaded every Wednesday, and if not, get yourself over to its special webpage and enjoy. As I said, it's uploaded every Wednesday morning by 11:30 AM sharp Eastern Standard Time, and available for viewing – as are all the episodes, throughout the week afterwards. The Vidcast even has its own channel on YouTube.
I, along with co-hosts Allison Eckel and Ed Evans, discuss the new comics that come out that day for the week. We like to think we offer our own unique and informative view of the comics world and what's going on within it and around it.
Although, sometimes fifteen to twenty minutes just isn't enough to explain some of the references made during the vidcast, and it certainly isn't anywhere near enough time to justify the vast storehouse of useless comics knowledge spilling out of my head. We've had to do an explanatory post like this once or twice before, and hopefully this new edition of Show Notes might help alleviate the pressure on my brain.
Lucas "Snapper" Carr
Allison doesn't like this guy and thinks he's dumb, and didn't know why he was showing up in recent issues of the out-of-continuity Young Justice. Old folks like me were thrilled with both the history and irony of his appearance. Sadly, when most people do think of poor Snapper, they do think lame. That's because they don't have a sense of history, or perhaps don't know his history.
Snapper was designed to be the identifying character in Gardner Fox's Silver Age Justice League of America. He was the little-bit-out-of-date beatnik kid who got to hang out with the World's Greatest Heroes. "Wow, if we, the readers, could be Snapper, wouldn't that be cool?" was the line of thinking, but after a while, Snap got annoying. While Fox was on the book, Carr worked as a storytelling device, informing readers on the ins and outs of the team, the day-to-day operations, and he even had a friendship with the League's second new member, the Atom.
However, as time went by, even Gardner Fox got tired of poor Snap, and used him less and less. When Fox left, and new, younger, hipper writer Denny O'Neil came on board, things changed. O'Neil sought to streamline the JLoA to be more his style, and more in line with other books he wrote. More focus was placed on his pet characters like the darker detective Batman, Green Lantern, his revamped and more socially conscious Green Arrow, and the Earth-Two Justice Society transfer, Black Canary. O'Neil also got rid of folks. Over in her own title, he had depowered Wonder Woman, and here, he had her resign from the League. J'Onn J'Onzz returned to his homeworld, and O'Neil simply just ignored Aquaman as if he didn't exist.
Denny O'Neil had more sinister plans for poor Snapper Carr. In the writer's mind, as Snapper grew older, the League had gotten tired of him, and in turn, Snapper was weary of being made fun of by his peers for being the 'Justice League mascot.' In short, he was feeling alienated, and was ready to strike back at 'the man,' his mentors and friends in the JLA. Snapper fell under the sway of an anti-superhero public speaker (shades of the Glorious Godfrey who would come a few short years later) called Mr. Average.
The insidious Mr. Average convinced Snapper that he had to turn against the heroes, and he weaseled their biggest secret out of poor Snapper: the location of their secret headquarters, the Secret Sanctuary in Mount Justice. Oh, and did I mention that Mr. Average was actually the Joker in disguise? Yeah, this was bad. And it led to Snapper Carr's resignation as an honorary JLA member, and the move to a satellite headquarters in orbit.
But therein lies the irony of Snapper appearing in Young Justice, as you see, the YJ team meets in the old Mount Justice headquarters. Cool, huh? Snapper Carr eventually made amends with the JLA, but not after making further mistakes, like being misled once again by villains like The Key, the Star-Tsar, and the Privateer. He later sidekicked for the android Hourman from the future. Snapper Carr remains a case study in the idea that there are no bad characters, only bad writers.
The Absorbing Man
Stop snickering, Allison. I know how you like to make fun of the sometimes-lame names of Marvel Comics characters, but this one is really cool. And besides, it's DC that has characters like the Crimson Centipede, the Purple Pile-Driver, Animal-Vegetable-Mineral Man, and Don Rickles as a super-villain -- not Marvel, so take that.
The Absorbing Man began his comics life as small-time and not-so-bright criminal Carl "Crusher" Creel, and in the typical fashion of most Silver Age Thor villains, being unknowingly empowered by Thor's evil stepbrother Loki. In this case, Loki gave Creel the ability to absorb the strengths and properties of whatever he touches. For example, he touches stone, he becomes as strong as stone, and in actuality, stone. Needless to say, he's been shattered several times.
Over the years, other than Thor, he has clashed with the Hulk several times, giving you an idea of Creel's power levels. The turning point for the Absorbing Man was in the late 1970s in Avengers #183-184 when he made the big leagues. He ended up taking on the entire Avengers team when all he wanted was to be left alone. From that moment on, he was taken seriously and was considered a major Avengers foe, as opposed to that dumb guy with the ball and chain who sometimes bothered Thor and the Hulk.
He's been animated several times, beginning with the Thor segments of 1966's "Marvel Super Heroes," and most recently in Disney XD's "Avengers: Earth's Mightiest Heroes" as both an adversary of the Hulk and the whole team again. Creel has even made it to the big screen, albeit in a mangled comics-to-film version. In Ang Lee's Hulk movie, Nick Nolte plays Bruce Banner's father, who is imbued with the Absorbing Man's powers.
Crusher Creel continues his major threat level status even today as one of The Worthy in Marvel Comics' latest big crossover event, "Fear Itself."
Wonder Man
Here's another name Allison has busted on, and a character with a lot of history, and an amazing character when written right. Currently he's being miswritten by Brian Michael Bendis in theAvengers comics franchise, as a bitter former member who wants to stop his old teammates by starting his own group, the Revengers. It all sounds familiar, but essentially out of character.
Wonder Man began life as a one-shot, one-note character in the classic Avengers #9 by Stan Lee and Don Heck. Simon Williams was recruited byBaron Zemo and the first Masters of Evil to gain super powers and infiltrate the Avengers and destroy them from within. With a mysterious 'ionic' process, Williams was given enhanced strength, endurance and invulnerability, as well as a rocket belt for flying. He joined the team, and then when the Masters of Evil attacked, Simon had a change of heart and fought against them. Zemo double-crossed him, and Wonder Man became the first Avenger to die in battle. At least he died on the side of the angels.
Wonder Man was not forgotten. His name and memory came up often in the Avengers series. Things got hot when Simon's brother, the Grim Reaper, attacked the team seeking revenge. It was revealed later that Simon's brain patterns were actually recorded, and used as a template for the android Vision's mind after he had been reprogrammed. And much later, Avengers arch-foe Kang stole Wonder Man out of time and used him as a pawn in his Legion of the Unliving. In all cases, fan response was strong.
All of these post-death appearances told the powers-that-be at Marvel one thing: Wonder Man was popular. And what do you do with dead characters in comics when they're popular? You bring them back from the dead of course! Wonder Man returned in Avengers #151, first as azuvembie (don't even ask, or just click, but you've been warned), and then for real and for good, regaining his full member status on the team.
Wonder Man became a fast fan favorite, became a founding member of the West Coast Avengers, best friends with teammate the Beast, got his own series, and yes, died a couple more times, and came back as well. He's become known as a loyal support Avenger, his colorful, and sometimes drab costumes, and for coming back from the dead frequently. What he's not known for is being vengeful and unfoundedly proactive. Again, it's Snapper Carr time -- there are no bad characters, only bad writers.
That said, Wonder Man, and the Revengers, can be found in recent issues of the Avengers franchise of titles, fighting his former friends, the Avengers.
That's all for this time. I'm sure there will have to be more explanations of obscure and arcane info from my twisted mind. Maybe next time I'll teach y'all how to pronounce all the 'O' villains in the Justice League's rogues gallery…
By Glenn Walker
Her name is, along with Wonder Woman, probably the best known of the female characters at DC Comics. She's been around almost seventy-five years. She had her own title for twenty-four years. She was an independent woman long before it was fashionable to be so. She's a strong, definitive, unique character in her own right. And most of all, she is the woman behind the man, when it comes to Superman.
Hell yeah, Lois Lane should get her own series again.
As my co-blogger Allison noted in a blog entry some time ago, there has been much chatter about Lois Lane lately, especially with the casting of Amy Adams in the new Superman flick. Folks all over the Internet are clamoring for Lois to get her own series again, and I'm right there with them. I think it's a fantastic idea, and about time too. She's been away too long.
But maybe first we ought to take a peek at her old series first. The Lois Lane title was clearly, for good and for bad, a product of its times. In the beginning, after it spun out of a tryout issue of Showcase, it was so cliché, and just what one would expect of a Lois Lane comic in the 1960s that was informed by the previous decade. Painful to read, it was story after story of Lois trying to trick Superman into marrying her, trying to prove he was really Clark Kent, and fighting off anyone else who might compete for the man of steel's heart.
The story cycle seemed neverending. Even the full title of the series, Superman's Girl Friend, Lois Lane, was representative of her position in this comic. And it was a Superman comic, as he appeared in nearly every issue and on every cover in some form or another. The book was part of the Superman family of titles editorially, and while aimed at the same girl demographic that also read the romance comics of the time, it had just enough Superman (and sometimes other heroes) to get the attention of the boys.
Then things changed. The 'relevance' movement of the early 1970s had hit comics, and everything was changing -- Green Lantern teamed with Green Arrow to tackle social issues, Robin left for college and Batman became a solo creature of the night again, Wonder Woman lost her powers, and yes, even Lois Lane went with the flow. With a new writer, a new haircut, and a back-up series starring the Rose and the Thorn -- the Lois Lane comic became a different book.
While Superman still haunted the cover and sometimes the insides of every issue, the stories were different, more in tune with current events, and more about a protagonist who was actually a reporter. Lois had her own cast of characters who were not necessarily the same as the Daily Planet staff in the other Superman titles. Most notable was Melba Manton, one of DC Comics' first African-American female ongoing characters.
The Rose and the Thorn showed Metropolis' grittier side, as the vigilante The Thorn (Rhosyn Forrest) fought the criminal organization called the 100, who were too low profile to gain the attention of a Superman who regularly fought Brainiac and saved the Earth from wayward comets. The Thorn also frequently crossed over with Lois in both the lead feature and the back-up. Things were looking up for this, my favorite era, of Lois Lane in the comics.
The status quo shifted again in the mid-seventies when unfortunately flagging sales of Lois' title, along with Superman's Pal, Jimmy Olsen and the first volume of Supergirl, caused all three to be canceled, and replaced with a single extra-sized title called Superman Family. The new title continued the numbering of Jimmy Olsen, if memory serves, and featured one new story with one of the three, and reprints of the others on an alternating basis. Later it became an even bigger comic with all-new material, along with stories of Superboy (Superman as a boy) and Mr. and Mrs. Superman (tales of the Golden Age Superman who had married his Lois).
The Lois Lane of this period wasn't as gritty as the Lois who regularly hung out with Melba or the Thorn, but she was a separate entity from Superman who rarely showed up in these stories. No more secret identity or sneak wedding stunts for our girl reporter. These were fairly good times, but short-lived. Superman began to show up more and more, and then the stories, usually journalism-based, were cut down to ten or so pages. It stayed this way until the title was canceled.
By the mid-80s, Crisis on Infinite Earths brought a reboot of Superman continuity by writer/artist John Byrne. We had a new Lois Lane, with brown hair rather than black. She was a serious reporter, a Pulitzer Prize winner, and most importantly her own woman -- Superman's equal if anything, not 'his girl friend.' Her character was independent and yet helped to define Superman. He wasn't who he was without her.
In the past few decades we have watched Lois grow and her relationship with Superman evolve. She's as important a character as Superman himself these days, a happy about face to some versions of the past.
I would love to see this Lois in her own series again. But who should she be? Which past lives -- if any -- should influence her current character? What do you think?
By Glenn Walker
Hopefully y'all have been following the All Things Fun! Comic Vidcast broadcast live every Wednesday, and if not, get yourself over to its special webpage and enjoy.  As I said, it's live every Wednesday morning at 10:30 AM sharp Eastern Standard Time, and available for viewing, as are all the episodes, throughout the week afterwards.
I, along with co-hosts Allison Eckel (fellow blogger) and Ed Evans (All Things Fun! owner), discuss the new comics that come out that day for the week.  We like to think we offer our own unique and informative view of the comics world and what's going on within it and around it.
Although, sometimes fifteen to twenty minutes just isn't enough to explain some of the references made during the vidcast, and it certainly isn't anywhere near enough time to justify the vast storehouse of useless comics knowledge spilling out of my head.  Hopefully these show notes might help.
Deadpool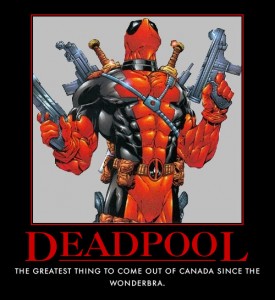 I am not a nice person.  I have been known to tease young children, take candy from babies and frequently have poked X-Men fans with pointed sticks, but nothing was as terrible as when I convinced Allison that there was not only a Golden Age Deadpool, but also a Silver Age Deadpool.  I'm a cruel, cruel man.
In reality, Deadpool was created for Marvel Comics in 1991 by the infamous Rob Liefield.  The wildly popular character is in many ways an in-joke for comics readers, even his real name, Wade Wilson, is a reference to DC Comics' mercenary anti-hero/villain Deathstroke (aka Slade Wilson).  His healing factor and super-reflexes are a product of the same program that created that other Canadian superhero, Wolverine.  The 'merc with a mouth' often talks to the readers directly, and rarely shuts up, to be honest.  The character is so popular that hardly a week goes by without some Deadpool offering from Marvel Comics.
Squirrel Girl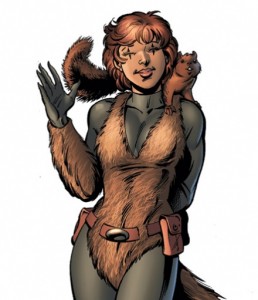 This one, a teenaged mutant super-heroine with rodent-like abilities and the power to communicate with, yes, squirrels, was created by comics legend Steve Ditko in 1992.  In her first appearance she and her sidekick, a squirrel named Monkey Joe, first fought, then teamed up with Iron Man, and then when the Golden Avenger was defeated, she was victorious against the sinister Doctor Doom.  Don't laugh.  This really happened.
John Byrne created the Great Lakes Avengers in 1989 as a joke, another in-comic reference to other characters, in this case conceptually, to another DC Comics idea - the Legion of Substitute Heroes.  These heroes had dumb powers and were ridiculous characters but would serve as back-up, should the real heroes fall in battle.  Squirrel Girl was a perfect fit for the team.
Her service on that team led to the character being featured in the recent I Am an Avenger #1 and writer Brian Michael Bendis choosing her to become nanny for Luke Cage and Jessica Jones' daughter in upcoming issues of New Avengers.
The Micronauts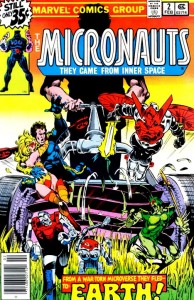 When the Japanese Microman toy line came to America in 1976 as Micronauts by Mego, Marvel got the license for their comic book adventures.  With Bill Mantlo on story and Michael Golden on art, characters, history and an entire universe - or more accurately a Microverse - was created simply based on the toy designs and one or two names.  Just my opinion, but for about a year or so, them's was some darn good comics.
Two concepts remain after all these years.  First Bug, who continues to appear as part of Marvel's Guardians of the Galaxy and in their cosmic-based mini-series epics.  The other, Captain Universe, is equally cosmic.  Whenever a person, any person, is in a time of crisis, the Uni-Power, also known as the Enigma Force, can transform them into a cosmic-powered superhero known as Captain Universe.  Interesting idea, he's the hero who can be you.  Notably, Spider-Man once became Captain Universe, and he beat the living snot out of Firelord.  Yes, really.
Giant-Size Man-Thing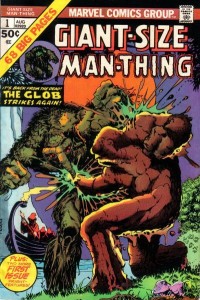 Hmmm.  Let's take the second part first.  Man-Thing was Marvel Comics' swamp monster counterpart to DC Comics' Swamp Thing.  Like the Doom Patrol and the X-Men, and the Red Tornado and the Vision, this was one of those times when both major comic book companies came up with a concept at roughly the same time, summer of 1971.  Sometimes great minds think alike, but it's notable to mention that The Heap, the swamp monster from the Golden Age, predates them both by nearly thirty years.
Unlike Swamp Thing, the Man-Thing was frequently used as a tool to tell stories, or the catharsis for other stories.  They were rarely about him.  Other characters surrounded him and were launched after appearing with him, such as Wundarr, Foolkiller and Howard the Duck among others.  And as the Guardian of the Nexus of All Realities (don't even ask) it seemed like anything could happen when Man-Thing was around.
Now for the embarrassing part.  In the mid-seventies, Marvel upsized several of their comics to more pages and more cents with a line they called Giant-Size.  Almost every Marvel comic had a "Giant-Size" version, including, you guessed it, Man-Thing.  Over the years, this double entendre has become a legendary joke in the industry, but it should be noted that Giant-Size Man-Thing lasted for an entire year, five whole issues.  And I just bet that writer Steve Gerber giggled like a madman every time it came out.
That's all for this time.  I'm sure there will have to be more explanations of obscure and arcane info from my twisted mind that makes into our live vidcast.  Maybe next time I'll teach y'all how to pronounce all the 'O' villains in the Justice League's rogues gallery…