By Glenn Walker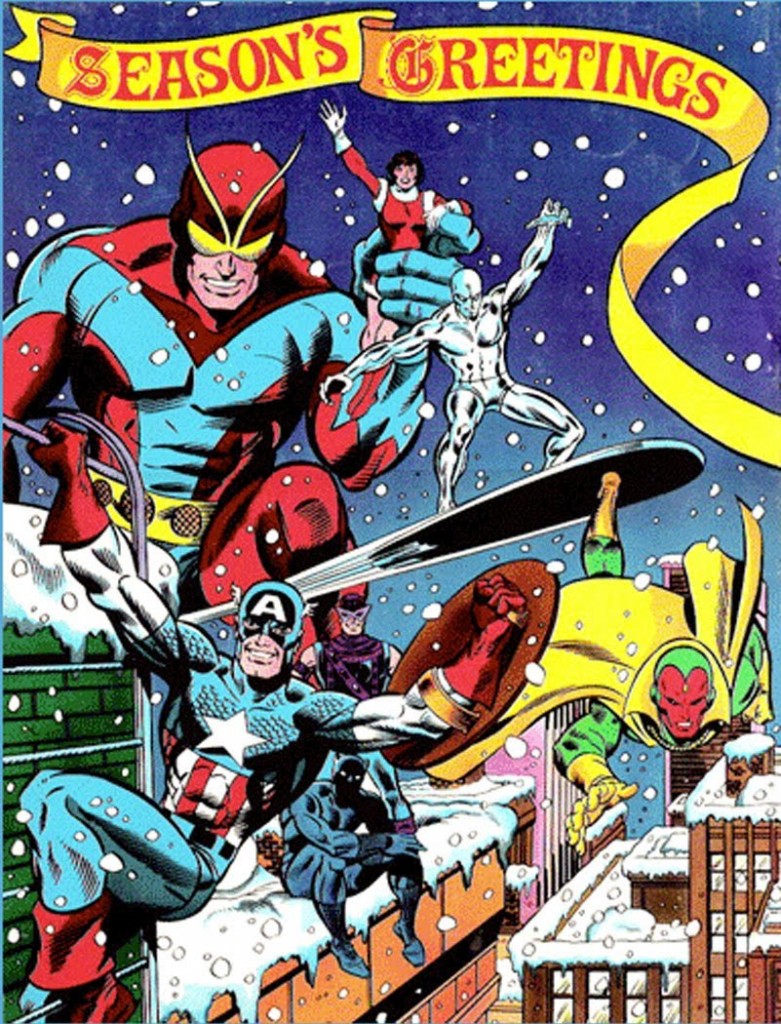 Christmas decorations are everywhere, Christmas music is on the radio, everyone is running from store to store to get all the good bargains. Yes, it's that time of year again - it's time to spend time with the family, whether you like it or not.
The holiday season is here, and the holidays are all about family. The Avengers is my favorite superhero team, and in a way, they are a family of sorts. In my opinion, the Avengers has always worked better as soap opera in superhero trappings, after all, superhero comics are the bastard stepchild of mythology and soap opera. The problem is, when you get right down to the roots, the Avengers family tree is rather twisted and dysfunctional. What better time to explore this nest of incest and insanity than the holidays, right?
Let's start with the team's inaugural couple, and while they are no longer officially or romantically still together (depending on the writer), Dr. Henry Pym (known alternately as Ant-Man, Giant-Man, Goliath, Yellowjacket, Doctor Pym, or the Wasp) and Janet Van Dyne, the original and best known Wasp, have had no children, and yet they leave quite a family legacy.
Pym created an artificial intelligence called Ultron, soon to be the big bad in the next big Marvel crossover event, who would become the Earth's Mightiest Heroes' deadliest foe. This machine menace wanted only two things, the complete and total eradication of the human race… and daddy's love. Hank was not forthcoming, leading to an Oedipal complex of catastrophic proportions. I'm being vague, and sarcastic, but trust me, this covers it.
Ultron considered Pym his father, and in a twisted way, that made the Wasp his mother. Since it's likely Ultron was programmed with Pym's brain patterns, he wanted his mother, and eventually, rather than 'have' her, he created a bride of his own - the aptly named Jocasta, a machine woman programmed with Janet's brain patterns. Jocasta would eventually turn against her master, join the Avengers, and creepily become enamored with Hank Pym. Ew.
It gets worse. In an attempt to be more like his own 'father,' Ultron endeavored to become a father himself, and created the Vision. While more of a reactivation than a creation, Ultron still would call the Vision his 'son' for decades.
Of course, that's not the machine monster's only son. Each time Ultron rebuilt himself, he gave himself a number designation. The Ultron Mark 12 seemed to have gained some form of evolution and wanted to be a good son to Pym. Unfortunately (or unfortunately, depending on your outlook), this model sacrificed itself to save the Avengers from a resurrected Ultron-11.
Speaking of the Vision, he is another source of incest and conflict in the Avengers family. I've talked before on this blog about his romance with the Scarlet Witch, their marriage, their children, her breakdown, and then how she tried to destroy the whole team.
If that's not enough to make things uncomfortable at holiday dinner, there's also Wonder Man. His brain patterns were originally used to program the Vision, he fell for the Scarlet Witch, and his first and last encounters with the team have involved trying to destroy them. I'm sensing a theme here…
The Vision isn't innocent here either when it comes to relationships outside of Wanda either. He's also been involved with Mantis, Stature, and the aforementioned Jocasta as well. If that's not difficult enough, imagine the Vision sitting at the same table with Wonder Man, with whom he has shared a mind, and the original Human Torch, with whom he has shared an android body. Go ahead, just imagine the small talk.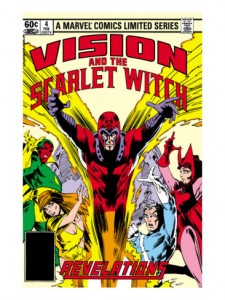 Let's talk about the Scarlet Witch's family a little bit now. There are her two children, Young Avengers Wiccan and Speed, whose continuity are better left untouched, especially if you're running low on Tylenol. There's also her brother, fellow Avenger Quicksilver, and of course her dear old dad, arch-foe and sometimes ally of the X-Men, Magneto. Mags notably enslaved Wanda and her brother as members of the Brotherhood of Evil Mutants, and has also battled the Avengers more times than this vast storehouse of useless comics knowledge can count.
Quicksilver eventually left the Avengers for a time because he resented his sister's love for the Vision, because he was a machine. Imagine that, a racist mutant. He then fell for Crystal of the Inhumans. Hmmm… sounds like someone could use an attitude adjustment. It's okay though, karma is a bitch, just like his wife Crystal, herself a jilted romance of the Human Torch, she eventually found solace in the arms of fellow Avenger, the Black Knight.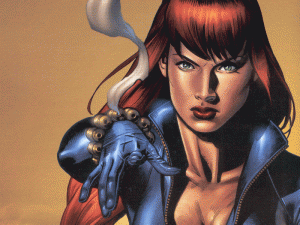 If you want to talk about relationship hopping, no one does it like the Black Widow. She was originally one of Iron Man's enemies, who reformed along with erstwhile romance Hawkeye, to join the team. When she was later briefly rejected by Daredevil, she finally joined the Avengers before going back to him. Notably, her ex-husband, the Red Guardian fought the Avengers on occasion. She's had close relationships with Captain America, Hercules, and is currently with Winter Soldier. Is your scorecard filled up yet? Turn it over, there's more.
Speaking of villains who have reformed, especially after fighting the Avengers, there's the original Thunderbolts, who were also the same Masters of Evil team who attacked the Mansion and nearly beat Jarvis and Hercules to death. Just sayin'. Hawkeye later led that team. There's also the Swordsman, who spent most of his career as an enemy of the Avengers before joining the team. Just for the record, he trained Hawkeye, and also brought Mantis onto the team.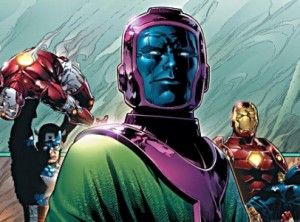 And then there's Kang. Like the other Avengers greatest foe, Ultron, Kang the Conqueror is also family, although we're not sure exactly how. Kang is many people, due to the vagaries of time travel and the paradoxes involved, he's also Rama Tut, Immortus, the Scarlet Centurion, possibly even the Justice League of America foe the Lord of Time, and many, many alternate versions of himself. But the arguing point is who was he originally?
For decades the conventional wisdom at Marvel Comics suggested that Kang was Nathaniel Richards, but that might not be completely or even still correct. You know how comic book continuity changes every other day. Since the brilliant and award winning Young Avengers series by Allan Heinberg, there is much speculation that he may in fact be Iron Man or a descendent of Tony Stark. I bet that makes Hank Pym feel better about his sins.
Kang has other more sinister relationships with Avengers though. In the infamous Avengers #200, Immortus, a version of Kang, kidnapped Carol Danvers - then known as Ms. Marvel, now known as Captain Marvel - and took her to his home in Limbo, brainwashed her, impregnated her, returned her to Earth, and then she (I'm not making this up) gave birth to him, whereupon he swept her off her feet and returned with her to Limbo to supposedly live happily ever after. And for the most part, the Avengers let him get away with it. This dark point in comics history is known as The Rape of Ms. Marvel.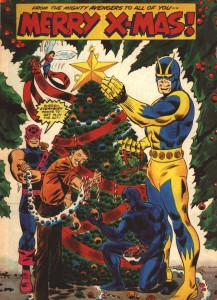 So yeah, that will be uncomfortable when the family gets together. It's no wonder that Ms. Marvel, Iron Man, and Hercules among others have heavy drinking problems... just look at these Avengers!
You think it's rough with your family, be glad you're not having a holiday dinner with the Avengers family. Yeah, imagine what's going on at that holiday dinner table. Ya gotta admit, the conversation is going to be interesting… at least before combat breaks out. As I said, I love the Avengers, but man, they are soooo not the kind of family I would want to sit down with for the holidays...
By Glenn Walker
Has the furor died down yet? Is it safe to talk about it yet? Yeah, it might be time. There was a week or two there if you mentioned the kiss, also known as the Superman/Wonder Woman power coupling in the final few pages of Justice League #12, by Geoff Johns and Jim Lee, you might as well be wearing asbestos - because flames will fly. A month and a half having gone by however, it may just be safe to think about this one.
I am a hardcore Wonder Woman fan, and I'm a firm believer that Superman and Lois Lane belong together. I've labored on about that last point before, both here and other places. Whether Wonder Woman and Steve Trevor should be together is a whole other argument, but just for simplicity's sake, let's just say, in a perfect world, they too belong together. However, in the New 52 DC Universe, neither couple is together, in the former case, have never been together… so it might work out for Supes and WW… or would it?
To figure out the present, as always, we must look to the past. Despite both superheroes being around since the Golden Age, they never really had much interaction until the 1960s, and then to be honest, very little. Sure, both Superman and Wonder Woman were members of the Justice Society of America, but rarely appeared in the same issue. Superman's appearances were rare, as he was an honorary member.
Things were slightly different in the Silver Age's Justice League, but comics were simpler then, all about story, less about character interaction. By the time things had changed, and the way comics were written was more mature and character driven, the couple's positions almost reversed, with Diana becoming an ex-member of the League while she was without super-powers. Again, the two rarely saw each other.
Probably the first time I saw Superman and Wonder Woman together, outside of the League, was in Lois Lane #136, sadly the second to the last issue of that series. In that story, the two heroes announce their engagement, much to the heartbreak of Lois. In the end it's all a ruse to lure out a psychotic killer who wants to marry Superman herself.
Silliness, yes, and typical of Lois tales of the time, but the cover betrays something more. As the power couple save Lois from certain doom, she thinks in a good old-fashioned though balloon, "Now I know why Superman is marrying Wonder Woman instead of me… they're a super-team!" There you go, power couple, so much in common, etc. It does make sense. They are both strangers in strange land, both gods among mankind, and in the same profession, and both keeping big secrets. Of course they would fall for each other.
That issue of Lois Lane was a hoax, but later, in the post-Crisis era, the powers that be tried to put them together again, but this time explaining why not. It was in Action Comics #600, in a story by John Byrne and George Perez. Their big kiss this time was awkward, like a brother kissing a sister, as it is with most co-workers who try to make things happen. It's kinda ick.
Much later, in the classic alternate future epic, Kingdom Come, by Mark Waid and Alex Ross, Superman and Wonder Woman do actually wind up together, and work well together as both a team and a couple. There is one prime plot point that allows this to happen. In that story, Lois is dead, and if Diana had someone, they are also long gone. They are the perfect second chance couple, as long as their first choices are unavailable.
Now, we have a new continuity in the New 52. In this world, Superman and Lois Lane have never gotten together, and Wonder Woman has a tenuous if any relationship with Steve Trevor. In Justice League #12, the two come together out of loneliness and battle fatigue, as well as that old bugaboo, familiarity. But I doubt it will stick.
In the new 52, these two characters are not the same as they were. Given the Kingdom Come example, those two would get together under those circumstances, but in the New 52, they are now completely different people. Neither one of them is completely human. This should evident to anyone who reads their solo books. Superman is more alien than ever, and Wonder Woman is more god than ever. This might stand for now, but my prediction - doomed romance, at least in the New 52. You'll just have to stay tuned into upcoming DC Comics to see if I'm right.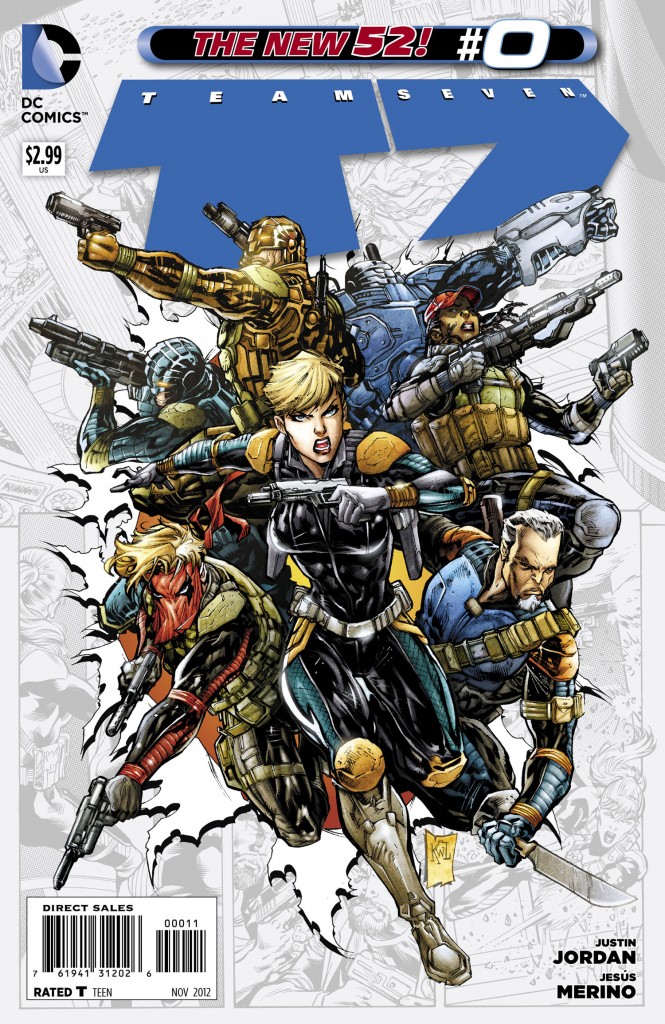 By Glenn Walker
In most cases we as readers were plunged into the New 52 DC Universe as it happens. Except for Action Comics and Justice League, we were thrust into this new continuity five years after it began, learning as we go, getting to know the characters and their world on a know-as-we-go basis. Zero Month has turned the clock back with comics reversed to #0 issues and stories of secret origins and early years - filling in the details we haven't known until now about this brand new DC Universe.
Team 7 #0 is a prime example of a new DC Comics title that will delve into the back history. It's all about secret origins and early years, and its cast of characters are literally a who's who of shakers and breakers in the new DCU. Now the name comes from a defunct WildStorm comic, but now that WildStorm is now part of the DCU, it's a whole new team. Its members include Black Canary, Deathstroke, Grifter, Amanda Waller, Steve Trevor, among others, and they are formed as a counter-measures force against the metahumans who begin to show up after Superman first makes his presence known.
Team 7 #0 is on shelves this week with an ongoing series starting with #1 next month. The flashback story is by writer Justin Jordan with visuals by Jesus Merino, a Spanish artist whose work is very reminiscent of both Mike Grell and Neal Adams, classic realist artists from comics' Bronze Age. To know what's going on now in the New 52, you have to find out what went before - do not miss Team 7 #0, available now at All Things Fun!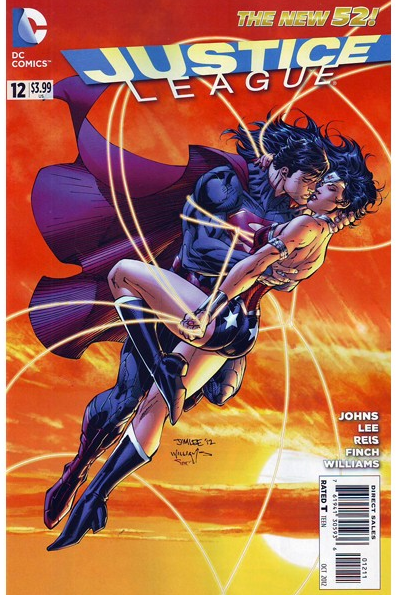 By Glenn Walker
One of the gems of DC Comics' New 52 has been Justice League, and this week, with issue #12 having its controversial content spotlighted on various news programs and Match.com, it's no small exception. It happens on the cover, and it happens late in the comic itself, but it's what everybody is talking about - the kiss between Superman and Wonder Woman. Writer Geoff Johns says that this will be a major relationship in upcoming DC Comics making the two a real power couple. Where this leaves their lovers from former continuities, Lois Lane and Steve Trevor, only time will tell.
Notably, the kiss is not all that's going in Justice League #12. This issue also brings the "Villain's Journey" storyline to a tragic close, revealing what Graves' real motives are. As always, Johns and artist Jim Lee bring the big guns out with their Justice League. This issue also gives hints as to what the future holds for our heroes, including the Trinity War, and the new Justice League of America title. Do not miss Justice League #12, on sale this week at All Things Fun!
By Glenn Walker
It is a good time to be a comic book archer. Green Arrow is coming back to the TV screen with a series called "Arrow" in the fall, and this summer Oscar winner Jeremy Renner blew us all away as Hawkeye in the big screen version of Marvel's The Avengers. They have both come a long way from being just Batman with a bow and the low man in Iron Man's rogues gallery.
The Archer, or the Bow and Arrow Guy, is one of the comic book hero templates. When the average comic book reader thinks 'archer' or 'bow and arrow guy,' they think Green Arrow or Hawkeye, depending on whether you're a DC or Marvel fanperson. The truth is that's only the tip of the arrow so to speak. Welcome to a handy tour of the bow and arrow folks of the comic book world, and trust me, there are a lot of them… but we'll start with the big guns, ahem, bows…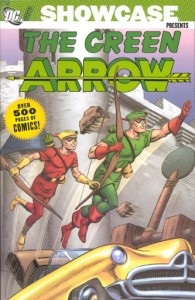 Green Arrow
Green Arrow has been rebooted, revamped, re-thought and (this one is for you, Allison) re-jiggered several times, but for the most part, his origins remain the same. Green Arrow was created by Mort Weisinger and George Papp, and first appeared in 1941's More Fun Comics #73, which coincidentally also featured the first appearance of Aquaman. Spoiled brat millionaire Oliver Queen was stranded on a deserted island (or another similar isolated nowheresville) and had to learn archery to survive. His rescue usually happens at the hands of criminals whom Queen takes down with his mad archery skillz, and is thus inspired to become a full-time crimefighter, the Green Arrow.
Along the way, Queen built an arsenal of trick arrows, a secret headquarters the Arrowcave, specialized vehicles like the Arrowcar, the Arrowplane, and even the Arrowboat, and his adopted ward, also trained in archery, became his sidekick, Speedy. Quickly Green Arrow was looked upon as nothing more than Batman with a bow, or worse yet, a knock-off Batman.
Denny O'Neil and Neal Adams changed all that with their late 1960s take on the character, giving him a new costume, facial hair unheard of for superheroes, and a liberal attitude in a time when comic book characters did not have social consciousnesses. The new Green Arrow became wildly popular, was eventually paired up with both Green Lantern and romantic interest Black Canary in the award-winning Green Lantern/Green Arrow series. In one story, he was conflicted by Speedy's heroin addiction, an event which would follow that character for the rest of his career.
The Justice League's resident archer and left wing voice of reason remains an iconic hero today, recently conquering live action prime time as supporting cast in "Smallville," and soon to return in a new vision in "Arrow." In the comics, he has his own title in DC Comics' New 52, albeit younger, slicker, and less liberal - more Tony Stark than Oliver Queen. Times change, I guess.
Hawkeye
I've talked about Hawkeye the Marksman here before briefly. Hawkeye AKA Clint Barton was introduced as a reluctant foe of Iron Man in 1964's Tales of Suspense #57, and created by Stan Lee and Don Heck. After a few more less villainous appearances, he became an Avenger in the first major membership shake-up of that team, becoming one of 'Cap's Kooky Quartet.' There, training by Captain America was joined by his weapons mastery taught him by the villain Trick Shot (another archer) and future Avenger the Swordsman.
While like Green Arrow, Hawkeye made use of gimmicked arrows, his character was more fleshed out by his abrasive personality. He was always the stirrer, the smart aleck, and always bucking to lead the Avengers over Captain America. Ironically, years later, Hawkeye would become the leader of the West Coast Avengers, a product of having Cap as a role model. While Green Arrow may have preceded Hawkeye by decades, the latter's emergence as a fully formed character preceded that of the former. Also on the copycat scale, Hawkeye's romantic interest for some time was the Black Widow, and later he married Mockingbird, both characters having more than a passing similarity to Green Arrow's Black Canary.
The Avengers resident archer has become one of the most reliable and stalwart members of the team. Whether he goes by the name Hawkeye, Goliath, or Ronin, he can usually be found at the front of the fight, charging headlong into battle, no matter if Ultron or Kang will just laugh off a trick arrow or not. That's just our Hawkeye, brave beyond reason.
Archers of the Golden Age
Back over at DC, that company published adventures of the original heroic archer, Robin Hood, as early as 1938. Robin Hood Tales was originally published by Quality Comics but eventually by DC after they acquired several of their characters and magazines. Of course, Robin Hood being a public legend, copyright is kinda off the table, but there you go.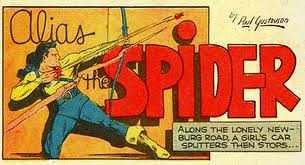 Quality also had a feature called "Alias the Spider" in Crack Comics. Created by Paul Gustavson, Tom Halloway fought crime with his bow and arrows, his valet Chuck, and a cool car called the Black Widow. In modern times writer James Robinson retconned the Spider into a foe of The Shade, and not necessarily a hero or even a nice guy at all, in his amazing Starman series. Grant Morrison also created a legacy of the character with I, Spyder, however briefly, in his Seven Soldiers.
Quality also had The Marksman. Fawcett Comics featured Golden Arrow. Centaur Publications had The Arrow, also created by Paul Gustavson, who was briefly revived in the 1990s by Malibu Comics. He can also be seen in Dynamite's comic featuring public domain heroes, Project Superpowers. There was also the Huntress in Yellowjacket Comics from Charlton, not to mention Young Robin Hood, and the Green Knight, all costumed crimefighters of the Golden Age who used the bow and arrows.
Sidekicks and Legacies
The aforementioned Speedy was Roy Harper, Oliver Queen's ward. He had two different origins, both similar, much like his mentor's various beginnings. Eventually he grew up to become Arsenal, and then Red Arrow, a full-fledged member of the Justice League. Later GA took on another sidekick named Speedy, this time the teenaged runaway, Mia Dearden. The second Speedy was notable for being both a child prostitute and one of the few HIV positive characters in comics.
Much like Batman in this regard, Green Arrow has not only been sidekicked by three kids, but one of them is also his son. While GA was dead (don't ask, you know how death works in comic books, it's temporary at best) his son Connor Hawke took up the bow and mantle of Green Arrow, and like Roy Harper years later, Connor also took Ollie's place in the Justice League for a while.
Not to be outdone, while Marvel's Hawkeye was dead (I did tell you not to ask, didn't I?), Kate Bishop in the Young Avengers took up the bow, as well as several other weapons, and began calling herself Hawkeye. It should be noted at this point, that Hawkeye, like Roy Harper, is an expert of all projectile weapons, not just arrows. Daredevil's arch-foe Bullseye's whole schtick revolves around this particular skill.
One more legacy, and it's another embarrassing reminder of the days when Green Arrow was just Batman with a bow. He too had international counterparts who were inspired by him. Where Batman has the Batmen of All Nations, which eventually evolved into Batman Inc., Green Arrow had the Green Arrows of the World. Their membership included the Ace Archer of Japan, the Phantom of France, the Bowman of the Bush, Verde Flecha, the Bowman of Britain, and the Polynesian Archer. Hey, Grant Morrison, wanna write Green Arrow next?
There have been a fair amount of baddies who have used the bow and arrow motif for evil as well. The Golden Age Superman and the 1966 television Batman were plagued by the villainous Archer. Also in the Golden Age, Wildcat's foe, the Huntress (also known as Tigress) used a crossbow. This choice of weapon was passed down to both her daughter, Artemis, as well as her heroic namesake, the Huntress.
Many of the villains with bows however were members of Green Arrow's mostly forgotten rogues gallery. Among them were Black Arrow, the Crimson Archer, Cupid, Ape Archer, Funny Arrow, the Iron Archer, John Centaur, most lost to the sands of time. The most known of these would probably be the Rainbow Archer and Red Dart (who our buddy Grant Morrison actually did dig up for his JLA run). Later on there was also Shado, GA's on again/off again lover; Natas, who trained Green Arrow and Deathstroke among others; and Merlyn the Magician of the League of Assassins, one of the hero's most dangerous foes.
In the old days Green Arrow frequently faced a female rival named Miss Arrowette, whose daughter Arrowette with a bit of retconning became a major player in Young Justice. Combined with the aforementioned Huntress' daughter, she is the inspiration for the double agent character of Artemis in Cartoon Network's "Young Justice" cartoon. There was also the Blue Bowman, in reality Batman foe the Signalman, who got the idea of being a bow and arrow villain by being cellmates with Green Arrow enemy Bull's Eye.
There are many other archers, on both sides of the law. I've haven't covered Artemis who was once Wonder Woman, Yondu the Alpha Centaurian archer from the 31st century's Guardians of the Galaxy, Firestorm foe Moonbow, White Feather of the Inferior 5, brief Justice Leaguer Maya, any of the Old West archers, Shaft, Archer (sans Armstrong), Legolas, or even Xeen Arrow, the Green Arrow of Dimension Zero yet. But there's only so much space. Be assured there have been many behind the bow in the comics, and there will be more.
I'll see y'all next time. I'm off to the movie theater to see Brave. I hear that Princess Merida is a heck of a shot too…
By Allison Eckel
Editor's Note: Contains spoilers. Be sure to read Justice League #5 before continuing!
Five months into Geoff John's reboot of the Justice League, I am still enjoying the ride. The characterization tweaks of these icons are fun to discover. But there's a moment in Justice League #5 (on shelves now) that actually turned my stomach and left me feeling icky.
It wasn't gore such as can be found in Animal Man. It was a character moment so incongruous with my expectation that I almost put down the book.
As the heroes rush off to face Darkseid, Batman pulls Green Lantern aside for a quiet talk. GL has been rushing at Darkseid full force, and each time has been beaten senseless. So, Batman tries to talk GL into a different tactic. Ok, that makes sense. But then, he pulls off his cowl, introduces himself as Bruce Wayne, and gives a quick synopsis of the parental tragedy that drove him to vigilantism. He ends with a gentle, well-crafted moral: "This is bigger...than you are. Get out of your own way. Focus on what's important here".
WHAT?!? The most closely guarded secret in all of the DCU is Batman's true identity. The Bat family would sooner die than expose their own identities simply because they could then be traced to Bruce. That must still be true in the New 52. Nightwing mentions this in last week's new issue #6, when he worries that his clandestine activities may be realized by his circus folk, and Nightwing's connection to Bruce Wayne will be revealed.
But, here's Bruce, taking off his cowl in the middle of the street and easily revealing himself to Green Lantern. No, it's wrong. I don't like it.
Plus, Bruce summarizes his origin story in such a well-adjusted way I have to wonder why he still feels the need to wear tights at all. Part of Batman's milieu is that he's driven to a vigilante life by this childhood tragedy that he does not discuss. His Bat family all know it, they know why Bruce secretly guards the dilapidated alley and theater location of the end of his childhood, but no one lets on – it is topic non grata. Batman is left alone to be angry, driven, secretive – and deserving to stand as an equal to Superman and Green Lantern.
Yet, here's Bruce succinctly rattling off this story as if it's a tale of a childhood week at camp that taught him a valuable lesson in leadership.
I understand that this scene is meant to show Batman's ability to strategize and manipulate his teammates – in a good way  – while working in his origin story for all the new readers. Plus, for some reason yet unveiled, he wanted to remove the cape for transport through the boom tube. But, through the past 60-plus years, he has found other ways to be a field commander. Some New 52 changes I can live with (no Nightwing finger stripes, more than one Firestorm, etc.), but this touchy feely sensitive Batman is a step too far.
By Allison Eckel
All the "New 52" titles from DC Comics are revealed and we can now step back and take it all in. The roll-out of the #1s through September was exciting and comics readers young and old found much to draw them in. Well, not young; let me qualify that. Adult comics readers – only – found much to draw them in. Every issue carries a rating of Teen or higher because the action and drama are more serious, more violent, more "dark."
Even titles I hoped would be okay for my tween to read turned out to have bloody surprises buried in the subplot. For example, Fury of Firestorm the Nuclear Men. Viewers of the All Things Fun! Vidcast have heard me say that Firestorm was the first comic I actively purchased on my own, with my own 60 cents (that was Fury of Firestorm, launched in 1982 by Gerry Conway and Patrick Broderick). Title character Ronnie Raymond was a likeable every-student caught up in a crazy world of heroics through a catastrophic nuclear-related accident. The result was that at will, he and the brainy science teacher who was with him at the accident could transform themselves into Firestorm – Ronnie controlling the body and Professor Stein giving him science lessons in his head. I loved this comic and counted the days until the convenience store half a mile away got a new shipment so I could walk there after school. I was in the second grade.
Jump ahead thirty years to last month when I eagerly purchased Ronnie's rebirth, created at the hands of Ethan Van Sciver and Gail Simone. The new twist is that the brain of Firestorm is another student this time plus the world may know more than one Firestorm. Compelling layers to the new mythos. But the graphic terrorist subplot in issue 1 means that I can't share it with my own fourth grader. I know that terrorism happens in the world, but if we didn't have to see it so graphically displayed, then I could have brought a new life-long reader into the fold. Those scenes felt like the creators ramped up the violence so that Firestorm could earn its Teen rating. In other words, purely for shock and not actually necessary for the story.
That trend, I'm afraid, ran rampant through the #1s of the New 52. As a long-time reader looking forward to passing the tradition of DC Comics superheroes to my own kid, I am almost completely disappointed. Almost. A small selection of titles were okay for a younger reader, but I can't trust that they will always be. My son read Justice League #1 by Geoff Johns and Jim Lee and he loved it. He wants to read #2, but I will have to read it first to make sure something isn't thrown in just for the sake of shock and awe.
My son also read Aquaman #1, which is also written by Geoff Johns. Yes, a fisherman was eaten by the Trench monsters, but the action happened "off screen," with just red water and our imaginations to fill in the details. I think in the hands of different creators, we would have been "treated" to the fisherman's horrified face while monsters rip his body to shreds. I am thankful that the Aquaman team seems to have more class than that.
Among the few books I will offer my fourth grader are Static Shock, Flash, Teen Titans, Blue Beetle, and possibly Demon Knights. This last one does include a demonically possessed infant, but the rest is such a fun ride I really want it to be okay for him. Demon Knights is written by Paul Cornell, who I find to be such a good writer that he doesn't need shocking images to compel the reader.
I am left befuddled. Many of the new 52 are very well written, but too many, in my opinion, are more horror books than hero books. Because of this, I am no longer buying most of Batman's core stories. I can see where Batman is the hero closest to the horror genre, but I just don't read horror, no matter how well written. For me, that also leaves out Swamp Thing and Animal Man, two very well written books. The real world is scary enough; I don't need horror in my escapist entertainment.
NPR's Pop Culture Happy Hour podcast recently discussed DC's New 52. Glen Weldon, NPR's book critic and comics blogger, also felt that the New 52s were not o.k. to give his kid. His statement is dead on: This is "a massive missed opportunity to not indoctrinate [younger readers]." He explained how Scholastic sent his family a huge box of new books for review. His kids were so excited to pour over them. Then, DC Comics sent him the entire line of New 52 for his office to review. He spread them out on the conference room table and the adults reacted with, "Meh." Kids – the middle graders from about third grade on – get super excited by heroes with gadgets or magic or whatever. By moving the whole universe to Teen plus away from "All Ages," they are actively working against their own need to widen their market reach.
At the same time, DC has increased its superhero-licensed toy lines for preschoolers. This blows my mind. While I am excited that three-year-olds now have an Fisher-Price Imaginext DC Super Friends Green Lantern Planet OA
" target="_blank">Oa playset and Fisher Price Little People can share the zoo with Little People DC Super Friends~Wonder Woman & Batgirl Figure Pack
" target="_blank">Wonder Woman and Batgirl, I have to wonder how kids even know who these characters are anymore. They are listed withe the DC Super Friends registered trademark, which goes with a great comic DC no longer publishes. Preschoolers are too little to see the PG-13-rated Green Lantern movie. Wonder Woman's new comic is rated Teen, and the always fantastic Batman: The Brave and the Bold cartoon is going off the air. If DC has a plan for bringing age-appropriate stories to younger readers, I would really like to hear it.
Alternatively, we have begun to check out the quality work currently published by other companies. CrossGen's series Mystic by G. Willow Wilson and David López is rated Teen-plus, but by issue 2 contained nothing inappropriate for my fourth-grader (side note: He really enjoyed these stories, too). Over at Image Comics, Super Dinosaur continues to thrill (when it actually ships), and Gladstone's School for World Conquerors is as fun and irreverent as Despicable Me. Following a hilarious intro on Free Comic Book Day, I have ordered Th3rd World Studios' The Intrepid Escape Goat as well. And of course, I have been a collector of DC Comics since 1979. So, I am thankful that I have hoarded my comics so my fourth grader has 4,000 fantastic DC Comics superhero books to pour over. Nearly every one of these is okay for him to read because the publisher had to submit to that pesky Comics Code Authority. It may have bugged creators, but it truly enabled publishers to keep their market broad.
By Allison Eckel
Three weeks of new DC Comics titles, and Batwoman appears in the top five of nearly all reviewer lists as the best of the crop. Keeping her company are Animal Man, Swamp Thing, and Batman. The fifth spot on the leader board seems to be the wild card slot, chosen depending on the reviewer's particular tastes. I have to agree that those four titles are compellingly written with art that takes typical comics storytelling to new levels. However, I don't really like them.
I set out to say that I don't really like Batwoman specifically, but realized that the others didn't really excite me either. I have been dragging my feet trying to complete this article because I can't quite explain my statement – like that "Ollie-ness" so missing from J.T. Krul's new version of Green Arrow. Elusive, undefinable, and really kind of important.
But, I don't really have to like these particular books because the 48 other choices are designed to offer something compelling for almost every type of reader. While they don't quite go that far, they come close. Pre-DCnU, readers had simple choices. You want a strong hero-led book? Batman, Superman, or Wonder Woman. You want an ensemble cast? Justice League, Justice Society, or Legion. There were a few others on the fringes, but they were not the central tent pole titles.
We are still in early days, but in the DCnU, I don't see a clear core of books that all must read. Perhaps because in rolling out the new universe, the company is giving almost equal weight to every title. Frankenstein: Agent of S.H.A.D.E. seems almost as important in the grand scheme as Wonder Woman. Could this be due to the dual layer of storytelling presented in each book? We have the creative team's story and then we have the way it all fits in with the bigger picture of post-Flashpoint and that glowing Mystery Lady that only Superboy seems to sense. By inserting her into every #1, DC is telling readers that even I, Vampire will somehow be important.
That should free readers to sample all of the books and commit to the ones they truly like. We all like different things for different reasons, so I am a little surprised that the group of Batwoman, Animal Man, Swamp Thing, and Batman so consistently land at the top of every list. I suspect mob mentality or a feeling of, "Well, So-and-so said it's really great so it must be." And as I said, they are all well-done. But so are a lot of other books. So, I am breaking from my pundit colleagues, going out on a limb, and saying that I really didn't enjoy Batwoman.
Now, because I am a comics reviewer who focuses on DC Comics, it is in my (non-existent) contract to compile my own list of top DCnU books so far. In case you have the patience to read yet another list, mine is below. These are the books I am really excited to read regularly. I would like to read your list, but only if you choose the books you sincerely enjoyed, not just the ones everyone is lauding.
Allison's Favorite DCnU Titles (So Far):
#1: Justice League
#2: Demon Knights
#3: Wonder Woman
#4: Green Lantern
#5: Batgirl
Now, I have yet to read quite a few books. I am most excited to read: Flash, Firestorm, Aquaman, Superman, and all the books released while I was trying to write this, including Supergirl, Captain Atom, Birds of Prey, and the very sexy Catwoman. My leader board is likely to change.
For now, the comments section is open (here and on our Facebook page: All Things Fun! Comics). Share your pics for the DCnU titles that excite you so far. And if it's Batwoman, tell me why.
By Glenn Walker
The problem with writing comic books that feature teams in an interactive continuity is that sometimes the superheroes you want on those teams are just unavailable due to events occurring in their own titles. Basically it's been the same old story for a long time when it comes to the Justice League of America at DC Comics – you want Superman and Batman, but you can't have them.
When one thinks of the Justice League of America, one thinks of the World's Greatest Super-Heroes. There's Superman, Batman, Wonder Woman, Flash, Green Lantern, and then it gets into a fuzzy area where bar fights start. I would add Aquaman, Hawkman, Green Arrow, maybe even Captain Marvel and Plastic Man, but as I said, it's the realm of madness to go further without the words "in my opinion."  It would be great to have that top five on the JLA, but it rarely happens.
I like comic book writer James Robinson, the latest writer to take the reins of the Justice League's comic. He did amazing work in the 1990s with an Eisner Award-winning run on Starman that showed his ability to take old characters and concepts and rejuvenate them. I love the heroes and villains of the Golden Age, so his work was of special interest to me. He treated them with a love and respect not shown since Roy Thomas worked in comics.
When Robinson took over the Justice League of America about a year ago, it was a mess.  In the midst of the Blackest Night crossover event, the membership had been decimated, and any excitement about the title had kinda fizzled. Robinson began to introduce his own version of the team in his introductory mini-series Cry for Justice, but it was crippled by some hideous events in that series itself, which upset many readers – the destruction of Star City, Green Arrow becoming a murderer, and the loss of Red Arrow's arm.
Maybe in response to readers' dismay, Robinson began to rebuild the team in a different way. Piece by piece, he built what at first seemed a 'gimmick team.' Since Bruce Wayne wasn't available because he was dead, or traveling through time, or maybe just chilling in the Bahamas with Tony Stark – Robinson recruited Dick Grayson who had taken up the cowl and cape of Batman. Superman was dealing with New Krypton and then felt the urge to take a walk, so Robinson recruited Supergirl.
Then an idea must have occurred to him. If he was moving Robin/Nightwing and Supergirl up to the 'big league,' why not graduate others of the younger generation to the main team? To replace Wonder Woman who had been rebooted into virtual non-existence, he brought in Donna Troy. Just to even things out he also brought up Dick Grayson's fellow Teen Titan Cyborg. He had also temporarily added in Starfire and Mon-El as well.
Robinson's recent attempt to return to the Silver and Bronze Age tradition of the Justice League/Justice Society summer team-ups helped to round out his new version of the JLA.  From the JSA he poached his Flash and Green Lantern substitutes: daughter of Johnny Quick and Liberty Belle, and former Flash protégé Jesse Quick, and daughter of the Golden Age Green Lantern, Jade, recently resurrected in Blackest Night.
Along with his own pet characters – the blue alien Starman and classic-but-obscure hero Congorilla – this was set up as "James Robinson's New Justice League." Essentially it at first it looks like a gimmick, something that would have been a gag cover in the Silver Age just to get readers to look twice and go "What's going on here?" But here it is – Dick Grayson and his female Justice League, along with their pet alien, gorilla, and robot. It's a bit too Doom Patrol for me, but what's cool is that Robinson is making it work.
Robinson had been floundering a bit, trying to find his groove, but with last month's fiftieth issue of Justice League of America, I think he got it. In a far-reaching epic of multiversal proportions, he pitted his neophyte League against one of their deadliest adversaries, the Crime Syndicate, evil doppelgangers of the JLA's big five.
Over and above the fanboy glee of seeing Supergirl fight Ultraman or the new Batman struggle with Owlman, there is also the fun of watching this new team dynamic start to gel. They might not be my Justice League, but I am invested in these characters and want to see them interact and triumph. And James Robinson is never a writer to make things easy for the heroes.
As if the Crime Syndicate wasn't enough, there's also the threat of some multiversal crisis in the air, and then there is also the Omega Man. Robinson has picked up the lost plot threads of Brad Meltzer's Doctor Impossible and his Dark New Gods, and it turns out that not only are there dopplegangers of the New Gods, but also Darkseid – the Omega Man.
Justice League of America #51 is on the shelves now, check it out. Recommended.