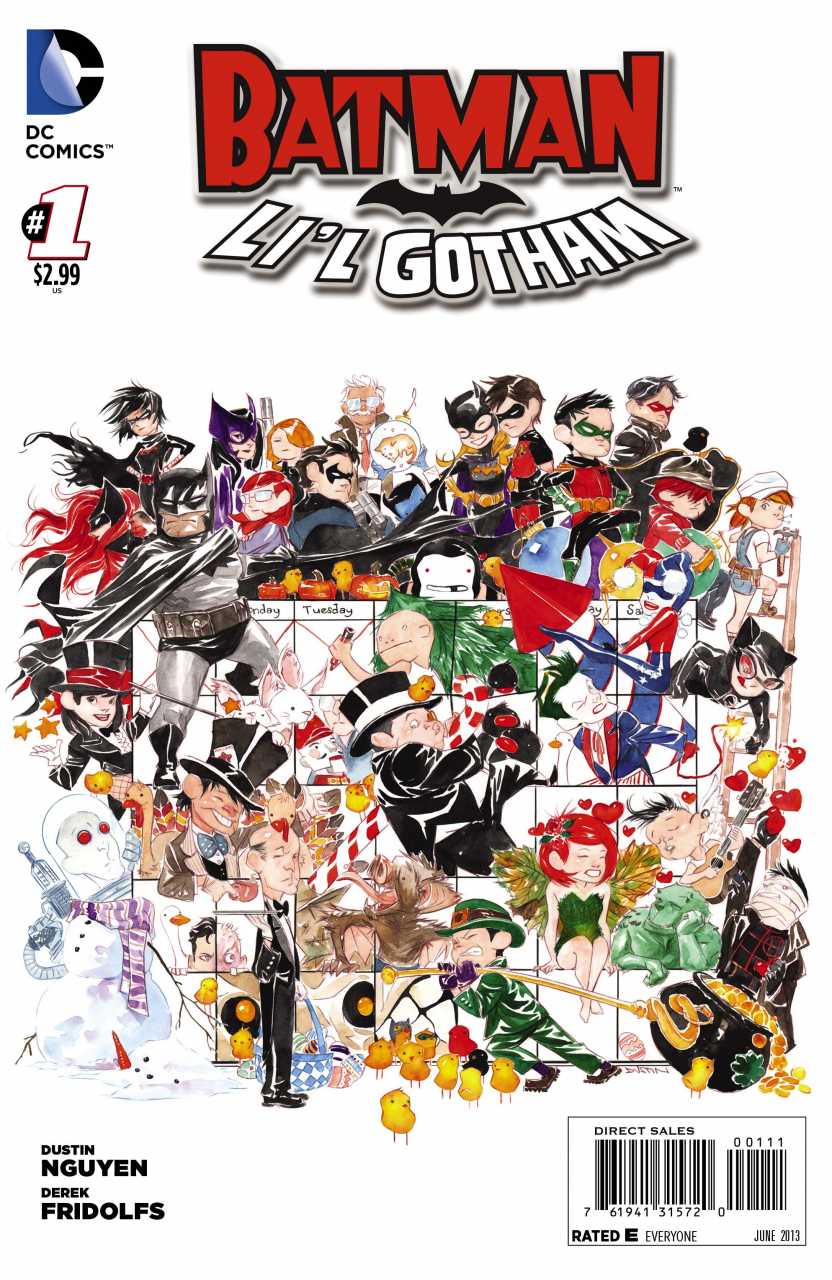 By Glenn Walker
Yeah, it's a kids book. Usually this kind of stuff Allison handles, and I get the scary mature readers only comics. But when this comic dropped into my lap, it was just too much fun to resist. Batman: Li'l Gotham is great!
Written by Dustin Nguyen and Derek Fridolfs, with moody but kid-friendly cartoonish art by Nguyen, Batman: Li'l Gotham is the perfect counterpoint and companion to DC's other kids favorite Superman Family Adventures by Franco and Art Baltazar (who also brought us Tiny Titans). Nguyen and Fridolfs brings us two relatively in-continuity tales of autumn holidays, Halloween and Thanksgiving.
There is lots of fun stuff here for both adults and kids of all ages. Batman teaches Damian about Halloween and the Penguin attacks the Thanksgiving Day Parade. It's almost a wonderful throwback to the good old days when heroes didn't have to die and world was always in peril - just fun adventure.
And I loved the Halloween full page with the Golden and Silver Age Flashes holding hands, Darkseid chilling with a Slurpee, and Hush and a mummy checking each other out. Didn't I tell you this was fun?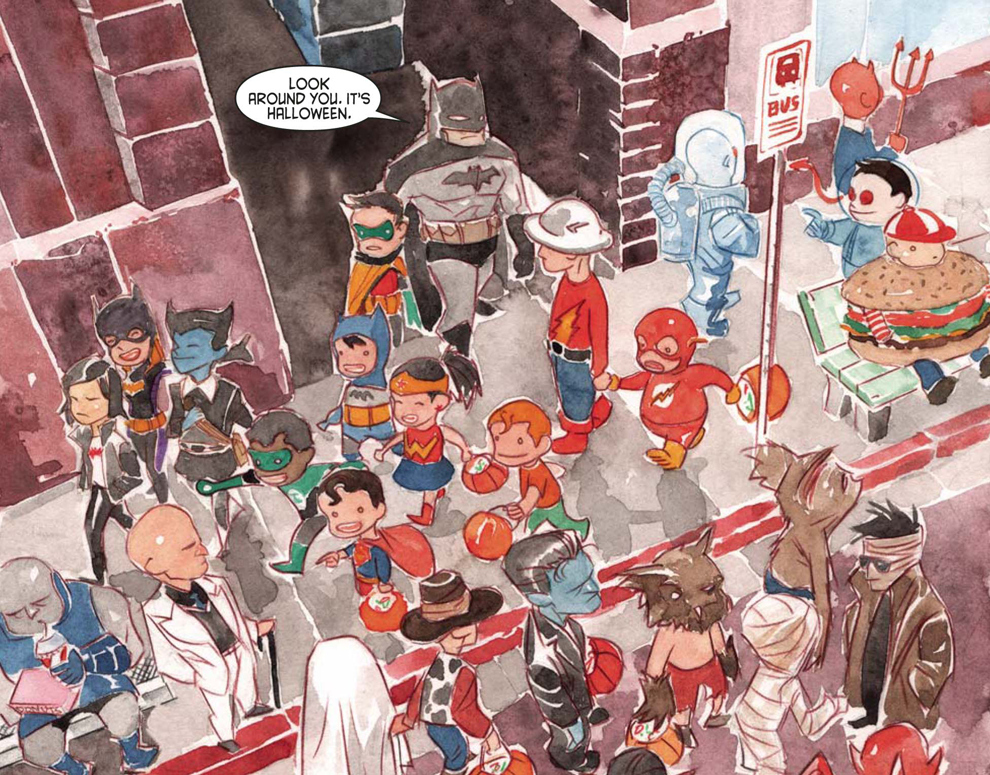 Batman: Li'l Gotham #1 is on sale this week at All Things Fun!, make sure you get down there and pick up your copy today. Originally only available digital, here's your chance to have a copy of your very own, to hold in your hands, and share with your family.
By Allison Eckel
Finding Gossamyr from Th3rd World Studios is a a great all-ages, high fantasy comic, now on issue three. This is the story of siblings Jenna and Denny and how Denny's special abilities get them trapped in the fantastic land of Gossamyr, where math is magic.
When I read the Free Comic Book Day premier of this title, I was nervous. "Denny's special abilities" are similar to Autism, though that is not directly stated. But his scary smart ability in math is treated a little like a super power. I was ready to discount this book as another "Autism Bandwagon" project, like so many recent books and T.V. shows.
To his credit, writer David Rodriquez does not dwell on Denny's condition, other than to use it as both plot and character device. Denny solves the most difficult math problem in the world, which opens a portal to Gossamyr, where complex algorithms and mathematical theorems carry magical powers. Jenna never wanted to be Denny's caretaker, but stepped up anyway and now finds herself trying to keep them both alive amid strange creatures and alien cultures.
Finding Gossamyr succeeds in telling an exciting high-fantasy story that is still all-ages-friendly. And I love Sarah Ellerton's beautiful artwork. Chapter 4 is expected in March, and the company is developing a math game app called The Magic Number. Very exciting.
By Allison Eckel
In December, I started this occasional series on E-rated, or "all-ages", comics and graphic novels. I focus on these books because I am a mom of two comics-reading kids, but also because I enjoy these stories as well. This week, I share with you two graphic novels that are on the surface somewhat similar, but deep down, very different.
Kizoic's new original graphic novel Scouts: Drafted – created by Kizoic COO and co-founder Brent E. Erwin and written by Mark Finn with art by Scott Ball – goes on sale this month. I picked up a promo copy based on the great artwork and Kizoic's commitment to kid-friendly comics. Plus, as a scout leader myself, I expected the comic to share a connection with scouting hi-jinks. That's not exactly what I found.
Here's the pitch from the publisher's website: "What do you do when your parents sign you up as a member of the most unlucky 'Shrub Scout' troop on the planet? Well, if you're Mike Manly you do everything you can to get out! As Mike quickly discovers the only way out of the 'Weasel Troop' is to earn all of the merit badges needed to graduate… wish Mike good luck cause [sic] he's gonna need it!"
Ok, cool middle-grader whose parents are forcing him to do something "educational" he doesn't want to do is solid story telling fodder. But the publisher alienated me by casting scouting as wimpy and something to be avoided at all costs. Words for the scouts such as "unlucky," "shrub," and "weasel" ensure that the reader will side with the "manly" protagonist in his distaste for scouting. Strike one.
When we meet his new troop, we find a cadre of two-dimensional also-rans: the fat stupid kid, the tech-addicted brainy kid with glasses, and the skinny who is allergic to everything. The only original kid is the one lost in his own military fantasies. Too bad all of his references are too old for the age of the target reader. Strike two.
The scout leader never shows and instead phones in all of his instructions. This could be an amusing mechanism for keeping adults out of the book, but the situations are inappropriate. An unseen authority figure sends five minors into the woods with no training or supervision to identify plants. Yep, the fat stupid kid eats a berry. That's not really a spoiler ʹcause you saw it coming a mile away. I understand the reasons for removing the adult from the story; I don't understand making that adult criminally negligent and asking us to laugh about it. Strike three.
Scouts: Drafted is unforgivably shallow and therefore not worth my financial investment. Please give Scott Ball a more worthy project because I want to see more from this artist.
Kizoic, consider Knights of the Lunch Table (Scholastic), which is a graphic novel worthy of my money.
Writer/artist Frank Cammuso brings us tales of Arty King (nicknamed Wart, natch) who is the new kid at Camelot Middle School. At this point, you are correct if you guessed that the whole book is filled with King Arthur/Camelot references. They are many and well-woven throughout Arty King's world.
The first book in this series is The Dodgeball Chronicles, published back in 2008, and is available in print as well as digital through Scholastic's digital book app for iOS and PC (Android coming soon). This story covers many events of the classic The Sword in the Stone while introducing our cast of original characters, both benign and evil.
Knights of the Lunch Table beats Scouts for value because Knights is a multi-layered story right out of the gate. I know that my kids will return to it as they learn more about Arthurian legend, or even as they encounter their own bullies in school. All I see in Scouts is a disrespectful kid surrounded by flat characters and negligent adults. If that was the creator's reality, then he has my pity – but not my money.
Editor's note: Read Rated E for Excellent, Part 1: Snarked! and Cow Boy
By Allison Eckel
Artist Pete Woods recently asked the Twitterverse this simple question: What do you want to see more of in comics? Of the responses he retweeted, most included the words "all ages." Given the wide spectrum of "all-ages" content in comics, I decided to begin a review series on the topic: "Rated E for Excellent." In each installment, I will present a title currently available followed by one waiting in the wings, waiting to land in your sub box.
First, allow me to establish my view of the E rating, or the designation "all ages." An E rating does not mean "the same story, but watered down." The rating does not negate dramatic and powerful storytelling; it just means that the writer and artist need to be a little more clever in their methods. Now, plenty of all-ages books are simple kiddie fare (like Ape Entertainment's Richie Rich and Strawberry Shortcake), offering nothing more complex than a vehicle for licensed character interaction. Marvel Adventures Super Heroes falls into this category; although, it has the potential to offer more complex, nuanced stories.
But there is a great pool of "all ages" content that offer satisfying stories for grownups as well as kids. Kung Fu Panda turned out to fall into this category when everyone expected it be vapid. Another fantastic surprise is Roger Langridge's Snarked! from Kaboom! Studios.
Usually, a writer's name above the title in comics is a red flag, a sign that publishers are trying too hard to recoup money on an over-budget project with a diva creator.  So when "Roger Langridge's Snarked!" crossed my desk, I admired the artwork and concept, but put off reading it. Apparently, you all put off reading it too, because my local comic shop (All Things Fun!) has one subscriber for this book, and it's me.
I finally read all three of the first issues and have developed a healthy crush on Landgridge's wit. So have my kids (ages 10 and 5), who are both smitten with this series. Snarked! borrows heavily on the characters from Lewis Carroll's Alice in Wonderland, principally the Walrus and his buddy, the Carpenter. These two find themselves the reluctant heroes to little Queen Scarlett and her even littler brother Prince Russell. The Cheshire Cat is working in the background, and we are treated to many references to Snarks and Jabberwocks. The story narration is written in meter, a nod to Carroll. But the characters speak to each other quite normally – well, except the Walrus, who is hilariously haughty.
Now, I may crave a high level of storycraft in my comics, but that does not mean I am literary. I have not actually read Carroll. So I must admit that I do not know a lot about the characters involved in Snarked! So don't let the Carroll connections scare you away. The comic is completely enjoyable as it is, without using it as fodder for a high school English paper.
Also great fun is Langridge's other works, accessible on his Web site, hotelfred.com.
Coming Soon: Cow Boy
Coming in April 2012 from Archaia Press is Cow Boy by Nate Cosby and Chris Eliopoulus. This is the anti-Snarked!: spare, simple, reserved. Ten-year-old bounty hunter Boyd is tracking down his family, to collect the bounty on their heads. He looks like Calvin without Hobbes, if he was in the Old West, alone, on a mission beyond his years.
The presentation is so arresting, so captivating, that the few digital pages available on Tumblr and scant dialog were enough to hook me. I'm in. I want more. Go here and check out the digital sample of Cow Boy. Make sure you are ready to focus. It's quiet and powerful. I need to go hug my own ten-year-old boy because I can't hug Boyd.
By Allison Eckel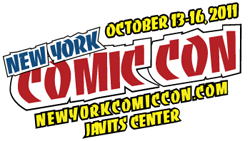 Experiences at New York Comic Con are as diverse as the cosplayers in line for Speed Dating. Some go for the panels of industry movers and shakers, hoping to hear exclusive details on upcoming projects. Some go for Artists Alley, hoping to score an exclusive sketch of a fave character by a fave creative. Many go in costume, hoping to connect with other aficionados of the "cosplay" universe. And then of course, we all go for the convention hall, that endless labyrinth of geek-fueled consumerism (and I mean that in a good way).
I go for Kids Day because I love to share my fandom with my son, now a fourth-grader (he was the special kids' comics reviewer for the All Things Fun new comics vidcast this summer. In this one he shares his thoughts on Justice League #1). With him in tow, I stop worrying about panels (the lines are too long and the best points will appear online by day's end anyway) and focus instead on the special programming slate reserved for Sunday. This is a difficult program to get right, and NYCC organizers try something new every year. The offerings run the gamut from quiet and focused to massive chaos: drawing workshops, group light saber battles, celebrity appearances, gaming demonstrations, and more. This year, they put the Kids Day program in its own location, separated from the not-always-all-ages convention hall. This was good and bad. Located in the remote North Pavilion of Javits, Kids Day was very far removed from everything else. Once we got there, we couldn't just flit in and out; we had to commit to staying long-term. Luckily, the North Pavilion had its own restroom and food cart.
At the 2011 Kids Day, we were joined by another family who is hip to geek culture, but not exactly comics. NYCC newbies, you could say. I was eager to see NYCC through the eyes of not only my nine-yr-old comic fan, but his newbie buddy and sci-fi geeky parent. We started the day by learning the motions for several spells from Bellatrix Lastrange and Narcissa Malfoy cosplayers; checked out a Beyblade Tournament; tossed the quaffle in a pick-up game of Quidditch; embarked on a mini-Dungeons & Dragons adventure; and spotted a few celebrities. Oh, yeah: The celebrities who appear for autographs were shoved in the back corner as though the organizers didn't quite know what to do with them. Overall, the boys had fun, but not for long. By lunchtime, we were ready to head back into the fray of the main convention.
One of our favorite choices in the Kids Day program is the drawing workshop. My son's first NYCC was 2008, when most of the Kids Day schedule was workshops, held classroom-style, taught by working comics artists. He had a blast and soaked up every trick and tip the artists would teach him. But, overall, those workshops were poorly attended. In subsequent years, fewer workshops appeared in the program. This year, we found only one. But this one was fantastic.
Titled "Nursery Rhyme Comics," and listed as appropriate for kids aged four and older, we feared it would skew too young for the two fourth graders in our group. We learned that Nursery Rhyme Comics is the title of an awesome new book published by First Second that showcases 50 nursery rhymes as interpreted by 50 different artists. The workshop brought a few of those artists and their editor together to talk to kids about ways to take existing text and interpret the visuals to tell the story.
Then the kids had a chance to try it out. My son took "Star Light, Star Bright" and turned it into a dramatic, romantic encounter between Hal Jordan as Green Lantern and Carol Ferris as Star Sapphire (when she was evil). I am completely proud.
Of course, we did brave the convention hall. And brave one had to be, for the teeming masses were grumpy by the afternoon. The cool booth attraction this year was digital green screen photos. DC Comics put you into the new Justice League line up, Dell Ray audio books put you into a battle with a dragon, and more. Hasbro toys gave out mini Optimus Prime figures to promote their new Kre-O building blocks (Lego competitors) licensed with Transformers. DC Comics gave out plastic blocks of ice that glow green to promote the Nov. 29th release of Smallville's entire 10-year-run on DVD (and more of those super-hero logo pins). But most booths gave out marketing fliers only, if anything. Freebies were rare, but demos were not. Many booths offered video game demonstrations, prompting more than one disgruntled fanboy to complain that this was no longer a "comic" con. All I know is that the gaming booths were so crowded we didn't even try to see what they offered.
We slowly slogged through the crowd to Artists Alley in hopes of doing a few video interviews for the AllThingsFun You Tube channel. Alas, the Alley hosted way too many fans. Which is a good thing. Keeping my video camera secure in my pocket, I did manage to meet a few artists, including Amy Mebberson and Katie Cook. I wanted to meet Todd Nauck, but the boys were tiring fast and his line was too long. Our final stop was the great pair behind Tiny Titans, Art Balthazar and Franco (Aureliani), but they had stepped away from their table.
There is a moment when a boy's brain becomes exhausted, but he doesn't believe it. We reached that moment at 3:00. So we headed to the aisles of book publishers, where I craftily parked them at DK, where the boys sat on the floor, leafing through visual dictionaries of Star Wars ships and Lego figures while I darted in and out of the booths surrounding them. Most book publishers at NYCC have "special prices" that are not that great. I can see a book at the Con, buy it from Amazon with my home, and read it the next day – or better yet, download the digital copy and read it on the train home.
Except for Graphic Universe. This all-ages graphic novel imprint of Lerner Publishing offers a wide catalog of titles, including Sherlock Holmes adaptations, a line of myths from various cultures, tween fiction, and more. Their show special, at least by Sunday, was three paperbacks for $10. Since the first book I picked up was $9.95, I call that a good deal.
By 4p.m., we left the Javits convention center. The boys protested, asking to see "just one more booth," but we were all tired, hungry, and getting short tempered. This year's NYCC Kids Day was a blast. We did not fulfill our wish list, but we had a lot fun together. Which, I suppose, is what comics fandom is really all about.
By Allison Eckel
All the "New 52" titles from DC Comics are revealed and we can now step back and take it all in. The roll-out of the #1s through September was exciting and comics readers young and old found much to draw them in. Well, not young; let me qualify that. Adult comics readers – only – found much to draw them in. Every issue carries a rating of Teen or higher because the action and drama are more serious, more violent, more "dark."
Even titles I hoped would be okay for my tween to read turned out to have bloody surprises buried in the subplot. For example, Fury of Firestorm the Nuclear Men. Viewers of the All Things Fun! Vidcast have heard me say that Firestorm was the first comic I actively purchased on my own, with my own 60 cents (that was Fury of Firestorm, launched in 1982 by Gerry Conway and Patrick Broderick). Title character Ronnie Raymond was a likeable every-student caught up in a crazy world of heroics through a catastrophic nuclear-related accident. The result was that at will, he and the brainy science teacher who was with him at the accident could transform themselves into Firestorm – Ronnie controlling the body and Professor Stein giving him science lessons in his head. I loved this comic and counted the days until the convenience store half a mile away got a new shipment so I could walk there after school. I was in the second grade.
Jump ahead thirty years to last month when I eagerly purchased Ronnie's rebirth, created at the hands of Ethan Van Sciver and Gail Simone. The new twist is that the brain of Firestorm is another student this time plus the world may know more than one Firestorm. Compelling layers to the new mythos. But the graphic terrorist subplot in issue 1 means that I can't share it with my own fourth grader. I know that terrorism happens in the world, but if we didn't have to see it so graphically displayed, then I could have brought a new life-long reader into the fold. Those scenes felt like the creators ramped up the violence so that Firestorm could earn its Teen rating. In other words, purely for shock and not actually necessary for the story.
That trend, I'm afraid, ran rampant through the #1s of the New 52. As a long-time reader looking forward to passing the tradition of DC Comics superheroes to my own kid, I am almost completely disappointed. Almost. A small selection of titles were okay for a younger reader, but I can't trust that they will always be. My son read Justice League #1 by Geoff Johns and Jim Lee and he loved it. He wants to read #2, but I will have to read it first to make sure something isn't thrown in just for the sake of shock and awe.
My son also read Aquaman #1, which is also written by Geoff Johns. Yes, a fisherman was eaten by the Trench monsters, but the action happened "off screen," with just red water and our imaginations to fill in the details. I think in the hands of different creators, we would have been "treated" to the fisherman's horrified face while monsters rip his body to shreds. I am thankful that the Aquaman team seems to have more class than that.
Among the few books I will offer my fourth grader are Static Shock, Flash, Teen Titans, Blue Beetle, and possibly Demon Knights. This last one does include a demonically possessed infant, but the rest is such a fun ride I really want it to be okay for him. Demon Knights is written by Paul Cornell, who I find to be such a good writer that he doesn't need shocking images to compel the reader.
I am left befuddled. Many of the new 52 are very well written, but too many, in my opinion, are more horror books than hero books. Because of this, I am no longer buying most of Batman's core stories. I can see where Batman is the hero closest to the horror genre, but I just don't read horror, no matter how well written. For me, that also leaves out Swamp Thing and Animal Man, two very well written books. The real world is scary enough; I don't need horror in my escapist entertainment.
NPR's Pop Culture Happy Hour podcast recently discussed DC's New 52. Glen Weldon, NPR's book critic and comics blogger, also felt that the New 52s were not o.k. to give his kid. His statement is dead on: This is "a massive missed opportunity to not indoctrinate [younger readers]." He explained how Scholastic sent his family a huge box of new books for review. His kids were so excited to pour over them. Then, DC Comics sent him the entire line of New 52 for his office to review. He spread them out on the conference room table and the adults reacted with, "Meh." Kids – the middle graders from about third grade on – get super excited by heroes with gadgets or magic or whatever. By moving the whole universe to Teen plus away from "All Ages," they are actively working against their own need to widen their market reach.
At the same time, DC has increased its superhero-licensed toy lines for preschoolers. This blows my mind. While I am excited that three-year-olds now have an Fisher-Price Imaginext DC Super Friends Green Lantern Planet OA
" target="_blank">Oa playset and Fisher Price Little People can share the zoo with Little People DC Super Friends~Wonder Woman & Batgirl Figure Pack
" target="_blank">Wonder Woman and Batgirl, I have to wonder how kids even know who these characters are anymore. They are listed withe the DC Super Friends registered trademark, which goes with a great comic DC no longer publishes. Preschoolers are too little to see the PG-13-rated Green Lantern movie. Wonder Woman's new comic is rated Teen, and the always fantastic Batman: The Brave and the Bold cartoon is going off the air. If DC has a plan for bringing age-appropriate stories to younger readers, I would really like to hear it.
Alternatively, we have begun to check out the quality work currently published by other companies. CrossGen's series Mystic by G. Willow Wilson and David López is rated Teen-plus, but by issue 2 contained nothing inappropriate for my fourth-grader (side note: He really enjoyed these stories, too). Over at Image Comics, Super Dinosaur continues to thrill (when it actually ships), and Gladstone's School for World Conquerors is as fun and irreverent as Despicable Me. Following a hilarious intro on Free Comic Book Day, I have ordered Th3rd World Studios' The Intrepid Escape Goat as well. And of course, I have been a collector of DC Comics since 1979. So, I am thankful that I have hoarded my comics so my fourth grader has 4,000 fantastic DC Comics superhero books to pour over. Nearly every one of these is okay for him to read because the publisher had to submit to that pesky Comics Code Authority. It may have bugged creators, but it truly enabled publishers to keep their market broad.
By Allison Eckel
Comics publishers and local comic shops take note: Mothers are the gatekeepers to your coveted youth market, so market to them! You already figured out that kids who read comics are more likely to become lifelong fans than if they start later in life. But, how do kids start reading comics in the first place? Moms must allow them into the house. And currently, most non-geek moms either don't know comics still exist or don't believe they are worth the money. I am here to help with the first part; the second part is up to you.
Non-geek moms are everywhere except local comic shops. That is your primary challenge. The potential of digital comics is promising because it means non-geek moms need never venture into the LCS. The proliferation of apps designed to keep kids happy with no parental interaction is huge and alarming, so I believe non-geek parents are likely to at least try digital comics. But bright ink on paper is still a fantastic thing for young readers. Case in point, my five-year-old girl just got her hands on Strawberry Shortcake #1 from Ape Entertainment (on sale now). She has carried it with her for three days straight and asked every adult she meets to read her any of the three stories it contains. Although digital comics are similarly portable, her access to them is more limited.
Ms. Shortcake brings me to a second point about marketing to moms. Develop more kid-friendly content and then follow through on marketing through more mainstream channels such as Facebook. APE Entertainment is currently releasing several great titles along with Strawberry, including Megamind, Kung Fu Panda, a re-imagined Richie Rich, and the upcoming Casper's Scare School. These comics are all good for grade-schoolers, most of whom have never set foot in an LCS. Facebook ads are comparatively cheap, so ads for these comics should be appearing on every mom's wall. Dark Horse is advertising Buffy and Star Wars comics this way; now, let's see Po's smiling face with the word "comics." Also, publishers should send sample copies to Mommy Bloggers for review, with an explanatory letter heavy in academic advantage-type language.
Point three: Take a moment to understand young readers. What do nine-year-old boys, for example, really like to read? Of course, every reader has different interests, but I recently conducted my own demographic test to discover what boys think of super-heroes. For a week every summer, I teach archery to cub scouts. This year, fifty kids in first-through-fifth grades passed through my range, every day. On Monday, to explain the way they should grip the bow and aim it with a strong, straight arm, I invoked images of Superman. I got no reaction. Ok, how about Captain America; you all know him because of the movie, right? Nothing. Wow. So, I ask: Who is your favorite strong hero? First silence, then one quiet voice from the back offers, "How about Iron Man?"
I didn't expect them to know Green Arrow – the womanizing, mouthy liberal isn't exactly a great role model for the pre-tween set, despite his JLA-caliber heroism. But I expected them to know Superman. I mean, it's SUPERMAN. Turns out, a few of them do know Green Arrow, from his appearance in Batman: The Brave and the Bold, the video game. Well, it's not comics, but it's a start. By Wednesday, I have ditched my references to barrel-chested heroes because I have discovered what excites the kids' imaginations: non-super guys with gadgets. While retrieving arrows we have wild conversations concocting new trick arrows for Ollie (they didn't know about the boxing glove arrow!). Then their minds were racing, comparing him and his abilities with the archery they were learning – how he amazingly hits his targets while running or skidding across the floor when they are working so hard to hit theirs while standing still, and thoughts like that.
I suppose the super-powered heroes are a bit too fantastic to engage young boys. Instead, most of them really like "real" people with gadgets, contraptions, machines that become other machines, etc. Transformers is enduring for a reason that really has nothing to do with scantily clad ingénues and big explosions. Boys just really like robots that they can change into vehicles. Boys also like Batman for his gadgets, Iron Man for his tech, Green Arrow for his arrows, Cyborg for that arm that changes into different things, etc.
I specify boys, because my experience with girls is a bit the opposite. I taught 12 girls in this camp week as well – the lucky siblings who didn't have anywhere else to go. The girls were leery of archery at first: the string is too hard to draw, their fingers hurt, whine, whine, whine. Ok, that's not fair. Some of the boys whined too. But as soon as I told the girls that the ancient Greeks worshipped Artemis the Archer as the goddess of the hunt, they were rushing for the firing line, eager to become a goddess themselves. Girls, generally, like to envision themselves as other than human, as super, better, more. That's why princesses are so ubiquitous. My daughter play-acts as Wonder Woman, Raven, or Starfire instead of Batgirl because she likes the "magical" qualities of the non-humans.
DC Comics is doing well with Young Justice, a team that appeals to boys and girls; although, I think it was better suited for younger readers when Peter David started that title in 1998. Still, DC has a winning title, especially given its close integration with its eponymous cartoon. They also need to continue Batman: The Brave and the Bold because it's one of the best titles they publish (my third-grader did his vocabulary homework from it because it's that good). Given DC's track record, I expect them to cancel it soon because they seem to not like it when a kids' title becomes successful.
So publishers, I have just saved you a chunk of change on a marketing consultant. Develop more series like Super Dinosaur written by Robert Kirkman, published by Image Comic's Skybound imprint. It hits all of the right grade-school-boy buttons while being smart enough to appeal to older readers. But don't stop there. Actually market the book along mainstream channels so the non-geek moms can know about it. The best book in the world can't help anyone if no one knows about it. Kirkman has a high-enough profile thanks to his Walking Dead series that Skybound could send him to daytime talk shows. Better, send him to Conan. And take the huge Super Dinosaur suit. I wonder if Kirkman would consider adding a girl mystic to Super Dinosaur – then Skybound would be sitting on the perfect young-reader comic.
I want to see comics heroes become more important to our boys. Currently, more cub scouts in camp play Call of Duty: Black Ops – and similar violent, M-rated video games – than read stories of strong, heroic role models. At the end of his new book Supergods, Grant Morrison tells us why this is a terrible trend:
We have a tendency to re-enact the stories we tell ourselves. We learn as much … from our fictional role models as we do from the real people who share our lives. If we perpetually reinforce the notion that human beings are somehow unnatural aberrations adrift in the ever-encroaching Void, that story will take root in impressionable minds …. If, on the other hand, we emphasize our glory, intelligence, grace, generosity … capacity for love, creativity, and native genius, those qualities will be made manifest in our behavior and in our works.
My mother gave me my first comic book in 1979 because I was reluctant to read traditional, "girl" stories like Black Beauty. Stories of heroism, of fighting the good fight, of all that Morrison lists, are so important when we're young. Help moms find these stories for their kids.
Update: 8/12/12 Formatting edits