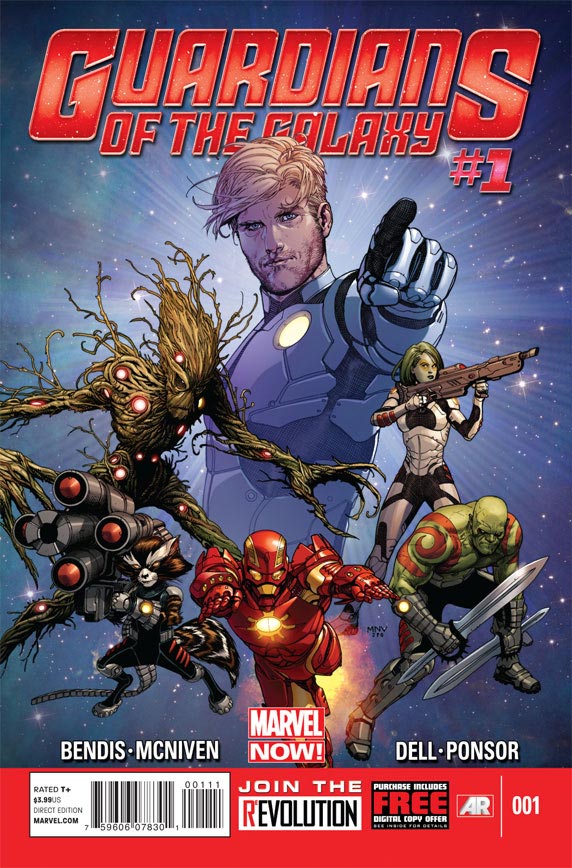 By Glenn Walker
The newest jewel in the Marvel NOW! crown is the new series of Guardians of the Galaxy by the power duo of writer Brian Michael Bendis and artist Steve McNiven. Bendis is coming off of a decade plus old run on the Avengers franchise, as well as Ultimate Spider-Man and Marvel NOW!'s All-New X-Men, and McNiven is the artist who dazzled us on New Avengers, and the legendary Civil War. And they aren't the only reasons Guardians of the Galaxy is so hot.
For those not in the know, Guardians of the Galaxy is headed to the big screen in 2014 with a cast that already includes Chris Pratt and Dave Bautista. Here's your chance to get in on the excitement early with a number one issue that is a terrific jumping-on point for new readers. Marvel Comics superstar Iron Man joins the Guardians just as the Earth has been made a target for invaders from space. And it only gets better from there.
For more adventures of these classic Marvel cosmic characters including Star-Lord, Drax the Destroyer, Gamora, Groot, Iron Man, and of course, Rocket Racoon - get on down to All Things Fun! and pick up Guardians of the Galaxy #1, on sale this week!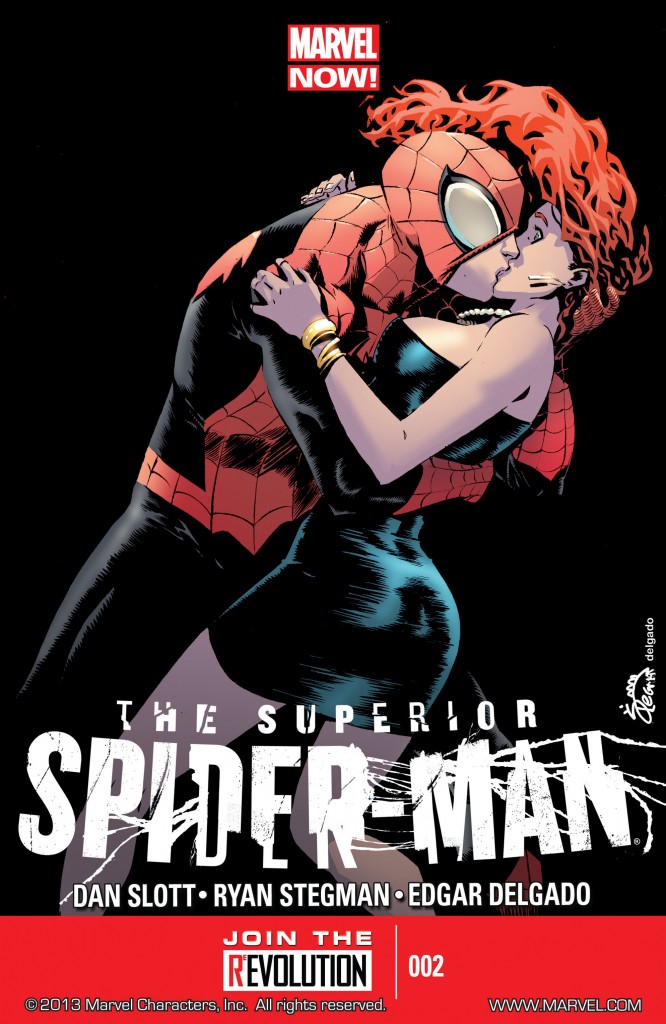 By Glenn Walker
Unless you're a comics fan who's been living under a rock for a month or two, you know the status quo for Spider-Man. Peter Parker is dead, and Doctor Otto Octavius, his mind in Peter's body, is Spider-Man. But he's a new Spidey, a superior Spider-Man. Doc Ock is finding ways of doing things more efficiently, and folks like it. Last issue he trashed the new Sinister Six soundly, and this issue, well, I'll let you read it and find out.
The good news is that Doc Ock is actually doing a fairly good job. He has found good use for his and Peter's scientific talents, and his motivations, as Spider-Man at least, are thoughtful and for the better good. There's further good news that Peter Parker is still in there in his head, just unable to do anything - sort of a living hell for him. Because of the bad news.
The bad news is that old Otto has set his sights on Mary Jane Watson, in a less than chivalrous or romantic way. In Superior Spider-Man #2, writer Dan Slott and artist Ryan Stegman have turned the book into a horror comic. We watch as Peter must watch date after date. It's torture for our hero, and torture for the reader who knows who is really who. Poor Mary Jane!
Dan Slott, on the last few years on this character has spun some of the best stories of his career, and it continues here. Do not miss Superior Spider-Man #2, available at All Things Fun!.
By Glenn Walker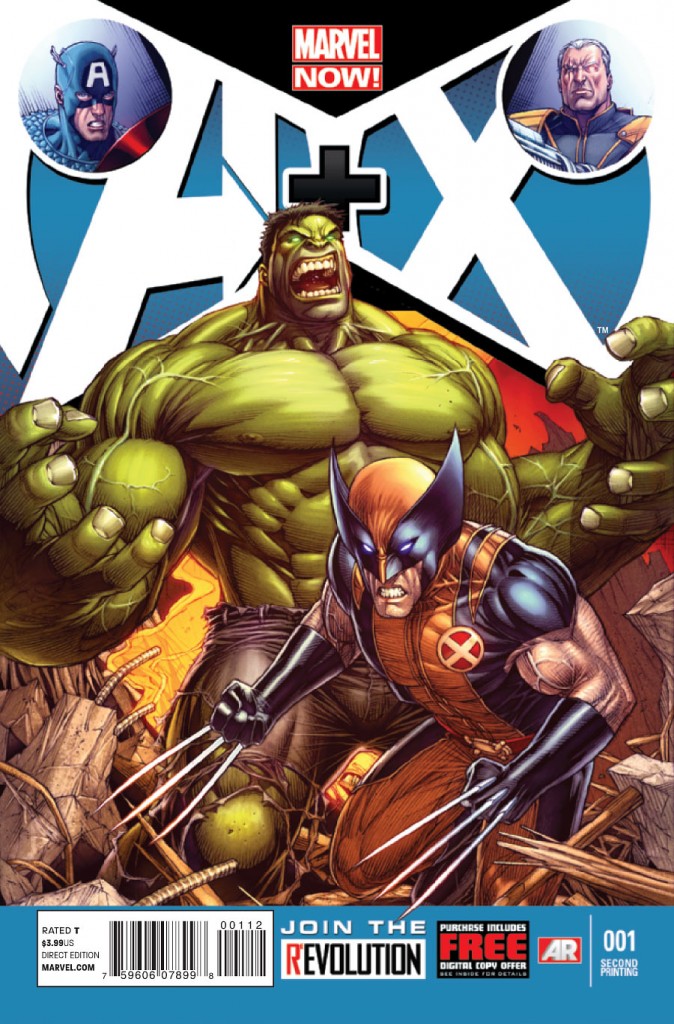 How do you follow up a blockbuster maxi-series like AvsX where the Avengers fight the X-Men? How about a title where they be nice to each other? It may sound like I'm kidding here, but that's exactly what Marvel Comics is doing with this two huge franchises.
In A+X, Marvel has created a fun team-up book seemingly in the spirit of the successful Avenging Spider-Man. In each issue of A+X, we'll see an Avenger and an X-Man teamed together fighting a common foe. It is sort of like the complete opposite of AvsX's companion title Vs. that featured them fighting each other.
A+X #1 starts with a bang, with two stories and Avengers and X-Men teaming up, both by creative superstars of the moment. The first story has the World War II vintage Captain America and Bucky working together with the time-traveling Cable by writer Dan Slott from Amazing Spider-Man and artist Ron Garney, who has done his share of Cap tales in the past.
The second story turns a Marvel classic on its head. In Wolverine's first comics appearance, he fought the Hulk, now the two must team up and work together to defeat… future versions of themselves! This one's by writer Jeph Loeb and an artist whose well known for his work on the green goliath, Dale Keown!
Don't miss this great double-shot of time travelling goodness featuring Avengers and X-Men on the same side for a change. A+X #1 from Marvel Comics is on sale this week from All Things Fun! Get your copy today!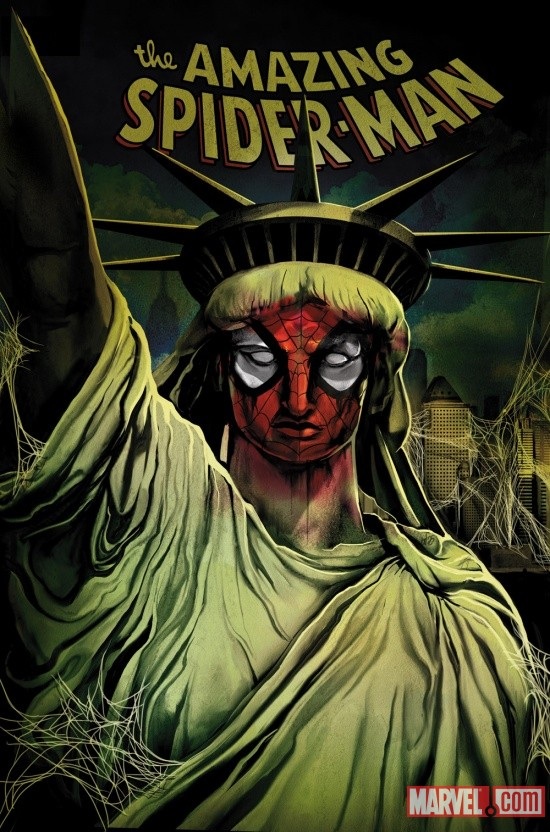 By Glenn Walker
There was initially some static and resistance by fans to read Spider-Man after his marriage to Mary Jane was controversially dissolved by Mephisto. It was into this whirlwind that writer Dan Slott began writing his favorite superhero, and I think it's a shame that a lot of folks weren't there in the beginning to see his terrific work with the character, because Dan Slott knows Spider-Man. Despite any initial problems, or lack of problems, there may have been, Slott hit the ground running and hasn't stopped since. Case in point - Spider-Island.
Imagine this, everyone on the island of Manhattan has Spider-Man's powers, superheroes, super-villains, and civilians alike. Sounds like a dumb fanboy idea, right? Sounds like something even Stan Lee would turn down, and Stan never tossed out any ideas. This is the magic of Dan Slott. He takes the concept and makes it powerful, gripping and must read. Add in the phenomenal art of Huberto Ramos, one of the best action illustrators around, and you've got a winner. And it's not just the regular Amazing Spider-Man creators, as this epic also has work from other comics and their creators as well, including Rick Remender, Stefano Caselli, and Tom Fowler. This is the Spider-Man epic of the year, don't miss it!
This hardcover lists at $39.99 and includes Amazing Spider-Man #666-673, Venom #6-8, and Spider-Island: Deadly Foes, as well as additional select material from other comics affiliated with the storyline. Get it now, available at All Things Fun!, it's worth every penny! Catch the Spider-goodness!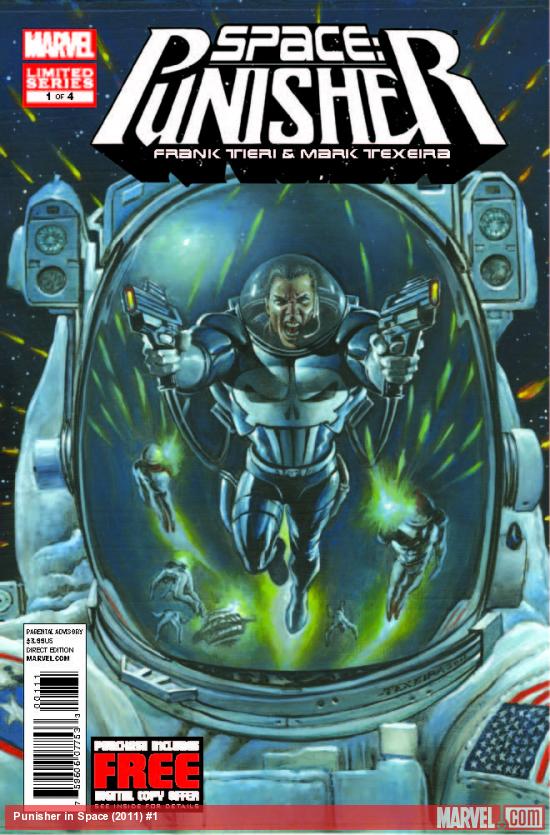 By Glenn Walker
In some ways, the character of the Punisher is sacrosanct in the Marvel Comics Universe. Frank Castle, whose family was murdered by the mob, vowed vengeance on crime, taking the bad guys on at any cost and on his on terms. Rarely is he seen in the big comics events and crossovers, and for the most part, while introduced in an issue of Amazing Spider-Man, the Punisher has spent much of his career off in his own little corner of the universe, grounded in reality, and in the shadows of the whispered world of superheroes, gods and alien invasions.
Writer Frank Tieri and artist Mark Texeira here have created a new Punisher for a new genre, science fiction. Who knows why, or how, but this is Frank Castle in space, and I love it. It's the crime noir we know and love for the character in a new backdrop, space opera, and as silly as the words "Space Punisher" sound, this works, and it works well. Intense, funny, ironic, this was my pick of the week on the Vidcast, I think you should all check it out. Space Punisher #1 of 4 is a must read!
By Glenn Walker
This is big. Usually Marvel Comics doesn't do this type of thing often, it's the realm of DC Comics stories - this multiversal team-up sort of thing. But when Marvel does do it, they do it big.
Written by Brian Michael Bendis and illustrated by Sara Pichelli, Spider-Men #1 (of 5) brings together 'the most amazing heroes of two worlds' as Peter Parker, the Spider-Man of the Earth-616 Marvel Universe meets the new Spider-Man of the Ultimate Comics Universe, Miles Morales.
Bendis is one of the pros when it comes to writing both Spider-Men, and Pichelli's art is crisp and exciting. All this, and classic Spidey-foe Mysterio too! This is a great comic. Come on down to All Things Fun! this week and pick up Spider-Men #1 and find out what brings Peter Parker to the Ultimate Universe!
By Glenn Walker
The mantra used to be Comics aren't just for kids anymore, but these days things have changed. A thought occurred to me several weeks back while watching the Super Bowl. We have gone mainstream. The nerds have inherited the earth.
I had friends and family call me during the game, not about the game, mind you but about the commercials, pushed to call by seeing trailers for the new Ghost Rider flick, and The Avengers of course. They didn't call me to find out what these movies are because they already knew – they wanted to know what I thought of them. They also wanted to know if there would be previews for The Amazing Spider-Man, The Dark Knight Rises, or even The Man of Steel during the game as well.
None of these things were unknown entities. They were all known quantities to folks who know nothing about comic books. This was not a game of ask-the-geek because he'll know what the hell it is, it was ask-the-geek because he'll know if we should see it. Gone are the days of only nerds knowing how many days until the next comic book movie comes out, now everyone is on that clock.
And for clarification, when I say things like nerd, geek, fanboy, etc., it's a term of endearment, and to differentiate ourselves from this new type of fan, the mainstream fan. Remember the days when nobody knew who Green Lantern was outside of your comic shop? Well, game over, your mom knows Green Lantern now. He's Ryan Reynolds in that flick that bombed last year. But still, there is awareness.
Almost all of our Hollywood blockbusters these days, whether they succeed or not, are based on comic books. Audiences around the world get indoctrinated to geek culture on a weekly basis watching "Big Bang Theory." Kevin Smith just started a nerd version of "Hardcore Pawn" set in his own comic book shop. Comics-based "The Walking Dead" gets better ratings on AMC than "Mad Men."
Comic book culture has gone mainstream. It has already happened. Nerds rule. The bad news is we're no longer special. Just sayin'.
By Allison Eckel
Critics have said that Iron Man 2 has lost the lilt, irreverent attitude of its predecessor; that it relies too much on grand, CG-laden battle scenes. To that, I say, Well, duh! It's a Hero Sequel. Of course it has lost its irreverent attitude. When we get to Part 2, it's time to get serious, to understand the power one wields and the corresponding weight of that responsibility.
Speaking of Sam Raimi's Spider-Man … The Hero Sequel also contains a more insidious bad guy. Meeting Otto Octavious was, at first, a dream come true for Peter Parker. The Joker was better left for the Dark Knight.  Clark was getting too comfortable with Lois until Zod and his cronies gave him a serious challenge. In Iron Man 2, we have a dark-mirror counterpart to Tony Stark in Ivan, the brilliant son to a dead, brilliant inventor. One was raised with success and privilege; the other, in exile and squalor, resenting the first. When they meet, Tony as Iron Man has brought peace to the world because no nation on Earth can contend with the battle suit. Ivan proves that Iron Man is touchable, and destruction reigns.
Two elements of the typical Hero Sequel are not upheld in Iron Man 2, and I like the result. First is the illusion that the Hero has a choice whether to continue in the Good Fight or hang up the tights. In Spider-Man 2, a doctor tells Peter, "Maybe you're not supposed to be Spider-Man climbing those walls. You always have a choice, Peter." Peter foolishly believes him and puts the suit in the garbage. He thought that when his powers left him he could go back to a "normal" life. But comics readers know that the Hero really does not have a choice.
Iron Man 2 never wastes time with this. Tony tells a Senator Garry Shandling that there is no weapon suit, that the Iron Man suit is him and cannot be separate. Tony understands that there is no choice, there is only the consequences. When something begins to go wrong with his mini-arc reactor, his choice is not whether to stop the hero gig but whether to eke out a few extra weeks of life or die in a fantastically fun fireball of glory.
Which brings us to the second element of the Hero Sequel not maintained in Iron Man 2: the love interest. Pepper's back, given a new role at Stark Industries, yet she seems completely inconsequential. I bet they could have saved Paltrow's fee, left her out of the movie, and the only difference would be the running time. I am actually glad about this. The typical Hero Sequel uses the love interest to propel the emotional elements of the Hero's journey. Peter Parker spends a lot of time pining over Mary Jane. Superman 2 is unwatchable according to my kids because it is all about Lois. Bruce can't be the committed Batman we all want because he has to rescue What's-her-name. But not Tony. Iron Man 2 makes references to a relationship between Tony and Pepper (and yes, there is a brief kissing scene), but it keeps this on the side and does not let it get in the way. Tony is still Tony, with or without Pepper.
There is a third element of the Hero Sequel that usually serves to undermine the movie rather than improve it: increased character roster. With Iron Man, we were content to meet Tony and his little gang: his girl Pepper, his buddy Rhodey, and occasional cut-up Happy. The bad business man was the bad guy, so that was a tight package. The sequel, we are told time and again, has to add characters, right? So a new bad businessman works with an evil bad guy while a new tough lady in a cat suit makes eyes at our hero and displays questionable loyalties. Wait, is this Iron Man 2 or Batman Returns?
Actually, the elongated cast of characters in Iron Man 2 does have the potential of spiraling out of control, especially since we also meet Nick Fury and see further into his clandestine organization S.H.I.E.L.D. These bits provide a convenient way through a plot point while also laying the ground work for the next three Marvel Studios releases: Thor (May 2011), Captain America (July 2011) and The Avengers (May 2012). At the end of this stream, we may get a third Iron Man movie.
That is a lot of plot to fit into a neat package, all tied together with explosions and battles. The critics are a little divided as to whether it works. I wrote previously that Iron Man saved the Hero Movie genre. I won't say that Iron Man 2 is at all ground breaking for the Hero Sequel. However, I will say that I enjoyed it and it gave my eight-year-old and me a lot to discuss in the car ride home, which to me is worth the price of admission.
For parents:
Iron Man 2 does not have the level of personal brutality witnessed in the beginning of Iron Man. Nor does it have a bedroom scene. It does have a brief view of a lady in her underwear, which made my eight-year-old boy snicker. If you would like to introduce your kids to the Marvel heroes of Iron Man and upcoming films Thor (2011), Captain America (2011), and The Avengers(2012), visit the all ages comics rack at All Things Fun! for the Super Hero Squad (also a cartoon, Cartoon Network, 8pm). Another fun offering from Marvel Kids is Power Pack.
By Allison Eckel
I am going to assume that all of you have seen Marvel Studios' first release, Iron Man. It has been well-reviewed, even by usually high-brow sites like Salon.com. Plus, we can usually count on director Jon Favreau (Made, Zathura), who wrote Swingers, to bring real humor and poignancy to even the dorkiest script (witness Elf).
But then again, Iron Man is a live action super-hero movie. Many have tried to tame this beast, and few have done it remotely well. Although there are many I enjoy, I am hard pressed to find any I would consider "good movies." Daredevil? Nope. Blade? Nope. Superman Returns? Not even close.
My husband and I just re-watched Batman Begins, which has garnered praise as a successful Batman movie. Roger Ebert wrote: "The movie works dramatically in addition to being an entertainment." But I still winced with embarrassment at more than one lame line (most of which regarded the car).
And we all remember the first Sam Raimi Spider-Man movie, when the Green Goblin confronts Spidey during a parade on a crowded Manhattan street. Instead of being a dramatic confrontation with innocent lives in the balance, it became a pricey Power Rangers episode.
The live-action super-hero movie is an unattainable dream. We want to see buff, suave leading men playing out the characters we have read for decades, but actors have difficulty remaining suave when wearing spandex, rubber, masks, and capes.
Then along came Iron Man. This character wears a metal exosuit, not spandex and a rubber cowl, automatically making this movie easier for the filmmakers in the believability category. The styling of the suit is actually, dare I say, elegant. And on my first viewing, the effects blended seamlessly. I'm sure I will begin to see the flaws on repeated viewings in the comfort of my own living room, with the power of pause and rewind in my hand. You know, I don't think I winced at all during Iron Man. Oh, no, wait. There was one moment. The Burger King product placement was shameful, though it was one of the best-handled of its kind, so that I almost didn't see the commercial until it was too late.
I will admit that I am not familiar with the Iron Man comics; I grew up a DC girl. But as a comics reader, I know about hero origin stories, the gray areas of morality, the epiphanies that can send a billionaire playboy down a righteous path, etc. Actually, I found many parallels between Tony Stark's story in the movie and the circumstances that send Oliver Queen (Green Arrow), another heir to a munitions powerhouse, to don a mask and fight injustice. Both are injured, separated from society, and learn that the munitions bearing their names are in the hands of "the bad guys." That realization sends them both to renounce their playboy ways, step outside the bounds of society and the law, and pursue vigilante justice. That's pretty much where the similarities end, though. Ollie becomes fixated on Robin Hood and takes from the power mongers to help the little guy, usually on city streets. Stark builds a bad-ass power suit and goes after the same bad guys who captured him, and then the guys who hired them. Stark's story on the big screen is tight. He's captured, he invents a suit to free himself from rebels that use his company's munitions, he redesigns the suit to defeat the rebels, he discovers corporate corruption, and continues his new mission. We don't get the sound-bite-sized moral lesson rammed down our throats as with Spider-Man ("With great power comes great responsibility") or a theme pervading every aspect of the universe as with the notion of fear in Batman Begins.
Robert Downey Jr.'s performance as Stark succeeds in sealing the deal. He is simply awesome. He plays a brilliant techno-geek ("at age six he built his first engine") who looks amazing in a designer suit; equally at home in a ratty T-shirt, gold-titanium exosuit, or Armani. Those are not easy balls to balance. I thought his transformation from slick and bored to earnest and driven was convincing yet did not require long brooding moments to achieve. He emerged from each circumstance with a new plan, a new direction, and got it done. Boom. I am so enamored of him as Stark that it may cause me to see The Incredible Hulk (June 13) just to see his cameo. For certain, I will be seeing the Iron Man sequel in 2010.
My viewing partner for Iron Man was my six-year-old son. Iron Man is rated PG-13, and I am usually a staunch gate-keeper for the entertainment that reaches my kids. But I decided to take a chance, and he and I set out for adventure. We picked a Monday evening, so the few people there with us would not mind if I needed to explain plot details or "bad words" to my boy. The more mature material in the movie happens early in the film. Stark is kidnapped by Afghani rebels and tortured (briefly). My son is not used to seeing that much personal firepower on the screen at one time, nor that level of personal violence, but he weathered it okay. Oh, and there was one scene back in the U.S. between Stark and certain young lady through which I covered by boy's eyes.
Once in the red and gold suit, the violence is mostly "fantasy violence" – a guy in a metal suit blowing stuff up, or two guys in metal suits fighting in the street. My son is more adjusted to this sort of spectacle from cartoons such as Ben 10 (Cartoon Network), the new Spectacular Spider-Man on CW, and anything rated Y-7. Actually, the filmmakers showed remarkable restraint with the blood-and-guts factor: it is almost non-existent, except for the wounds suffered by Stark himself.
My son is now all about Iron Man. He is convinced that he will be able to invent the crazy fuel cell that powers the exosuit. He wants to know where he can buy gold and titanium to put together the armor. For now, I hope he will be happy with books, comics, PJs, and action figures for inspiration. We will be popping into All Things Fun soon to see what we can find to keep the fandom going until April 2010.