By Glenn Walker
Hopefully y'all have been following the All Things Fun! Comic Vidcast uploaded every Wednesday, and if not, get yourself over to its special webpage and enjoy. As I said, it's uploaded every Wednesday morning by 11:30 AM sharp Eastern Standard Time, and available for viewing – as are all the episodes, throughout the week afterwards. The Vidcast even has its own channel on YouTube.
I, along with co-hosts Allison Eckel and Ed Evans, discuss the new comics that come out that day for the week. We like to think we offer our own unique and informative view of the comics world and what's going on within it and around it.
Although, sometimes fifteen to twenty minutes just isn't enough to explain some of the references made during the vidcast, and it certainly isn't anywhere near enough time to justify the vast storehouse of useless comics knowledge spilling out of my head. We've had to do an explanatory post like this once or twice before, and hopefully this new edition of Show Notes might help alleviate the pressure on my brain.
Lucas "Snapper" Carr
Allison doesn't like this guy and thinks he's dumb, and didn't know why he was showing up in recent issues of the out-of-continuity Young Justice. Old folks like me were thrilled with both the history and irony of his appearance. Sadly, when most people do think of poor Snapper, they do think lame. That's because they don't have a sense of history, or perhaps don't know his history.
Snapper was designed to be the identifying character in Gardner Fox's Silver Age Justice League of America. He was the little-bit-out-of-date beatnik kid who got to hang out with the World's Greatest Heroes. "Wow, if we, the readers, could be Snapper, wouldn't that be cool?" was the line of thinking, but after a while, Snap got annoying. While Fox was on the book, Carr worked as a storytelling device, informing readers on the ins and outs of the team, the day-to-day operations, and he even had a friendship with the League's second new member, the Atom.
However, as time went by, even Gardner Fox got tired of poor Snap, and used him less and less. When Fox left, and new, younger, hipper writer Denny O'Neil came on board, things changed. O'Neil sought to streamline the JLoA to be more his style, and more in line with other books he wrote. More focus was placed on his pet characters like the darker detective Batman, Green Lantern, his revamped and more socially conscious Green Arrow, and the Earth-Two Justice Society transfer, Black Canary. O'Neil also got rid of folks. Over in her own title, he had depowered Wonder Woman, and here, he had her resign from the League. J'Onn J'Onzz returned to his homeworld, and O'Neil simply just ignored Aquaman as if he didn't exist.
Denny O'Neil had more sinister plans for poor Snapper Carr. In the writer's mind, as Snapper grew older, the League had gotten tired of him, and in turn, Snapper was weary of being made fun of by his peers for being the 'Justice League mascot.' In short, he was feeling alienated, and was ready to strike back at 'the man,' his mentors and friends in the JLA. Snapper fell under the sway of an anti-superhero public speaker (shades of the Glorious Godfrey who would come a few short years later) called Mr. Average.
The insidious Mr. Average convinced Snapper that he had to turn against the heroes, and he weaseled their biggest secret out of poor Snapper: the location of their secret headquarters, the Secret Sanctuary in Mount Justice. Oh, and did I mention that Mr. Average was actually the Joker in disguise? Yeah, this was bad. And it led to Snapper Carr's resignation as an honorary JLA member, and the move to a satellite headquarters in orbit.
But therein lies the irony of Snapper appearing in Young Justice, as you see, the YJ team meets in the old Mount Justice headquarters. Cool, huh? Snapper Carr eventually made amends with the JLA, but not after making further mistakes, like being misled once again by villains like The Key, the Star-Tsar, and the Privateer. He later sidekicked for the android Hourman from the future. Snapper Carr remains a case study in the idea that there are no bad characters, only bad writers.
The Absorbing Man
Stop snickering, Allison. I know how you like to make fun of the sometimes-lame names of Marvel Comics characters, but this one is really cool. And besides, it's DC that has characters like the Crimson Centipede, the Purple Pile-Driver, Animal-Vegetable-Mineral Man, and Don Rickles as a super-villain -- not Marvel, so take that.
The Absorbing Man began his comics life as small-time and not-so-bright criminal Carl "Crusher" Creel, and in the typical fashion of most Silver Age Thor villains, being unknowingly empowered by Thor's evil stepbrother Loki. In this case, Loki gave Creel the ability to absorb the strengths and properties of whatever he touches. For example, he touches stone, he becomes as strong as stone, and in actuality, stone. Needless to say, he's been shattered several times.
Over the years, other than Thor, he has clashed with the Hulk several times, giving you an idea of Creel's power levels. The turning point for the Absorbing Man was in the late 1970s in Avengers #183-184 when he made the big leagues. He ended up taking on the entire Avengers team when all he wanted was to be left alone. From that moment on, he was taken seriously and was considered a major Avengers foe, as opposed to that dumb guy with the ball and chain who sometimes bothered Thor and the Hulk.
He's been animated several times, beginning with the Thor segments of 1966's "Marvel Super Heroes," and most recently in Disney XD's "Avengers: Earth's Mightiest Heroes" as both an adversary of the Hulk and the whole team again. Creel has even made it to the big screen, albeit in a mangled comics-to-film version. In Ang Lee's Hulk movie, Nick Nolte plays Bruce Banner's father, who is imbued with the Absorbing Man's powers.
Crusher Creel continues his major threat level status even today as one of The Worthy in Marvel Comics' latest big crossover event, "Fear Itself."
Wonder Man
Here's another name Allison has busted on, and a character with a lot of history, and an amazing character when written right. Currently he's being miswritten by Brian Michael Bendis in theAvengers comics franchise, as a bitter former member who wants to stop his old teammates by starting his own group, the Revengers. It all sounds familiar, but essentially out of character.
Wonder Man began life as a one-shot, one-note character in the classic Avengers #9 by Stan Lee and Don Heck. Simon Williams was recruited byBaron Zemo and the first Masters of Evil to gain super powers and infiltrate the Avengers and destroy them from within. With a mysterious 'ionic' process, Williams was given enhanced strength, endurance and invulnerability, as well as a rocket belt for flying. He joined the team, and then when the Masters of Evil attacked, Simon had a change of heart and fought against them. Zemo double-crossed him, and Wonder Man became the first Avenger to die in battle. At least he died on the side of the angels.
Wonder Man was not forgotten. His name and memory came up often in the Avengers series. Things got hot when Simon's brother, the Grim Reaper, attacked the team seeking revenge. It was revealed later that Simon's brain patterns were actually recorded, and used as a template for the android Vision's mind after he had been reprogrammed. And much later, Avengers arch-foe Kang stole Wonder Man out of time and used him as a pawn in his Legion of the Unliving. In all cases, fan response was strong.
All of these post-death appearances told the powers-that-be at Marvel one thing: Wonder Man was popular. And what do you do with dead characters in comics when they're popular? You bring them back from the dead of course! Wonder Man returned in Avengers #151, first as azuvembie (don't even ask, or just click, but you've been warned), and then for real and for good, regaining his full member status on the team.
Wonder Man became a fast fan favorite, became a founding member of the West Coast Avengers, best friends with teammate the Beast, got his own series, and yes, died a couple more times, and came back as well. He's become known as a loyal support Avenger, his colorful, and sometimes drab costumes, and for coming back from the dead frequently. What he's not known for is being vengeful and unfoundedly proactive. Again, it's Snapper Carr time -- there are no bad characters, only bad writers.
That said, Wonder Man, and the Revengers, can be found in recent issues of the Avengers franchise of titles, fighting his former friends, the Avengers.
That's all for this time. I'm sure there will have to be more explanations of obscure and arcane info from my twisted mind. Maybe next time I'll teach y'all how to pronounce all the 'O' villains in the Justice League's rogues gallery…
By Glenn Walker
In Marvel Comics' Avengers #213, an unfortunate character-defining moment occurred with Dr. Henry Pym, then going by the name of Yellowjacket. He struck his wife, Janet Van Dyne, AKA the Wasp. Ask anyone who's a Marvel Comics fan about Hank Pym, and at some point during the conversation, early on usually, the phrase 'domestic violence' (or worse) will come up.
Now before we start this rollercoaster ride, please understand I am not supporting domestic violence in any capacity whatsoever. What Hank did to Jan is inexcusable. My question is why does one slap define his character forever? Especially in light of the fact it might not have been meant to happen in the comic at all? Oh yeah, you read that right, but I'll get to that later.
First let's have some history on Dr. Henry Pym. He's one of the Marvel originals, created by Stan Lee and Jack Kirby in Tales to Astonish #27. As Ant-Man, the scientist-turned-adventurer continued on in that comic, gaining both a rogues gallery and a sidekick: Janet Van Dyne, who became the Wasp. While Ant-Man could shrink and communicate and control ants, he gave his heiress girlfriend slightly different powers. The Wasp could shrink, but at insect size she sprouted wings and had mechanical 'stingers.' She was a bit ditzy at the beginning, but let's be honest here, Stan Lee was not at his finest writing women back in those days.
The next big move in Hank's career was, along with the Wasp, becoming a founding member of the Avengers. By that time, Pym had improved upon the science that allowed him to shrink, and was also using the identity of Giant-Man, who could not only shrink, but also grow to incredible size. Retroactively it's been suggested that Pym kept trying to improve himself to compete with the bigger guns in the Avengers, especially fellow scientist Tony Stark as Iron Man. Me, I don't buy it.
Later after a leave of absence from the team, Hank and Jan returned to the Avengers, and this time, he called himself Goliath. Three identities and at least a half-dozen costumes, as well as a dozen outfits for the Wasp – a pattern was developing. It would stay in place for years. For the record, the Wasp has had more costumes than any other heroine in comics. He stayed Goliath for a while, and was even trapped at a height of fifteen feet for some time. It was during this period that things got bad.
Realizing that he fought better in the lab with his brain than he did in a costume and with his fists, Hank turned to his research more seriously. This, unfortunately, was his undoing. He created an artificial intelligence called Ultron that not only turned against him, the creature affected his thinking, and ultimately his mind. Later this monster became one of the Avengers' greatest foes. Failed experiments and damaged self-esteem added into the equation and Henry Pym had a mental breakdown. From this tragedy arose the new identity of Yellowjacket.
Yellowjacket was everything that Hank Pym wasn't, and he even claimed to have killed Pym. Yellowjacket was active, aggressive, acting first and thinking last. He wielded a disruptor pistol, didn't change size, and moved in on Pym's woman quickly – and asked Janet to marry him. The Wasp was the only one who knew that Yellowjacket was the product of a mental break and a backfiring experiment. So she not only humored him, she married him.
At the wedding, Hank came to his senses, but still thereafter was subject to mental stress. Mostly it was the guilt of having created one of the Avengers' deadliest enemies that weighed most heavy on him. For the most part – except for switching off to Ant-Man once or twice – Hank remained Yellowjacket for most of the 1970s. He later took on other identities like the scientific adventurer Doctor Pym, and more recently as the new Wasp in memory of his late ex-wife (yeah, we'll get to that). He also has gone back to Goliath, Ant-Man, and Giant-Man for short periods of time, that last is the identity he's using in current issues of Avengers Academy.
Ultron has returned on many occasions, often screwing with Hank's mind. In hindsight, it is hard to say how many of Pym's mental problems have been his own, and how many have been the brainwashings and manipulations of Ultron – but that's a case for another time. This brings us back to the beginning: Avengers #213, and the slap.
Yellowjacket was under stress and mental strain again. He was getting careless, making mistakes, and taking it out on his wife Janet. Verbally, it should be stressed, he was yelling at her. Janet, in their relationship, had always stood by him. She would rather be superheroing, and he would always want to be in the lab, they quarreled occasionally, but they always stood by each other. In this issue, it changes.
Hank strikes Jan, knocks her down, and gives her a shiner. One strike is shown. Despite the idea that if it happens once, it'll happen again, we don't see it in the comics. He hits her once, and is labeled a wife-beater forever. In the events that follow, Hank is expelled from the Avengers, divorced from Janet, suffers a complete mental breakdown, does jail time, attacks the Avengers, is brainwashed by Egghead, and even seriously contemplates suicide – all of this in a very short time.
Hank has been forgiven, and redeemed himself, in his own eyes, in Janet's, and in those of the Avengers several times in the decades since. It seems that he is forgiven in everyone's eyes, except those of the majority of readers, and the writers at Marvel. And as I've always said: There are no bad characters, only bad writers. Seeing as Hank Pym is one of my favorite Avengers, it hurts me to see a character of such great potential treated thus. The slap remains a stigma, the stigma that defines the character.
I have to wonder why this is not the case with other comic book characters. Have we forgotten that Hal Jordan slaughtered most of the Green Lantern Corps? How many people has the Hulk killed in his rampages? How many times has Spider-Man knocked Mary Jane around? In post-Crisis continuity, Superman sentenced the three Phantom Zone villains to death. Reed Richards struck his wife Sue physically and verbally to shake her out of her Malice identity.
Let's not even get into the weird physical relationships Batman has had with Catwoman and Talia, among others – you know there was more than slapping involved there. Add in the archer couples Hawkeye and Mockingbird, and Green Arrow and Black Canary, and you have enough dysfunctional relationship there to make Hank and Jan seem positively healthy. Why is it Henry Pym that takes the blame?
Recently it has come to light, although I had heard rumors for years, that the slap was never meant to happen as we saw it on the page. The writer of that issue, Jim Shooter, who was also Marvel's editor-in-chief at the time, posted a blog entry about the incident. You can read it here. It's called, appropriately enough, "Hank Pym Was Not a Wife Beater." What is most interesting is that artist Bob Hall collaborates this in the comments section of the blog.
So where does this leave us? Well, continuity is as it was printed, not what was meant to be printed. I mean, this is the way it is: Hank hit Jan. Of course, Janet is no longer with us, killed at the end of the Secret Invasion. In Dan Slott's Mighty Avengers, Hank was in the process of finding a way to bring her back. The subplot remains in Avengers Academy by Christos Gage. Both Slott and Gage are good writers – no, make that great writers. Maybe Hank is headed toward another redemption, and maybe this time it will stick.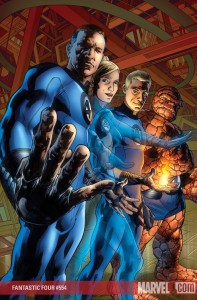 By Glenn Walker
The grandmaster of hype that Stan Lee was, and still is, he placed the words "World's Greatest Comics Magazine" over the title of his Fantastic Four early on. But really, when was the last time the comic really lived up to that hype? The last four months, I'd say.
Created in 1961 by writer Stan Lee and artist Jack Kirby, Fantastic Four follows the adventures of scientist Reed Richards, his wife Susan, her brother Johnny Storm, and Reed's best friend Benjamin Grimm. Together they took a rocket ride into orbit where they were bombarded by cosmic rays and transformed. Reed, now able to stretch any part of his body, took the name Mr. Fantastic. Sue, able to generate force fields and turn herself and others invisible, became the Invisible Woman. Johnny. Able to set himself aflame and fly, became known as the Human Torch. And Ben, his body now metamorphosed into a rocky, super-strong monster, called himself, unfortunately, the Thing. Together they became the Fantastic Four, more family than superhero team, and saved the Earth time and again from such menaces as Doctor Doom, the Mole Man and Galactus.
But then you knew all that, especially if you've had any contact with the comics world for the last four decades. And that's the problem. After four decades even the coolest concepts get a bit less fresh. So, some time ago, the high muckety-mucks at Marvel Comics planned a revamp. No, not a new take like Marvel's Ultimate line or one of those "everything you know is wrong" stories, but something better.
They grabbed writer Mark Millar and artist Bryan Hitch, who had previously revamped the Avengers with that Ultimate new take process, and dropped them on the regular Fantastic Four title. The duo are known for doing things big and 'widescreen' and it was hoped they could do something with the book. Boy, did they.
The "World's Greatest" story arc, beginning in Fantastic Four #554, starts with a bang. The Earth is doomed, and Reed's old girlfriend, who still has eyes for him, has built a new Earth for the human race to evacuate to. Then there's also the robot who's destroying all the military bases on Earth and none of our superheroes can stop it. Did I mention that Johnny is sleeping with a super-villainess? And oh yeah, did I forget the Anti-Galactus, too? All that and Doctor Doom and the New Defenders are coming too.
Highly recommended, these issues, and future ones as well, should be available at All Things Fun!. Check them out.