By Glenn Walker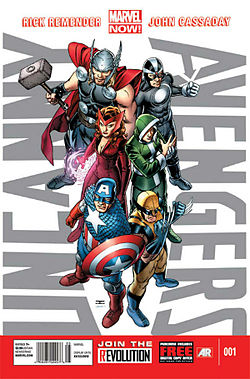 In the wake of the cataclysmic conclusion of AvsX, to continue Professor Xavier's dream and protect the new mutants of Earth, Captain America forms a new team of Avengers, including X-Men - the Uncanny Avengers. Among the potential members are Thor, Havok, Wolverine, Rogue, and the Scarlet Witch.
This exciting new dynamic by writer Rick Remender and artist John Cassaday starts with a boom this week. See Avalanche's rampage, Professor Xavier's funeral, former Dark Phoenix Cyclops in his ruby quartz prison, Rogue vs. the Scarlet Witch, and a dangerous new team of super-villains. And that's not all, all this and more is in this spectacular first issue.
You've all heard about the previews, you've all heard about what most have assumed is Cyclops' lobotomy, but... Let me warn you, it's not what you think, and it is so much worse, so much more frightening, and so much cooler. It's the return of a classic Marvel super-villain with a diabolical new plan. This Avengers fan is excited about Avengers again, even with the X-Men along for the ride. Do not miss Uncanny Avengers #1, available at All Things Fun!.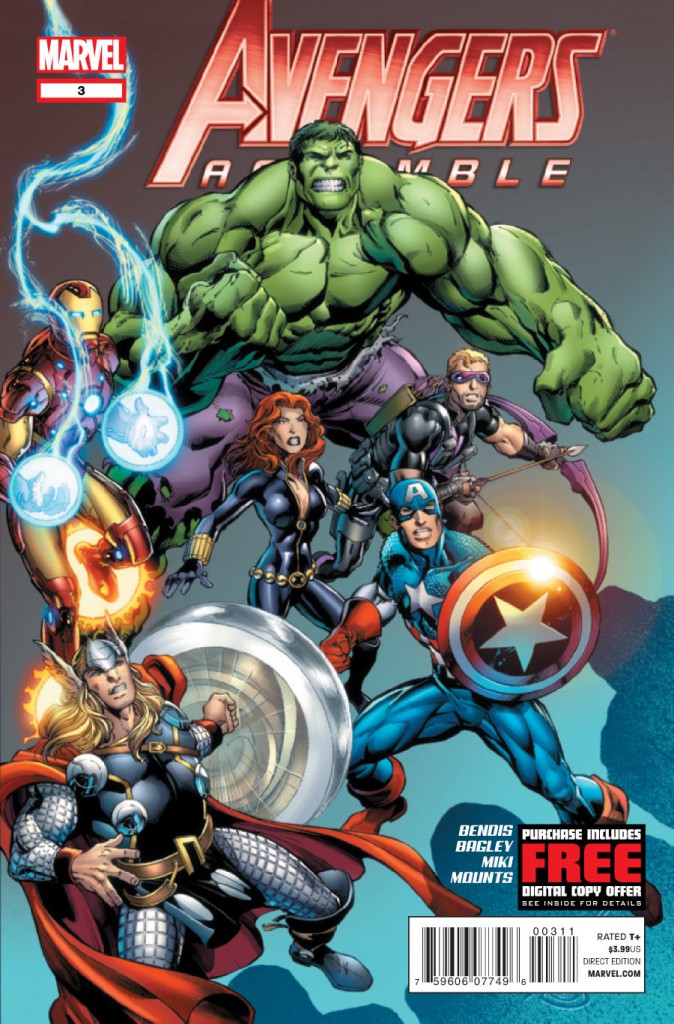 By Glenn Walker
To say that this is a big week for Marvel Comics and the Avengers would be a serious understatement. With the release of Marvel's The Avengers this past weekend to the highest box office opening ever, I say this is the biggest week for the Avengers.
So if you haven't already, go out and see the movie, and if you've already done it, see it again, then come on down to All Things Fun! and pick up the biggest Avengers comic this week, Avengers Assemble #3.
The cinematic Avengers - Thor, Iron Man, Hulk, Captain America, Hawkeye and the Black Widow - go toe to toe with the new Zodiac in this story by writer Brian Michael Bendis and artist Mark Bagley, featuring the biggest last page revelation you'll see this side of a Marvel movie end credit sequence.
Do not miss Avengers Assemble #3!
By Glenn Walker
Hopefully y'all have been following the All Things Fun! Comic Vidcast uploaded every Wednesday, and if not, get yourself over to its special webpage and enjoy. As I said, it's uploaded every Wednesday morning by 11:30 AM sharp Eastern Standard Time, and available for viewing – as are all the episodes, throughout the week afterwards. The Vidcast even has its own channel on YouTube.
I, along with co-hosts Allison Eckel and Ed Evans, discuss the new comics that come out that day for the week. We like to think we offer our own unique and informative view of the comics world and what's going on within it and around it.
Although, sometimes fifteen to twenty minutes just isn't enough to explain some of the references made during the vidcast, and it certainly isn't anywhere near enough time to justify the vast storehouse of useless comics knowledge spilling out of my head. We've had to do an explanatory post like this once or twice before, and hopefully this new edition of Show Notes might help alleviate the pressure on my brain.
Lucas "Snapper" Carr
Allison doesn't like this guy and thinks he's dumb, and didn't know why he was showing up in recent issues of the out-of-continuity Young Justice. Old folks like me were thrilled with both the history and irony of his appearance. Sadly, when most people do think of poor Snapper, they do think lame. That's because they don't have a sense of history, or perhaps don't know his history.
Snapper was designed to be the identifying character in Gardner Fox's Silver Age Justice League of America. He was the little-bit-out-of-date beatnik kid who got to hang out with the World's Greatest Heroes. "Wow, if we, the readers, could be Snapper, wouldn't that be cool?" was the line of thinking, but after a while, Snap got annoying. While Fox was on the book, Carr worked as a storytelling device, informing readers on the ins and outs of the team, the day-to-day operations, and he even had a friendship with the League's second new member, the Atom.
However, as time went by, even Gardner Fox got tired of poor Snap, and used him less and less. When Fox left, and new, younger, hipper writer Denny O'Neil came on board, things changed. O'Neil sought to streamline the JLoA to be more his style, and more in line with other books he wrote. More focus was placed on his pet characters like the darker detective Batman, Green Lantern, his revamped and more socially conscious Green Arrow, and the Earth-Two Justice Society transfer, Black Canary. O'Neil also got rid of folks. Over in her own title, he had depowered Wonder Woman, and here, he had her resign from the League. J'Onn J'Onzz returned to his homeworld, and O'Neil simply just ignored Aquaman as if he didn't exist.
Denny O'Neil had more sinister plans for poor Snapper Carr. In the writer's mind, as Snapper grew older, the League had gotten tired of him, and in turn, Snapper was weary of being made fun of by his peers for being the 'Justice League mascot.' In short, he was feeling alienated, and was ready to strike back at 'the man,' his mentors and friends in the JLA. Snapper fell under the sway of an anti-superhero public speaker (shades of the Glorious Godfrey who would come a few short years later) called Mr. Average.
The insidious Mr. Average convinced Snapper that he had to turn against the heroes, and he weaseled their biggest secret out of poor Snapper: the location of their secret headquarters, the Secret Sanctuary in Mount Justice. Oh, and did I mention that Mr. Average was actually the Joker in disguise? Yeah, this was bad. And it led to Snapper Carr's resignation as an honorary JLA member, and the move to a satellite headquarters in orbit.
But therein lies the irony of Snapper appearing in Young Justice, as you see, the YJ team meets in the old Mount Justice headquarters. Cool, huh? Snapper Carr eventually made amends with the JLA, but not after making further mistakes, like being misled once again by villains like The Key, the Star-Tsar, and the Privateer. He later sidekicked for the android Hourman from the future. Snapper Carr remains a case study in the idea that there are no bad characters, only bad writers.
The Absorbing Man
Stop snickering, Allison. I know how you like to make fun of the sometimes-lame names of Marvel Comics characters, but this one is really cool. And besides, it's DC that has characters like the Crimson Centipede, the Purple Pile-Driver, Animal-Vegetable-Mineral Man, and Don Rickles as a super-villain -- not Marvel, so take that.
The Absorbing Man began his comics life as small-time and not-so-bright criminal Carl "Crusher" Creel, and in the typical fashion of most Silver Age Thor villains, being unknowingly empowered by Thor's evil stepbrother Loki. In this case, Loki gave Creel the ability to absorb the strengths and properties of whatever he touches. For example, he touches stone, he becomes as strong as stone, and in actuality, stone. Needless to say, he's been shattered several times.
Over the years, other than Thor, he has clashed with the Hulk several times, giving you an idea of Creel's power levels. The turning point for the Absorbing Man was in the late 1970s in Avengers #183-184 when he made the big leagues. He ended up taking on the entire Avengers team when all he wanted was to be left alone. From that moment on, he was taken seriously and was considered a major Avengers foe, as opposed to that dumb guy with the ball and chain who sometimes bothered Thor and the Hulk.
He's been animated several times, beginning with the Thor segments of 1966's "Marvel Super Heroes," and most recently in Disney XD's "Avengers: Earth's Mightiest Heroes" as both an adversary of the Hulk and the whole team again. Creel has even made it to the big screen, albeit in a mangled comics-to-film version. In Ang Lee's Hulk movie, Nick Nolte plays Bruce Banner's father, who is imbued with the Absorbing Man's powers.
Crusher Creel continues his major threat level status even today as one of The Worthy in Marvel Comics' latest big crossover event, "Fear Itself."
Wonder Man
Here's another name Allison has busted on, and a character with a lot of history, and an amazing character when written right. Currently he's being miswritten by Brian Michael Bendis in theAvengers comics franchise, as a bitter former member who wants to stop his old teammates by starting his own group, the Revengers. It all sounds familiar, but essentially out of character.
Wonder Man began life as a one-shot, one-note character in the classic Avengers #9 by Stan Lee and Don Heck. Simon Williams was recruited byBaron Zemo and the first Masters of Evil to gain super powers and infiltrate the Avengers and destroy them from within. With a mysterious 'ionic' process, Williams was given enhanced strength, endurance and invulnerability, as well as a rocket belt for flying. He joined the team, and then when the Masters of Evil attacked, Simon had a change of heart and fought against them. Zemo double-crossed him, and Wonder Man became the first Avenger to die in battle. At least he died on the side of the angels.
Wonder Man was not forgotten. His name and memory came up often in the Avengers series. Things got hot when Simon's brother, the Grim Reaper, attacked the team seeking revenge. It was revealed later that Simon's brain patterns were actually recorded, and used as a template for the android Vision's mind after he had been reprogrammed. And much later, Avengers arch-foe Kang stole Wonder Man out of time and used him as a pawn in his Legion of the Unliving. In all cases, fan response was strong.
All of these post-death appearances told the powers-that-be at Marvel one thing: Wonder Man was popular. And what do you do with dead characters in comics when they're popular? You bring them back from the dead of course! Wonder Man returned in Avengers #151, first as azuvembie (don't even ask, or just click, but you've been warned), and then for real and for good, regaining his full member status on the team.
Wonder Man became a fast fan favorite, became a founding member of the West Coast Avengers, best friends with teammate the Beast, got his own series, and yes, died a couple more times, and came back as well. He's become known as a loyal support Avenger, his colorful, and sometimes drab costumes, and for coming back from the dead frequently. What he's not known for is being vengeful and unfoundedly proactive. Again, it's Snapper Carr time -- there are no bad characters, only bad writers.
That said, Wonder Man, and the Revengers, can be found in recent issues of the Avengers franchise of titles, fighting his former friends, the Avengers.
That's all for this time. I'm sure there will have to be more explanations of obscure and arcane info from my twisted mind. Maybe next time I'll teach y'all how to pronounce all the 'O' villains in the Justice League's rogues gallery…
By Glenn Walker
More and more, Hollywood in recent years has been leaning on the comics industry for ideas. Superheroes and comic books are huge on the big screen, and the year 2011 is no exception. We started the year with Seth Rogan's The Green Hornet, which, while not lasting too long in theaters, was much better than this Hornet fan could have ever anticipated.
Here's a date-by-date reference of what's coming up for superheroes and comics on the big screen. I have also included some of the major players in these movies. As you'll notice, the Six Degrees of Kevin Bacon game now extends easily into superhero genre flicks.
April 1: Super
This one isn't actually based on a comic book property, but many folks will probably scream at the similarities with last year's Kick-Ass, and unfortunately, it's not an April Fools joke. Regular guy Rainn Wilson ("The Office) takes on the superhero identity of the Crimson Bolt to rescue his wife from a drug dealer. The flick promises a cast with Nathan Fillion ("Firefly," "Castle"), Kevin Bacon (Hollow Man), Liv Tyler (Lord of the Rings), and Linda Cardellini (All-Star Superman, "Freaks and Geeks"), among others.
May 6: Thor
Marvel Comics' first hammer strike of the summer hits with their resident thunder god's first appearance on the screen, with the next step building to the Avengers movie. Hinted at the end of Iron Man 2, this is the tale of Thor, exiled by his father to Earth from the high-tech magical world of Asgard. It seems everything we thought was just Norse mythology is real, and now the worlds are merging, as evil from that realm threaten ours. Only Thor can save us. Stan Lee and Jack Kirby magic brought to life on the screen in 3D, starring Chris Hemsworth (Star Trek), Anthony Hopkins (Beowulf), Natalie Portman (Black Swan, Star Wars prequels), and directed by Kenneth Branagh (Henry V, star, director, screenplay) -- I can't wait for this one.
June 3: X-Men: First Class
More Marvel Comics goodness in this 1960s period piece prequel to the X-Men franchise. This is the story of Charles Xavier and Magneto's friendship and falling out, and the formation of the first X-Men team. It's very loosely based on the comics, more tied to the movies. Look for James McAvoy (Wanted), Kevin Bacon (busy summer, Kev?) and the near-perfect casting of January Jones from "Mad Men" as Emma Frost.
June 17: Green Lantern
In a summer dominated by Marvel at the movies, this is the one DC Comics fans have been waiting for. Test pilot Hal Jordan is given a magical Power Ring by a dying alien and becomes the Green Lantern, just one of thousands of space police officers commanded by the Guardians of the Universe. He undergoes training by a cadre of other alien cops and then tries to save the Earth from threats within and beyond. Ryan Reynolds, who has previous played Marvel heroes Hannibal King (Blade: Trinity) and Deadpool (X-Men Origins: Wolverine), is in the title role. Peter Sarsgaard (Jarhead) is Hector Hammond, Tim Robbins (Shawshank Redemption) is Senator Hammond, Blake Lively (The Town) is Carol Ferris, Mark Strong (Kick-Ass) is Sinestro, Angela Bassett (Contact) is Amanda Waller, Dennis Heyspert (Jarhead, "24") voices Kilowog, and John Larroquette ("Chuck," "Night Court") reprises his voice role as Tomar-Re (from the animated Green Lantern: First Flight).
This will be a geekfest and serious eye candy -- this is the summer's must-see flick, and the first in what Warner Bros. hopes will be a new franchise.
July 22: Captain America: The First Avenger
The set-up to The Avengers film takes a step back into the past to spotlight Marvel's World War II superhero Captain America. Scrawny Steve Rogers, played by Chris Evans (Fantastic Four's Human Torch, The Losers, Scott Pilgrim), can't serve in the military so volunteers as a guinea pig in the Super Soldier program. He emerges as a fighting machine of physical perfection. He defends the U.S. against the forces of the Red Skull (played by former Matrix Agent and LOTR elf Hugo Weaving) and the Nazis, before ending up stranded in the 21st century. The rest of the supporting cast boasts fanboy cred as well. Included is Tommy Lee Jones (Men in Black), Stanley Tucci (Burlesque), Neal McDonough (DC Showcase: Green Arrow, Tin Man), and Dominic Cooper (the upcoming Abraham Lincoln: Vampire Hunter). This one looks great.
July 29: Cowboys & Aliens
This one is based on a little-known 1990s graphic novel where cowboys and Indians in the Old West repel an alien invasion. Iron Man's Jon Faveau directs Harrison Ford (Indiana Jones) and Daniel Craig (James Bond) in this Steven Spielberg/Ron Howard production. Other noteworthy players include Olivia Wilde (Tron: Legacy), Sam Rockwell (Iron Man 2, Galaxy Quest), Noah Ringer (The Last Airbender), and Clancy Brown (Highlander, voice of Odin in "The Avengers: Earth's Mightiest Heroes," and Mr. Krabs in "Spongebob Squarepants").
No Date Yet: Luke Cage
Another Marvel Studios production, Tyrese Gibson (Transformers) plays wrongly convicted man who escapes from prison after gaining superpowers. This movie does not yet have a release date or a full cast and crew listing, but is currently slated for 2011.
The summer ends the superhero movies list for 2011, but 2012 has a full slate as well. Highlights include Hugh Jackman returning to his best-known character in The Wolverine, Ryan Reynolds reprising his role as Deadpool, and Nicholas Cage returns in Ghost Rider: Spirit of Vengeance. Next summer finally brings The Avengers, what Marvel movies have been building to for the past few years, as well as Men in Black III, the reboot with Andrew Garfield as The Amazing Spider-Man, Chris Nolan's The Dark Knight Rises and the year 2012 ends with something called Superman: The Man of Steel. These are good times to be a comics reader, and a film fan.
By Allison Eckel
Critics have said that Iron Man 2 has lost the lilt, irreverent attitude of its predecessor; that it relies too much on grand, CG-laden battle scenes. To that, I say, Well, duh! It's a Hero Sequel. Of course it has lost its irreverent attitude. When we get to Part 2, it's time to get serious, to understand the power one wields and the corresponding weight of that responsibility.
Speaking of Sam Raimi's Spider-Man … The Hero Sequel also contains a more insidious bad guy. Meeting Otto Octavious was, at first, a dream come true for Peter Parker. The Joker was better left for the Dark Knight.  Clark was getting too comfortable with Lois until Zod and his cronies gave him a serious challenge. In Iron Man 2, we have a dark-mirror counterpart to Tony Stark in Ivan, the brilliant son to a dead, brilliant inventor. One was raised with success and privilege; the other, in exile and squalor, resenting the first. When they meet, Tony as Iron Man has brought peace to the world because no nation on Earth can contend with the battle suit. Ivan proves that Iron Man is touchable, and destruction reigns.
Two elements of the typical Hero Sequel are not upheld in Iron Man 2, and I like the result. First is the illusion that the Hero has a choice whether to continue in the Good Fight or hang up the tights. In Spider-Man 2, a doctor tells Peter, "Maybe you're not supposed to be Spider-Man climbing those walls. You always have a choice, Peter." Peter foolishly believes him and puts the suit in the garbage. He thought that when his powers left him he could go back to a "normal" life. But comics readers know that the Hero really does not have a choice.
Iron Man 2 never wastes time with this. Tony tells a Senator Garry Shandling that there is no weapon suit, that the Iron Man suit is him and cannot be separate. Tony understands that there is no choice, there is only the consequences. When something begins to go wrong with his mini-arc reactor, his choice is not whether to stop the hero gig but whether to eke out a few extra weeks of life or die in a fantastically fun fireball of glory.
Which brings us to the second element of the Hero Sequel not maintained in Iron Man 2: the love interest. Pepper's back, given a new role at Stark Industries, yet she seems completely inconsequential. I bet they could have saved Paltrow's fee, left her out of the movie, and the only difference would be the running time. I am actually glad about this. The typical Hero Sequel uses the love interest to propel the emotional elements of the Hero's journey. Peter Parker spends a lot of time pining over Mary Jane. Superman 2 is unwatchable according to my kids because it is all about Lois. Bruce can't be the committed Batman we all want because he has to rescue What's-her-name. But not Tony. Iron Man 2 makes references to a relationship between Tony and Pepper (and yes, there is a brief kissing scene), but it keeps this on the side and does not let it get in the way. Tony is still Tony, with or without Pepper.
There is a third element of the Hero Sequel that usually serves to undermine the movie rather than improve it: increased character roster. With Iron Man, we were content to meet Tony and his little gang: his girl Pepper, his buddy Rhodey, and occasional cut-up Happy. The bad business man was the bad guy, so that was a tight package. The sequel, we are told time and again, has to add characters, right? So a new bad businessman works with an evil bad guy while a new tough lady in a cat suit makes eyes at our hero and displays questionable loyalties. Wait, is this Iron Man 2 or Batman Returns?
Actually, the elongated cast of characters in Iron Man 2 does have the potential of spiraling out of control, especially since we also meet Nick Fury and see further into his clandestine organization S.H.I.E.L.D. These bits provide a convenient way through a plot point while also laying the ground work for the next three Marvel Studios releases: Thor (May 2011), Captain America (July 2011) and The Avengers (May 2012). At the end of this stream, we may get a third Iron Man movie.
That is a lot of plot to fit into a neat package, all tied together with explosions and battles. The critics are a little divided as to whether it works. I wrote previously that Iron Man saved the Hero Movie genre. I won't say that Iron Man 2 is at all ground breaking for the Hero Sequel. However, I will say that I enjoyed it and it gave my eight-year-old and me a lot to discuss in the car ride home, which to me is worth the price of admission.
For parents:
Iron Man 2 does not have the level of personal brutality witnessed in the beginning of Iron Man. Nor does it have a bedroom scene. It does have a brief view of a lady in her underwear, which made my eight-year-old boy snicker. If you would like to introduce your kids to the Marvel heroes of Iron Man and upcoming films Thor (2011), Captain America (2011), and The Avengers(2012), visit the all ages comics rack at All Things Fun! for the Super Hero Squad (also a cartoon, Cartoon Network, 8pm). Another fun offering from Marvel Kids is Power Pack.