By Glenn Walker
Has the furor died down yet? Is it safe to talk about it yet? Yeah, it might be time. There was a week or two there if you mentioned the kiss, also known as the Superman/Wonder Woman power coupling in the final few pages of Justice League #12, by Geoff Johns and Jim Lee, you might as well be wearing asbestos - because flames will fly. A month and a half having gone by however, it may just be safe to think about this one.
I am a hardcore Wonder Woman fan, and I'm a firm believer that Superman and Lois Lane belong together. I've labored on about that last point before, both here and other places. Whether Wonder Woman and Steve Trevor should be together is a whole other argument, but just for simplicity's sake, let's just say, in a perfect world, they too belong together. However, in the New 52 DC Universe, neither couple is together, in the former case, have never been together… so it might work out for Supes and WW… or would it?
To figure out the present, as always, we must look to the past. Despite both superheroes being around since the Golden Age, they never really had much interaction until the 1960s, and then to be honest, very little. Sure, both Superman and Wonder Woman were members of the Justice Society of America, but rarely appeared in the same issue. Superman's appearances were rare, as he was an honorary member.
Things were slightly different in the Silver Age's Justice League, but comics were simpler then, all about story, less about character interaction. By the time things had changed, and the way comics were written was more mature and character driven, the couple's positions almost reversed, with Diana becoming an ex-member of the League while she was without super-powers. Again, the two rarely saw each other.
Probably the first time I saw Superman and Wonder Woman together, outside of the League, was in Lois Lane #136, sadly the second to the last issue of that series. In that story, the two heroes announce their engagement, much to the heartbreak of Lois. In the end it's all a ruse to lure out a psychotic killer who wants to marry Superman herself.
Silliness, yes, and typical of Lois tales of the time, but the cover betrays something more. As the power couple save Lois from certain doom, she thinks in a good old-fashioned though balloon, "Now I know why Superman is marrying Wonder Woman instead of me… they're a super-team!" There you go, power couple, so much in common, etc. It does make sense. They are both strangers in strange land, both gods among mankind, and in the same profession, and both keeping big secrets. Of course they would fall for each other.
That issue of Lois Lane was a hoax, but later, in the post-Crisis era, the powers that be tried to put them together again, but this time explaining why not. It was in Action Comics #600, in a story by John Byrne and George Perez. Their big kiss this time was awkward, like a brother kissing a sister, as it is with most co-workers who try to make things happen. It's kinda ick.
Much later, in the classic alternate future epic, Kingdom Come, by Mark Waid and Alex Ross, Superman and Wonder Woman do actually wind up together, and work well together as both a team and a couple. There is one prime plot point that allows this to happen. In that story, Lois is dead, and if Diana had someone, they are also long gone. They are the perfect second chance couple, as long as their first choices are unavailable.
Now, we have a new continuity in the New 52. In this world, Superman and Lois Lane have never gotten together, and Wonder Woman has a tenuous if any relationship with Steve Trevor. In Justice League #12, the two come together out of loneliness and battle fatigue, as well as that old bugaboo, familiarity. But I doubt it will stick.
In the new 52, these two characters are not the same as they were. Given the Kingdom Come example, those two would get together under those circumstances, but in the New 52, they are now completely different people. Neither one of them is completely human. This should evident to anyone who reads their solo books. Superman is more alien than ever, and Wonder Woman is more god than ever. This might stand for now, but my prediction - doomed romance, at least in the New 52. You'll just have to stay tuned into upcoming DC Comics to see if I'm right.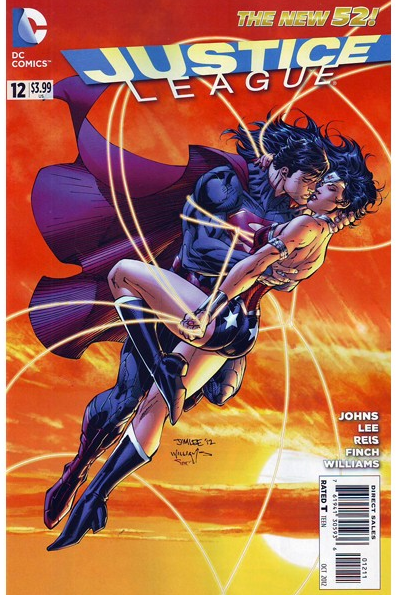 By Glenn Walker
One of the gems of DC Comics' New 52 has been Justice League, and this week, with issue #12 having its controversial content spotlighted on various news programs and Match.com, it's no small exception. It happens on the cover, and it happens late in the comic itself, but it's what everybody is talking about - the kiss between Superman and Wonder Woman. Writer Geoff Johns says that this will be a major relationship in upcoming DC Comics making the two a real power couple. Where this leaves their lovers from former continuities, Lois Lane and Steve Trevor, only time will tell.
Notably, the kiss is not all that's going in Justice League #12. This issue also brings the "Villain's Journey" storyline to a tragic close, revealing what Graves' real motives are. As always, Johns and artist Jim Lee bring the big guns out with their Justice League. This issue also gives hints as to what the future holds for our heroes, including the Trinity War, and the new Justice League of America title. Do not miss Justice League #12, on sale this week at All Things Fun!
By Allison Eckel
I saw a great photo on Twitter last week of a group of fans at the Chicago Comics and Entertainment Expo (C2E2) in fantastic hero costumes. The group included Thor, Captain Marvel, and Iron Man; and they were all girls. Not in a jokey, drag queen way. But in a fantastic display of girl power uber-craftiness, this group of fangirls transformed Marvel's most indelible heroes into Wonder Woman-worthy heroines.
In the DC Universe, girls can find many strong role models, most of whom lead their own books. Wonder Woman, Supergirl, Batgirl, Batwoman, and even Catwoman are no-nonsense, strong-minded, self-confident women who are regularly kicking butt and saving the world; and selling books by the boatloads to male and female readers. That is fantastic.
Guys are not the only ones who love role models who are strong protectors of the innocent and are steadfast in their commitment to the Good Fight. I was in kindergarten when I watched Linda Carter wear Wonder Woman's star spangled bathing suit while kicking Nazi ass and carrying an injured Steve Trevor to safety. I was instantly finished with Disney Princesses; Princess Diana rescues herself while deflecting bullets! Plus, her symbol looks really great on a t-shirt.
So, Marvel: What have you got?
I asked at my Local Comic Shop (All Things Fun, which also publishes this blog) for examples of female-led Marvel comics titles. We couldn't find any. She-Hulk and Elektra both had their own titles, but not since about 2009.
The Marvel Universe does have strong female characters. But since they are hidden in the pages of large team books like Avengers and X-Men, they are not approachable to outsiders. And they are not immediately inspiring to little girls. Invisible Woman from the Fantastic Four may be a contender – purveyors of super-cute apparel Tokidoki have put her on a fun, pink t-shirt (available at All Things Fun, natch). A few X-Men have potential. Storm, as a weather witch, commands great forces. Rogue and Kitty Pride are younger and may be more relatable to little girls. But they require too much explanation to be embraced immediately by girls hungry for strong female heroes.
Marvel recently announced an overhaul of its Captain Marvel character, as Glenn wrote previously. New series writer Kelly Sue DeConnick is quoted in an interview on Marvels' news site. She explained that Carol Danvers will "have to figure out how … to marry the responsibility of [the Captain Marvel] legacy with the sheer joy being nearly invulnerable." Based on her interview, I would hazard to say that Captain Marvel could be a first for Marvel: A successful, solo-female hero book. Except…
The character's name has a long history of association with males, and with DC Comics (see Glenn's post for deatils). Plus, the character's new costume is highly derivative of Supergirl (they even share a last name). In fact, the look is almost the same as Kara's in 1998's Elseworld's Finest: Supergirl & Batgirl.
So, Marvel is on the right track to branding a powerful female hero, but so far, they are cobbling her together from what looks like left-over pieces the other kids left behind. Not exactly my idea of a great effort.
For now, I will continue my daughter's indoctrination to the girl power available from DC Comics. Luckily, Old Navy has been selling Wonder Woman t-shirts for a while now, so I have been able to keep my daughter well-outfitted in Girl Power apparel. I will also learn from those awesome cosplayers at C2E2 and teach my daughter that when you can't find that great female role model, you make her yourself.
By Allison Eckel
Three weeks of new DC Comics titles, and Batwoman appears in the top five of nearly all reviewer lists as the best of the crop. Keeping her company are Animal Man, Swamp Thing, and Batman. The fifth spot on the leader board seems to be the wild card slot, chosen depending on the reviewer's particular tastes. I have to agree that those four titles are compellingly written with art that takes typical comics storytelling to new levels. However, I don't really like them.
I set out to say that I don't really like Batwoman specifically, but realized that the others didn't really excite me either. I have been dragging my feet trying to complete this article because I can't quite explain my statement – like that "Ollie-ness" so missing from J.T. Krul's new version of Green Arrow. Elusive, undefinable, and really kind of important.
But, I don't really have to like these particular books because the 48 other choices are designed to offer something compelling for almost every type of reader. While they don't quite go that far, they come close. Pre-DCnU, readers had simple choices. You want a strong hero-led book? Batman, Superman, or Wonder Woman. You want an ensemble cast? Justice League, Justice Society, or Legion. There were a few others on the fringes, but they were not the central tent pole titles.
We are still in early days, but in the DCnU, I don't see a clear core of books that all must read. Perhaps because in rolling out the new universe, the company is giving almost equal weight to every title. Frankenstein: Agent of S.H.A.D.E. seems almost as important in the grand scheme as Wonder Woman. Could this be due to the dual layer of storytelling presented in each book? We have the creative team's story and then we have the way it all fits in with the bigger picture of post-Flashpoint and that glowing Mystery Lady that only Superboy seems to sense. By inserting her into every #1, DC is telling readers that even I, Vampire will somehow be important.
That should free readers to sample all of the books and commit to the ones they truly like. We all like different things for different reasons, so I am a little surprised that the group of Batwoman, Animal Man, Swamp Thing, and Batman so consistently land at the top of every list. I suspect mob mentality or a feeling of, "Well, So-and-so said it's really great so it must be." And as I said, they are all well-done. But so are a lot of other books. So, I am breaking from my pundit colleagues, going out on a limb, and saying that I really didn't enjoy Batwoman.
Now, because I am a comics reviewer who focuses on DC Comics, it is in my (non-existent) contract to compile my own list of top DCnU books so far. In case you have the patience to read yet another list, mine is below. These are the books I am really excited to read regularly. I would like to read your list, but only if you choose the books you sincerely enjoyed, not just the ones everyone is lauding.
Allison's Favorite DCnU Titles (So Far):
#1: Justice League
#2: Demon Knights
#3: Wonder Woman
#4: Green Lantern
#5: Batgirl
Now, I have yet to read quite a few books. I am most excited to read: Flash, Firestorm, Aquaman, Superman, and all the books released while I was trying to write this, including Supergirl, Captain Atom, Birds of Prey, and the very sexy Catwoman. My leader board is likely to change.
For now, the comments section is open (here and on our Facebook page: All Things Fun! Comics). Share your pics for the DCnU titles that excite you so far. And if it's Batwoman, tell me why.
By Glenn Walker
With Memorial Day looming my mind turns to the men and women who protect our nation's interests here and abroad, and to those who gave their lives for our freedom. What does this have to do with comics, you might ask. Well, whether you know it or not, there were and are a lot of comics about those folks.
Today when people think of comic books, they think of brightly costumed superheroes flying around and hitting bad guys, but comics weren't always all about the superheroes. They covered a myriad of genres from crime fiction to romance to jungle adventures to horror to westerns to war stories. And that last category was a big seller even in the industry of the superhero.
With film, it has often been theorized that in wartime, fantasy is big because people want to escape, and in peacetime, war stories are big because people have forgotten the horror of war. This is not necessarily the case with comics. War comics have always thrived, until the past few decades at least. In some cases, like during the Vietnam War, they flourished.
At the dawn of comics, back in the Golden Age, one of the prototype heroes was the ace pilot. There was Hop Harrigan, and later semi-costumed pilots like Blackhawk, Airboy, the Phantom Eagle and Captain Midnight, and of course all of these were in the style of Tailspin Tommy. Aviators were hot when it came to war comics back in the day.
Even Steve Trevor, who was the first outsider to find Paradise Island and bring Wonder Woman to America during the Second World War, was a pilot. And Wonder Woman herself was one of the first of another kind of war hero – the patriotic superhero. Heroes who cloaked themselves in the colors of the American flag to fight not only crime, but also the enemies of America. The most famous of these would be upcoming movie star, Captain America. Others who followed in his footsteps included The Shield, Uncle Sam, Miss America (DC's and Marvel's), the Star-Spangled Kid and Stripesy, the Patriot, the Fighting Yank, Minute-Man and the Spirit of '76, among others, just to name a few.
These heroes and others of the era would join forces to fight the war as well, at the time, and in retcon. Tales of the All-Star Squadron, the Invaders, the Justice Society/Battalion, the All-Winners Squad, the Freedom Fighters, the Young All-Stars and The Twelve are still being told today, but that's not really the kind of hero I'm talking about.
The other type of war hero back in the day was closer to the real thing, just a regular joe, the fighting man, the soldier. In World War II, comics were sent overseas to our fighting forces, just as they have been in the decades since, and these pulp heroes were the ones that our heroes could identify with.
The more famous of these soldier heroes didn't appear ironically until after the Second World War and into the 1950s and 60s, but still, their names are with us today. Marvel Comics' most famous soldier was Sgt. Fury who led the Howling Commandos in the War. He has endured and Nick Fury is one of the major players in Marvel's movie universe, played by Samuel L. Jackson in Iron Man 2 (2010) and rumored for his own movie as well. Nick Fury, as well as many of his men, formed the basis for SHIELD in the Marvel Universe.
Over at DC Comics, Fury's counterpart would be Sgt. Rock and his Easy Company. Rock forms the foundation for DC's much larger universe of WWII heroes. While Rock remains an average soldier, although with great leadership and heroic qualities, he is joined in the fight by more interesting compatriots. Among them are the Haunted Tank, the Losers, the Unknown Soldier, Mademoiselle Marie, the original Suicide Squad and later G.I. Robot and the Creature Commandos.
Veering off-topic for a moment, DC also did some innovative comics featuring the opposing forces in war with Enemy Ace and Blitzkrieg. The later, however interesting, was short-lived. These characters still appear from time to time. Rumored to have died on the last day of World War II, someone claiming to be Frank Rock led a version of the Suicide Squad and worked in the Luthor Administration. Vertigo Comics presented a new version of the Losers that proved so successful it was made into a feature film.
Most of the war comics so popular for almost four decades died out in the 1980s. I guess political correctness had taken its toll, or perhaps the stories no longer had resonance for the current generation reading comics. There have been occasional forays into the genre. Marvel's The 'Nam stands out, as do the few one-shots of Sgt. Rock that DC has done lately.
Sgt. Rock, Sgt. Fury, Easy Company and the Howling Commandos – those are just a few of the heroes of our armed forces in the comics, most of whom were inspired by the real heroes of our world, specifically our nation, who we remember this and every Memorial Day.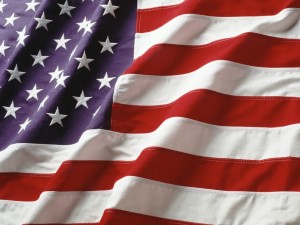 By Allison Eckel
The All New Batman: The Brave and the Bold issue #4 is the pick of the week from us on the All Things Fun Live New Comics Vidcast (that's a really long title). This issue by Sholly Fisch (writer) and Rick Burchett (pencils) is chock full of obscure characters from Wonder Woman's past, most of whom only my fellow commentator Glenn Walker would remember (that's why we love him).
Titled "Wedding Bell Bedlam," the issue features an enraged Talia al Ghul who mobilizes "the most wanted and the long forgotten," villains including Egg Fu, Angle Man, The Crimson Centipede, The Paper Man, and many faces more commonly recognizable (Joker, Penguin, Harley Quinn, Cheeta, etc.) to raid the nuptials.
These characters are, as Glenn pointed out in today's Vidcast, lovingly presented. Speaking of love, it is the very subject that has Talia gunning for Wonder Woman. Eros, greek God of desire and son of Aphrodite, believes that Wonder Woman has forgotten her mission in Man's World and needs to be taught a lesson -- she was sent to teach humans love, not to brawl with bad guys. So, he shoots his love arrows at Diana and Bruce.
Wait, I've read this before...
DC Comics Presents #32 from 1978, which was my absolute favorite comic when I was a kid. Now, keep in mind that my taste was influenced by two very important factors: 1, I am a girl and 2, I was four. In this issue, Eros sends his love arrows at Wonder Woman and Superman, much to the dismay of Lois Lane and Steve Trevor. I searched all of my archive boxes for this issue, to see if Eros's intentions were the same in 1978 as they are in 2011. All I found is a wacked-out filing system and more unbagged comics than I'd like to admit.
If any of you have this issue, remind me what happens. The last time I read it was probably 1985. For now, I will roll up my sleeves and spend the weekend re-organizing my collection (that may be a topic worthy of another post...). When I find my missing issue, I will post a comment about its plot.
Regardless, I'm sure the original is not nearly as fun as the remake. "Wedding Bell Bedlam" includes several pages of fisticuffs between the large crowd of heroes and the motley crew of villains. There is even a fun exchange between Jon Stewart and Hal Jordan regarding the power of the Spectre. The All New Batman the Brave and the Bold continues to be a terrific book.
By  Glenn Walker
If that title sounds familiar, it should, it was used just one of many times somebody in the media tried to make Wonder Woman relevant.  "The New Original Wonder Woman" was the tagline and temporary title of the 1970s television series starring Lynda Carter.  At least then, the character of Wonder Woman was recognizable.
If you've been paying attention the last week or so to pop culture media you've heard of the newest brew-ha-ha over everyone's favorite Amazon Princess.  Not for the first time, DC Comics has decided to mess with Wonder Woman, and writer J.M. Straczynski, notably the man who erased Spider-Man's marriage from existence and more recently grounded Superman, has been named the man for the job.
The dirty deed happens in the iconic landmark issue #600 of Wonder Woman on shelves now.  This oversized comic also features an introduction by the aforementioned Lynda Carter, great stories by Gail Simone (the exiting WW writer who has done tremendous work with the character), Amanda Conner and Louise Simonson, amazing art by George Perez, Phil Jimenez, Greg Horn and Ivan Reis, a handful of pin-up pages all that I quite enjoyed - and the offending new version of Wonder Woman.
Wonder Woman has been changed and/or rebooted several times over the last almost seven decades.  The most notable change was in 1968 and lasted almost five years.  Wonder Woman was stripped of her powers, arsenal, costume and her supporting cast, including her Amazon sisters.  She found a new mentor who trained her in the martial arts and she fought crime using her wits and fighting skills in a white jumpsuit as Diana Prince.
Then, as now, there was a public outcry against this change.  Feminist Gloria Steinem in particular railed against this depowering of the strong female role model.  While the stories themselves weren't really all that bad, they weren't Wonder Woman.  The status quo was returned in 1973 as Wonder Woman found her sisters and her powers again and became weirdly amnesiac of her time in the white jumpsuit pretending to be Emma Peel of the Avengers.  No, not those Avengers, but I'm glad you're paying attention.
Wonder Woman, like many of DC Comics' characters, was also rebooted in 1985.  Writer/artist George Perez jettisoned the invisible jet, the Diana Prince secret identity, and Steve Trevor as a romantic interest in favor of a father figure role.  Perez also upped her power levels, gave her finally the full ability to fly and tied her origins and backstory more tightly to the Olympian gods.  This was a good change, and most of all, she was still Wonder Woman - trademark, imagery, continuity and marketing were all intact.
The current change, presented in a ten-page story in Wonder Woman #600, is a serious change, more in line with the 1968 shake-up.  Note the similarities.  Diana no longer has her Amazonian supporting cast as Themyscira is destroyed.  She's wearing a full bodysuit and depending on simply fighting skills.  There seems to be a serious depowering going on, as she doesn't fly and is shown fighting human agents in an urban setting.
The new costume is practical, and makes sense, but it's not Wonder Woman.  Sorry, I hate to be the crab here, but sometimes tradition and recognition trump practicality and logic.  Take Superman.  Capes are dumb, but he's not Superman without the cape.  Same with Diana.  No armored bathing suit, no Wonder Woman.
Her origin has been mucked about, from all indications, by time travel and some diabolical villain.  And Diana's mission seems to be to uncover what really happened and ideally reverse it, right?  If she does, and she wins, won't everything go back to the way it was?  I doubt it.  Logic seems to dictate our heroine will lose this fight - another reason for me to dislike this new paradigm.
What is most disturbing to me about the story by JMS and artist Don Kramer, is that the main character, Wonder Woman, if she is even being called that, is completely bland.  And the elements that are interesting - the sewer of guardians so similar to the mysterious subway in Captain Marvel's origin and the so obviously Neil Gaiman Oracle, are lifted from other sources.  Indeed, the Oracle is far more interesting than the reputed star of the story.
It's a shame that the other three and half stories in this issue outshine the one we're supposed to be the most interested in.  I guess we'll have to wait for Wonder Woman #601 to get a better idea of what we really have here.  And if not, Wonder Woman has returned to her original and most known form after every other change - let's hope it happens this time as well.