By Allison Eckel
My affinity for the character of Tim Drake is no secret (reference my confession here). So, when comics geeks all over Twitter rose up to support him on July 15, my heart constricted in my chest for fear the writers planned to end him. After all, Wally West was my second favorite character just before DC Comics switched to the New 52, and I have missed him.
Apparently, Teen Titans writer Scott Lobdell made a statement at the Young Justice group panel at San Diego Comic Con regarding a change to Tim's origin story: "…as near as I recall, as it is now Tim goes straight from being Tim Drake to being Red Robin in that there was no official period of time where he was Robin. We keep most of the origin in tact in that he was one of the few people who could get very close to learning who Bruce is...but it will be a much updated version of his origin." (as reported by Kiel Phegley, Comic Book Resources)
I first crafted the rest of this post to argue why Tim's time as Robin pre-New 52 is important to the character, but scrapped it all in the end. It's not worth the time to make that argument. If I did, I would also have to argue that Superman is better when married to Lois, that Dick Grayson is better with his fellow Teen Titans (Cyborg, Starfire, Dona Troy, etc.), that Batman is better without Damien, and that Green Arrow was just better.
The New 52 changed all that – and more – and as readers we need to go along for the ride or jump ship. After more than 30 years reading DC Comics, I can say that I have been with the company longer than many of its decision-makers, and will likely see many of them move on.
So where does that leave Tim? Mired in conflicting continuity. Lobdell seems to be shepherding many characters through the upcoming #0 event, which is intended to reveal missing character details roughly one year after the launch of the New 52. Taking away Tim's time as an official Robin would be just another in a string of altered origin details except for the four instances of direct reference as a former, official Robin. In order of publication date:
Canon: Batman #1 (Scott Snyder, writer), Teen Titans #1 (Scott Lobdell himself, writer), and Batman & Robin #10 (Peter J. Tomasi, writer). In the latter, Bruce monologues to Dick, Tim, and Damien about how they are all equally worthy of Robin status:
"AS ROBINS, YOU'VE ALL HAD YOUR STRENGTHS AND WEAKNESSES … BUT YOU'VE ALL HONORED YOUR TIME AS ROBIN – EVEN JASON. YOU SHARE SOMETHING – A RED AND GREEN UNIFORM OF SERVICE THAT SHOULD BE A BOND BETWEEN ALL OF YOU…" –Bruce Wayne, addressing Dick Grayson, Tim Drake, and Damian Wayne in Batman & Robin #10 (words by Peter J. Tomasi).
The fourth reference is not canon (that is, it did not appear in a comic book): DC Comics ran a running print commentary on the Young Justice panel. At time marker 10:06, a staffer printed this:  "Scott Lobdell starts things off by talking about Teen Titans #0. It will focus on Tim Drake start and will be an origin story on how a would be Olympic star and computer genius went on to become Batman's third Robin."
The statement by Bruce in Batman & Robin #10 is the most difficult reference to explain away. In the two issue #1s, the casual mention as a "former Robin" could fit with Lobdell's panel statement "no official time" and the staffer writing the online commentary could have been working from a script Lobdell did not see ahead of time. But Bruce stating that each boy wore the official red and green is a sticky wicket.
Contradicting that could throw open the door for writers to contradict anything else their colleagues have written in pursuit of a new story direction. So far, the New 52 gambit has been executed well, showing that a master plan is unfolding. Lobdell's contradiciton in Tim's story undermines all of that hard work.
By Glenn Walker
It is a good time to be a comic book archer. Green Arrow is coming back to the TV screen with a series called "Arrow" in the fall, and this summer Oscar winner Jeremy Renner blew us all away as Hawkeye in the big screen version of Marvel's The Avengers. They have both come a long way from being just Batman with a bow and the low man in Iron Man's rogues gallery.
The Archer, or the Bow and Arrow Guy, is one of the comic book hero templates. When the average comic book reader thinks 'archer' or 'bow and arrow guy,' they think Green Arrow or Hawkeye, depending on whether you're a DC or Marvel fanperson. The truth is that's only the tip of the arrow so to speak. Welcome to a handy tour of the bow and arrow folks of the comic book world, and trust me, there are a lot of them… but we'll start with the big guns, ahem, bows…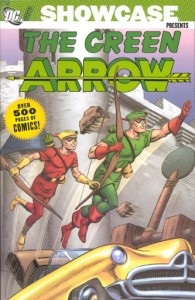 Green Arrow
Green Arrow has been rebooted, revamped, re-thought and (this one is for you, Allison) re-jiggered several times, but for the most part, his origins remain the same. Green Arrow was created by Mort Weisinger and George Papp, and first appeared in 1941's More Fun Comics #73, which coincidentally also featured the first appearance of Aquaman. Spoiled brat millionaire Oliver Queen was stranded on a deserted island (or another similar isolated nowheresville) and had to learn archery to survive. His rescue usually happens at the hands of criminals whom Queen takes down with his mad archery skillz, and is thus inspired to become a full-time crimefighter, the Green Arrow.
Along the way, Queen built an arsenal of trick arrows, a secret headquarters the Arrowcave, specialized vehicles like the Arrowcar, the Arrowplane, and even the Arrowboat, and his adopted ward, also trained in archery, became his sidekick, Speedy. Quickly Green Arrow was looked upon as nothing more than Batman with a bow, or worse yet, a knock-off Batman.
Denny O'Neil and Neal Adams changed all that with their late 1960s take on the character, giving him a new costume, facial hair unheard of for superheroes, and a liberal attitude in a time when comic book characters did not have social consciousnesses. The new Green Arrow became wildly popular, was eventually paired up with both Green Lantern and romantic interest Black Canary in the award-winning Green Lantern/Green Arrow series. In one story, he was conflicted by Speedy's heroin addiction, an event which would follow that character for the rest of his career.
The Justice League's resident archer and left wing voice of reason remains an iconic hero today, recently conquering live action prime time as supporting cast in "Smallville," and soon to return in a new vision in "Arrow." In the comics, he has his own title in DC Comics' New 52, albeit younger, slicker, and less liberal - more Tony Stark than Oliver Queen. Times change, I guess.
Hawkeye
I've talked about Hawkeye the Marksman here before briefly. Hawkeye AKA Clint Barton was introduced as a reluctant foe of Iron Man in 1964's Tales of Suspense #57, and created by Stan Lee and Don Heck. After a few more less villainous appearances, he became an Avenger in the first major membership shake-up of that team, becoming one of 'Cap's Kooky Quartet.' There, training by Captain America was joined by his weapons mastery taught him by the villain Trick Shot (another archer) and future Avenger the Swordsman.
While like Green Arrow, Hawkeye made use of gimmicked arrows, his character was more fleshed out by his abrasive personality. He was always the stirrer, the smart aleck, and always bucking to lead the Avengers over Captain America. Ironically, years later, Hawkeye would become the leader of the West Coast Avengers, a product of having Cap as a role model. While Green Arrow may have preceded Hawkeye by decades, the latter's emergence as a fully formed character preceded that of the former. Also on the copycat scale, Hawkeye's romantic interest for some time was the Black Widow, and later he married Mockingbird, both characters having more than a passing similarity to Green Arrow's Black Canary.
The Avengers resident archer has become one of the most reliable and stalwart members of the team. Whether he goes by the name Hawkeye, Goliath, or Ronin, he can usually be found at the front of the fight, charging headlong into battle, no matter if Ultron or Kang will just laugh off a trick arrow or not. That's just our Hawkeye, brave beyond reason.
Archers of the Golden Age
Back over at DC, that company published adventures of the original heroic archer, Robin Hood, as early as 1938. Robin Hood Tales was originally published by Quality Comics but eventually by DC after they acquired several of their characters and magazines. Of course, Robin Hood being a public legend, copyright is kinda off the table, but there you go.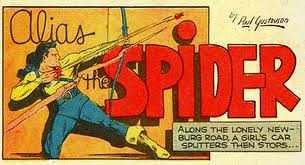 Quality also had a feature called "Alias the Spider" in Crack Comics. Created by Paul Gustavson, Tom Halloway fought crime with his bow and arrows, his valet Chuck, and a cool car called the Black Widow. In modern times writer James Robinson retconned the Spider into a foe of The Shade, and not necessarily a hero or even a nice guy at all, in his amazing Starman series. Grant Morrison also created a legacy of the character with I, Spyder, however briefly, in his Seven Soldiers.
Quality also had The Marksman. Fawcett Comics featured Golden Arrow. Centaur Publications had The Arrow, also created by Paul Gustavson, who was briefly revived in the 1990s by Malibu Comics. He can also be seen in Dynamite's comic featuring public domain heroes, Project Superpowers. There was also the Huntress in Yellowjacket Comics from Charlton, not to mention Young Robin Hood, and the Green Knight, all costumed crimefighters of the Golden Age who used the bow and arrows.
Sidekicks and Legacies
The aforementioned Speedy was Roy Harper, Oliver Queen's ward. He had two different origins, both similar, much like his mentor's various beginnings. Eventually he grew up to become Arsenal, and then Red Arrow, a full-fledged member of the Justice League. Later GA took on another sidekick named Speedy, this time the teenaged runaway, Mia Dearden. The second Speedy was notable for being both a child prostitute and one of the few HIV positive characters in comics.
Much like Batman in this regard, Green Arrow has not only been sidekicked by three kids, but one of them is also his son. While GA was dead (don't ask, you know how death works in comic books, it's temporary at best) his son Connor Hawke took up the bow and mantle of Green Arrow, and like Roy Harper years later, Connor also took Ollie's place in the Justice League for a while.
Not to be outdone, while Marvel's Hawkeye was dead (I did tell you not to ask, didn't I?), Kate Bishop in the Young Avengers took up the bow, as well as several other weapons, and began calling herself Hawkeye. It should be noted at this point, that Hawkeye, like Roy Harper, is an expert of all projectile weapons, not just arrows. Daredevil's arch-foe Bullseye's whole schtick revolves around this particular skill.
One more legacy, and it's another embarrassing reminder of the days when Green Arrow was just Batman with a bow. He too had international counterparts who were inspired by him. Where Batman has the Batmen of All Nations, which eventually evolved into Batman Inc., Green Arrow had the Green Arrows of the World. Their membership included the Ace Archer of Japan, the Phantom of France, the Bowman of the Bush, Verde Flecha, the Bowman of Britain, and the Polynesian Archer. Hey, Grant Morrison, wanna write Green Arrow next?
There have been a fair amount of baddies who have used the bow and arrow motif for evil as well. The Golden Age Superman and the 1966 television Batman were plagued by the villainous Archer. Also in the Golden Age, Wildcat's foe, the Huntress (also known as Tigress) used a crossbow. This choice of weapon was passed down to both her daughter, Artemis, as well as her heroic namesake, the Huntress.
Many of the villains with bows however were members of Green Arrow's mostly forgotten rogues gallery. Among them were Black Arrow, the Crimson Archer, Cupid, Ape Archer, Funny Arrow, the Iron Archer, John Centaur, most lost to the sands of time. The most known of these would probably be the Rainbow Archer and Red Dart (who our buddy Grant Morrison actually did dig up for his JLA run). Later on there was also Shado, GA's on again/off again lover; Natas, who trained Green Arrow and Deathstroke among others; and Merlyn the Magician of the League of Assassins, one of the hero's most dangerous foes.
In the old days Green Arrow frequently faced a female rival named Miss Arrowette, whose daughter Arrowette with a bit of retconning became a major player in Young Justice. Combined with the aforementioned Huntress' daughter, she is the inspiration for the double agent character of Artemis in Cartoon Network's "Young Justice" cartoon. There was also the Blue Bowman, in reality Batman foe the Signalman, who got the idea of being a bow and arrow villain by being cellmates with Green Arrow enemy Bull's Eye.
There are many other archers, on both sides of the law. I've haven't covered Artemis who was once Wonder Woman, Yondu the Alpha Centaurian archer from the 31st century's Guardians of the Galaxy, Firestorm foe Moonbow, White Feather of the Inferior 5, brief Justice Leaguer Maya, any of the Old West archers, Shaft, Archer (sans Armstrong), Legolas, or even Xeen Arrow, the Green Arrow of Dimension Zero yet. But there's only so much space. Be assured there have been many behind the bow in the comics, and there will be more.
I'll see y'all next time. I'm off to the movie theater to see Brave. I hear that Princess Merida is a heck of a shot too…
By Glenn Walker
Hopefully y'all have been following the All Things Fun! Comic Vidcast uploaded every Wednesday, and if not, get yourself over to its special webpage and enjoy. As I said, it's uploaded every Wednesday morning by 11:30 AM sharp Eastern Standard Time, and available for viewing – as are all the episodes, throughout the week afterwards. The Vidcast even has its own channel on YouTube.
I, along with co-hosts Allison Eckel and Ed Evans, discuss the new comics that come out that day for the week. We like to think we offer our own unique and informative view of the comics world and what's going on within it and around it.
Although, sometimes fifteen to twenty minutes just isn't enough to explain some of the references made during the vidcast, and it certainly isn't anywhere near enough time to justify the vast storehouse of useless comics knowledge spilling out of my head. We've had to do an explanatory post like this once or twice before, and hopefully this new edition of Show Notes might help alleviate the pressure on my brain.
Lucas "Snapper" Carr
Allison doesn't like this guy and thinks he's dumb, and didn't know why he was showing up in recent issues of the out-of-continuity Young Justice. Old folks like me were thrilled with both the history and irony of his appearance. Sadly, when most people do think of poor Snapper, they do think lame. That's because they don't have a sense of history, or perhaps don't know his history.
Snapper was designed to be the identifying character in Gardner Fox's Silver Age Justice League of America. He was the little-bit-out-of-date beatnik kid who got to hang out with the World's Greatest Heroes. "Wow, if we, the readers, could be Snapper, wouldn't that be cool?" was the line of thinking, but after a while, Snap got annoying. While Fox was on the book, Carr worked as a storytelling device, informing readers on the ins and outs of the team, the day-to-day operations, and he even had a friendship with the League's second new member, the Atom.
However, as time went by, even Gardner Fox got tired of poor Snap, and used him less and less. When Fox left, and new, younger, hipper writer Denny O'Neil came on board, things changed. O'Neil sought to streamline the JLoA to be more his style, and more in line with other books he wrote. More focus was placed on his pet characters like the darker detective Batman, Green Lantern, his revamped and more socially conscious Green Arrow, and the Earth-Two Justice Society transfer, Black Canary. O'Neil also got rid of folks. Over in her own title, he had depowered Wonder Woman, and here, he had her resign from the League. J'Onn J'Onzz returned to his homeworld, and O'Neil simply just ignored Aquaman as if he didn't exist.
Denny O'Neil had more sinister plans for poor Snapper Carr. In the writer's mind, as Snapper grew older, the League had gotten tired of him, and in turn, Snapper was weary of being made fun of by his peers for being the 'Justice League mascot.' In short, he was feeling alienated, and was ready to strike back at 'the man,' his mentors and friends in the JLA. Snapper fell under the sway of an anti-superhero public speaker (shades of the Glorious Godfrey who would come a few short years later) called Mr. Average.
The insidious Mr. Average convinced Snapper that he had to turn against the heroes, and he weaseled their biggest secret out of poor Snapper: the location of their secret headquarters, the Secret Sanctuary in Mount Justice. Oh, and did I mention that Mr. Average was actually the Joker in disguise? Yeah, this was bad. And it led to Snapper Carr's resignation as an honorary JLA member, and the move to a satellite headquarters in orbit.
But therein lies the irony of Snapper appearing in Young Justice, as you see, the YJ team meets in the old Mount Justice headquarters. Cool, huh? Snapper Carr eventually made amends with the JLA, but not after making further mistakes, like being misled once again by villains like The Key, the Star-Tsar, and the Privateer. He later sidekicked for the android Hourman from the future. Snapper Carr remains a case study in the idea that there are no bad characters, only bad writers.
The Absorbing Man
Stop snickering, Allison. I know how you like to make fun of the sometimes-lame names of Marvel Comics characters, but this one is really cool. And besides, it's DC that has characters like the Crimson Centipede, the Purple Pile-Driver, Animal-Vegetable-Mineral Man, and Don Rickles as a super-villain -- not Marvel, so take that.
The Absorbing Man began his comics life as small-time and not-so-bright criminal Carl "Crusher" Creel, and in the typical fashion of most Silver Age Thor villains, being unknowingly empowered by Thor's evil stepbrother Loki. In this case, Loki gave Creel the ability to absorb the strengths and properties of whatever he touches. For example, he touches stone, he becomes as strong as stone, and in actuality, stone. Needless to say, he's been shattered several times.
Over the years, other than Thor, he has clashed with the Hulk several times, giving you an idea of Creel's power levels. The turning point for the Absorbing Man was in the late 1970s in Avengers #183-184 when he made the big leagues. He ended up taking on the entire Avengers team when all he wanted was to be left alone. From that moment on, he was taken seriously and was considered a major Avengers foe, as opposed to that dumb guy with the ball and chain who sometimes bothered Thor and the Hulk.
He's been animated several times, beginning with the Thor segments of 1966's "Marvel Super Heroes," and most recently in Disney XD's "Avengers: Earth's Mightiest Heroes" as both an adversary of the Hulk and the whole team again. Creel has even made it to the big screen, albeit in a mangled comics-to-film version. In Ang Lee's Hulk movie, Nick Nolte plays Bruce Banner's father, who is imbued with the Absorbing Man's powers.
Crusher Creel continues his major threat level status even today as one of The Worthy in Marvel Comics' latest big crossover event, "Fear Itself."
Wonder Man
Here's another name Allison has busted on, and a character with a lot of history, and an amazing character when written right. Currently he's being miswritten by Brian Michael Bendis in theAvengers comics franchise, as a bitter former member who wants to stop his old teammates by starting his own group, the Revengers. It all sounds familiar, but essentially out of character.
Wonder Man began life as a one-shot, one-note character in the classic Avengers #9 by Stan Lee and Don Heck. Simon Williams was recruited byBaron Zemo and the first Masters of Evil to gain super powers and infiltrate the Avengers and destroy them from within. With a mysterious 'ionic' process, Williams was given enhanced strength, endurance and invulnerability, as well as a rocket belt for flying. He joined the team, and then when the Masters of Evil attacked, Simon had a change of heart and fought against them. Zemo double-crossed him, and Wonder Man became the first Avenger to die in battle. At least he died on the side of the angels.
Wonder Man was not forgotten. His name and memory came up often in the Avengers series. Things got hot when Simon's brother, the Grim Reaper, attacked the team seeking revenge. It was revealed later that Simon's brain patterns were actually recorded, and used as a template for the android Vision's mind after he had been reprogrammed. And much later, Avengers arch-foe Kang stole Wonder Man out of time and used him as a pawn in his Legion of the Unliving. In all cases, fan response was strong.
All of these post-death appearances told the powers-that-be at Marvel one thing: Wonder Man was popular. And what do you do with dead characters in comics when they're popular? You bring them back from the dead of course! Wonder Man returned in Avengers #151, first as azuvembie (don't even ask, or just click, but you've been warned), and then for real and for good, regaining his full member status on the team.
Wonder Man became a fast fan favorite, became a founding member of the West Coast Avengers, best friends with teammate the Beast, got his own series, and yes, died a couple more times, and came back as well. He's become known as a loyal support Avenger, his colorful, and sometimes drab costumes, and for coming back from the dead frequently. What he's not known for is being vengeful and unfoundedly proactive. Again, it's Snapper Carr time -- there are no bad characters, only bad writers.
That said, Wonder Man, and the Revengers, can be found in recent issues of the Avengers franchise of titles, fighting his former friends, the Avengers.
That's all for this time. I'm sure there will have to be more explanations of obscure and arcane info from my twisted mind. Maybe next time I'll teach y'all how to pronounce all the 'O' villains in the Justice League's rogues gallery…
By Allison Eckel
Comics publishers and local comic shops take note: Mothers are the gatekeepers to your coveted youth market, so market to them! You already figured out that kids who read comics are more likely to become lifelong fans than if they start later in life. But, how do kids start reading comics in the first place? Moms must allow them into the house. And currently, most non-geek moms either don't know comics still exist or don't believe they are worth the money. I am here to help with the first part; the second part is up to you.
Non-geek moms are everywhere except local comic shops. That is your primary challenge. The potential of digital comics is promising because it means non-geek moms need never venture into the LCS. The proliferation of apps designed to keep kids happy with no parental interaction is huge and alarming, so I believe non-geek parents are likely to at least try digital comics. But bright ink on paper is still a fantastic thing for young readers. Case in point, my five-year-old girl just got her hands on Strawberry Shortcake #1 from Ape Entertainment (on sale now). She has carried it with her for three days straight and asked every adult she meets to read her any of the three stories it contains. Although digital comics are similarly portable, her access to them is more limited.
Ms. Shortcake brings me to a second point about marketing to moms. Develop more kid-friendly content and then follow through on marketing through more mainstream channels such as Facebook. APE Entertainment is currently releasing several great titles along with Strawberry, including Megamind, Kung Fu Panda, a re-imagined Richie Rich, and the upcoming Casper's Scare School. These comics are all good for grade-schoolers, most of whom have never set foot in an LCS. Facebook ads are comparatively cheap, so ads for these comics should be appearing on every mom's wall. Dark Horse is advertising Buffy and Star Wars comics this way; now, let's see Po's smiling face with the word "comics." Also, publishers should send sample copies to Mommy Bloggers for review, with an explanatory letter heavy in academic advantage-type language.
Point three: Take a moment to understand young readers. What do nine-year-old boys, for example, really like to read? Of course, every reader has different interests, but I recently conducted my own demographic test to discover what boys think of super-heroes. For a week every summer, I teach archery to cub scouts. This year, fifty kids in first-through-fifth grades passed through my range, every day. On Monday, to explain the way they should grip the bow and aim it with a strong, straight arm, I invoked images of Superman. I got no reaction. Ok, how about Captain America; you all know him because of the movie, right? Nothing. Wow. So, I ask: Who is your favorite strong hero? First silence, then one quiet voice from the back offers, "How about Iron Man?"
I didn't expect them to know Green Arrow – the womanizing, mouthy liberal isn't exactly a great role model for the pre-tween set, despite his JLA-caliber heroism. But I expected them to know Superman. I mean, it's SUPERMAN. Turns out, a few of them do know Green Arrow, from his appearance in Batman: The Brave and the Bold, the video game. Well, it's not comics, but it's a start. By Wednesday, I have ditched my references to barrel-chested heroes because I have discovered what excites the kids' imaginations: non-super guys with gadgets. While retrieving arrows we have wild conversations concocting new trick arrows for Ollie (they didn't know about the boxing glove arrow!). Then their minds were racing, comparing him and his abilities with the archery they were learning – how he amazingly hits his targets while running or skidding across the floor when they are working so hard to hit theirs while standing still, and thoughts like that.
I suppose the super-powered heroes are a bit too fantastic to engage young boys. Instead, most of them really like "real" people with gadgets, contraptions, machines that become other machines, etc. Transformers is enduring for a reason that really has nothing to do with scantily clad ingénues and big explosions. Boys just really like robots that they can change into vehicles. Boys also like Batman for his gadgets, Iron Man for his tech, Green Arrow for his arrows, Cyborg for that arm that changes into different things, etc.
I specify boys, because my experience with girls is a bit the opposite. I taught 12 girls in this camp week as well – the lucky siblings who didn't have anywhere else to go. The girls were leery of archery at first: the string is too hard to draw, their fingers hurt, whine, whine, whine. Ok, that's not fair. Some of the boys whined too. But as soon as I told the girls that the ancient Greeks worshipped Artemis the Archer as the goddess of the hunt, they were rushing for the firing line, eager to become a goddess themselves. Girls, generally, like to envision themselves as other than human, as super, better, more. That's why princesses are so ubiquitous. My daughter play-acts as Wonder Woman, Raven, or Starfire instead of Batgirl because she likes the "magical" qualities of the non-humans.
DC Comics is doing well with Young Justice, a team that appeals to boys and girls; although, I think it was better suited for younger readers when Peter David started that title in 1998. Still, DC has a winning title, especially given its close integration with its eponymous cartoon. They also need to continue Batman: The Brave and the Bold because it's one of the best titles they publish (my third-grader did his vocabulary homework from it because it's that good). Given DC's track record, I expect them to cancel it soon because they seem to not like it when a kids' title becomes successful.
So publishers, I have just saved you a chunk of change on a marketing consultant. Develop more series like Super Dinosaur written by Robert Kirkman, published by Image Comic's Skybound imprint. It hits all of the right grade-school-boy buttons while being smart enough to appeal to older readers. But don't stop there. Actually market the book along mainstream channels so the non-geek moms can know about it. The best book in the world can't help anyone if no one knows about it. Kirkman has a high-enough profile thanks to his Walking Dead series that Skybound could send him to daytime talk shows. Better, send him to Conan. And take the huge Super Dinosaur suit. I wonder if Kirkman would consider adding a girl mystic to Super Dinosaur – then Skybound would be sitting on the perfect young-reader comic.
I want to see comics heroes become more important to our boys. Currently, more cub scouts in camp play Call of Duty: Black Ops – and similar violent, M-rated video games – than read stories of strong, heroic role models. At the end of his new book Supergods, Grant Morrison tells us why this is a terrible trend:
We have a tendency to re-enact the stories we tell ourselves. We learn as much … from our fictional role models as we do from the real people who share our lives. If we perpetually reinforce the notion that human beings are somehow unnatural aberrations adrift in the ever-encroaching Void, that story will take root in impressionable minds …. If, on the other hand, we emphasize our glory, intelligence, grace, generosity … capacity for love, creativity, and native genius, those qualities will be made manifest in our behavior and in our works.
My mother gave me my first comic book in 1979 because I was reluctant to read traditional, "girl" stories like Black Beauty. Stories of heroism, of fighting the good fight, of all that Morrison lists, are so important when we're young. Help moms find these stories for their kids.
Update: 8/12/12 Formatting edits
By Allison Eckel
Today on the All Things Fun new comics vidcast we announced our first-ever contest. In honor of the reboot of Young Justice -- appearing as a cartoon series on Cartoon Network as well as a comic launching today -- we are wondering: What happened to the character known as Secret? She was a key member of Peter David's comic series in 1998 - 2003, but she seems to be missing from the reboot (at least, so far).
So, tell us what the comics say happened to her. Post your answer as a comment to this post. The first commenter who is correct will win a poster! (shown below: DC's promo poster for their new $2.99 monthly issue pricing.)
While you're at it, share your opinions of the Young Justice reboot. I just finished reading issue #0, which picks up where the cartoon pilot leaves off. Robin, Kid Flash, and Aqualad have rescued Superman's teen-aged clone from a secret Cadmus lab and think they could do well as a crime-fighting team. First, Batman wants three days to decide whether this is a good idea. Issue #0 follows Kid Flash and "Superboy" through that waiting period (and action sequences ensue).
Written by Kevin Hopps, the comic is fast-paced and fun. I already know that I like the characters; now I am looking forward to following their younger selves once again. Plus the all-new take on Aqualad is fresh and exciting.
I will admit that I am being a little stodgy in my expectations. See, I'm not a kid who is new to this material. So, when I see Robin in pants and a black and yellow cape playing the role of techno-whiz, I assume it's Tim Drake. Nope, this Robin is Dick Grayson, a child of the circus who did not grow up with computers. My reading of Dick-as-Robin is that he is great in combat and a master team strategist, but not a master detective or gadgeteer. Those traits belong to Tim-as-Robin (who had his turn on screen in the Teen Titans cartoon).
Another gaffe is with the Flashes. Kid Flash looks and talks like young Wally from early Teen Titans days, with a costume to match. So, I was completely thrown when Flash shows up in issue #0 wearing grown-up Wally's Flash costume instead of Barry's. A straight lightning strike across the midriff (instead of one pointed to his groin) and eye holes showing his baby blues (instead of solid white eyes) are two minor details that would have gone a long way towards  credibility for this comic. Okay, I understand that the new Young Justice series is out of continuity (Wonder Woman in the cartoon is sporting her classic swimsuit-style get-up), but costume branding is a big deal. I am certain that the brand management department at DC would have a problem with everyone mixing the flash costumes willy-nilly. Especially with a big Flash event about to start.
I have come to accept generational mixing in new teen-centered projects at DC. That Teen Titans cartoon may have been my first exposure to it. Tim-as-Robin served on a team with Cyborg, Starfire, Raven, and Beast Boy, all of whom should have been considerably older. They are all contemporaries of Dick-as-Robin, which left me wondering why they didn't just use him in the show instead. Romantic tension between Tim and Koriand'r seems a little creepy to someone who knows about her relationship with Dick. Still, in the context of the cartoon, it worked.
The generational mixing of the Young Justice reboot -- Dick and Wally are the same age as Conner/Superboy, Miss Martian, and eventually Arrowette -- would be fine if it stayed on the screen. Since DC is putting it into print as well, I expected it to, well, make sense in the DCU. Perhaps the gaffe over the Flash costume was a one-time thing and I should just get over it.
What do you all think?